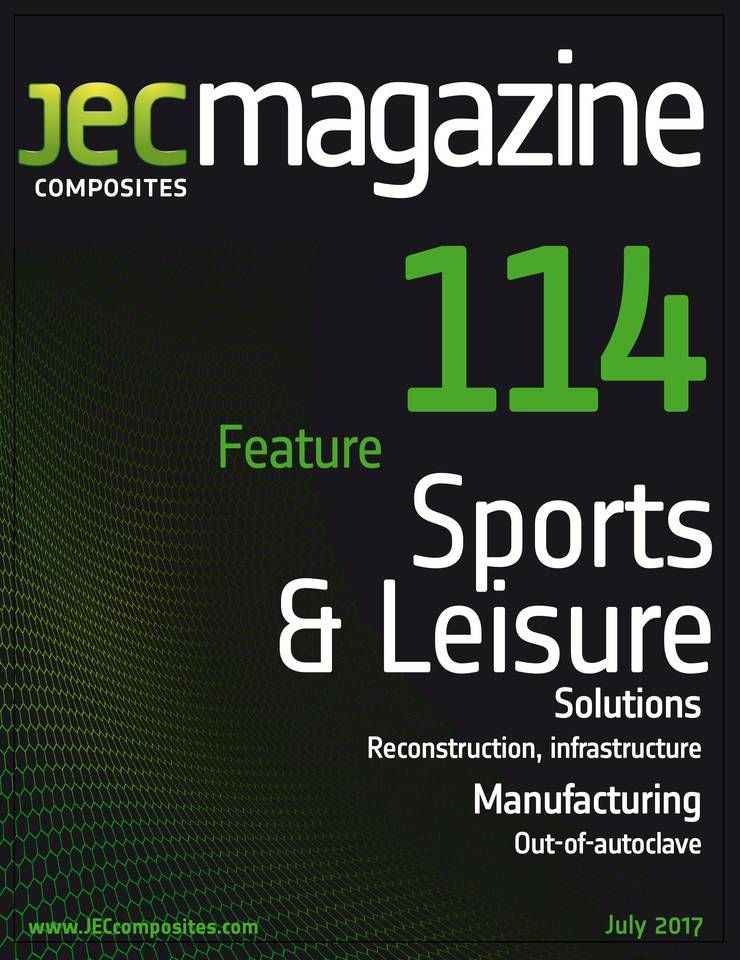 JEC Composites Magazine
N°114 - july 2017
Preview
JEC Composites Magazine is the point of contact of the international Composites Community, 6 times a year, with topics covering scientific information, business, technology, manufacturing, and application sectors trends.
In each and every issue, readers will learn about the entire composites industry value chain (from raw materials to application markets), and be inspired with current and future innovations.
The six sections of the magazine consist in:
NEWS: with interviews, articles about business development (M&As, appointments, partnerships and collaborations, awards etc.).
BUSINESS: with articles covering trends and markets, focusing on a specific country or region, with the composites market, or the application markets, or the companies strategies etc. in that country or region, and a startup focus.
MANUFACTURING: with articles about production processes and processing equipment.
FEATURE: an in-depth overview of a specific topic (typically an application sector), plus a JEC World Preview in April/May and Review in June/July.
SOLUTIONS: composites around us, with articles showing how composite materials are being used in applications which impact our everyday lives.
TECHNOLOGY: with articles about developments in materials, testing and control, repair, joining, design and simulation, recycling and reuse, R&D.
Enjoy your reading!
Contents
Optimism is in order
"Composite materials of all types have become indispensable, or nearly so, and can be found everywhere these days. Two emblematic European examples that underscore the continuous advance of composites...
Read More
N°114 - july 2017
EDITORIAL
Optimism is in order
"Composite materials of all types have become indispensable, or nearly so, and can be found everywhere these days. Two emblematic European examples that underscore the continuous advance of composites...
OPINIONS
"Novelty upsets a lot of parameters and habits "
The Scoatariu flute, named after its inventor, was first introduced to the public at the 2009 Concours Lépine, the international competition for inventors in Paris. The flute owes its existence to the...
NEWS
Covestro plans for succession of CEO
CEO Patrick Thomas has confirmed to the Supervisory Board of Covestro that he will complete his contract as expected on September 30, 2018. The Supervisory Board has therefore decided on the...
PPG reaches agreement with Nippon Electric Glass for sale of remaining fiberglass operations
The transaction is expected to close in the second half of 2017, subject to customary closing conditions. Pre-tax proceeds from the sale are approximately $545 million, and are subject to customary...
Chomarat announces a 3-year investment plan worth 35 million euros
This investment will enable Chomarat to acquire new technologies for its composite, construction, and coating activities, to modernize its French sites in the Ardèche region, dedicated to the...
Hexcel has entered into exclusive negotiations to acquire Structil
Hexcel Corporation announces that it has entered into exclusive negotiations to acquire all of the shares of Structil, a French producer and supplier of high-performance composites to the aerospace,...
Airborne and TenCate long term agreement for satellite solar array systems
TenCate Advanced Composites, a supplier of composite materials for high performance aerospace and industrial applications, and Airborne announce the signing of a long-term supply agreement for...
Faurecia to develop and manufacture fuel cell tanks for electric vehicles with Stelia Aerospace Composites
Faurecia announces it has acquired an exclusive access to the intellectual property and process know-how of composite hydrogen tanks from Stelia Aerospace Composites. With the support of Stelia...
Clariant and Huntsman to merge
The merger of equals aims to create a global specialty chemical company with approximately $20 billion enterprise value at announce-ment. The merged company will be named HuntsmanClariant. On a pro...
Airbus and China to enhance cooperation in aviation and aerospace
Airbus and China have signed a Memorandum of Understanding (MoU) on aviation and aerospace, further enhancing a spirit of cooperation. The MoU was signed in Berlin by Fabrice Brégier, Airbus COO and...
A. Schulman introduces new high-strength composite material at JEC 2017
A. Schulman Inc., an international supplier of high-performance plastic compounds, powders, composites and resins, presented its broad range of engineered composites and powders for thermoplastic...
BUSINESS
The epoxy leader invests in its composites business
In October 2015, Olin Corporation acquired a significant portion of the Dow Chemical Company's chlorine value chain in a transaction that created an industry leader with revenues approaching USD 6...
The year begins well
Owens Corning got off to a good start for 2017 with soaring sales. This is good for its bottom line, and for our industry in general. Among the sectors featured at the latest JEC World last March,...
New potential for composite technologies in buildings and infrastructure
The building & infrastructure market provides various opportunities and potential applications for composite components. The AZL Aachen GmbH initiated a joint market and technology study entitled "New...
MANUFACTURING
Fast development and intelligent process control for RTM
In high-quality composites manufacturing, there is an urgent need for online quality control tools to optimize and accelerate development and production control. This paper presents an integrated and...
New toughened out-of-autoclave prepreg
After five years of development, Tencate releases a new toughened out-of-autoclave prepreg. The porosity level of the resulting cured parts is compatible with aeronautical specifications. Moreover,...
Computed laminography – production-integrated inspection of large-scale CFRP components
Production scrap and end-of-life products are a real challenge for the future of composites. The main goal of the WASTEcost project is to find a solution to upgrade waste from carbon-fibre-reinforced...
SPORTS & LEISURE
Composite design software provides new "sculpting" tools for lightweight bikes
Sometimes, the use of composite materials can make the design of a bicycle frame even more complex than that of an aircraft wing. Many industries – from aerospace, automotive and medical to robotics...
China: carbon fibre bikes accelerate the upgrade of sports bicycle market
In the wake of Xiaomi's QiCycle and LeEco's smart road bike, many Chinese factories are now developing their own carbon fibre bikes. They are stimulated by a reviving domestic bike market that fully...
Cervelo's bike frame benefits from optimized design philosophy
The process of optimizing a structure through element testing, CAE simulation and then testing of the complete structure in very compressed timescales has real applications in many sectors including...
Carbon golf shaft using a unique tubular composite technology
The NTPT technology and TPT Golf™ shafts are endorsed by leading names. Biomechanical specialist Jean-Jacques Rivet was instrumental in the development and performance validation of the range, while...
An alliance based on a core vision for sustainability
As bioresins continue to grow in popularity, manufacturers are keen to offer customers products that deliver environmental benefits together with high performance. French surf board manufacturer NOTOX...
A different approach to natural fibre composites
Since its founding in 2011, Bcomp has been focusing on understanding the specificity of natural fibres and their composites, and developing solutions that bring striking benefits to the end product –...
SOLUTlONS
When a technological challenge fires the imagination
Danièle Allemand performed wonders with polymer resins in her work on the reconstruction of the ancient stalagmite- and stalactite-covered surfaces of the Chauvet Cave in France's Ardèche region....
First biocomposite footbridge: towards more sustainable structures
Several universities and companies from The Netherlands cooperated to build a 14-metre long footbridge entirely made of biocomposites. Biocomposites use plantbased resources, combining natural fibres...
Fire- and chemical-resistant protective panels
Amended several times, the European Seveso directive in its current form (Seveso II – 96/82/EC) requires operators of classified sites to implement a management system and organization (or safety...
Will robot purr in the future?
Researchers with Berkeley Lab and the University of California (UC) Berkeley have created tactile sensors from composite films of carbon nanotubes and silver nanoparticles similar to the highly...
When luxury contributes to excellence
Airbus Corporate Jets and the Italian hypercar Atelier Pagani Automobili are announcing a new cabin design for the ACJ319neo, called Infinito, at the EBACE show. Pagani's design team created the...
TECHNOLOGY
Fast design check of braided structures for composites using computer simulation
Two-step parametric models of braided structures can be used for the visualisation of braids for composites at the filament level. Such models allow quick preliminary checking of braids, identifying...
A novel physics node for Nakamura crystallization kinetics
The Nakamura kinetics law is commonly used to model the evolution of crystallization. A novel physics node, freely available, was developed using the COMSOL Physics Builder, accounting for the...
Thank you
You just used 1 credit. You have left.