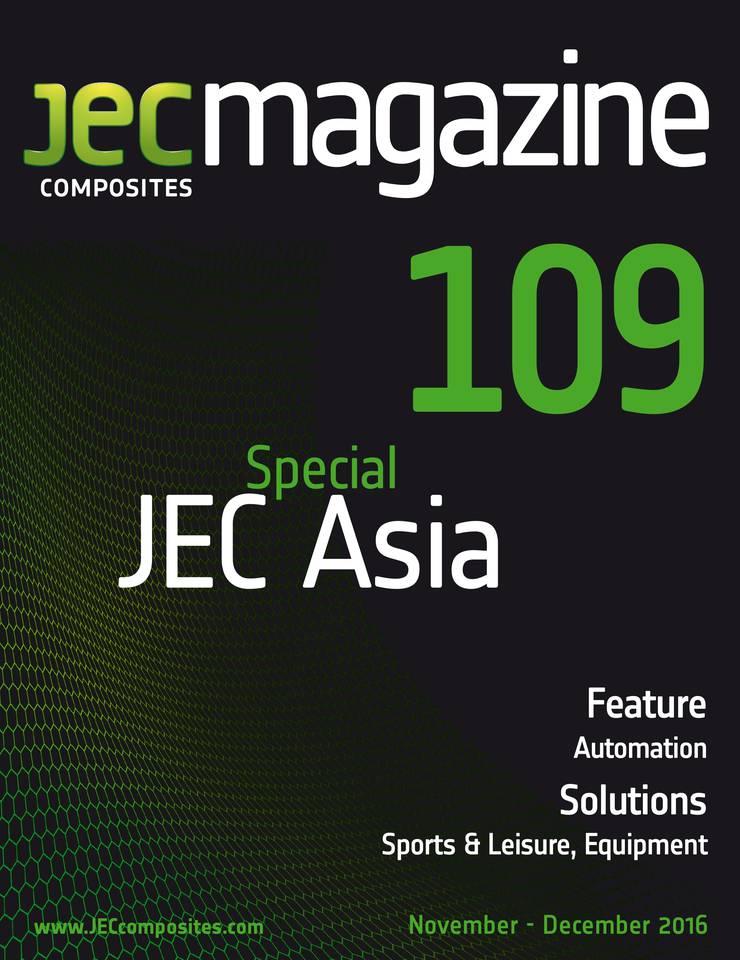 JEC Composites Magazine
N°109 - november 2016
Preview
JEC Composites Magazine is the point of contact of the international Composites Community, 6 times a year, with topics covering scientific information, business, technology, manufacturing, and application sectors trends.
In each and every issue, readers will learn about the entire composites industry value chain (from raw materials to application markets), and be inspired with current and future innovations.
The six sections of the magazine consist in:
NEWS: with interviews, articles about business development (M&As, appointments, partnerships and collaborations, awards etc.).
BUSINESS: with articles covering trends and markets, focusing on a specific country or region, with the composites market, or the application markets, or the companies strategies etc. in that country or region, and a startup focus.
MANUFACTURING: with articles about production processes and processing equipment.
FEATURE: an in-depth overview of a specific topic (typically an application sector), plus a JEC World Preview in April/May and Review in June/July.
SOLUTIONS: composites around us, with articles showing how composite materials are being used in applications which impact our everyday lives.
TECHNOLOGY: with articles about developments in materials, testing and control, repair, joining, design and simulation, recycling and reuse, R&D.
Enjoy your reading!
Contents
Where is the composites industry heading in Asia?
"The development of composites in Asia is a fascinating story from every point of view, whether it is the study of the materials themselves and their gradual and continual process of transformation,...
Read More
N°109 - november 2016
EDlTORlAL
Where is the composites industry heading in Asia?
"The development of composites in Asia is a fascinating story from every point of view, whether it is the study of the materials themselves and their gradual and continual process of transformation,...
OPlNlON
"Electric vehicles will prevail in the urban public transportation system"
NCC and evopro was awarded for its self-supporting, modular, full composite body on JEC World, Paris, 2016. Designed by Hungary's evopro and manufactured by Russia's NCC, Modulo is a purely electric...
NEWS
Announcement Automobili Lamborghini celebrates "Excellence in Carbon Fiber" in Tokyo
The company celebrates the opening of "Excellence in Carbon Fiber", an event dedicated to its carbon fiber technologies, at Meiji Memorial Picture Gallery in Tokyo, Japan. Over the past 30 years,...
Argosy international expands its honeycomb capabilities
Argosy International, a leading supplier of advanced composites and related materials to the global aerospace industry, started constructing a new 3,600m² honeycomb core facility in May. The facility...
Nobel prize-winner Andre Geim sets up a graphene company in China
Together with two Chinese tech companies, graphene pioneer Andre Geim created a new company aiming at developing new types of graphene composites. The deal takes place as exchanges intensify between...
BUSINESS
«Success comes when a strong supply chain is in place»
Marcio Sandri, V.P. and Managing Director, Glass Reinforcements, at Owens Corning, granted an interview to JEC Composites Magazine. According to him, the fundamentals are sound, even if in the short...
After a difficult year, Brazil is set to make a comeback
The Brazilian composites market is taking a turn for the worse once again, with a decline in 2016 sales and volumes compared to 2015. Infrastructure and wind energy sectors should restart the firsts....
World debut for the first sustainably-certified natural fibre
Natural fibres show significant environmental benefits in lightweight biocomposites for automotive interiors and in construction. Until recently, no sustainability certification was available for the...
MANUFACTURING
Organo-sheet evolves from niche products to standard series production
The processing of organo-sheet into lightweight structural components featuring high strength and rigidity is now ready for standard series production, as illustrated by the production of a seat pan...
Recent advances in powder coating technology for the RTM process
The EU regulation on the CO2 emissions of new cars sets out the targets for the average new car fleet across Europe to achieve 95g/km by 2020. The challenge is to reduce the weight of vehicles to meet...
lt's flow time!
When it comes to pumping and metering, viscous resins pose many challenges for the aerospace, automotive and renewable energy industries. They are tricky substances to get absolutely right. For years,...
FEATURE
11 prizes and 19 involved companies on stage
With 11 prizes and 19 involved companies, the JEC Asia 2016 Innovation Awards reward excellence in the use of composite materials throughout the whole value chain. From Raw Materials to Design and...
FPP technology: industrial end-to-end automation for complex preforms
Fibre Patch Placement (FPP), the automated preforming technology that works with load-path oriented patches to enable complex 3D fibre laminates, is taking the final step to industrial use....
Robotized cell for the production of preforms from dry fibre materials
This innovation was developed to improve the manufacturing process of a composite component. Value was added by integrating new functions such as intelligent automation and pick, place & fold in a 3D...
An innovative 3D placement technology
Within the EU-funded research programme LOWFLIP (LOW cost & FLexible Integrated Process), the Institute of Aircraft Design and FILL GmbH developed a novel automated production process for carbon fibre...
Perfect cutting technology for the perfect sports car
The Italian automaker Pagani makes some of the world's most exclusive supercars whose chassis consist entirely of carbon fibre parts. Pagani, who has been relying on equipment from Swiss cuttingsystem...
SOLUTlONS
The first "leisure drone" built by professional 3D printing
The body of Parrot's Bebop 2, built with a selective laser sintering technique and the innovative Windform GT additive manufacturing material, combines excellent aesthetics with outstanding resistance...
Composite materials make ultra-lightweight catamaran possible
Evonik Industries and TeamGaebler teamed up to build a high-tech foiling catamaran using innovative composite solutions. The first prototype will be built during summer 2016 and should be finished by...
The fire ladder adopts composites
The first composite fire ladder is worthy of attention. By opting for this type of material right from the design process, the Échelles Riffaud company has accomplished a technological leap, producing...
Modular, self-supporting, full composite bus body
The project consists in the development and production of modular, self load-bearing full-composite bus bodies for public transportation. These buses have the advantage of being able to be driven by...
Local Motors introduces the first 3D-printed, self-driving vehicle: Olli
Already in use in Washington, D.C. and with expansion plans in Miami-Dade County and Las Vegas, Olli promises to completely transform the passenger experience. Local Motors seized the opportunity to...
Evanescent beauty
Created by Italy-based mannequin manufacturer Bonaveri, these mannequin models are created in collaboration with the British Fashion Council and the British Academy of Film and Television Arts...
A new strong charactere
GEORGE® is the first pure carbon fibre armature created for stop-motion animation in the world for professional. The extremely light and yet strong structure and the technology of fixing materials...
TECHNOLOGY
Non-destructive characterisation of composite microstructures
The UK's non-destructive testing community is developing game-changing composite inspecting technology to meet environmental challenges. Mapping of the microstructure could ensure conformance to...
Structural certification analysis and reports for aircraft interiors
This article explains the process of creating an interface loads certification report and its required contents. This report provides the loads the airframe will experience at the attachment points of...
Thank you
You just used 1 credit. You have left.