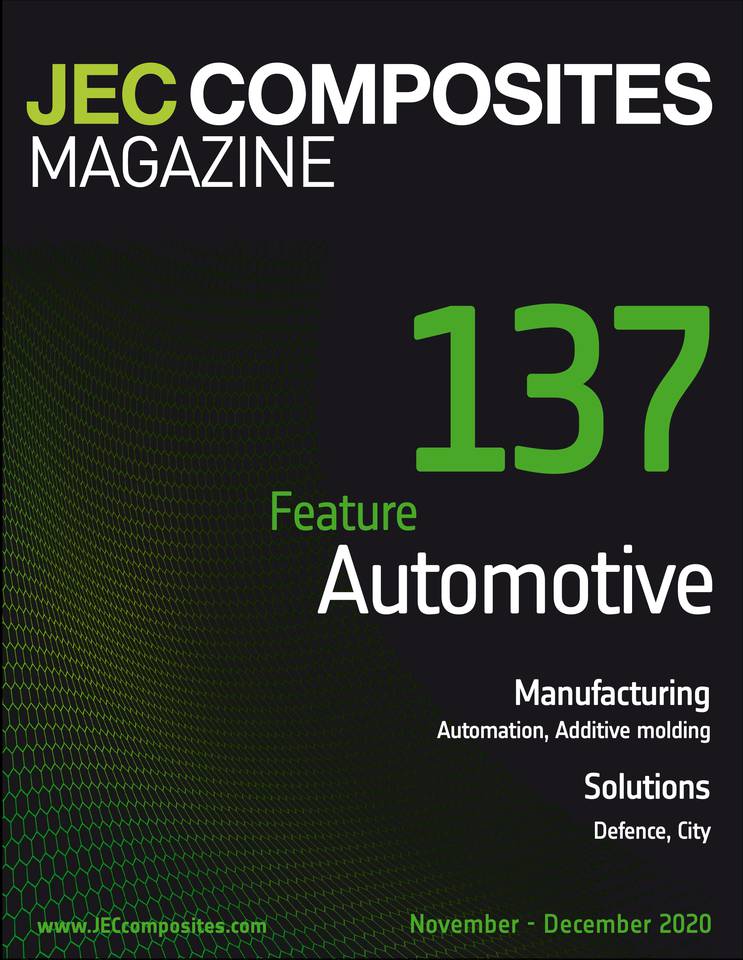 JEC Composites Magazine
N°137 - november 2020
Preview
JEC Composites Magazine is the point of contact of the international Composites Community, 6 times a year, with topics covering scientific information, business, technology, manufacturing, and application sectors trends.
In each and every issue, readers will learn about the entire composites industry value chain (from raw materials to application markets), and be inspired with current and future innovations.
The six sections of the magazine consist in:
NEWS: with interviews, articles about business development (M&As, appointments, partnerships and collaborations, awards etc.).
BUSINESS: with articles covering trends and markets, focusing on a specific country or region, with the composites market, or the application markets, or the companies strategies etc. in that country or region, and a startup focus.
MANUFACTURING: with articles about production processes and processing equipment.
FEATURE: an in-depth overview of a specific topic (typically an application sector), plus a JEC World Preview in April/May and Review in June/July.
SOLUTIONS: composites around us, with articles showing how composite materials are being used in applications which impact our everyday lives.
TECHNOLOGY: with articles about developments in materials, testing and control, repair, joining, design and simulation, recycling and reuse, R&D.
Enjoy your reading!
Contents
A brighter horizon ahead
"The figures for the automobile industry are not good overall, as was expected. In Inovev's latest report on the economic climate, they put forward a few figures and bring clarity to the situation....
Read More
N°137 - november 2020
EDITORIAL
A brighter horizon ahead
"The figures for the automobile industry are not good overall, as was expected. In Inovev's latest report on the economic climate, they put forward a few figures and bring clarity to the situation....
MOVING COMPOSITES FORWARD
"Composites are a completely engineered product"
Siemens Digital Industries Software (Siemens DI Software) have invested in creating a consistent data model for composites across all its software. The company's Digital Innovation Solutions support...
NEWS
Symbio appoints Philippe Rosier as CEO
Almost one year after the creation of their joint subsidiary, Michelin and Faurecia are changing the governance of Symbio: Philippe Rosier is joining the company as Chief Executive Officer. Its...
Toray Advanced Composites names Toshiyuki Kondo CEO
Mr. Kondo takes over the position from Keisuke Ishii, who had been CEO since July 2018, when Toray Industries purchased the Advanced Composites Division of TenCate. Mr. Ishii will transition to...
Mitsubishi Chemical to acquire European carbon fiber recycling companies
Mitsubishi Chemical Corporation decided to acquire two German carbon fiber recycling companies, CFK Valley Stade Recycling and carboNXT, through its subsidiary Mitsubishi Chemical Advanced Materials,...
BUSINESS
Skills requirements in the composite materials sector – the French example
The observation is indisputable. Recruiting is one of the main HR difficulties for more than 9 out of 10 companies interviewed before the health crisis. For that matter, topics like production,...
Make lightness and performance affordable without compromising the environment
Lavoisier Composites was one of the ten finalists of the Startup Booster program at JEC World 2019. Since then, Airbus has selected Lavoisier Composites to join its BizLab acceleration program for...
GWEC: Asia Pacific to become the largest offshore wind market by 2030
In its Global Offshore Wind Report 2020, the Global Wind Energy Council (GWEC) expects offshore wind to surge to over 234 GW by 2030, led by Asia-Pacific. Asia is set to become a leader in offshore...
MANUFACTURlNG
The METHOD platform expands to support more materials, applications, and markets
MakerBot, a global leader in 3D printing and subsidiary of Stratasys, moves into the next level of 3D printing with the launch of the METHOD Carbon Fiber Editions. The new platforms are designed to...
One-shot manufacturing of cylindrical lattice structures for satellite applications
ATG Europe developed a one-shot manufacturing process for uninterrupted prepreg fibre-placed lattice structures consisting of regular and symmetric systems of hoop and helical ribs that aim to replace...
World's first fully-recycled thermoplastic composite application in aerospace
A rotorcraft access panel made of recycled thermoplastic composites was developed and successfully flight tested. Utilizing a novel recycling route, the panel is lighter and more cost-effective. To...
From large-scale continuous thermoplastic composites to mass production
Carbon fiber is one of the highest performance materials available, but unless you ride a high-performance bicycle, fly in an aircraft, or drive a Lamborghini, you rarely see it in your everyday life....
FEATURE
Fully coupled process-structure analysis for automotive center floor panel
The effect of fibre orientation on fibre-reinforced plastic (FRP) product has become an important issue in the field of composite research. C2ES Korea has over 30 years of experience in the industrial...
Composite materials for lighter vehicles
The automotive industry has long been seeking to find a cost-effective solution to weight reduction. But it looks like the hunt may be over thanks to the success of an innovative lightweight...
Transforming composite production processes with FDM additive manufacturing
Italian company Compositex produces high-quality composite components and parts. The company is facing growing demand from its automotive, motorsports and aerospace customers for faster and more...
All-composite EV wheel moves to next development phase with pilot production
ACRIM-Wheel, the world's first commercially-viable, low-cost, lightweight all-composite wheel for niche and electric vehicle applications, moves to the next phase of development with the manufacture...
The world's fastest armoured car
The American armoured car manufacturer AddArmor worked with APR, a tuning solution specialist, to design the world's fastest armoured car. The car can reach a speed of 325 km/h and withstand military...
Sustainable composite solution for new Toyota LQ concept car
In late 2019, Toyota Motor Corporation (Toyota) launched LQ, a concept car that uses cutting-edge technology to connect emotionally with the driver. Composite materials are on board in this new...
"More than 50% of the advanced product consists of natural fibre"
JEC Composites Magazine: : How did the project start? What was the initial target? Hiroaki Ido: In 2018, Toyota Boshoku (TB) focused on our new technology – Advanced Baypreg® F NF – as a lightweight...
SOLUTlONS
Drones as wingmen
In May 2020, Boeing Australia presented the first prototype from its Boeing Airpower Teaming System (ATS). Co-developed with the needs of the Royal Australian Air Force (RAAF) in mind, ATS aims to...
Composites for tomorrow's cities
Demographic growth, and the tendency of populations to concentrate in large economic hubs encourage the model of big and mega-cities throughout the world. While most of the big agglomerations were...
Degradation mechanism and maintenance of GFRP hydrochloric acid storage tanks
GFRP chemical degradation as a storage tank by storing hydrochloric acid shows very unique mechanism. Proper diagnosis of GFRP deterioration, and the repair and rework methods based on the technical...
TECHNOLOGY
Adhesion properties of bonded composite to aluminium joints using peel tests
In this research, the adhesion properties of bonded composite-to-aluminium joints are evaluated using floating roller peel tests. The tests were performed using two different adhesives and different...
The University of Southern Queensland - Centre for Future Materials
The composites research group at the University of Southern Queensland (USQ), now known as the Centre for Future Materials (CFM), has existed for over 25 years. In September 2020, the Australian...
Weight and cost reduction with double-double laminates
This paper describes an instantaneous method to convert a structure made of a quad laminate into the best double-double laminate with significantly reduced weight and thickness. This method is offered...
Thank you
You just used 1 credit. You have left.