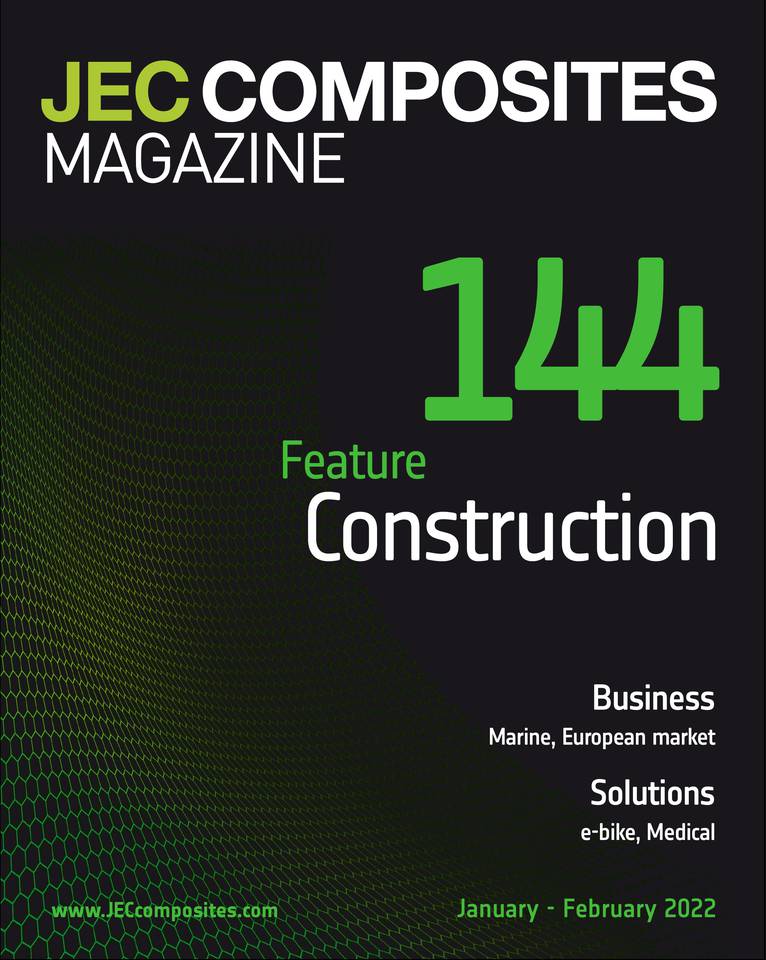 JEC Composites Magazine
N°144 - january 2022
Preview
JEC Composites Magazine is the point of contact of the international Composites Community, 6 times a year, with topics covering scientific information, business, technology, manufacturing, and application sectors trends.
In each and every issue, readers will learn about the entire composites industry value chain (from raw materials to application markets), and be inspired with current and future innovations.
The six sections of the magazine consist in:
NEWS: with interviews, articles about business development (M&As, appointments, partnerships and collaborations, awards etc.).
BUSINESS: with articles covering trends and markets, focusing on a specific country or region, with the composites market, or the application markets, or the companies strategies etc. in that country or region, and a startup focus.
MANUFACTURING: with articles about production processes and processing equipment.
FEATURE: an in-depth overview of a specific topic (typically an application sector), plus a JEC World Preview in April/May and Review in June/July.
SOLUTIONS: composites around us, with articles showing how composite materials are being used in applications which impact our everyday lives.
TECHNOLOGY: with articles about developments in materials, testing and control, repair, joining, design and simulation, recycling and reuse, R&D.
Enjoy your reading!
Contents
Let's build together a new dynamic year!
"Providing in its first assertion a shelter for individuals, construction is a vector of comfort as well of civilization as the approaches, purposes and styles of realization are specific to certain...
Read More
N°144 - january 2022
EDITORIAL
Let's build together a new dynamic year!
"Providing in its first assertion a shelter for individuals, construction is a vector of comfort as well of civilization as the approaches, purposes and styles of realization are specific to certain...
MOVING COMPOSITES FORWARD
«We are the largest compounder and manufacturer of composites in North America»
The Japanese group Teijin has invested massively in Automotive the last few years starting in 2017 with the acquisition of Continental Structural Plastics for USD 825 million. Its strategic plan...
NEWS
Airbus increases its innovation footprint in Spain to develop new hydrogen technologies
Hydrogen is critical to Airbus' aim of developing the world's first zero-emission commercial aircraft by 2035. This will require an innovative approach to fuel storage. Airbus is now designing...
Hexcel and Fairmat announce partnership to recycle carbon fiber prepreg composites
Hexcel Corporation and Fairmat, a deep technology startup based in France, have announced an agreement to build the capability to recycle carbon fiber prepreg from Hexcel European operations for reuse...
Duplex filament winding machine of Roth Composite Machinery with double power
With an innovative machine concept, Roth Composite Machinery is setting new standards in mechanical engineering for the manufacture of products by using the filament winding process (fibre winding...
"China is becoming more and more driven by sustainability"
"JEC Composites Magazine: Arkema said that this new Changshu plant will go hand in hand with the Group's major polyamide 11 plant currently under construction in Singapore. How much additional...
"Our industry is all about weight, cost, and efficiency"
JEC Composites Magazine approached Kenneth Huck, Director of Product Development at Trinity Industries, Inc., to inquire about the group's strategy and vision following its award for the TrinityRail...
Korea in the mood for composites
Held on November 3 to 5, JEC Korea and Carbon Korea 2021 testified to the great interest the entire country has for composites, driven by the Korean Hydrogen Economy Plan and by the development of...
BUSlNESS
Composites industry's resilience in the DACH region highlighted at JEC Forum DACH 2021
Held on November 23-24 in Frankfurt, JEC Forum DACH was an opportunity for composite professionals to exchange and to grow business. Prequalified buyers met with "sponsors" of the DACH German-speaking...
European composites market development and trends
Fall is traditionally the time of year when AVK, the German Federation of Reinforced Plastics, takes stock of the composites market in Europe. Starting in 2022, in order to provide confirmed numbers...
Sustainability and materials recycling in the marine industry: What's new?
In the last twenty years, the issues related to environmental sustainability, recycling and reuse of materials used for nautical construction, among others, have been increasingly subject to attention...
MANUFACTURlNG
Machine tools – Composites meets metalworking
Applying composite materials to metal working machine tool structures can provide significant process improvements. CFRP design translates lightweight, high stiffness and damping material properties...
Composites give machinery wings
With lightweight engineering and high performance composite mate-rials an entirely new approach of injection moulding was realised by ANYBRID. The so-called ROBIN – which stands for Robotised...
FEATURE
Sustainable fibre metal laminates for building & infrastructure
In the building and infrastructure sector, the demand for sustainable materials is ever increasing, just like in other value-creating industries. Sustainable construction materials should be made from...
The SAGA of outer space continues
Founded in 2018, SAGA Space Architects is a Danish architecture firm composed of a team that is passionate about space exploration and living in outer space. Their project Lunark presents an approach...
3D Printing and Construction, a winning combination
Since its creation in 2017, the Texan construction company ICON has shown how 3D printing can be a perfect ally in building. Armed with its technical and materials innovations Vulcan and Lavacrete,...
Bonding concrete on fibre-reinforced thermoplastics
Civilian infrastructure is commonly made of concrete, and such structures need to have a long service life. Therefore, fibre-reinforced plastic (FRP) rods are often embedded as reinforcing bars in...
A metamorphosis: Latitude, the Berkeley building with a bold new composite material facade
Located two steps away from the emblematic CNIT building in the Parisian business district of La Défense, the Latitude will welcome its new occupants at the beginning of 2022, after three years of...
Consider fire requirements when specifying composites
In applications where the risk of fire is a factor, such as in transportation, building, and construction, fire performance becomes the primary consideration when specifying composite solutions. Exel...
SOLUTlONS
The four circles' e-bike
The e-tron range is the spearhead for values upheld by the Audi brand: performance, design and electric motorisation. While the Audi e-tron SUV was kindling interest from electric vehicle lovers, the...
Hi-Fiber makes the perfect smile
Hi-Fiber, the line of dental reinforcements launched by Moi Composites' dental division, is one of the most recent innovations in dental care. It uses the company's CFM technology to design and 3D...
lntegration of innovative fire protection components for e-mobility applications
Low weight combined with greater range from the batteries is a key milestone in taking e-mobility mainstream. Innovative lightweight materials can make a significant contribution to reducing weight...
TECHNOLOGY
AC and DC cure monitoring of composites
Both AC and DC techniques are currently used to study thermoset and composite cure. Understanding the characteristics of each is important for choosing a test method and avoiding misinterpretation of...
lnstrumented and shape-adaptive propellers using advanced carbon composites with AFP
A growing interest in the application of fibre-reinforced polymer (FRP) composites in marine structures has led to high-performance composite propeller designs, which are usually made of nickel...
lNDEX
MARKET PLACE
Airbus..................................p.8, 13, 14Albany International Corp.............p.8Alstom...
Thank you
You just used 1 credit. You have left.