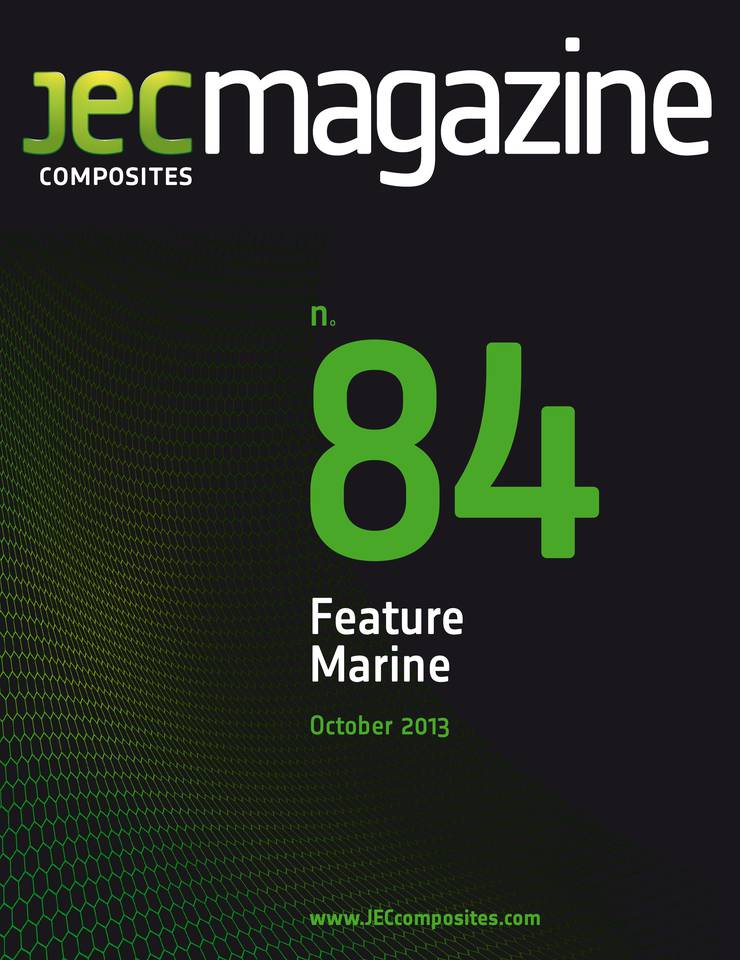 JEC Composites Magazine
N°84 - october 2013
Preview
JEC Composites Magazine is the point of contact of the international Composites Community, 6 times a year, with topics covering scientific information, business, technology, manufacturing, and application sectors trends.
In each and every issue, readers will learn about the entire composites industry value chain (from raw materials to application markets), and be inspired with current and future innovations.
The six sections of the magazine consist in:
NEWS: with interviews, articles about business development (M&As, appointments, partnerships and collaborations, awards etc.).
BUSINESS: with articles covering trends and markets, focusing on a specific country or region, with the composites market, or the application markets, or the companies strategies etc. in that country or region, and a startup focus.
MANUFACTURING: with articles about production processes and processing equipment.
FEATURE: an in-depth overview of a specific topic (typically an application sector), plus a JEC World Preview in April/May and Review in June/July.
SOLUTIONS: composites around us, with articles showing how composite materials are being used in applications which impact our everyday lives.
TECHNOLOGY: with articles about developments in materials, testing and control, repair, joining, design and simulation, recycling and reuse, R&D.
Enjoy your reading!
Contents
"The revolution has just started"
"Created in 1851, the America's Cup is the world's oldest sport trophy and, thanks to profound changes to its rules and to the class rules, has also become one of the most popular events in the world,...
Read More
N°84 - october 2013
EDITO
"The revolution has just started"
"Created in 1851, the America's Cup is the world's oldest sport trophy and, thanks to profound changes to its rules and to the class rules, has also become one of the most popular events in the world,...
POINT OF VIEW: GLOBAL PLAYER
Polynt strengthens its global position in UP resins
With the recent affiliation of PCCR in the USA, the Italian group Polynt continues to increase its size and strengthen its global position with 13 factories worldwide: eight in Europe, one in China...
COMPANIES & BUSINESS
Mitsubishi Rayon and PTT explore a joint venture in carbon fiber business in ASEAN
The joint study will target downstream businesses in automotive, energy (natural gas and renewable energy), civil engineering and infrastructure. MRC and PTT anticipate up to 1 billion USD sales of...
A new trade association: Composites Germany
The AVK Federation of Reinforced Plastics, the CCeV carbon composites industry association, the CFK-Valley Stade carbon fiber cluster and the Composite Technology Forum of the VDMA association of...
NASA announces advanced composite research partnership
The six selected companies from five U.S. states to participate in the government-andindustry partnership to advance composite materials research and certification are: Bell Helicopter Textron of Fort...
Toray agrees to acquire Zoltek Companies
Toray Industries announced that it has agreed to purchase the entire stake at $16.75 per share (total amount is approximately $584 million) in Zoltek Companies, engaging sales and manufacture of large...
Chomarat opens manufacturing plant in USA
The company continues to develop its advanced composites and carbon activities with the opening of an additional South Carolina 58,500-ft² plant that will be fully equipped with new manufacturing...
APPLICATIONS
Carbon drive shafts: the best specific torque transfer
Although carbon drive shafts are already used in some motor boats and luxury sports cars, they do not have much of a foothold in industry. This is probably just due to conservatism, since they have...
3D composite sandwich with high-energy shock absorbing oriented bridges
The research presented below concerns an original solution to protect vehicles and buildings from explosions and impacts from the operation of improvised explosive devices, featuring a 15-20% weight...
The Volkswagen XL1 super efficient vehicle
The XL1 is a fuel-efficient car made of large, lightweight and strong carbon-fibre-reinforced polymer (CFRP) parts. The new Volkswagen XL1 Super Efficient Vehicle (SEV) was unveiled at the Qatar Motor...
MARKET
Germany: more than a resilient country
It may be a cliché, but when you think of Germany from an industrial viewpoint, you think "quality". In the composites market, in fact, Germany also produces in volume, while endeavouring to stay true...
Production capacities for bio-based polymers in Europe: Status and trends towards 2020
Europe's current position in the production of bio-based polymers is limited to a few polymers but several new developments and investments are foreseen: the first industrial-scale European PLA plant...
New projects for basalt
Basalt fibres were fabricated at the laboratory scale starting in the 1960s. These fibres have been manufactured at the industrial scale since 1985, and industrial uses for them are multiplying. They...
FEATURE MARINE
Advanced methodologies to develop winning round-the-world racing yachts
Both the professional and the leisure sailing industries provide a fascinating area for design and development engineers. Highperformance sailing yachts such as those for the Volvo Ocean Race, which...
Future Fibres broadens its horizons
Market leader Future Fibres is known for having revolutionized the rigging industry: composite rigging can now be used on every area of the boat. The company is the world's largest composite rigging...
Multiplast's C Class made of TPT®
Groupama has just won this year's Little America's Cup in September. For the race, Groupama had asked the Multiplast shipyard to make the hulls for an ultra-lightweight C Class catamaran using Thin...
The first all-flax composite trimaran
This article describes the design, development and manufacture of the first all-flax-fibre-reinforced composite trimaran. It focuses on the scantling determination process, the ageing tests results...
Steering the marine industry towards composite innovation
The marine sector is no stranger to composite materials, which are a key factor in achieving lightweight construction. Yet, in today's challenging world market, there are many innovative new ways the...
The world's largest carbon hybrid composite catamaran
The Quaranta composite vessel has broken many super yacht industry conventions, not only in the way she was conceived and designed but also in how she was constructed. As she begins her debutant...
Hakes Marine China launches new JV-designed HH42 racing yacht
The first of the new production HH42 high-performance grand prix racing yachts built by Hakes Marine China, a division of Hudson Yacht and Marine Co. Ltd., and designed by Judel Vrolijk was launched...
RESEARCH & DEVELOPMENT
Cobalt-free curing systems for polymer concrete
Anticipating REACH reclassification of cobalt carboxylates to Carcinogenic 1B, AkzoNobel has launched a range of cobalt-free accelerators for the unsaturated polyester resin market under the brand...
Experimental investigation and modelling of TeXtreme® spread tow composites
To stay competitive and meet greenhouse gas emission targets, the aircraft industry needs to manufacture lighter and more efficient. This is why carbon fibre reinforced polymers are being introduced...
TECHNOLOGIES & INNOVATIONS
Polyurethane for wind turbine rotor blades
Polyurethane (PU) is ideal for manufacturing wind turbine rotor blades. It offers significant advantages over plastic systems such as epoxy and unsaturated polyester resins in terms of process, cost...
Simulation, processing and part testing for a new semi-finished composite material
Basf has developed a product and service package provi-ding an integrated development platform that starts at the concept phase, continues through design, simulation, processing and part testing, and...
Flexible permeability: a simple strategy to simulate the VARTM process
Ahead of traditional materials, polymeric matrix composites have demonstrated their suitability for a great num-ber of applications. This is mainly due to their low weight, excellent mechanical...
Perfect topology for large complex-geometry parts
Dimensional inspection of large parts is never an easy thing, and the industrial environment also demands that inspection be robust, reliable, accurate and rapid. Famous for its racing sailboats,...
Thank you
You just used 1 credit. You have left.