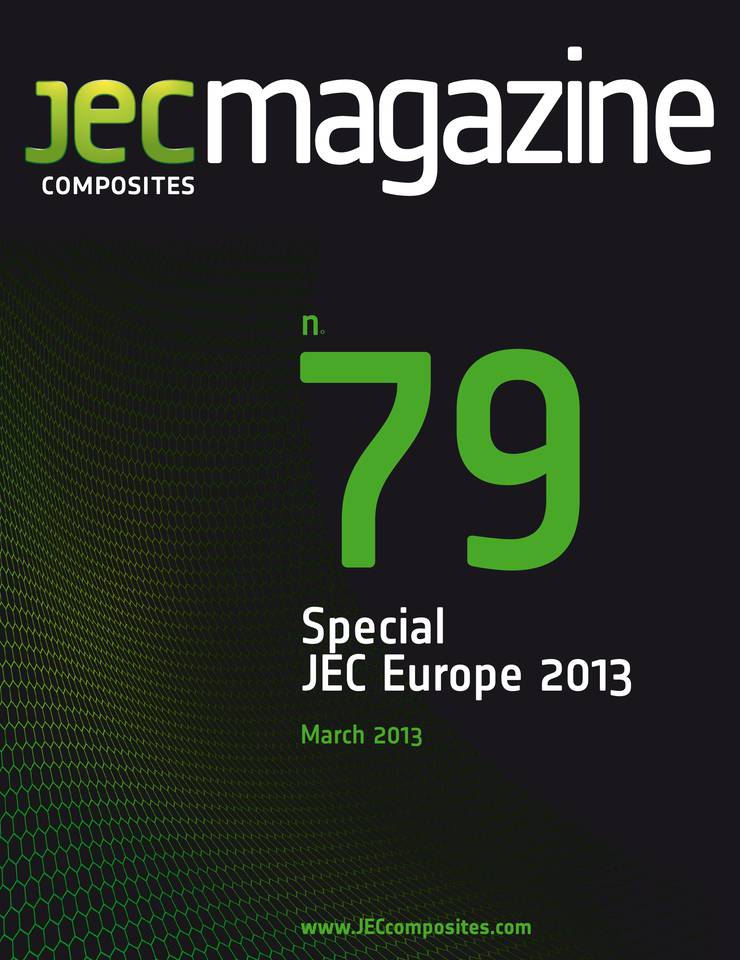 JEC Composites Magazine
N°79 - march 2013
Preview
JEC Composites Magazine is the point of contact of the international Composites Community, 6 times a year, with topics covering scientific information, business, technology, manufacturing, and application sectors trends.
In each and every issue, readers will learn about the entire composites industry value chain (from raw materials to application markets), and be inspired with current and future innovations.
The six sections of the magazine consist in:
NEWS: with interviews, articles about business development (M&As, appointments, partnerships and collaborations, awards etc.).
BUSINESS: with articles covering trends and markets, focusing on a specific country or region, with the composites market, or the application markets, or the companies strategies etc. in that country or region, and a startup focus.
MANUFACTURING: with articles about production processes and processing equipment.
FEATURE: an in-depth overview of a specific topic (typically an application sector), plus a JEC World Preview in April/May and Review in June/July.
SOLUTIONS: composites around us, with articles showing how composite materials are being used in applications which impact our everyday lives.
TECHNOLOGY: with articles about developments in materials, testing and control, repair, joining, design and simulation, recycling and reuse, R&D.
Enjoy your reading!
Contents
Major current innovations boost the composites market
"Let's take a look at the innovations that the JEC Group has detected over the past months, and also at the announcements that we will make at the JEC Europe Conference & Trade Show (not to forget the...
Read More
N°79 - march 2013
ÉDITO
Major current innovations boost the composites market
"Let's take a look at the innovations that the JEC Group has detected over the past months, and also at the announcements that we will make at the JEC Europe Conference & Trade Show (not to forget the...
point of view: research & industry
AZL – The one-stop shop for the composite industry
Research and industry are cooperating closely and developing new market trends on the new campus of Germany's RWTH Aachen University. New technology clusters will be established as part of the German...
Companies & Business
Acquisition
Onex completes acquisition of KraussMaffei Group Onex Corporation announced that it has completed the acquisition of KraussMaffei Group, a leading manufacturer of plastic and rubber processing...
Announcement
Lectra appoints Rikako Shinonaga as Managing Director for Japan Lectra, a leader in integrated technology solutions dedicated to industries using soft materials—textiles, leather, industrial fabrics,...
Development
Boeing grows composite manufacturing capability in Utah Boeing announced the purchase of a new building in Salt Lake County, Utah. Employees at the new site, located in West Jordan, will focus on...
National Composites Center and Airbus sign agreement for Dayton hub
On 24 October 2012, Airbus signed an agreement to collaborate with the National Composite Center and the Dayton Development Coalition in order to support aerospace businesses in Ohio by creating a...
Applications
Speed and accuracy: essential manufacturing parameters in the F1 sector
Laminating software programs are a must-have for every professional composite parts manufacturer. But how can they deal with situations where parts change every month or possibly even every day, like...
Extra-light hydraulic telescopic cylinder
The Canadian company Advanced Composite Telescopic Technology Inc. (ATT) has invented a telescopic composite cylinder that functions as a hydraulic hoist, incorporating multiple cylinders made of...
A 50kW vertical axis offshore wind turbine prototype with V-sails
A key milestone has been achieved by the UK APP project team with the successful construction of the sails for a fully working 50kW prototype demonstrator of their new 10MW "double arm" offshore...
Market
The European GRP market in 2012: Growth only in a few segments
As in the past years, the development of the glass fibre reinforced plastics (GRP) market mirrors the general economic growth of the countries included in this report quite closely. This is hardly...
Enhancing composites value through patents: twenty-first century challenges
As price points for well-known composites and techniques decrease in proportion to maturity and production volume, composites innovators may wish to consider how to enhance composites' «value» – that...
FEATURE SPECIAL JEC EUROPE 2013
Overview of the Turkish composite industry and trends
With conventional materials, production consists only in shaping the materials. In composite product manufacturing, on the other hand, the material itself is also being produced during shaping. For...
Nanotechnology-enhanced biocomposites for greener technologies
Composite materials are key materials for the future, and are already replacing metals and many other material systems. In transportation systems, their low density reduces the weight of vehicles,...
Multifunctional materials
An additional asset for the composite industry Prof. Ulf Breuer, Composite Technologies & Management, Institut für Verbundwerkstoffe ⏵Electrically conductive composites for automotive and aircraft...
Non-destructive Testing
Increasingly numerous and performant techniques Henri Walaszek, NDE Technical and Innovation Manager, CETIM ⏵Benefit of non destructive acoustic imaging and structural health monitoring for quality of...
Composites Design
From behaviour simulation to product development Stephen W. Tsai, Professor, Dept. of Mechanical Engineering, Stanford University ⏵ Opportunities in composites manufacturing, Stephen W. Tsai,...
Wind Energy
Innovative design and performant materials for better blades ⏵Innovative design of large-scale wind turbine blades, Dr Sung Kyu Ha, Professor, Hanyang University ⏵Novel epoxy infusion system for wind...
Aeronautics The new challenges of aircraft design
⏵Composite design challenges, Paulo Teixeira-Lage, Independent Expert, Airbus ⏵Multidisciplinary design optimization of a composite amphibious aircraft fuselage, Plamen Roglev, Designer, Perun TM EOOD...
Biocomposites
Bio based materials and solutions - ready to be used ⏵Life cycle analysis of biobased composites, Maëva Coureux, Project Manager, AgroComposites Entreprises ⏵Efficient use of flax and hemp fibres in...
Sustainability
Solutions for today! ⏵Cobalt free: time to accelerate !, Willemn Posthumus, R&D Engineer, DSM Composite Resins ⏵Reduce styrene's environmental impact, Thierry Foussard, R&D Head of Department, CCP...
Thermoplastics
Reduce cost, increase throughput and reduce scrap in composite part manufacturing ⏵Guided tour of thermoplastics experts ⏵The world of carbon fibre reinforced thermoplastics: Statu Quo, Andreas Erber,...
Raw materials
A new family of latent acid catalysts to make pre-polymeric mixes easier to store, transport, handle and process Winner: BAC2 Limited (UK) The development of the CSR family of latent acid catalysts...
Sofia Project - An innovative transportation concept
«Sofia Project – An innovative transportation concept»: The project consists in developing a new technology for the construction of bus, train wagon, van and car bodies in an innovative and...
Thermoplastics
Thermoplastic composite resin solution Winner: Arkema (France) Partners: PPE (France), Chomarat (France), 3B-the fibreglass company (Belgium) MVC (Brazil) Altuglas® composite resin solutions are...
Machining & tooling
A tooling solution to evacuate hot dust particles produced during cutting operations Winner: Cruing Italy Srl (Italy) The Aerotech® System is a tooling solution that thoroughly evacuates hot dust...
Multifonctionnal materials
A thermally conductive fibre-reinforced composite material Winner: Institut für Textiltechnik (ITA) of RWTH Aachen University (Germany) The innovation combines pitch-based carbon fibres and a...
Aeronautics
The first thermoplastic composite tailplane developed and put into production for a helicopter The innovation is a full thermoplastic horizontal tailplane with a co-consolidated, single-piece multi-...
Wind energy
A thick-walled filament-wound carbon fibre composite shaft more than 8.5 metres long and nearly 1 metre in diameter The thick-walled (about 80 mm) filament-wound carbon fibre composite shaft is...
Sports & leisure
New generations of ecodesigned Rigid Inflatable Boats These new Rigid Inflatable Boats consist of an assembly between a rigid composite hull and an inflatable float. The two boats presented were...
Special price
LifeDrive concept: the world's first body architecture that is purpose designed and built for the series production of electric vehicles Though carmakers all over the world are rushing out electric...
JEC Innovation Report
Raw materials Automotive New system for composite automotive mass production > Booth G65 Huntsman will highlight innovative solutions to support the growing demand for structural carbon composites in...
Technical flax now conforms to industrial realities
Since 2009, FiMaLin®, the agro-industrial chain dedicated to technical flax for composites, has been a lightning rod for companies interested in supplies of flax fibre controlled for quality and...
Flax & hemp fibres, a solution for the composite industry
There is a growing awareness of environmental issues across the world. At the same time, changing lifestyles are increasing the need for greater and faster means of transport. Faced with this paradox,...
Research & Development
New advances in core-shellrubber toughening for epoxy resins
Kaneka has introduced to the market liquid epoxy tougheners containing core-shell-rubber (CSR) under the name Kane AceTM MX. This recent development resulted in the creation of a new family of CSR...
2D/3D woven fabrics for ballistic protection
The woven construction of high-performance fibres plays an important role in ballistic protection. This paper reports on recent research on the engineering design and evaluation of 2D and 3D fabrics,...
Technology & Innovations
Styrene Free: laminating surfboards with vacuum infusion to eliminate styrene emissions
Under the Styrene Free project, research company Rescoll developed an unsaturated polyester resin suitable to laminate surfboards using vacuum infusion. There are a number of environmental and...
Defining the matrix standard for thermal resistance improvement of epoxy-prepregs
Prepreg : a fibre reinforcement material, usually in fabric, roving or unidirectional form, pre-impregnated with a resin matrix in controlled quantity, providing ultimate composite performances....
Pure platelets – Not all graphene is created equal
Graphene is thinner than the diameter of a single human hair (17 microns). One gram of the super powder can cover half a football field. Nano-graphene platelets are transparent enough to see through...
Thermosets for sustainable production of automotive composite components
Polymer composite materials can help to substantially reduce the weight and hence the CO2 emissions of future automobiles. Epoxy resins, the preferred matrix choice for structural composites in...
Filament winding of twisted glass bundles for drainage pipe filters and aerators
The Ukraine-based company Polistok produces GRP pipe filters by winding twisted glass-fibre bundles impregnated with epoxy resin The bundles are wound so as to form a grid on the mandrel surface, and...
Thank you
You just used 1 credit. You have left.