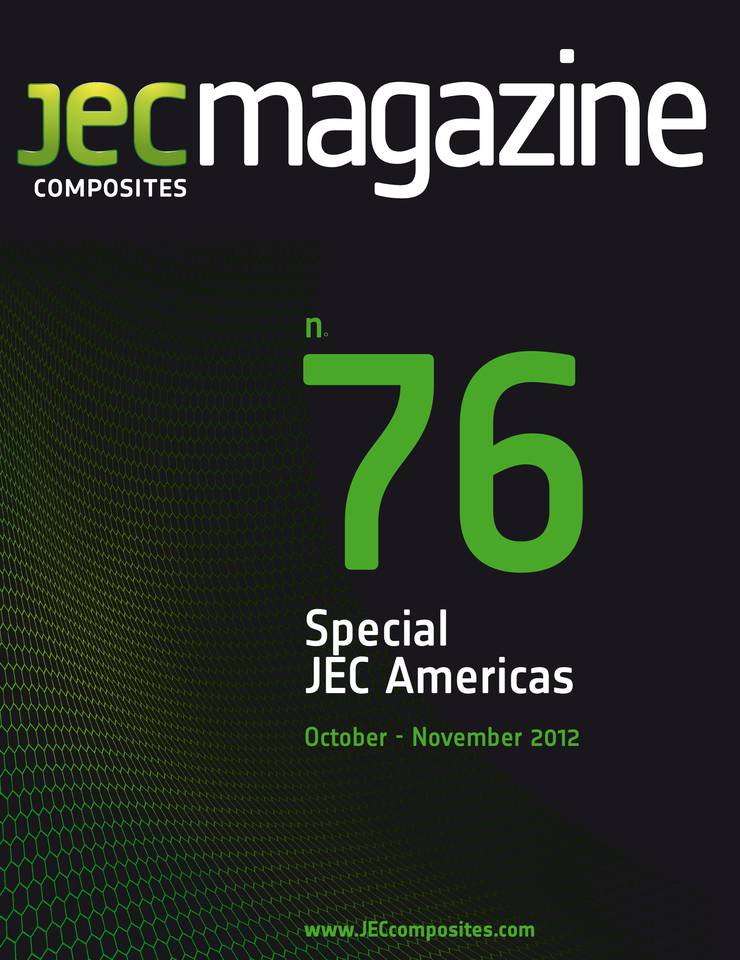 JEC Composites Magazine
N°76 - october 2012
Preview
JEC Composites Magazine is the point of contact of the international Composites Community, 6 times a year, with topics covering scientific information, business, technology, manufacturing, and application sectors trends.
In each and every issue, readers will learn about the entire composites industry value chain (from raw materials to application markets), and be inspired with current and future innovations.
The six sections of the magazine consist in:
NEWS: with interviews, articles about business development (M&As, appointments, partnerships and collaborations, awards etc.).
BUSINESS: with articles covering trends and markets, focusing on a specific country or region, with the composites market, or the application markets, or the companies strategies etc. in that country or region, and a startup focus.
MANUFACTURING: with articles about production processes and processing equipment.
FEATURE: an in-depth overview of a specific topic (typically an application sector), plus a JEC World Preview in April/May and Review in June/July.
SOLUTIONS: composites around us, with articles showing how composite materials are being used in applications which impact our everyday lives.
TECHNOLOGY: with articles about developments in materials, testing and control, repair, joining, design and simulation, recycling and reuse, R&D.
Enjoy your reading!
Contents
A vibrant North American composites industry
"The most keenly anticipated composites gathering, JEC Americas, will open its doors with a vibrant composites industry on November 7-9, 2012 in Boston. In a worldwide market worth US$99 billion and...
Read More
N°76 - october 2012
EDITO
A vibrant North American composites industry
"The most keenly anticipated composites gathering, JEC Americas, will open its doors with a vibrant composites industry on November 7-9, 2012 in Boston. In a worldwide market worth US$99 billion and...
POINT OF VIEW: HIGH-PERFORMANCE
Hexcel: A high-tech, pure player
Last September, Hexcel officially opened an extension to its prepreg plant in Parla, Spain, doubling capacity at the facility in order to support increasing build rates for the Airbus A350 XWB and...
COMPANIES & BUSINESS
Development
Owens Corning opens new China composites center in Shanghai Owens Corning, a leading global producer of glass fiber reinforcements for composite systems and residential and commercial building...
Acquisition
Institute for Advanced Manufacturing unveiled Rt Hon David Willetts MP, Minister of State for Universities and Science, welcome Atlas Composites Managing Director Shaun Moloney and a select group of...
Partnership
BASF and Max Planck Institute for Polymer Research inaugurate joint research laboratory for graphene BASF and the Max Planck Institute for Polymer Research (MPI-P) opened their joint research and...
Announcement
Amber composites material specified for major automotive build production records Amber Composites announced that its material has been specified for the primary structure of a major automotive build....
APPLICATIONS
High-performance mountain bike
German automotive, motorsport and competition cycling components manufacturer AX-lightness GmbH is using Umeco's autoclaveand press-curable prepregs to produce structures for competition bicycles used...
Braiding allows great look
Munich Composites GmbH, Technische Universität München, the Institute for Carbon Composites and designer Benjamin Hansbauer have developed the BRAID bicycle frame, a new kind of frame entirely made of...
The Recycling wave
Werner Paddles, a US manufacturer of fine handcrafted boating paddles, has used carbon fibre recycled from Boeing aircraft production to manufacture blades and to deliver soughtafter aesthetics for...
Air engine mobility thanks to composites
AIRPod is the culmination of Motor Development International (MDI) studies on pollution and urban mobility. This concept will be the first one to leave the production line. Composites are an integral...
MARKET
Testing at every step of a product's life
Running a laboratory is a demanding job, especially in the composite industry, where there is a wide range of applications and certifications in each market sector. Let's take a look at the day-to-day...
Aramid and basalt: still challenger fibres
The volume of aramid and basalt fibre used in composite materials is still low compared to that for carbon and especially for glass fibre, and yet these fibres have many advantages. Here is an update...
SPECIAL JEC AMERICAS 2012
Gain insight into the JEC 2012 l.C.S. Americas programme
Dear Composite Professional, The I.C.S. conferences and forums in Boston are an opportunity to meet professionnals and stakeholders who rely on a booming composite market and conferences that promote...
A real opportunity to discover and introduce new technologies
The Poster session is 100% free and is a part of a three-day program comprising economic and technical conferences that will showcase the latest trends and breakthrough innovations across different...
JEC Innovation Awards Program 2012: lnnovation awards winners
Nine companies and their partners will receive awards at the inaugural JEC Americas Composites Show and Conferences at the Boston Convention and Exhibition Center, Nov. 7 – 9, 2012. Set against the...
US Universities & industries: Close to problematics of Composites Auburn University
There are only two comprehensive polymer and fiber engineering programs in the U.S.: Auburn University and Georgia Tech. Polymer and Fiber Engineering is a type of materials engineering that...
JEC Innovations Report and News automotive
> Booth J23 Applied research centre for composites in North America The Fraunhofer Institute for Chemical Technology (ICT) is one of Europe's largest application-oriented research organizations....
A top-level demonstration at JEC Americas
In ever more competitive markets, manufacturers are seeking to innovate and stand out from the rest. In this regard, RocTool will offer visitors to the JEC Americas trade show a live demonstration of...
A new generation of injection equipment
The growing trend into closed moulding technologies continues, and as the various moulding processes mature, moulders are advancing their competitive edge with intelligent injection systems capable of...
An automated work cell design for high-rate composite production
Nammo Composite Solutions has developed an automated composite manufacturing process for the production of a next-generation launch tube for DoD applications. The new work cell features automated...
Taking advantage of new 5-axis CNC machining technology
U.S. based AGC Composites & Aerostructures Group is a global supplier of technologies, systems and services that support key military programs and branches. When they began manufacturing parts for...
Solve Composites LLC plies the streets of New York
Solve Composites, a leading supplier of composite structures to the transportation industries, including bus and aerospace, is climbing aboard New York buses. During the past two and a half years,...
RESEARCH & DEVELOPMENT
A novel stamp forming technique for crush-resistant stringers made of thermoplastic composites
This paper describes the development of thermoformed composite stringers with an 80 % improvement in crushing strength relative to basic thermoformed composite stringers. The strength improvement is...
Customized solutions for laser-assisted tape placement
In this paper, Fraunhofer IPT's specialists in the field of laser-assisted tape placement describe the key points of this specific composite manufacturing method. They also show that this technique is...
Cost-effective preform production for complex FRP structures
The production of highly integrated textile preforms for fibre-reinforced plastic (FRP) components accounts for up to 40% of the overall component costs as state-of-the-art preforming processes are...
TECHNOLOGIES & INNOVATIONS
"Out-of-autoclave" CF monocoque sports car cockpit chassis
The Australian designed and built FR-1 has become a reality after nine years and over Aus$ 1 million invested to produce this one-off high-performance concept car. This unique, hand-built two-seater...
Dynamic characterisation of a carbon fibrereinforced composite (CFRC) in ballistic ranges
The dynamic behaviour of a carbon fibre-reinforced composite (CFRC) was investigated to estimate the perforation resistance of a 10-mm-thick plate. Fundamental tests were performed to obtain...
Micromechanical software enables efficient multiphysics composites modelling
The complexity of engineering systems at the microlevel greatly complicates the analysis of macroscopic behaviour. Direct analysis is computationally intensive and unrealis-tic. SwiftComp...
Thank you
You just used 1 credit. You have left.