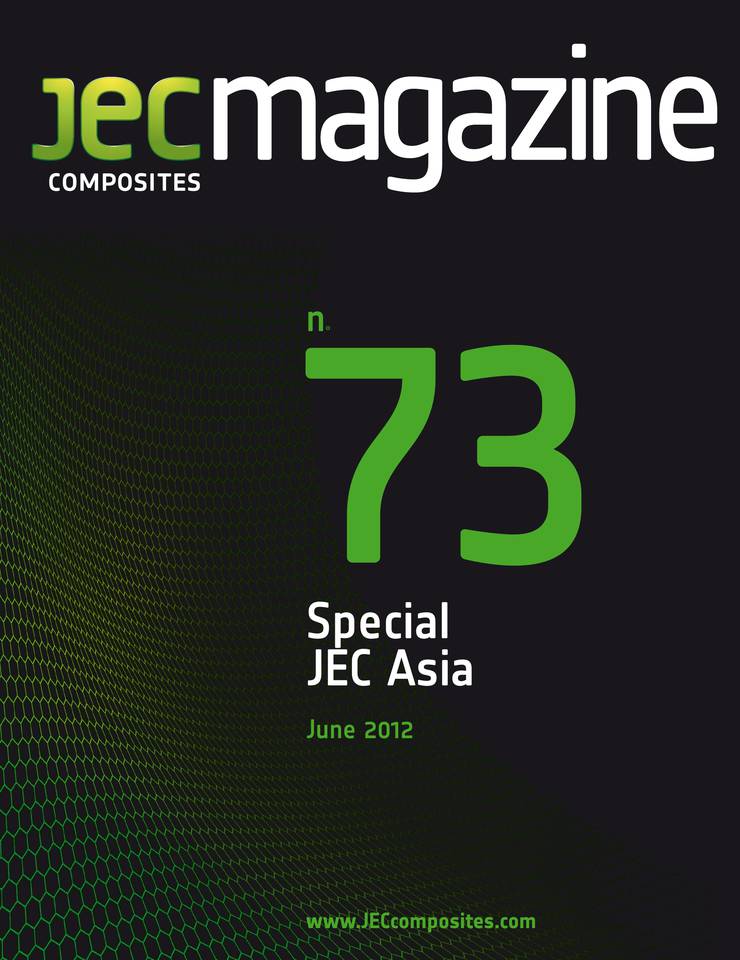 JEC Composites Magazine
N°73 - june 2012
Preview
JEC Composites Magazine is the point of contact of the international Composites Community, 6 times a year, with topics covering scientific information, business, technology, manufacturing, and application sectors trends.
In each and every issue, readers will learn about the entire composites industry value chain (from raw materials to application markets), and be inspired with current and future innovations.
The six sections of the magazine consist in:
NEWS: with interviews, articles about business development (M&As, appointments, partnerships and collaborations, awards etc.).
BUSINESS: with articles covering trends and markets, focusing on a specific country or region, with the composites market, or the application markets, or the companies strategies etc. in that country or region, and a startup focus.
MANUFACTURING: with articles about production processes and processing equipment.
FEATURE: an in-depth overview of a specific topic (typically an application sector), plus a JEC World Preview in April/May and Review in June/July.
SOLUTIONS: composites around us, with articles showing how composite materials are being used in applications which impact our everyday lives.
TECHNOLOGY: with articles about developments in materials, testing and control, repair, joining, design and simulation, recycling and reuse, R&D.
Enjoy your reading!
Contents
June 2012: Let us celebrate Asia Pacific, the land of opportunities!
"The Asia-Pacific composites sector is diversified. Large developed markets like Japan, Taiwan and Korea have a fully integrated value chain, i.e. significant players at each step of the value chain...
Read More
N°73 - june 2012
ÉDITO
June 2012: Let us celebrate Asia Pacific, the land of opportunities!
"The Asia-Pacific composites sector is diversified. Large developed markets like Japan, Taiwan and Korea have a fully integrated value chain, i.e. significant players at each step of the value chain...
POINT OF VIEW: CORE MATERIAL
DIAB: a leader in sandwich composite technology
DIAB's new CEO is Lennart Hagelqvist, who had been executive vice president of a Swedish company since 2007. Let's see what Lennart Hagelqvist's expectations are for DIAB, a core material and sandwich...
COMPANIES & BUSINESS
RTP Company adds lines to expand production facility in Ladenburg
Global custom engineered thermo-plastics compounder RTP Company announced that it has undertaken an expansion at its Ladenburg, Germany production facility that will nearly double the locations...
The UPM Spain and Alstom create a Chair for Innovation in railway infrastructure and smart grid management
Alstom Spain and the Universidad Politécnica de Madrid (UPM) have signed an agreement to create the Alstom Chair for smart grids, infrastructure and railway signalling. Within this collaboration...
Owens Corning, as innovatory as ever
The year 2012 got off to a strong start for Owens Corning, which introduced a major, market-opening innovation and obtained an important specification approval. Last March at the JEC Europe Paris,...
Flax & hemp fibres: a natural solution for the composite industry
The industrial sectors that use non-renewable fibres have undertaken an eco-design initiative. Having the structure to meet this new industrial need, the CELC Technical Section collaborated with its...
APPLICATIONS
Lightweight noise reduction system for the railway sector
The French company TCI, together with its partner SNCF, won a JEC Innovation Award at the JEC Europe 2012 in March 2012 for a lightweight, easy-to-use noise reduction system. The noise reduction...
Micro Air Vehicle aids Fukushima Daiichi disaster recovery
Honeywell's T-Hawk™ Micro Air Vehicle (MAV) helped emergency workers at Japan's Fukushima Daiichi nuclear facility get up-close video and photos inside the plant as they worked to limit further...
A new type of battery pack module carrier
LG Hausys, together with its partners Hyundai Motor and Shinhan Mold, won a JEC Innovation Award in the Special Prize Category at the JEC Show Europe 2012 in Paris last March. The three Korean...
MARKET
Product group leader: uniting production & markets needs
Hexagon Composites ASA has appointed Ragnar Holthe as director of CNG containers for passenger cars in the business unit for High-pressure containers. Ragnar Holthe took up the new position on 2 May...
Sandwich structures: good prospects
While composite materials consumption is constantly growing, sandwich structures are increasingly used due to the weight reduction trend observed in many sectors. Here are few recent developments in...
Gurit signs long-term balsa core supply agreement with Sino Composite for the Chinese market
Gurit and Sino Composite recently signed a long-term agreement to immediately initiate supplies of balsa core materials for the Chinese market. Established in 1992, Sino Composite Co. Ltd., Beijing,...
Reducing the resin uptake of core materials by more than 50%
3 A Composites Core Materials recently launched the new SealX technologies, dramatically reducing the resin uptake of the infused core materials. While this reduction is above 50% for the Airex® T90...
The first expandable adhesive film to meet FST standards
A versatile, low-density film helps aircraft interior makers save time in production, improve finish and meet increasingly stringent FST regulations. 3M has launched the first adhesive film for...
Municipal works are modernizing trams with BASF's specialty foam
Basotect ® is going to be used in Bonn's trams to provide effective sound absorption and thermal insulation. In a large-scale project, the municipal works of the city in Western Germany will be...
TRB Lightweight Structures completes three-year investment programme
TRB Lightweight Structures recently completed a strategic investment programme, adding capacity and expanding its range of services to better serve its customers in the rail, defence, motorsport and...
SPECIAL JEC ASIA 2012
JEC Asia 2012 floorplan: participating companies as of 20/05/2012
- 01DB Metravib- 3A Composites(China)- 3B Fibreglass A - A Star- Association OfAerospace Industries (Aais)- AccionaInfraestructuras- ACCM-8- ACFRF- Aditya BirlaChemicals- Aero CompositesSolutions-...
Gain insight into the JEC 2012 l.C.S. Asia programme
Dear Composite Professional, The 2011 event welcomed around 7,000 visitors from 52 countries, 76% from abroad and 24% from Singapore. About 800 delegates took part in the 2011 program of conferences...
JEC Innovation Awards Program 2012: lnnovation awards winners
JEC Composites is announcing the winners of the JEC Asia Innovation Awards programme 2012. For this fifth edition, 11 companies and their partners will receive awards at the JEC Asia Composites Show...
SAERTEX® thermoplastics > Booth D11
SAERTEX®, a global leader in the production of noncrimp fabrics (NCF) and special solutions, introduces its new continuous fibre-reinforced thermoplastic materials. The combination of glass and carbon...
UP foam resin technique: low weight and cost-efficiency > Booth C20
The lightweight construction trend recently received a new boost. At the same time, cost-efficiency conside-rations are getting into the spotlight more than ever. Foam resin technology based on UP...
HexMC carbon fibre/epoxy moulded parts for Boeing 787 > Booth C12
The first Boeing 787 was delivered on September 26th 2011, an aircraft on which hundreds of HexMC parts from Hexcel have been certified. HexMC is a new product form of composite material which is...
Unbalanced thin ply bi-axial NCF > Booth F6
For the first time in Asia, Chomarat will present the first industrial carbon parts produced using C-PLY™ Bi-Angle non crimp fabric (NCF). C-PLY™ Bi-Angle NCF is an unbalanced thin-ply biaxial carbon...
Composite Patch – the universal composite repair system > Booth G19
Composite Patch is an all-weather, error-proof and fast curing composite repair system that bonds to virtually any surface and hardens fast in the coldest weather, in the snow or even underwater. This...
RTM central vacuum system from Oerlikon Leybold Vacuum > Booth D19
In the elaboration of composite materials, it may sometimes be necessary, for processes like RTM (Resin Transfer Molding), to have two different pressure levels: one "vacuum" level, fixed, as low as...
UVF – Universal vacuum fixtures system > Booth E10
The UVF (universal vacuum fixtures) system developed by Belotti SpA is an automatic vacuum fixing system designed to rigidly clamp shaped metal and/or composite parts for several operations (cutting,...
Research & Development
MTorres new R&D laboratory and assembly facility > Booth D10 M. Torres aims at offering its customers in the aerospace industry a single and reliable source of efficient manufacturing systems for...
New autoclaves for thermoplastics > Booth H10
Based on the research, development and experience gained over the years, Italmatic has developed a new generation of autoclaves that can be operated at temperatures of over 450°C and pressures greater...
3D printing: a manufacturing revolution > Booth F21
With almost everyone exploring ways to minimize costs and maximize profitability, 3D printing technology offers a glimpse of a future based around a smaller, more agile productive capacity. Objet's...
METYX Composites Kitting Centre > Booth B6
METYX Composites recently announced a major, multi-phased investment in the core material and fabric kitting business. Both are part of METYX Composites Kitting Centre (MCKC), a new business unit at...
One-shot drilling of composite/metallic stack materials using power feed machines > Booth E12
Among the latest optimized pro-cesses to emerge from Sandvik Coromant's R&D team is one-shot drilling of composite/metallic stack materials (titanium/ CFRP/aluminium) using power feed machines. This...
CTRM: well established in the aerospace industry
Composites Technology Research Malaysia Sdn Bhd, or the CTRM group, illustrates the determination in Malaysia to work their way up to become leaders in technology and at the same time play a leading...
Spirit AeroSystems Malaysia Sdn Bhd, a central role in Malaysia
In November 2007, Spirit AeroSystems (Europe) Limited – the European division of Spirit AeroSystems, a world supplier of commercial airplane assemblies and components – announced the construction of...
DK Composites, on land and sea
DK Composites leans on more than one pillar, so to speak. The company operates in two separate sectors, building domes and boats. In both sectors, its reputation has spread beyond the borders of...
Unifiber: dedicated to building and construction
Unifiber is established at Selangor, about an hour's drive north of Kuala Lumpur. The Malaysian company has quietly built its reputation in the building sector, both locally and abroad. Established in...
AGY focuses on new markets and partnerships
March 2012 should be a red-letter month for AGY, due to the company's three major announcements on its organization, development strategy and positioning on innovation. These decisions and...
Fatigue characterisation of plant fibre composites for rotor blade applications
Due to a noticeable lack of fatigue data, the prospective use of plant-fibre composites (PFCs) in fatigue-critical components (like rotor blades) is limited as fatigue life prediction is not possible....
RESEARCH & DEVELOPMENT
High-performance simulation for high-performance vessels – Virtual megayachts
Ship design has always been primarily an experience-based skill. While this is still true to some extent today, we increasingly rely on «virtual experience» drawn from computer simulation. The rapid...
Prospective strategies for composite production
To produce FRP components in large quantities, novel approaches are required in the preforming industries. One possible solution is to transfer steel processing technologies such as tailored blanks,...
TECHNOLOGIES & INNOVATIONS
Discontinuous unidirectional prepreg makes complex parts possible
Pepin Associates, Inc. has developed a discontinuous, unidirectional preimpregnated reinforcement tape (unitape) which has the ability to stretch up to 30% to form complex shapes. The material, called...
A sustainable cobalt solution for the UPR industry
Reichhold and Umicore jointly introduce an innovative and sustainable cobalt solution for curing unsaturated polyester resins (UPR). Umicore's ECOS ND15 offers a breakthrough in terms of hazardous...
Micro-pullwinding and micro-pultrusion – technology and applications
Miniaturized manufacturing techniques for fibrereinforced plastics are still a rather small niche in the composite market. However, the latest developments in micro-pultrusion and micro-pullwinding...
High-performance resins for pultruded composite profiles
Pultrusion is a continuous, automated fabrication process for manufacturing in high volume constant cross section profiles and solid shaped parts. Pultruded FRP structural profiles with exceptional...
The world's largest long fibre injection moulding machine
Continuing its commitment to commercializing innovative composite technologies, Romeo RIM Inc. has installed the largest long fibre injection (LFI) press in the world, with the capability to produce...
Certification of composite pipes for the oil & gas industry
The oil & gas exploration and production sector has been expanding rapidly in India and should attract enormous capital investment in future. As a more eco-friendly and cost-effective mode of...
Thank you
You just used 1 credit. You have left.