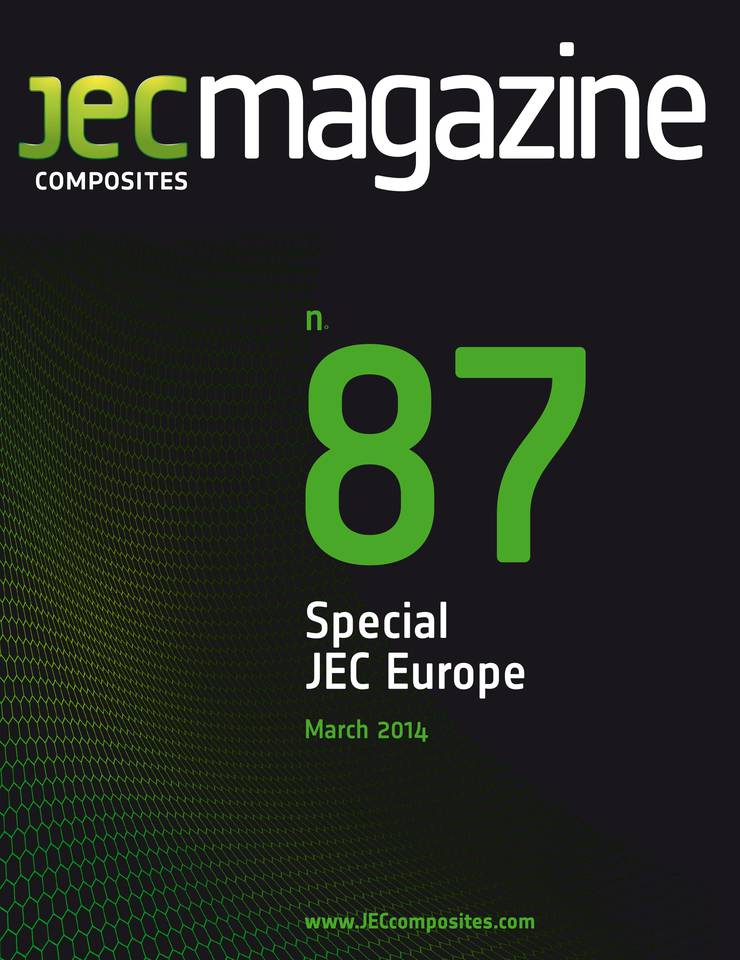 JEC Composites Magazine
N°87 - march 2014
Preview
JEC Composites Magazine is the point of contact of the international Composites Community, 6 times a year, with topics covering scientific information, business, technology, manufacturing, and application sectors trends.
In each and every issue, readers will learn about the entire composites industry value chain (from raw materials to application markets), and be inspired with current and future innovations.
The six sections of the magazine consist in:
NEWS: with interviews, articles about business development (M&As, appointments, partnerships and collaborations, awards etc.).
BUSINESS: with articles covering trends and markets, focusing on a specific country or region, with the composites market, or the application markets, or the companies strategies etc. in that country or region, and a startup focus.
MANUFACTURING: with articles about production processes and processing equipment.
FEATURE: an in-depth overview of a specific topic (typically an application sector), plus a JEC World Preview in April/May and Review in June/July.
SOLUTIONS: composites around us, with articles showing how composite materials are being used in applications which impact our everyday lives.
TECHNOLOGY: with articles about developments in materials, testing and control, repair, joining, design and simulation, recycling and reuse, R&D.
Enjoy your reading!
Contents
Composites at their highest at JEC Europe's largest edition ever
"This year you may be far more impressed than usual by the size of the JEC Europe event. And you can certainly be proud of the dynamism of the composite industry. Composites are valuable allies to...
Read More
N°87 - march 2014
ÉDITO
Composites at their highest at JEC Europe's largest edition ever
"This year you may be far more impressed than usual by the size of the JEC Europe event. And you can certainly be proud of the dynamism of the composite industry. Composites are valuable allies to...
POINT OF VIEW: FORMULATION & DISTRIBUTION
Sicomin, 30 years of composites knowledge
Reconciling consulting, bespoke solutions and corporate development in a sector as technical as composites is not an easy thing to do. Philippe Marcovich, President of Sicomin, discusses these...
AGENDA OF EVENTS
in partnership with 2014
April European Conference on Spacecraft Structures, Materials and Environmental Testing April 1-4 Braunschweig, Germany www.dlr.de MACH 2014 April 7-11 Birmingham, UK www.machexhibition.com Composites...
APPLICATIONS
Two new prepreg systems for railway rolling stock applications
Cytec Industrial Materials is adding two new groundbreaking products to its rail portfolio that meet the fire requirements of EN45545-2:2013. The first product, MTM®348FR, is a versatile curing epoxy...
New Toulon ferry terminal
A marked improvement over the former 30-yearold building, this new 150-ton floating ferry terminal has provided optimal service quality to all types of users since 20 June 2013. The structure was...
MARKET
Europe: many strong points, but held back by economic realities
The subprime crisis that started in the United States has had huge repercussions. Europe has also suffered the consequences, and the European composites market is struggling to get back to its pre-...
"We've gone from about US$ 700 000 to about US$ 7 million in four years"
RocTool, a specialist in the design and development of technologies for molding composites and plastics, announced the transfer from NYSE Euronext to NYSE Alternext with a capital increase of € 3.6...
SPECIAL JEC EUROPE
10th lnternational Composites Summit: Conferences and networking Simulation Design
● Challenges and opportunities of composites design ● Numerical predictions, control and results Stephen W. Tsai, Professor, Dept. of Mechanical Engineering, Stanford University ⏵ CheFEM for composite...
JEC Innovation Awards Program 2014: lnnovation awards winners
With more than a hundred submissions, the success of the Innovation Awards Competition is in constant progress: never have so many highquality files been received, making the selection a very rich and...
The smart choice for you future
The Netherlands' centuries-old tradition of creativity, pragmatism, entrepreneurship, openness and collaboration make it the perfect place to find solutions to the challenges society is facing today...
The Dutch industry is increasingly moving towards composite materials
New initiatives in environmental management, energy savings, heat reductions and climate care are embraced with open arms worldwide. Advanced technologies play an important role in these improvements....
Better and cheaper composites thanks to cooperation between NLR and SMEs
The National Aerospace Laboratory of the Netherlands (NLR) and Dutch SMEs Airborne and Polyworx recently decided to cooperate intensively over the coming three years with a view to substantially...
Aerospace: a view from three Dutch companies
During the past years, we saw a shift of interest as big and small airshows used to be considered as major marketplaces for the aerospace industry. But the interaction between the aerospace and non-...
Improved and automated non-destructive inspection methods for composite structures
Non-destructive inspection (NDI) is an important issue for maintenance and safety in the aircraft industry. The development of new techniques, better instrumentation and accumulated experience have...
Composite bridges: design freedom meets structural performance
Composite materials were recently discovered by architects for bridge design, not only for cosmetic panels or enclosures, but also for the load-carrying structure. Working with composites in civil...
A link between design and reality!
Architects have hardly any limits in putting their imagination on paper to create an environment or atmosphere to amplify a certain message to the world. On the other hand, there are contractors who...
Composites in architecture: facades and roofs
Architectural items such as facades and roofs are a relatively new application of composite materials. Architects have now discovered the possibilities to combine different properties of composites,...
A new tool for composite development
In many real-life circumstances, chemical exposure triggers several chemical-mechanical effects that influence material service life to a significant extent. However, in composite design and...
Simulation of the circular braiding process with Braidsim
The inevitable transition toward renewable energy is challenging the clean-tech industry to reduce costs for competing with established fossil fuel related technologies. With the advent of fuel cells...
Heating system for composite applications
Lantor, based in Veenendaal (NL), specializes in flexible core solutions for the composite industry and is offering an ever expanding range of product innovations servicing both traditional Coremat®...
Characterization of thermoplastic composites for hot stamp forming
This paper describes state-of-the-art characterization methods for thermoplastic composites at high processing temperature and provides a few examples of application in simulations of the hot stamp...
Flax and hemp composites – data reliability
While natural materials account for only about 1% of the volume of the fibres used in composite materials in 2014, forecasts are indicating that biocomposites will rise to as much as 22%* by 2020 ....
Producing sound with flax: new diaphragm sandwich by Focal
Focal has recognized expertise in the design of loudspeakers. Speaker diaphragms need to satisfy three demands: low weight, rigidity and damping, so flax very quickly became a serious candidate mate-...
Lean is beautiful: a green solution for instrument panel applications
In regard to environmental issues and the progressive exhaustion of fossil resources, NAFILean, a hemp-fibre-reinforced polypropylene material, is a clear answer to the trend in the automotive...
Technical flax as an alternative to glass for seat shells
C&D ADDER from Zodiac Aerospace, as part of the Fiabilin project, intends to start a paradigm shift in the construction of Premium and Business class seats. The company offers a novel solution based...
The further consolidation of the industrialization of flax reinforced thermoplastics
Eleven industrial partners from all along the technical flax-fibre supply chain joined forces with four laboratories in Fiabilin collaborative project to develop sustainable applications using high-...
The first 100% jute reinforced biocomposite sailboat, a prototype of importance for Bangladesh
After three years of research on jute fibre, the Gold of Bengal association presents its first sailboat made of 100% jute reinforced biocomposite. The association's research led to an innovation that...
Time to accelerate: stay on top of your business and improve sustainability
The future classification of cobalt octoate and styrene is yet unclear, while these are important ingredients in many of today's unsaturated polyester and vinyl ester resins. For composite components...
Racing on sunlight: the winning factors that led to victory in the World Solar Challenge
In October 2013, the Nuon Solar Team won the 2013 World Solar Challenge, a 3,000 km race through the Australian Outback. Powered entirely by the sun, their Nuna7 vehicle made the trip from Darwin to...
Renewable value: remarkable success in the recycling of composites
OEMs and designers need to have peace-of-mind on the availability of reliable end-of-life solutions for the composite parts and components they create. The recycling of composite regrind through co-...
RESEARCH & DEVELOPMENT
New induction welding equipment for the aerospace sector
The development of new techniques to join thermoplastic composites with high reliability and performance is a key factor to increase their use in the aerospace sector. A new induction welding machine...
Ultrasonic welding for composite materials
Ultrasonic welding is an ideal method to assemble long-fibre-reinforced thermoplastic composite parts. By harnessing a combination of parameters like energy, stresses and welding time, this technology...
TECHNOLOGIES & INNOVATIONS
Fifty years of thermoforming innovations at work for composites
With its 25+ patents filed, Geiss possesses a state-ofthe-art technology that targets the processing of composites, including forming and machining. The machine automation, heating technology and...
Continuous fibre-reinforced thermoplastics: from raw materials to profiles in one step
ProfileComp GmbH has developed a breakthrough continuous process, called DExWin®, which allows the production of thermoplastic composite profiles directly from the raw materials. Potential...
Polyurethane prepregs – A new concept for CFRP processing
A new polyurethane-based prepreg pairs the excellent mechanics of polyurethane matrices with the easy handling of prepregs. Outstanding mechanical properties, efficient and highly automated processing...
Engineering thermosets for under-the-hood applications
The automotive industry is looking for options to reduce weight and increase engine efficiency in order to comply with new CO2 emission and fuel economy regulations. Increasingly, automakers are...
Fully-automated production of complex CFRP parts using Fibre-Patch-Preforming technology
The preforming-infiltration process chain enables the use of low-cost dry fibre materials and highly automated processes, and has a high potential to significantly reduce the manufacturing costs of...
Fast curing FST solution for aero interiors designs via direct liquid processes
With operating costs continuing to rise and the perceived need to improve the revenue potential on each and every new aircraft being commissioned, the OEM, airliners and supply sectors of the...
Developing an automotive crashbox for a mass market vehicle
The crush energy absorbing capabilities of composite materials have been demonstrated in laboratory conditions and on sports vehicles for several decades now. The US Department of Transportation is...
Non-destructive testing of composite materials by evanescent microwaves
SATT Sud Est, Accelerator of Technology Transfer, patented an innovative technology on behalf of the Aix-Marseille University and the French scientific research institute CNRS is opening up new...
Continuous honeycomb production technology
EconCore provides a cutting-edge production technology that enables its customers to produce cores and sandwich panels at optimum performance and lowest cost. Its patented ThermHex technology allows...
Fourier transform infrared spectroscopy (FTIR) - a novel NDT technology for composite analysis
Carbon fiber reinforced polymer (CFRP) composites and related polymeric materials are complex organic substances that have unique spectral signatures in the mid infrared region (2- 25 microns). These...
Thank you
You just used 1 credit. You have left.