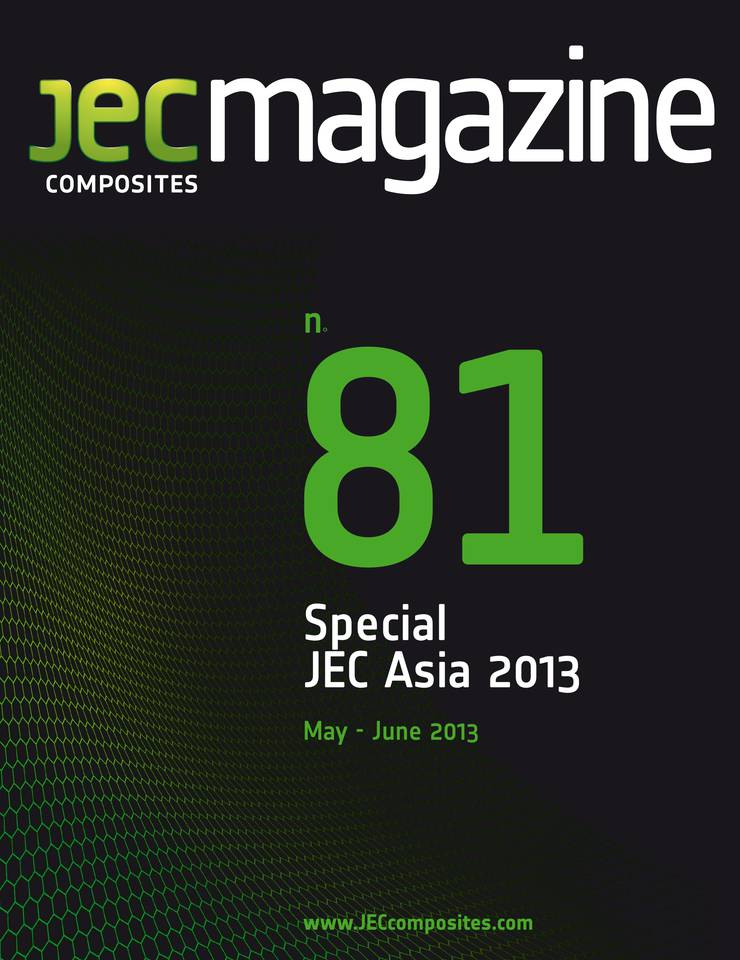 JEC Composites Magazine
N°81 - may 2013
Preview
JEC Composites Magazine is the point of contact of the international Composites Community, 6 times a year, with topics covering scientific information, business, technology, manufacturing, and application sectors trends.
In each and every issue, readers will learn about the entire composites industry value chain (from raw materials to application markets), and be inspired with current and future innovations.
The six sections of the magazine consist in:
NEWS: with interviews, articles about business development (M&As, appointments, partnerships and collaborations, awards etc.).
BUSINESS: with articles covering trends and markets, focusing on a specific country or region, with the composites market, or the application markets, or the companies strategies etc. in that country or region, and a startup focus.
MANUFACTURING: with articles about production processes and processing equipment.
FEATURE: an in-depth overview of a specific topic (typically an application sector), plus a JEC World Preview in April/May and Review in June/July.
SOLUTIONS: composites around us, with articles showing how composite materials are being used in applications which impact our everyday lives.
TECHNOLOGY: with articles about developments in materials, testing and control, repair, joining, design and simulation, recycling and reuse, R&D.
Enjoy your reading!
Contents
Asia Pacific, more and more opportunities!
"The Asian market is increasingly in demand of composite solutions for a wide range of applications. Composites will see sustained growth in the construction, aerospace, automotive, wind-power, oil &...
Read More
N°81 - may 2013
EDITO
Asia Pacific, more and more opportunities!
"The Asian market is increasingly in demand of composite solutions for a wide range of applications. Composites will see sustained growth in the construction, aerospace, automotive, wind-power, oil &...
POINT OF VIEW: AERONAUTIC LEADER
GKN Aerospace: Making wings without winging it
GKN Aerospace is well-known as major supplier of critical wing assemblies made of composites. The company has a strong footprint on the latest Airbus programmes: A380, A350 XWB and A400M. This first...
Complex composite wing structure using new manufacture and assembly processes
O ne of the latest process technology achievement of GKN Aerospace is its programme on out of autoclave pro-cesses and new joining technologies. GKN Aerospace has successfully concluded a composite...
COMPANIES & BUSINESS
Development
Teijin Aramid strengthens Asian presence Teijin Aramid opened a new office and a Technical Center Asia (TCA) in Shanghai, China. The facility will play an important role in supporting Teijin Aramid's...
Announcement
Toray celebrates 40th anniversary of its business in Malaysia Toray held a commemorative ceremony and exhibition in Penang for its 40th anniversary. In conjunction with is celebration, Toray Group...
Special Singapore
TUM, TUM Asia, Singapore Polytechnic and St Kinetics extend composite research partnership to the industry Technical University of Munich (TUM), German Institute of Science and Technology – TUM Asia...
APPLICATIONS
New thermoplastic modular truck bumpers
Bumpers for trucks and heavy goods vehicles are being increasingly manufactured from thermoplastics. The latest examples are the new models from MAN. Unlike the previous models, their bum-pers are no...
An odour control system built to last
AOC and ECS Environmental Solutions worked together to create an integral part of the city of Austin's complex wastewater infrastructure project. The new 6.3-kilometre wastewater tunnel increases...
The first Siemens 6MW wind turbines installed on offshore production site
Last January, Siemens' first two 6-megawatt wind turbines were installed in the offshore wind power plant Gunfleet Sands III with the specially designed installation vessel Sea Installer, marking an...
Thick-walled filament-wound carbon fibre composite shaft
A thick-walled (about 80 mm) filament-wound carbon fibre composite shaft was designed to carry extreme torque loads in a wind turbine drive train. The shaft is more than 8.5 metres long and nearly 1...
MARKET
Carbon fibre: a quieter year in terms of announcements
Here, our annual survey reviews the "keys" to a market in which the players have not manifested themselves much this year. Japanese companies try to keep their footprint in a sector where the number...
Boeing and BMW Group to collaborate on carbon fibre recycling
Boeing and the BMW Group signed last December a collaboration agreement to participate in joint research on carbon fibre recycling and share knowledge about carbon fibre mate-rials and manufacturing....
Sales manager: keeping the customer in mind
Even if a company has the best products, it will fail if those in charge of selling them fail in their customer relations. The world of composites is particular in the sense that there are few...
SPECIAL JEC ASIA 2013
JEC Asia 2013 participating companies: participating companies as of 27/05/2013
- 01DB Metravib- 3A Composites (China) A - Aderis Technologies- Aeronautical Manufacturing Technology- AGC Matex Corporation- Agilent Technologies Singapore (Sales) Pte Ltd- Agy- Akpa Organic...
Gain insight into the JEC 2013 l.C.S. Asia programme Aeronautic
⏵ June 25 am - 10:30 am / 13:00pm From the design to the maintenance of the aircraft Chairman Davy Leboucher, Sales Manager, Coriolis Composites ⏵Fiber placement : New materials and process, Davy...
JEC innovation awards programme: lnnovation awards winners Raw Materials
A fire retardant resin and gelcoat system that could be used in infusion processing of high speed fast interceptor craft meeting regulations Many companies are now very concerned about safety (related...
Life achievement JEC Asia award 2013
TBorn in Kobe, Japan, in 1939, Tsuneaki Yanagida grew up in Shyodoshima and studied at the Imabari-Nishi high school in Ehime. After graduating from the Rikkyo University with a degree in Economics in...
FRP Services & Company – Strongly committed to customer satisfaction
Established in 1972, FRP Services & Company has over 40 years of experience in the field of reinforced plastics and chemical products. FRP Services & Company is a specialist in all types of reinforced...
JEC Asia 2013: Special Japanese innovation awards
Japan is the country guest of honour this year and we have selected four innovations that illustrate the Japanese know-how in the composites field. These innovations also highlight the market's...
The Japanese market is perking up
The Japanese composites market is a bit puzzling. You can find the most sophisticated products around, including carbon fibre and ultra-high-tech applications in a number of fields that meet the...
Development of innovative CFRTP technologies for mass-produced cars
In 2008, under the management of NEDO (New Energy and Industrial Technology Development Organization, Japan) and METI (Ministry of Economy, Trade and Industry, Japan), the University of Tokyo started...
Fracture behavior of glass mat composite with open hole
In this paper, the glass fiber chopped mat and unsaturated polymer were used to fabricate composite with different plies, including 3, 5 and 7 plies, and the mechanical property of specimens with a 10...
Dedicated to corrosion engineering for over 60 years
Since its foundation in 1953, Fuji Resin (Amagasaki-city, Japan) has been engaged in various developments in the field of corrosion engineering. The company specializes in synthetic resins and fulfils...
Sustainable solutions for hardboard manufacturing
A novel multi-layering technique is presented that can improve properties and reduce energy and raw material consumption in hardboard manufacturing. The technique is based on fibre size sorting and...
RESEARCH & DEVELOPMENT
3D-shaped multilayer fabrics for high-performance, multifunctional composites
Fibre-reinforced plastics (FRP) in the form of continuous fibre-reinforced thermoplastic composites exhibit a great potential for mass production of complex, load-bearing and recyclable components in...
Cost-based process selection for CFRP aerospace parts
The cost-effective production of carbon-fibrereinforced plastic (CFRP) parts in high-wage countries is a major research goal for the aerospace industry and academia. With combined efforts, a software...
TECHNOLOGIES & INNOVATIONS
Load-related locally reinforced hybrid structures
IVW has developed a new concept for the construction of hybrid structures, especially for use in the automotive industry. Through the effective combination of two different lightweight production...
Damage and harmfulness of defects
There is a growing awareness of environmental issues across the world. At the same time, changing lifestyles are increasing the need for greater and faster means of transportation. Faced with this...
The greening of carbon fibre
Carbon fibre is a material that has, and will continue to revolutionize the products we use every day by making them stronger, lighter and more durable. Experts estimate that this specialty material...
CFD simulation: more precise definition of mixing outcomes
Industrial adhesives and sealants have to withstand harsh conditions such as pronounced temperature fluctuations, reactions to humidity and different levels of viscosity. In the automotive...
Multi sectors
Detecting defects in hidden carbon fibre layers Suragus GmbH uses the electrical conductivity of carbon fibres to develop non-destructive testing systems for carbon fibre mate-rials. The company has...
Pipe & tanks
Glass glaze for corrosion-resistant metal pipes Glass glaze thermally sprayed on the inner wall of metal pipes is the best corrosion protection material known today. The glass glaze, which is non-...
Multi sectors
Breton 5-axis ultrasonic cutting system Breton, a worldwide leader in the production of 5-axis high-speed machining centres, pays attention to solutions that could help its customers improve their...
Thank you
You just used 1 credit. You have left.