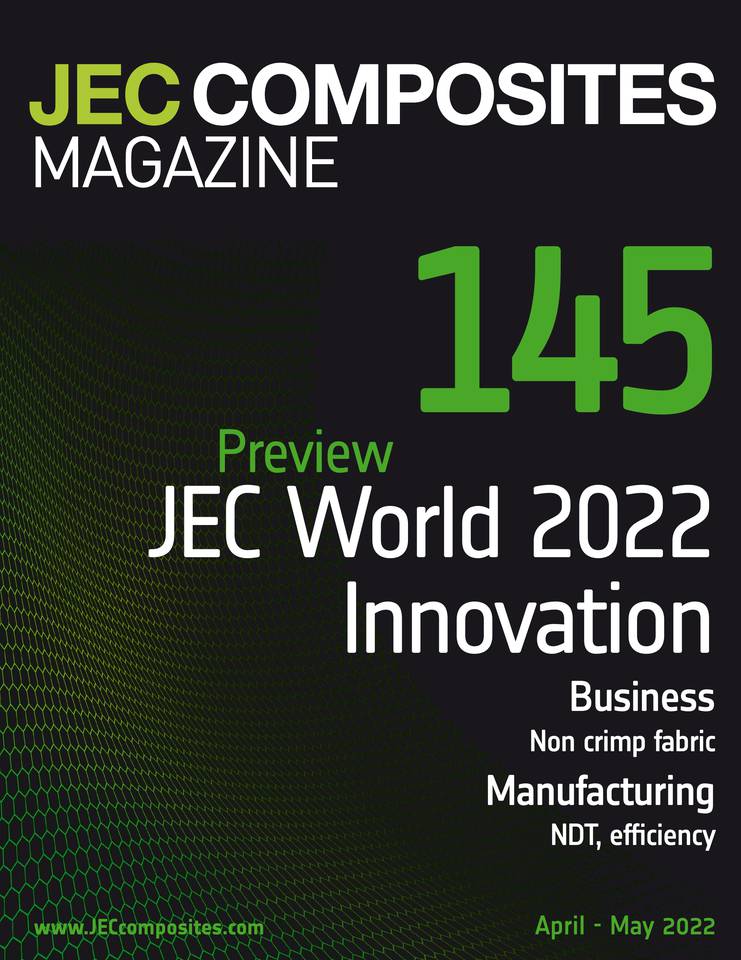 JEC Composites Magazine
N°145 - april 2022
Preview
JEC Composites Magazine is the point of contact of the international Composites Community, 6 times a year, with topics covering scientific information, business, technology, manufacturing, and application sectors trends.
In each and every issue, readers will learn about the entire composites industry value chain (from raw materials to application markets), and be inspired with current and future innovations.
The six sections of the magazine consist in:
NEWS: with interviews, articles about business development (M&As, appointments, partnerships and collaborations, awards etc.).
BUSINESS: with articles covering trends and markets, focusing on a specific country or region, with the composites market, or the application markets, or the companies strategies etc. in that country or region, and a startup focus.
MANUFACTURING: with articles about production processes and processing equipment.
FEATURE: an in-depth overview of a specific topic (typically an application sector), plus a JEC World Preview in April/May and Review in June/July.
SOLUTIONS: composites around us, with articles showing how composite materials are being used in applications which impact our everyday lives.
TECHNOLOGY: with articles about developments in materials, testing and control, repair, joining, design and simulation, recycling and reuse, R&D.
Enjoy your reading!
Contents
Where can you spot as much innovation as possible?
"Well, the answer is simple: at our industry's biggest trade show, namely JEC World. The next edition will be held in Paris on May 3 to 5. All leading technology players will be there. And JEC will...
Read More
N°145 - april 2022
EDITORIAL
Where can you spot as much innovation as possible?
"Well, the answer is simple: at our industry's biggest trade show, namely JEC World. The next edition will be held in Paris on May 3 to 5. All leading technology players will be there. And JEC will...
MOVING COMPOSITES FORWARD
«Boeing pioneered a path for aerospace-grade composite recycling»
The year 2020 encountered much turbulence as the aeronautics industry was hit full-on by the health crisis related to COVID-19. A major global phenomenon, this crisis was also the opportunity for...
NEWS
"l am very sure that we have a big future because we can really contribute to sustainability"
Following a new board election at Composites United e.V. last November, we took the opportunity to interview Professor Klaus Drechsler, spokesman of the executive committee, to discuss the goals and...
BUSlNESS
"All companies can join in and adopt a positive process"
The carbon fibre recycling sector is getting organised, and Recycling Carbon is the proof! Its members form a network that unites institutions, manufacturers and investors around a shared...
"This is the brilliance of composites, the ability to work on new challenges and emerging market"
NCFs (Non Crimp Fabrics) or multiaxials are made of a stack of unidirectionals with a fine thread keeping them together. Technico-economical advantages are numerous. Paul McMullan, CEO of Sigmatex UK...
MANUFACTURlNG
A versatile lab cobot for NDT
A next-gen multitechnique module featuring a collaborative robot for inspecting complex structures in the lab. lnspection operations are generally considered bottlenecks in the ever-increasing flow of...
Beijing Winter Olympics: China strives to manufacture its own equipment
The hosting of the Winter Olympics in 2022 has brought to light China's lack of domestic sports equipment. To become self-reliant in these highly technical fields, inter-industrial cooperation is...
FITCoW – Co-polymerizing large-scale structures through OOA processes
The Full-scale innovative Integrated Tooling for COmposite material Wing-box (FITCoW) project aims to reduce the recurring costs of low-volume production through out-of-autoclave manufacturing. The...
A self-learning AI algorithm to optimize composites production scheduling
Plataine is a leading provider of industrial IoT and AI-based optimization solutions for advanced manufacturing. The company's intelligent, connected digital assistants and the Practimum-Optimum AI-...
FEATURE
lndustry 4.0 opens opportunities to streamline composites manufacturing
For U.S. composites industry professionals, Industry 4.0 enhances quality control, efficiency and design. Imagine a world in which composite manufacturing equipment and products appreciate rather than...
Unveiling a slitter spooler rewinder for industry trials
In April this year, fibre converting expert and machinery manufacturer Cygnet Texkimp will unveil a production-scale slitter spooler rewinder machine at its UK Innovation Centre, where the company...
EDITORIAL
THE GLOBAL COMPOSITES COMMUNITY REUNITES AT JEC WORLD 2022
WELCOME TO THIS SPECIAL PREVIEW OF JEC WORLD 2022! JEC World is the leading global event for composites innovation, business and networking and we know that the industry is eager to meet again this...
STARTUP BOOSTER
SUSTAINABLE AEROSPACE FOR A SAFE AND UNITED WORLD
Airbus is leading the journey towards clean aerospace. Head of Composite Manufacturing Technologies, Jelle Bloemhof, a member of the JEC World 2022 Startup Booster jury, discusses the company's...
BRINGING THE FUTURE INTO REALITY
Dr. Karl-Heinz Füller, Manager Future Outside and Materials at Mercedes-Benz AG, is a member of the JEC World 2022 Startup Booster jury. Here he tells us about the actions the company is taking to...
INNOVATION AWARDS
INNOVATION IS NURTURED BY DIVERSITY AND COLLABORATION
Kordsa's CTO, Deniz Korkmaz, explains how technology and innovation remain at the heart of the company's sustainable business model. JEC Composites Magazine: How does sustainability fit into Kordsa's...
COUNTRY ON STAGE
HYDROGEN UNLEASHES SUSTAINABLE MOBILITY IN KOREA
South Korea's Country on Stage session is organized by KCARBON, the national promotion agency for the carbon composites industry. Yunhyuk Bang, President, explains how KCARBON is supporting the use of...
COMPOSITES ECOSYSTEM IN THE NETHERLANDS: BOOSTING THE VALUE CHAIN AND SUSTAINABLE EXCELLENCE
The composites industry trade association of the Netherlands, CompositesNL, welcomes you to our Country on Stage session. In full support of the JEC 2022 theme, we will showcase the intertwined...
SUSTAINABILITY AND INNOVATION DRIVING THE FUTURE OF THE U.S. COMPOSITES INDUSTRY
To realize the benefits of composites technology, our industry needs composites manufacturing that is more cost-, material- and energy-efficient, and that accounts for recycling at the end of product...
INTERVIEW
SIMULATION THE KEY TO SUSTAINABLE PRODUCT DEVELOPMENT
This year's Altair conference aligns with JEC World's sustainability theme. Jeff Wollschlager, Vice President Composites Technology, explains how Altair's simulation tools enable the efficient...
PLATFORM TO DESIGN, SIMULATE & MANUFACTURE EFFICIENT COMPOSITES STRUCTURES
As a global leader of virtual modeling and simulation, Dassault Systèmes provides an innovative collaborative platform to offer its customers experiences, powered by 3DS Global Brands such as CATIA,...
JEC WORLD CONNECT
THE WORLD'S BIGGEST SHOWCASE AREA HIGHLIGHTING THE LATEST COMPOSITES INNOVATIONS
In 2022, we will set up two showcase areas highlighting parts and finished products covering the majority of the application markets for composite materials – the Mobility Planet, and the Industry...
INNOVATIVE POLYURETHANE OPTIONS FOR BATTERY CASINGS
> Booth: Hall 6 – M31  VITROX® RTM polyurethane resins are used in panels and components produced by resin transfer moulding, such as battery casings. Their high toughness provides impact protection...
PHTHALATE-FREE PRODUCTS FOR A HEALTHIER LIFE
> Booth: Hall 6 – K63 AKPA Chemical recently developed several new, innovative products such as the userfriendly phthalate-free AKPEROX BP50-PF powder product. The BP50 benzoyl peroxide products are...
WORLD'S FIRST CERTIFIED ADDITIVE FOR WIND POWER PLANTS
> Booth: Hall 5 – E67 BYK's portfolio now includes an additive with Germanischer Lloyd certification: BYK-C 8001. This means wind turbine manufacturers can use this polymer coupling agent without...
COREX: INNOVATIVE HONEYCOMB MATERIALS
> Booth: Hall 6 – D12 Corex Honeycomb developed a flexible aluminium honeycomb with the same properties as standard hexagonal cell-shaped aluminium honeycomb. By adjusting the production process, the...
HIGH-PERFORMANCE FILLERS FOR POLYMER APPLICATIONS
> Booth: Hall 5A – E56 HPF The Mineral Engineers provides a wide range of high-performance fillers for a variety of polymer applications. In e-mobility, the SILATHERM® fillers can significantly...
SR FIREGREEN37 – A SUSTAINABLE FIRE-RETARDANT HAND LAMINATING RESIN
> Booth: Hall 6 – G43 At JEC World 2022, Sicomin will showcase its SR FireGreen 37 FR hand laminating resin. This latest addition to the GreenPoxy range combines exceptional fire performance with a...
KELTEKS EDGE PROTECTOR
> Booth: Hall 5 – C55 Edge Protector is a new generation of special corner reinforcement fibres for composite materials. Its fluffy and cuddly fibres are easily squeezed into sharp-edged joints and...
LARGE-SCALE rPET HONEYCOMB PRODUCTION LINE
> Booth: Hall 6 – Q85 EconCore, a leader in cost-effective honeycomb sandwich production tech-nology, are announcing a new production line for their recycled PET (rPET) honeycomb material. The new...
HUNTSMAN EXTENDS IS OFFER FOR AEROSPACE
> Booth: Hall 6 – M31 Huntsman has strengthened the three pillars of its aerospace offer. The components range for formulators benefits from the addition of ARALDITE® MY 722, a multifunctional epoxy...
NEW KANE ACE MX GRADE WITH A 45% CSR CONCENTRATION
> Booth: Hall 6 – H38 Kane Ace™ MX is a liquid impact modifier based on core-shell rubber (CSR) technology. Kaneka succeeded in increasing the CSR content in Kane Ace MX up to 45wt% (to date it was...
SUSTAINABLE AND RECYCLABLE RESOURCE-BASED HONEYCOMBS
> Booth: Hall 6 – Q85 ThermHex now fulfils the desire for an excellent surface quality with optimal properties in almost all of the honeycomb cores in its portfolio. This is achieved with an...
HIGH-PERFORMANCE RESIN SYSTEMS FOR H2 PRESSURE VESSELS
> Booth: Hall 6 – M31 As governments and industries increasingly focus on hydrogen to reach net-zero CO2 emissions, the need for safe, high-performance and mass-produced hydrogen storage tanks is...
T-LINK™ ADVANCED ENGINEERING THERMOPLASTIC RESIN
> Booth: Hall 6 – R27 L&L Products recently launched T-Link™, a new technology linethat combines superioradhesion with the processing characteristics of a thermoplastic, does not require refrigeration...
LOW CTE THERMOPLASTIC RESIN FOR LARGE SCALE 3D PRINTING
> Booth: Hall 5 – E32 Airtech's new "Tooling of Tomorrow" initiative has committed to leverage its nearly 50 years of polymer extrusion and manufacturing expertise to address the needs of the large-...
FAIRMAT, THE VIRTUOUS RECYCLING SOLUTION
> Booth: Hall 6 – C72 Fairmat creates a more sustainable future for composites and long-term industrialization through a virtuous recycling process thanks to its disruptive technology. Fairmat...
MIRALON®: UNIQUE CARBON NANOTUBE-BASED MATERIALS
MIRALON® is a new generation of carbon nanotube-based materials that, unlike standard powder CNTs, are available in the form of sheets, yarns or pulp. Classified as articles by the EPA, these...
SUSTAINABLE CARBON FIBRES FOR LIGHTWEIGHT COMPOSITES
> Booth: Hall 5A – G55 Due to their outstanding properties, carbon fibres are commonly used in lightweight composite materials. However, producers and consumers are increasingly looking for...
INNOVATIVE RECYCLING TECHNOLOGY FOR CARBON FIBRE-REINFORCED POLYMERS
> Booth: Hall 6 – E3 Since 2016, Extracthive has been developing an innovative recycling technology based on solvolysis for carbon fibre-reinforced polymers. In this approach, a unique combination of...
A 50GSM VEIL BASED ON RECYCLED CARBON FIBRE
> Booth: Hall 5 – F6 Gen 2 Carbon recently launched a 50gsm veil based on recycled carbon fibre produced with their proprietary nonwoven carding technology. The ultra-lightweight mat is highly...
HEALTECH™: HEALABLE COMPOSITE MATERIALS
> Booth: Hall 5 – C26 HealTech™ prepregs make it possible to manufacture the first healable and sustainable composite parts, reducing repair time to one minute. Products made with HealTech prepregs...
HYPETEX COLOURING SOLUTIONS FOR COMPOSITE STRUCTURES
> Booth: Hall 6 – R52 Hypetex® will exhibit its advanced colouring solutions for thermoset and thermoplastic composites at JEC World 2022. Hypetex® in-mould colour material solutions add only around...
TFP INTRODUCES HIGH-TEMPERATURE VEILS
> Booth: Hall 5A – C80 TFP will be introducing new, lightweight polyimide and basalt veils designed for high-temperature performance in composites. The polyimide veil is the highest temperature stable...
ELECTROSTATIC TP COATING: A NEW SOURCE FOR PREPREGS
> Booth: Hall 6 – E3 Coaticom Thermoplastic Coating is introducing a new source for thermoplastic powder-coated prepregs: glass, carbon, aramid, woven and non-woven materials. Coaticom's innovative...
N130F FLAME-RETARDANT SELF-EXTINGUISHING PREPREG
> Booth: Hall 6 – R91 Nano-Tech is introducing a new flame-retardant prepreg in the market. With a Tg of 130°C, NAFPREG N130F is a hotmelt, halogen-free toughened epoxy prepreg that combines excellent...
POLYESTER OR COTTON-WRAPPED FLAX FIBRE ROVING
> Booth: Hall 5 – C49 TDL Technique developed an innovative flax fibre roving made of parallelized and untwisted flax fibres wrapped with polyester or cotton yarn. The range is composed of 100 %-flax...
PREVENTING THERMAL RUNAWAY IN EVS
> Booth: Hall 5 – N22 At present, countries and associations are actively enacting and strengthening regulations to ensure people's safety. Hankuk Carbon presents a composite material solution that is...
VITRIMAX, THE REPROCESSABLE THERMOSET
> Booth: Hall 6 – R37 Vitrimax™, by Mallinda, is an infinitely-recyclable platform chemistry that revolutionizes composite materials. Designed to break the 20th-century paradigm of single-use...
SAERTEX INNOVATES FOR A RESOURCE-SAVING FUTURE
Saertex presents innovations in three main areas: - One-stop-shopping for the wind industry with two new products: SAERplanks, pultruded planks made of carbon fibre, and SAERfoamWind, a newly-...
3M™ NEXTEL™ TOWPREG DEVELOPMENTAL PRODUCT
> Booth: Hall 5 – E39 The 3M™ Nextel™ towpreg experimental product is a Nextel™ spread tow impregnated with an oxide ceramic slurry that has a controlled width and slurry content. The product provides...
FLAX FOR COMPOSITES: WOVEN TAPES MADE OF NATURAL FIBRES
> Booth: Hall 5A – E56 Flax fibres are particularly rigid and tearproof. Therefore, flax fibre-based textiles provide special stability to natural fibrereinforced plastics (NFPs). Flax also has a low...
BRIGHT-COLOURED DISSIPATIVE GELCOAT FOR COMPOSITES
> Booth: Hall 5 – E27 ERCO's R&D centre developed a new dissipative gelcoat series that offers a wide range of colours except white and super-bright, together with the advantages of a high-performance...
VABATEC PROCESS MATERIALS FOR COMPOSITES VACUUM BAGGING
> Booth: Hall 6 – G85 Vabatec's vacuum bagging materials significantly facilitate composite vacuuming processes, especially for large unwieldy components such as boat hulls or wind turbine rotor...
3M™ SCOTCH-WELD™ LIGHTNING PROTECTION FILM AF 536
> Booth: Hall 5 – E39 3M™ Scotch-Weld™ Composite Surfacing and Lightning Protection Film AF 536 is a thermosetting epoxy composite surfacing film for composite structures available with or without...
AEROZERO THERMAL PROTECTION SYSTEMS
> Booth: Hall 6 – A31 Blueshift manufactures the AeroZero® thermal protection systems (AZ-TPS) based on the AeroZero® polyimide aerogel film technology. AZ-TPS are installed in aerospace and defence...
ADVANTSEAL FR FOR HYDROGEN APPLICATIONS
> Booth: Hall 5A – Q51 Since 1957, Italian chemicals manufacturer Vaber Industrial S.p.A. has been devoted to solving critical application requirements for its manufacturing partners. Vaber's...
POWDER COATING ON GELCOATS: AN ALTERNATIVE TO LIQUID PAINTING OF FRPS
> Booth: Hall 5 – G12 New conductive gelcoats with graphene nanotubes as a protecting layer on top of fibre-reinforced plastics (FRPs) grant engineers and designers the ability to produce special...
ANTISTATIC GELCOAT
> Booth: Hall 5 – N15 A new generation of conductive tooling gelcoats offers the advantage of maintaining the performance of a standard gelcoat while making moulds safer and easier to use by reducing...
NEW-GENERATION SEMI-PERMANENT MIKON® RELEASE AGENTS
> Booth: Hall 5 – M6 The use of the right release agent is crucial for production success. Münch Chemie International's new generation of semi-permanent Mikon® release agents for the composite...
LOW-ODOUR, NON-FLAMMABLE STRUCTURAL ADHESIVE
Huntsman introduces Araldite®2080, a unique structural acrylic adhesive that differentiates itself through four main features: - Smells 90% less than traditional MMA products, increasing users'...
3M™ SCOTCH-WELD™ STRUCTURAL ADHESIVE EC-9356 B/A FST
> Booth: Hall 5 – E39 Easy to use and fast curing, 3M Scotch-Weld Structural Adhesive EC-9356 B/A FST is a high-strength two-part epoxy adhesive designed for bonding typical aircraft interior...
NATURAL FIBRE-BASED COMPOSITES: THE FUTURE IS HERE!
> Booth: Hall 6 – J86 Natural fibre-based composites are used in a growing number of applications in the automotive sector due to their eco-sustainability combined with weight, elasticity and strength...
CL RESTRAP: CFRP SHEAR REINFORCEMENT
> Booth: Hall 5– Q29 CL RESTRAP was developed to simply and effectively reinforce the shear capacity of concrete structures using pretension. Similar to a ratchet strap, it can be passed around a...
METYX C-SPHERE
> Booth: Hall 6 – J6 At JEC World 2022, Metyx Group is showcasing C-Sphere, a large spherical sculpture with a mirror-like finish that uses high-performance carbon non-crimp fabrics (NCFs) and smart...
FINNESTER RED FIRE PROTECTION FOR COMPOSITES
> Booth: Hall 6 – L40 The Finnester RED Fire Protective Coating System opens new opportunities for composite materials. Most of the time, changing the raw materials of a composite to achieve fire...
A RECYCLABLE AND SUSTAINABLE BOAT FOR YOUNG SAILORS
> Booth: Hall 5 – A45 Italian boat builder Northern Light Composites uses Bcomp's high-performance ampliTex™ flax fabrics for their newest recyclable sailing boat that is going into serial production....
THE JOZEF PILSUDSKI BRIDGE – A 1KM-LONG GRP BRIDGE
> Booth: Hall 5A – C69 Fibrolux supplied more than 16km of a largescale custom glass fibre pultrusion that enabled the refurbishment of the 1km Marshal Jozef Pilsudski bridge in Torun, Poland, with...
ENVIRONMENT-FRIENDLY HOUSES BUILT IN FEW HOURS
> Booth: Hall 5A – C79 Prefabrication is not a new term in the construction industry. With the growing demand for new housing, innovative technologies and progressive building materials are...
REPROCOVER – RECYCLED THERMOSET PRODUCTS
> Booth: Hall 5A – N92 Thermosets can be found in everyday applications such as electricity meters, car dashboards, household appliances and wind turbines. Until now, these products were never reused...
BIO-COMPOSITE FAÇADE PANELS
> Booth: Hall 5A – C80 Focusing on sustainability, EFW and its partners are developing a bio-composite facade panel based on renewable materials with a load-path-compatible design meeting class A fire...
CARBON COMPOSITE WINGBOX FOR P51 MUSTANG REPLICAS
> Booth: Hall 6 – A58 Rockman Advanced Composites worked closely with the French DesignTechCentre (DTC) to develop and manufacture the main wing box composite structure for a replica of the famous P51...
REUSABLE VEHICLE PLATFORM BASED ON CFRP MATERIALS
> Booth: Hall 5A– C80 Fraunhofer developed the demonstrator of a reusable vehicle platform that represents a new circular-economy approach to the sustainable use of CFRP. Due to their excellent...
LEUCO UNITYPE AND PROTYPE DP END MILLS
> Booth: Hall 6 – A74 Vibration during processing is the worst for DP-tipped cutting tools. The cutting edges break out and the tool cannot achieve the expected lifetime and cutting quality. Leuco now...
PLATAINE PRACTIMUM-OPTIMUM™
> Booth: Hall 5 – P70 Plataine Practimum-Optimum™ is a breakthrough self-learning artificial intelligence (AI) algorithm for optimizing production scheduling in composites manufacturing. Plataine's...
COMPLEX-GEOMETRY PULTRUDED CFRP PROFILES
> Booth: Hall 6 – E84 As part of its first participation in JEC World as an exhibitor, K-Composites will showcase, alongside its capabilities, knowhow and standard product range, a line of recently-...
SMART SUSCEPTOR INDUCTION TOOLING
> Booth: Hall 5 – P93 The Smart Susceptor tooling is designed for high-volume production. When heated by induction, the tooling surface provides self-regulated heating. This means that any spot on the...
MASS PRODUCTION WITH THERMOPLASTIC RTM AND PCM
> Booth: Hall 6 – E 3 Widespread application of composites depends on three main factors: increased productivity, improved recyclability and lower specific costs through extended function integration....
INTEGRATED LOOP TECHNOLOGY FOR CONTINUOUS-FIBRE JOINTS
> Booth: Hall 6 – M75 Integrated Loop Technology (ILT) is a process that combines a structural composite element such as a tube with a joining component, a loop. ILT is used to join two composite...
WINDING THE FUTURE – REDEFINING THERMOPLASTIC COMPOSITES
> Booth: Hall 5– G55 Sustainability and resource conservation are crucial challenges and composites have a key role to play in this regard. To establish composites on a broad scale, their cost and...
SMART SUSCEPTOR HEATING BLANKETS
> Booth: Hall 5 – P93 Smart Susceptor heating blankets are the latest development in induction blankets, featuring a thermostat set in the chemistry of the heating element so that no sensors or...
SVISMOLD: VACUUM HOLDING TECHNIQUE
> Booth: Hall 6 – N89 Svismold is an injection moulding company located in Switzerland that focuses on combining traditional injection moulding with thermoplastic composite techniques. To achieve...
DK HOLDINGS DIAMOND MULTI-BORE TOOLS
> Booth: Hall 5 – F70 DK Holdings' innovative diamond multi-bore tools have solved the age-old challenge of producing an accurate, clean hole in composite materials. Traditionally, these holes would...
AUTOMATED BIAS-PLY TPC PRODUCTION
> Booth: Hall 5 – G21 Web Industries is supporting new design and production methods with automated formatting of customized bias-ply thermoplastic composites (TPC). As aerospace companies expand the...
FASTER CFRP TOOLING MANUFACTURING – CARBON4TOOL
> Booth: Hall 6 – U37 Carbon4Tool is a new epoxy tooling prepreg material that cuts lamination time by 50-70%. This two-tiled system replicates a 1-8-1 layup. Instead of laminating ten individual...
VOITH COMPOSITE PREPREG STACKS – CARBON4STACK
> Booth: Hall 6 – U37 Voith introduces a new prepreg material and technology that cuts time and costs by replacing hand lamination. Carbon4Stack is a prepreg laminate composed of multiple layers,...
AUTOMATED LINES FOR ADVANCED MANUFACTURING PROCESSES
> Booth: Hall 5 – M85 In the past decade, Persico has focused on developing automated manufacturing lines for advanced composite processes by successfully integrating human and robot skill sets. The...
FROM METAL PRODUCTION TO THE CARBONFORM NETWORK
> Booth: Hall 5 – Q82 The Italian company ACS (Advanced Composites Solutions), based in Bologna e Tortoreto (Abruzzo region), signed a contract with two other Italian companies, SUSTA Srl and U.Form...
MASSIVIT 10000 AM TOOLING SYSTEM FOR COMPOSITES
> Booth: Hall 5 – M46 The Massivit 10000 system is designed to overcome tooling bottlenecks in composites manufacturing. It leverages a proprietary thermoset additive manufacturing technology called...
IMPROVING THE SURFACE OF COMPOSITE PARTS
> Booth: Hall 5 – Q57 Finish sanding makes it possible to save on coating/paint and to improve bonding. Under a microscope, a CFRP surface looks like a "grand canyon", as can be seen on the left hand...
INDUCTION WELDING OF UD CARBON THERMOPLASTICS
Qarbon Aerospace developed world-leading capabilities in the induction welding of thermoplastic unidirectional tapes. Induction welding makes it possible to join structures without fasteners, saving...
METRASCAN BLACK OPTICAL CMM SCANNER
> Booth: Hall 5 – Q83 Designed for manufacturing and metrology professionals, the MetraSCAN BLACK optical CMM scanner offers the following advantages: - 4X faster: featuring 15 blue laser crosses for...
INNOVATIVE PROCESS FOR FULL COMPOSITE STRUTS AND RODS
Somocap and Epsilon Composite, specializing in struts and structural elements in thermoplastic and thermosetting composite, present an innovative overmolding process: The direct over-injection of...
AIRBORNE'S AUTOMATED PREFORMING SOLUTION
> Booth: Hall 5 – P58 Many composite forming processes are based on the use of tailored 2D preforms or blanks. Although the forming processes are usually efficiently automated, the blanks or preforms...
COMPLETE MATERIAL CHARACTERISATION OF COMPOSITES
> Booth: Hall 6 – G85 The test laboratory of Grasse Zur Composite Testing has been accredited to ISO/IEC 17025 since 2018. In the recent years, the company successively expanded its range of tests to...
ENABLING INNOVATION WITH HUMM3® DISCOVERY
> Booth: Hall 6 – R52 Heraeus Noblelight's humm3® technology is a high-power, flexible, controllable heat solution for automated fibre placement (AFP), automated tape laying (ATL), filament winding,...
PRESSES AND SCATTERING SYSTEMS FOR COMPOSITE PRODUCTION
> Booth: Hall 5 – E46 IPCO, a world leading manufacturer of double-belt presses for the production of composite materials, has completed the commissioning of a steel belt-based pilot press at its...
KREON ACE+ MEASURING ARMS
> Booth: Hall 5 – F18 The KREON ACE+ range now complements the KREON ACE range to offer two levels of accuracy. Thanks to advanced calibration methods and optimized encoders, the ACE+ arms offer the...
SMART CONTROL REAL-TIME AUTOMATIC LAY-UP CONTROL SOLUTION
As today's product requirements are more challenging than ever, new processes and approaches are required, especially for kitting, stacking and lay-up of preforms and/or composite parts. SMART Control...
NEW FEATURES ADDED TO LAP'S DTEC-PRO CAMERA SYSTEM
> Booth: Hall 5 – F5 LAP added new process control and quality assurance features to the DTEC-PRO camera system for its CAD-PRO laser projection system. The new functions are available with software...
COMPCUT PRECISION COMPOSITE ROUTERS AND ADVANCED COMPOSITE SAWS
> Booth: Hall 6 – S60 Sharp & Tappin Technology are showcasing their Compcut advanced composite saws (ACS) and introducing their new Compcut range of precision composite routers (PCR) at this year's...
E-FORM: A GREEN PRESS SOLUTION
> Booth: Hall 6 – D79 There is currently more and more attention to green solutions, even in the field of automation. In this sense, the use of electric technology instead of hydraulics in...
ONLINE TG ESTIMATION WITHOUT MOULD/AUTOCLAVE MODIFICATIONS
> Booth: Hall 6 – A42 At JEC World 2022, Synthesites will demonstrate the new Online Tg sensorless system that eliminates the need for a cure sensor in contact with the resin/prepreg/adhesive in...
IMAS AEROMECCANICA ANTIPOLLUTION SYSTEMS
> Booth: Hall 5 – M71 Imas Aeromeccanica introduces the C-Oil new depurator series, compact coalescence purifiers with self-cleaning spark plugs suitable for applications such as turning, milling,...
CAPILLARY MATS FOR WALL AND CEILING COOLING AND HEATING
> Booth: Hall 5A – C79 Capillary mats are the cheapest and most environmentally-friendly system for ensuring year-round thermal comfort in residential or administrative buildings while complying with...
FURNACES FOR CARBON COMPOSITE MATERIALS
> Booth: Hall 5 – S75 Nabertherm offers several different furnace ranges for tempering and curing plastics. For example, the KTR chamber ovens can be prepared for these special requirements. For...
VISION SYSTEMS FOR COMPOSITE MATERIALS CUTTING
ARC is an augmented-reality vision system that projects patterns and designs onto a carbon sheet or simulates their presence on a screen, making it possible to position printed or drawn patterns in an...
ZSK INNOVATES IN THE FIELD OF TECHNICAL EMBROIDERY
> Booth: Hall 5A – G55 ZSK Technical Embroidery Systems, a division of ZSK Stickmaschinen GmbH, is a leading German manufacturer of industrial embroidery machines "Made in Germany". For decades, ZSK...
REAL-TIME TRACKING SOFTWARE WITH A VISION SYSTEM
> Booth: Hall 5 – R82 IRIS ActiveTrack is a laser positioning software that can project a stable, accurate laser line directly onto any surface to provide operators with the information needed to get...
COLD JET'S REVOLUTIONARY DRY ICE BLASTER – PCS® 60
> Booth: Hall 6 – D73 Cold Jet, a global leader in dry ice technology, reinvented dry ice blasting with the PCS 60, that features a patented Particle Control System™ (PCS). The PCS precisely cuts dry...
SMART WORKFLOWS FOR DIGITAL CUTTING AND KITTING
> Booth: Hall 5 – T41 As a specialist in digital cutting for composites applications, Zünd demonstrates how data management, digital cutting, and downstream processes such as picking, sorting, and...
PARTICLE SURFACE ENGINEERING FOR COMPOSITES
> Booth: Hall 5A – G81 Building on its proprietary Molecular Plasma Technology, which enables grafting of a nanometric layer of functional organic chemistry onto any substrate and is widely used for...
LAMINATING LIGHTWEIGHT COMPONENTS QUICKLY AND SAFELY
> Booth: Hall 5A – C69 Tartler offers compact systems for small-volume application of synthetic resins. The lamination of fibre composite woven fabrics is a key shaping and joining process used in...
TECHNOLOGY
ln-service inspection of damage in composite structures
Through the use of suitable loading scenarios, different basic damage modes were inflicted on carbon-reinforced thermoplastic material specimens monitored by acoustic emission. This paper describes...
lNSA Rouen Normandy: Aeronautics composites undergo trial by fire
For a dozen years now, GPM and CORIA, two French National Centre for Scientific Research laboratories, have combined their expertise and resources at the INSA campus in Rouen, Normandy, to develop...
INDEX
MARKET PLACE
3M™ Nextel™ .....................................................................p.76, 78 3R ............................................................................................ p.82 AAT...
Thank you
You just used 1 credit. You have left.