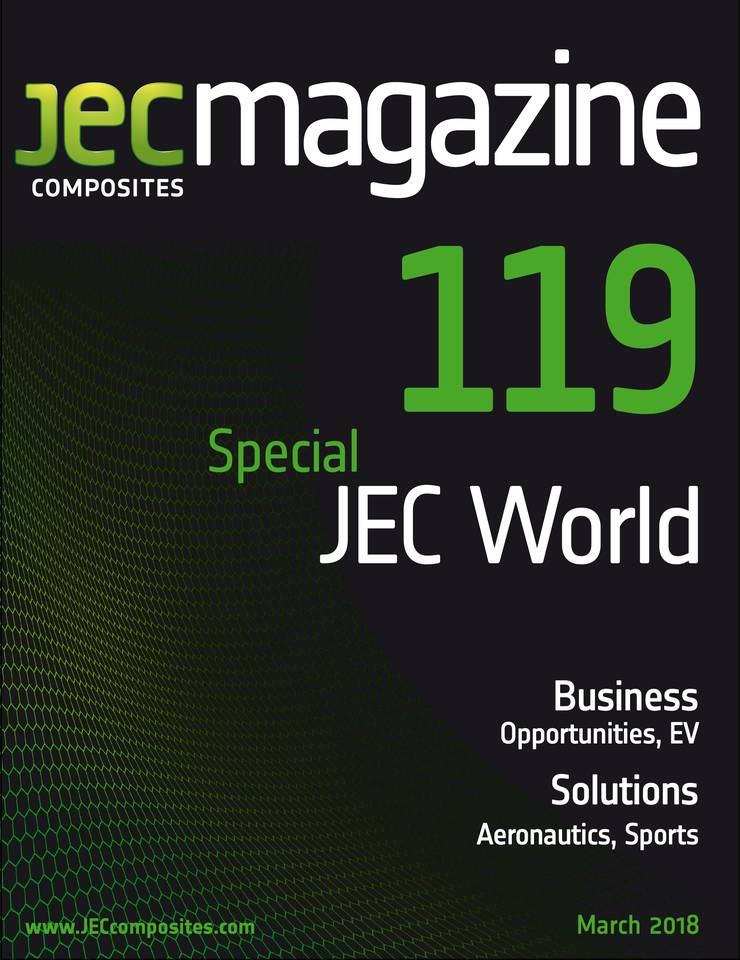 JEC Composites Magazine
N°119 - march 2018
Preview
JEC Composites Magazine is the point of contact of the international Composites Community, 6 times a year, with topics covering scientific information, business, technology, manufacturing, and application sectors trends.
In each and every issue, readers will learn about the entire composites industry value chain (from raw materials to application markets), and be inspired with current and future innovations.
The six sections of the magazine consist in:
NEWS: with interviews, articles about business development (M&As, appointments, partnerships and collaborations, awards etc.).
BUSINESS: with articles covering trends and markets, focusing on a specific country or region, with the composites market, or the application markets, or the companies strategies etc. in that country or region, and a startup focus.
MANUFACTURING: with articles about production processes and processing equipment.
FEATURE: an in-depth overview of a specific topic (typically an application sector), plus a JEC World Preview in April/May and Review in June/July.
SOLUTIONS: composites around us, with articles showing how composite materials are being used in applications which impact our everyday lives.
TECHNOLOGY: with articles about developments in materials, testing and control, repair, joining, design and simulation, recycling and reuse, R&D.
Enjoy your reading!
Contents
lndustry 4.0: make it real
""What can accelerate the development of composites?" is a question I am often asked. While it is true that the growth of composites has been fairly steady at about 5% per year for a number of decades...
Read More
N°119 - march 2018
EDITORIAL
lndustry 4.0: make it real
""What can accelerate the development of composites?" is a question I am often asked. While it is true that the growth of composites has been fairly steady at about 5% per year for a number of decades...
OPlNlON
"We have become a major composite supplier for the COMAC C919 programme"
The C919 programme was mentioned by the Communist Party of China (CPC) as a major advance towards making China a country of innovators. Involved in the project since 2009, Hiwing Materials aims to...
NEWS
Plastic Omnium invests €20 million in its global Research and Development center in Lyon
Plastic Omnium is launching an ambitious program to expand and digitize ∑-Sigmatech, its global R&D center for exterior components and modules located in the Lyon region. It will be investing €20...
Daher wins its first Boeing production contract to supply thermoplastic composite structural parts for the Boeing 787 Dreamliner
Deliveries and installation of these elementary structural parts will begin in 2018 under terms of Daher's multi-year contract, replacing existing 787 airplane components currently manufactured using...
McLaren Automotive inaugurates carbon composites technology centre
The £50million McLaren Composites Technology Centre (MCTC) is nearing completion at the Advanced Manufacturing Park in Rotherham and is the result of an on-going partnership between McLaren...
IMT Lille Douai leads the LASCALA additive manufacturing project
Launched mid-2017 with the support of the Hauts-de-France Region and co-financed by the European Union with the European Regional Development Fund, the LASCALA project (Large SCALe plAstics &...
DSM appoints Wilfrid Gambade as President DSM Dyneema
Wilfrid Gambade is an experienced senior leader who joined DSM in 2009 and was responsible for the Composite Resins business in Europe and then from 2011 moved into the role of President Composite...
NEWS agenda
2018 February Composite-Expo 2018 February 27- March 1 Moscow, Russia www.composite-expo.com March World Pultrusion Conference March 1-2 Vienna, Austria www.pultruders.com Asiamold March 4-6...
NEWS agenda
ECCM18 June 24-28 Athens, Greece www.eccm18.org Additive Manufacturing Europe Amsterdam June 26-28 Amsterdam, Netherlands www.amshow-europe.com Global Composites June 27-28 Las Vegas, USA...
BUSINESS
Up-to-date key performance indicators for the fibre-reinforced plastics market
Last July, Composites Germany identified up-to-date KPIs for the fibre-reinforced plastics market. The survey covered all the member companies of the four biggest umbrella organisations of Composites...
Advanced plastics and composites break through the automotive sector
The global sales volume of the automotive industry is about 1.8 billion euros. This major industry is now open to a broad range of new opportunities. The plastics market in general, and the composites...
China: driving the whole car supply chain, electric vehicles are in full swing
Beijing forecasts that China will be able to produce two million electric and hybrid vehicles annually by 2020. To reach this goal and fulfil a booming demand, local and foreign automakers are...
MANUFACTURING
New machine system takes surface finishing to a new level
The new Colourline with Multi-Connect technology offers several advantages such as fast and easy colour change for the surface finishing of decorative and functional elements. Hennecke is a recognized...
Additive manufacturing of high-performance composite structures
In the previous article about "High-performance creations: additive manufacturing and composites" (JEC Magazine no. 115), the authors Prof. David Rosen and Dr. Florian Doetzer pointed out the...
Body in black versus body in white
The need to industrialize the production of high-performance carbon fibre components has prompted companies to test new technologies. Italian company HP Composites, Europe's leading producer of...
Sheet moulding compression of prepreg sheets for a composite subframe
Independently from the drive concept (fuel, hybrid or electric drive), lightweight materials can reduce the moving mass of cars and, accordingly, their energy consumption. But this has to be done...
High-quality sound-absorbing automotive carpets
In the last decade, major material changes occurred in floor carpets as a shift was made from using rubber to synthetic materials. This increased the manufacturing difficulty and made existing...
GRP composite manufacturing optimization: opportunities with UV curing
Composite manufacturers are facing increasing pressure to improve operational efficiency, identify saving opportunities and reduce their ecological footprint, without compromising material...
FEATURE
High-resistance fastener for structural composite parts
Böllhoff's new fastener for in-moulding processes results in high-performance semi-structural and structural composite parts. This smart and flexible solution allows the integration of various...
Applications of recycled carbon fibre in high volume manufacturing
Performance benefits of carbon fibre are well documented and have long been clear to manufacturers. The potential value-added benefits are slowly being realised and even implemented at an OEM level in...
High-performance epoxy/carbon fibre SMC
Sheet moulding compound (SMC) is a major, industrially relevant manufacturing process. Epoxy/carbon fibre SMC is a new material that achieves the highest mechanical performance. To fully impregnate...
High-performance polypropylene honeycomb boards at minimal cost
Lightweight and cost-efficient composite sandwiches with honeycomb cores can form the basis for incredibly strong and stiff structures. Compared to solid and monolithic products, these sandwiches,...
Beautiful, lightweight, and tunable
Industries and consumers are in need of new materials with cuttingedge technology. The Composites Solutions portfolio is an authentic answer from Covestro (formerly Bayer MaterialScience),...
SOLUTlONS
A demountable composite wing box for private planes
The quest for lower environmental impact throughout an aircraft's service life along with increasingly stringent passenger safety requirements are leading to extensive research in the design of new...
Repair and replacement of concrete pipes with carbon composites
This paper describes the in-situ manufacturing of a carbon fibre pipeline by means of an epoxy resin infusion process followed by vacuum consolidation. The process uses as a lost mould the existing...
Sustainable composite manufacturing kicks into high gear
As composites continue to replace traditional materials such as steel and aluminium, companies servicing the sporting goods industry work together to offer sustainable solutions and address...
lmproving lives with carbon composites
Having seen the images from the Paralympics at Rio 2016, we are all familiar with the use of carbon fibre in sporting prosthetics and wheelchairs, but these are just two of the most visible areas...
TECHNOLOGY
NDT in-line inspection using the NIDIT procedure
The harmless, non-destructive NIDIT procedure can replace harmful X-ray procedures if the material under test is dielectric, i.e. non-conductive. The microwave-based NIDIT procedure is described in...
Ensuring the durability of adhesive-bonded assemblies
The life span of adhesive-bonded assemblies in operation can be predicted using accelerated ageing tests, thanks to an approach that associates the limitation of static or cyclic mechanical stresses...
Thank you
You just used 1 credit. You have left.