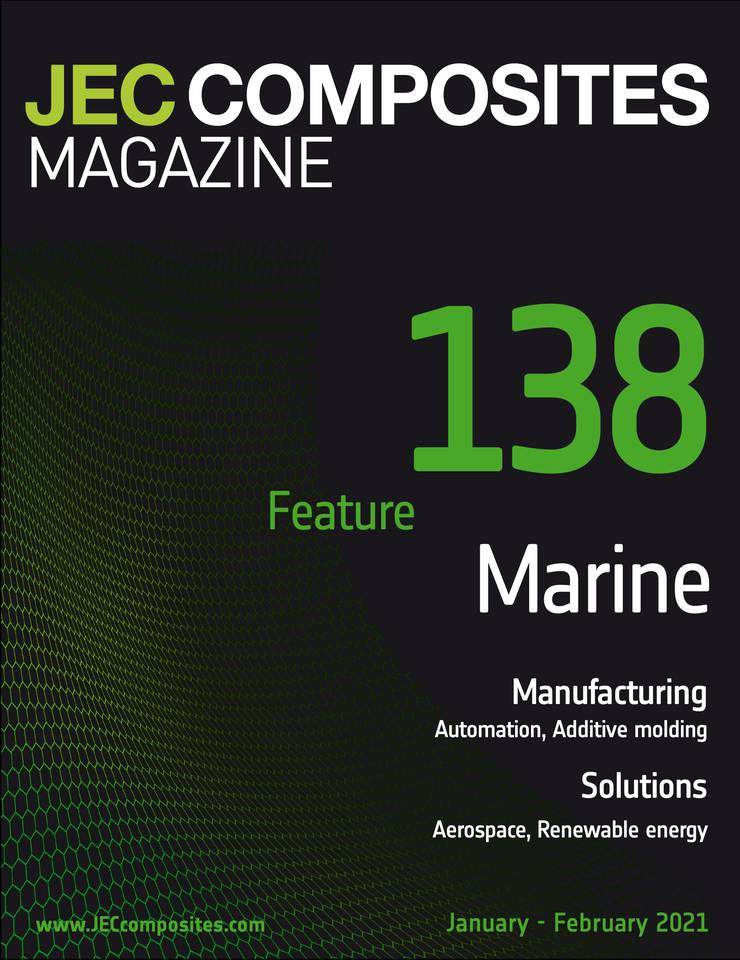 JEC Composites Magazine
N°138 - january 2021
Preview
JEC Composites Magazine is the point of contact of the international Composites Community, 6 times a year, with topics covering scientific information, business, technology, manufacturing, and application sectors trends.
In each and every issue, readers will learn about the entire composites industry value chain (from raw materials to application markets), and be inspired with current and future innovations.
The six sections of the magazine consist in:
NEWS: with interviews, articles about business development (M&As, appointments, partnerships and collaborations, awards etc.).
BUSINESS: with articles covering trends and markets, focusing on a specific country or region, with the composites market, or the application markets, or the companies strategies etc. in that country or region, and a startup focus.
MANUFACTURING: with articles about production processes and processing equipment.
FEATURE: an in-depth overview of a specific topic (typically an application sector), plus a JEC World Preview in April/May and Review in June/July.
SOLUTIONS: composites around us, with articles showing how composite materials are being used in applications which impact our everyday lives.
TECHNOLOGY: with articles about developments in materials, testing and control, repair, joining, design and simulation, recycling and reuse, R&D.
Enjoy your reading!
Contents
At the cutting edge of technology
"While the yachting sector, and the marine industry on the whole, has been impacted by the enduring health crisis, it remains nonetheless dynamic and innovative. Surely new ideas and new champions...
Read More
N°138 - january 2021
EDITORIAL
At the cutting edge of technology
"While the yachting sector, and the marine industry on the whole, has been impacted by the enduring health crisis, it remains nonetheless dynamic and innovative. Surely new ideas and new champions...
MOVING COMPOSITES FORWARD
"Composite materials are ideally suited to produce such complex shaped parts"
Australia, who harnesses extensively the energy from its largest waterways, innovates with company Kinetic NRG. It has introduced a model for a microturbine that allows weaker energy sources to be...
NEWS
Symmetrix Composites announces technical partnership with America's Cup American Magic
Utilizing Symmetrix's large format CMS Poseidon 5-Axis CNC machine, the company produced the patterns and moulds for American Magic's two AC75 foiling monohulls as well as the towering, 26-meter tall...
Arkema 4, Quentin Vlamynck's new Multi50, has hit the water
The Arkema 4 was launched in the water outside the Lalou Multi Composite shipyard in Port Bloc in the Gironde region, after one year of work. This Multi50 is the result of close and intense technical...
Magna names Seetarama Kotagiri Chief Executive Officer
Magna announced that its Board of Directors has appointed Seetarama (Swamy) Kotagiri as Chief Executive Officer, effective January 1, 2021. He has more than 25 years of automotive industry experience,...
''We must demonstrate the possibilities of developing beyond French borders''
Formed in 2005, the Plastipolis competitive cluster aims to promote the French plastics industry. Following its annual general meeting this past June, the new board met on 15 July 2020 and elected...
BUSINESS
A standardised method to join metal and fibre-reinforced plastics
Hyconnect aims to make the construction of lightweight structures easier. By avoiding adhesive bonding, the FAUSST technology provides a standardised method to join metal and fibre-reinforced...
Taking your innovation to market: commercialising new products in the composites sector
The commercialisation of innovative technology continues to drive the expansion of the composites market in new and existing applications, with growth rates forecast to remain at around 7% CAGR for...
Overview of the european Market for Glass Fibre Reinforced Plastics (GRP) in 2020
The AVK recently published its annual market report for glass fibre reinforced plastics (GRP). The total european GRP has fallen by 12.7% to 996,000 tonnes in 2020. The report presents the market...
MANUFACTURlNG
Optimizing the machining of biocomposites
The work presented below focuses on a research project to fully exploit plant fibres (flax, hemp, bamboo, etc.) for utilization as reinforcement in industrial composite materials, which so far remains...
Honeycomb cores for the automotive industry
Automotive engineers are searching for cost-efficient, lighweight and CO2-neutral solutions for plastics engineering applications in the fields of exterior and interior parts. The importance of...
Improving productivity and efficiency with automated kitting system
Global aerospace company Magellan Aerospace has ordered and plans to integrate an automated kitting solution from composite industrialisation specialist Airborne. The delivery to Magellan Aerospace in...
FEATURE
Beneteau optimizes the infusion process
In collaboration with Beneteau Group, Chomarat developed the G-FLOW™ 980L reinforcement for boat production using the infusion process. Chomarat was working on a structural fabric with flow properties...
Design-for-disassembly of bonded composite foils
A new composite foil for motor boats can be bonded to the engine to increase the amount of lift produced at the stern and debonded-on-command to allow engine maintenance, reuse or upgrade. Foils are...
A 3D-printed boat made with a continuous-fibreglass thermoset material
Moi Composites recently unveiled the finished MAMBO (Motor Additive Manufacturing BOat), an idea that became a real-life project to 3D print a boat with a continuous fibreglass thermoset material....
lnteresting approach to making global shipping more sustainable
Global shipping accounts for about 3% of total greenhouse gas emissions. Like in any other sector, voices requesting to increase efforts for higher energy savings are growing louder. Airborne is...
e-boat Yachting makes the move to hydrogen
In September, Hynova Yachts attended the Ever Monaco 2020 exhibition, the essential meeting place for renewable energies. There, they presented the first series model for a hydrogen-fuelled boat and...
Sports and composites: the magic of water sports
Composite materials have assumed increasing importance in the last thirty years due to their very high physical-mechanical properties that make it possible to use them for structural applications in...
Composite lashing bar
A new composite lashing bar produced with a cost-saving, optimized filament winding technology significantly reduces the risk of workplace accidents and workers' fatigue. Oz Industry's composite...
RAMSSES: lightweighting ships for a cleaner environment
The RAMSSES project shows practically how composite materials can be used to reduce weight in shipbuilding. The project also gives suggestions to further develop relevant rules and regulations,...
SOLUTlONS
Egyptian consortium develops first textile palm fibres and reinforcements
A consortium of five Egyptian researchers (PalmFil) developed the world's first high-performance fibres and reinforcements extracted from the by-products of date palm pruning, such as fronds and fruit...
Powering the future
For any nation wishing to safeguard, for the long term, its sovereignty and independence on the international stage, it is vital to ensure the supply of electricity to both the population and to...
lnfusing efficiency in the lndian road fleet with composites
The Indian subcontinent has recently seen an upsurge of technology-oriented start-ups. In the past decade, the country's increasingly conducive environment and changing policy atmosphere have...
TECHNOLOGY
Heat treatment and change of material properties
MRF furnaces have been part of many R&D breakthroughs and discoveries over the years. Mass production of these new applications has helped us continue serving multiple markets even after the initial...
ICC: an open-research innovation platform for composites
The Innovative Composite Materials Research and Development Centre (ICC) is one of the affiliated institutes of Kanazawa Institute of Technology (KIT), a private university in Ishikawa prefecture, as...
Developing carbon fibre wheels for peak performance
Racing demands each gram of unneeded mass be removed. Blackstone Tek recently introduced carbon fibre sports car wheels with a reduced mass that equates to a benefit of 69 ms on a 400 m drag race....
lNDEX
MARKET PLACE
Advanced Composite Structures Australia ....................... p.4Airborne ..................................................................... p.24, 36Aria AeroTech Pvt Ltd....
Thank you
You just used 1 credit. You have left.