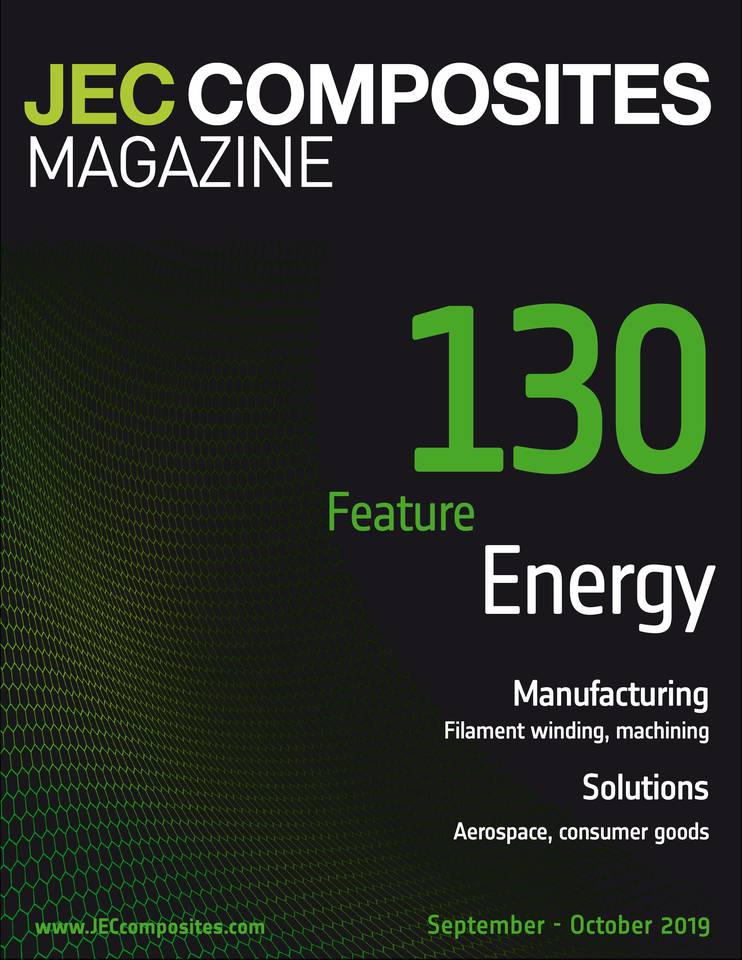 JEC Composites Magazine
N°130 - september 2019
Preview
JEC Composites Magazine is the point of contact of the international Composites Community, 6 times a year, with topics covering scientific information, business, technology, manufacturing, and application sectors trends.
In each and every issue, readers will learn about the entire composites industry value chain (from raw materials to application markets), and be inspired with current and future innovations.
The six sections of the magazine consist in:
NEWS: with interviews, articles about business development (M&As, appointments, partnerships and collaborations, awards etc.).
BUSINESS: with articles covering trends and markets, focusing on a specific country or region, with the composites market, or the application markets, or the companies strategies etc. in that country or region, and a startup focus.
MANUFACTURING: with articles about production processes and processing equipment.
FEATURE: an in-depth overview of a specific topic (typically an application sector), plus a JEC World Preview in April/May and Review in June/July.
SOLUTIONS: composites around us, with articles showing how composite materials are being used in applications which impact our everyday lives.
TECHNOLOGY: with articles about developments in materials, testing and control, repair, joining, design and simulation, recycling and reuse, R&D.
Enjoy your reading!
Contents
You can't take energy for granted
"The energy sector is vast, and its confines are not always as precise as we would like. The figures we have available become confused with wind energy, which accounts for 5% in volume of the 11.4 MT...
Read More
N°130 - september 2019
ÉDITORIAL
You can't take energy for granted
"The energy sector is vast, and its confines are not always as precise as we would like. The figures we have available become confused with wind energy, which accounts for 5% in volume of the 11.4 MT...
MOVING COMPOSITES FORWARD
"AI and Wearables increase production efficiency"
Google Glass reached the consumer market in 2013, and are now experiencing a "second life" in the manufacturing world. Worn by manufacturing process operators in production units, and driven by...
NEWS
NEWS in brief AcquisitionTeijin to acquire Benet Automotive to expand European automotive business
Benet, headquartered in Mlada Boleslav, Czech Republic, is a tier one supplier of composite components to the automotive industry. Benet has three facilities in Czechia and one in Germany to serve...
«Composites are deeply rooted in Nantes»
As the 19th European Conference on Composite Materials (ECCM19), the world's second leading scientific event in the field of composites, will take place in Nantes, France, in June 2020. JEC Composites...
Northrop Grumman in Clearfield, Utah: the state of the art in aerospace-structure manufacturing
Composites, Northrop Grumman and Utah, a winning trio! These three elements do very well together. They don't just complement each other – they enhance each other. In Utah, the aerospace sector has...
Unveiling the journey of India's major systems developer and manufacturer in aerospace
Inspiring story of India's biggest Engineering and construction company, that forays into composites. The decision is followed by a decade of grass-root developments, ushering in new technologies,...
BUSINESS
AirGo Design, one of the three winners of JEC's Startup Booster competition
Last March at JEC World 2019, the ten finalists of the Startup Booster programme, selected from 120 entries, pitched to an international jury. Three competitors were selected during the afternoon's...
BUSlNESS startup
JEC Composites Magazine: Can you summarize your company's history and remind us of your links with composites? Alireza Yaghoubi.: AirGo is developing the world's first full-composite aircraft seat,...
China encourages the small to medium boat market
Since 2012 and the anti-graft policy, luxury yachts have been regarded with some suspicion by the Chinese government. But the boat culture is promoted as a healthy lifestyle among the Chinese middle...
Graphene and composites: stronger together
Just about any report on graphene will place the graphene composites market as the largest commercial segment for graphene, now and well into the near future. The next largest market – typically...
Flax and hemp fibres: the biobased solution for the composites industry
Flax and hemp fibres are high-quality resources that are available in quantity. These plant-sourced raw materials can make sustainable industrial innovation economically competitive. What is the state...
MANUFACTURlNG
Developments in filament winding software
Filament winding is one of the few Automated Processes for composites manufacture and can produce highly repeatable, high quality components at reduced labour content. A big advantage of filament...
A new Solid Lubricant made from water-soluble resin
Mitsubishi Gas Chemical is one of the leading company manufacturers in polymers in Japan that was established in 1918 with a capital of 41.97 Billion JPY and more than 2300 employees. We had the...
FEATURE
Alstom to deliver the world's largest fleet of hydrogen fuel cell powered trains
On May 21, Alstom announced an order from Fahma, a subsidiary of Rhein-Main-Verkehrsverbund (RMV), for the delivery of trains powered by hydrogen fuel cells. The contract is worth some 500 million...
Nouryon and Gasunie study green hydrogen project scale-up to meet aviation fuel demand
Nouryon and Gasunie are studying an expansion of a planned green hydrogen unit at Delfzijl, the Netherlands. The feasibility study follows a deal to convert sustainable electricity into green hydrogen...
Liquid hydrogen aircraft project takes off
AeroDelft, a team of students from TU Delft, is in the process of developing the very first manned aircraft powered by liquid hydrogen. Last April, the team unveiled the design of a prototype that...
The future lies in renewable energies – JEC expert talk
Rising incomes and a growing world population with an extra 1.7 billion people will push up the global energy demand by more than a quarter until 2040. Developing economies are taking the lead,...
Solar glass based on new composite nanostructured materials
Brite Solar was founded in 2009 to develop a third-generation dye-sensitized solar cell for greenhouse applications. The company deploys advanced nanomaterial engineering to create new types of glass...
Standardizing the manufacture and use of composite utility poles
In May, ACMA released standard specifications for fibre-reinforced polymer composite utility poles. The composite industry trade association's aim is to promote increased use of FRP composite utility...
SOLUTlONS
Food contact compliance certification for cobalt-free curing of polyester storage tanks
Nouryon Polymer Chemistry presents a cobalt-free curing system suitable to manufacture storage tanks for food and beverage by using unsaturated polyester resin. Polem (Lemmer, The Netherlands), the...
Lightweight aerospace solutions
The aerospace industry is looking to reduce weight without compromising on structural integrity. British aluminium-matrix composite manufacturer Alvant is offering solutions to an industry that needs...
Composites as best mates
Fibre-reinforced polymer composites (FRP) are being used more and more in consumer goods. In that regard, the sports and leisure industry is the largest end-user of these materials. The sports and...
TECHNOLOGY
Modified product development process for tailored textiles
Tailored textiles (TT) are designed for use in high-performance mate-rials with integrated local reinforcements. The latest developments in textile processing technology proved the potential of TT for...
From offcuts to a high-performance material
The constantly growing use of carbon fibre generates more and more offcuts. Through further development, these fibres can be used as a base material to produce a Sheet Moulding Compound (SMC) raw...
Laboratory for processing of advanced composites Ecole Polytechnique Fédérale de Lausanne
The Laboratory for Processing of Advanced Composites (LPAC) was created in 2017, as a new lab at the Institute of Materials benefiting from former LTC's (Polymer and Composite Technology Lab)...
Thank you
You just used 1 credit. You have left.