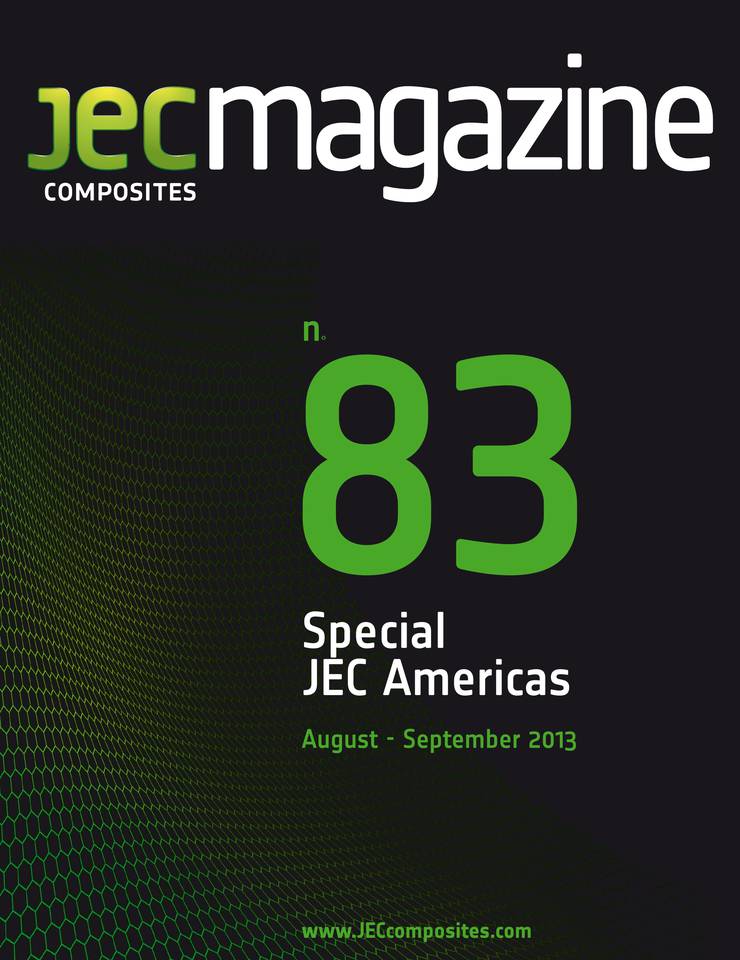 JEC Composites Magazine
N°83 - august 2013
Preview
JEC Composites Magazine is the point of contact of the international Composites Community, 6 times a year, with topics covering scientific information, business, technology, manufacturing, and application sectors trends.
In each and every issue, readers will learn about the entire composites industry value chain (from raw materials to application markets), and be inspired with current and future innovations.
The six sections of the magazine consist in:
NEWS: with interviews, articles about business development (M&As, appointments, partnerships and collaborations, awards etc.).
BUSINESS: with articles covering trends and markets, focusing on a specific country or region, with the composites market, or the application markets, or the companies strategies etc. in that country or region, and a startup focus.
MANUFACTURING: with articles about production processes and processing equipment.
FEATURE: an in-depth overview of a specific topic (typically an application sector), plus a JEC World Preview in April/May and Review in June/July.
SOLUTIONS: composites around us, with articles showing how composite materials are being used in applications which impact our everyday lives.
TECHNOLOGY: with articles about developments in materials, testing and control, repair, joining, design and simulation, recycling and reuse, R&D.
Enjoy your reading!
Contents
The Americas' vibrant composite sector on stage
"The Americas are a critical strategic market for anyone hoping to compete in the global composite industry. In 2012, the region represented US$37 billion, or 34% of the global composite industry in...
Read More
N°83 - august 2013
EDITOR'S
The Americas' vibrant composite sector on stage
"The Americas are a critical strategic market for anyone hoping to compete in the global composite industry. In 2012, the region represented US$37 billion, or 34% of the global composite industry in...
POINT OF VIEW: LOOKING TO THE FUTURE
"We have worked hard to optimize our global assets"
It is now two-and-a-half years since Arnaud Genis, Group President, Composite Solutions Business, Owens Corning, last expressed himself in our pages (JEC Composites Magazine No. 65 May-June 2011)....
About Owens Corning
Owens Corning has been supplying consistently glass fiber products for the reinforcement of high-performance composites and their background is strong with more than 70 years of experience. Their...
COMPANIES & BUSINESS
Partnership between the Caterham Group and Future Fibres
The Caterham Challenge brings to offshore racing the technological and performance standards seen in Formula One and in the automotive and airline industries, and intends to set new benchmarks in the...
University of Bristol & NCC to benefit from Government award of £85 million
Speaking at the Global Intelligent Systems conference in London, David Willetts, Minister for Universities and Science, announced the results of a call for proposals issued by the Engineering and...
APPLICATIONS
The next big leap in high-rise building design
The Finish company KONE, an innovative leader in the elevator and escalator industry, has developed a new high-rise elevator technology that is set to break industry limits and enable future elevator...
Composite baseball bat technology
RIP-IT Sporting Goods, a leader in composite bat technology, presents a review of composite baseball bat technologies and discusses how these innovative bats have changed the pastime of baseball....
The defence sector is seeking cost-effective alternatives
Until fairly recently, the defence industry has been operating in near-total technical self-sufficiency, developing its own solutions uniquely for its own uses. Now that most countries are slashing...
The first series production vehicle with a carbon fibre passenger cell
The BMW Group's specialists along the BMW body-in-white process chain have steadily refined and automated the CFRP production process at the Landshut and Leipzig plants so that, for the first time, it...
MARKET
Biocomposites in automotive applications
Forecasts indicate that the price of crude oil will reach $100 dollars per barrel in 2015, $120 in 2020, $130 in 2025, and $150 in 2035. Crude oil resources are declining and we are not sure of their...
US demand to rise 14.7% annually through 2016
High-performance composite demand will be fuelled by high growth in the commercial airliner market as well as in emerging applications such as wind turbines and pressure vessels. US demand for high-...
SPECIAL JEC AMERICAS 2013
Gain insight into the JEC 2013 l.C.S. Americas programme
Dear Composite Professional, The I.C.S. conferences and forums in Boston are an opportunity to meet professionnals and stakeholders who rely on a booming composite market and conferences that promote...
JEC Innovation Awards Program 2013: lnnovation awards winners
10 companies and their partners will receive awards at the inaugural JEC Americas Composites Show and Conferences at the Boston Convention and Exhibition Center, October 2-4, 2013. Supply chain...
Winnipeg is fast becoming a global composite manufacturing centre
Geographically located in the centre of North America and nestled at the heart of two converging rivers, Winnipeg, Manitoba, Canada has long been a meeting place and centre for commerce. With its...
PermLab 2, an integrated workstation to measure the in-plane permeability of engineering textiles
Liquid Composite Moulding (LCM) regroups a number of techniques used to manufacture polymer-based composites reinforced by different types of engineering textiles. LCM processes such as RTM (Resin...
NRC's multi-partner project on thermoset polyester/cellulosic fibre biocomposites
It is well recognized that Canada is well positioned to take a leading role in the emerging use of industrial biomate-rials. Canada has a rich supply of suitable biomass and especially the residual...
Barrday focuses on high performance materials and expansion
The North American company Barrday is known for its fire- and ballistic-resistant prepregs. With its new thermoset and thermoplastic products, the company has also successfully developed activities in...
"Process to Part" or "Part to Process"
Increasing accuracy, reliability and productivity while reducing costs are common themes among all manufacturers. Now, more than ever, the increasing demand for automated systems requires more...
Five-axis CNC router helps improve workplace efficiency
Diversified Machine Systems releases a case study on major aerospace supplier, Kaman Composites UK, on breaking through their throughput and operating efficiency concern with the installation of a DMS...
Automation in today's RTM and vacuum infusion processes
This article focuses on recent advances in the automation of liquid resin injection in the various RTM and vacuum infusion processes. The use of liquid composite moulding processes such as resin...
D-SMC line: just-in-time manufacturing of semi-finished parts
The advanced D-SMC direct process opens up new potential applications for thermosetting plastic composites as part of lightweight construction in the automotive industry. Mat-like semi-finished parts...
Graphene oxide flakes bolster carbon fibre
Industrial carbon fibres – a source of steel-like strength in ultralight materials – have not improved much in decades because the chemistry involved is approaching its limits. This study discusses...
Economic production of load-optimized thermoplastic composites
Sustainable production methods for fibrereinforced plastics (FRP) are one of the key challenges of modern production technology, especially in comparison to established process chains such as metal...
TECHNOLOGIES & INNOVATIONS
Robotics and surface-adaptive ultrasound for fully-automated inspection of composites
Achieving high-speed inspection rates for complex composite parts requires versatile, integrated systems that meet the challenges of automated part handling and non-destructive testing (NDT) for ship...
Leaner budgets boost innovation in small satellite design
Which is it – a lander, an orbiter, or a rover? In the NASA of old, a vehicle programme wouldn't have "gotten off the ground" without an answer to that seemingly simple question. But in today's...
Degradable epoxy resin for sustainable carbon fibre composites
Adesso's Cleavamine® curing agents offer a new approach to the problem of composite material recycling, and are available for both liquid and prepreg resin systems. Further optimization of the...
Thank you
You just used 1 credit. You have left.