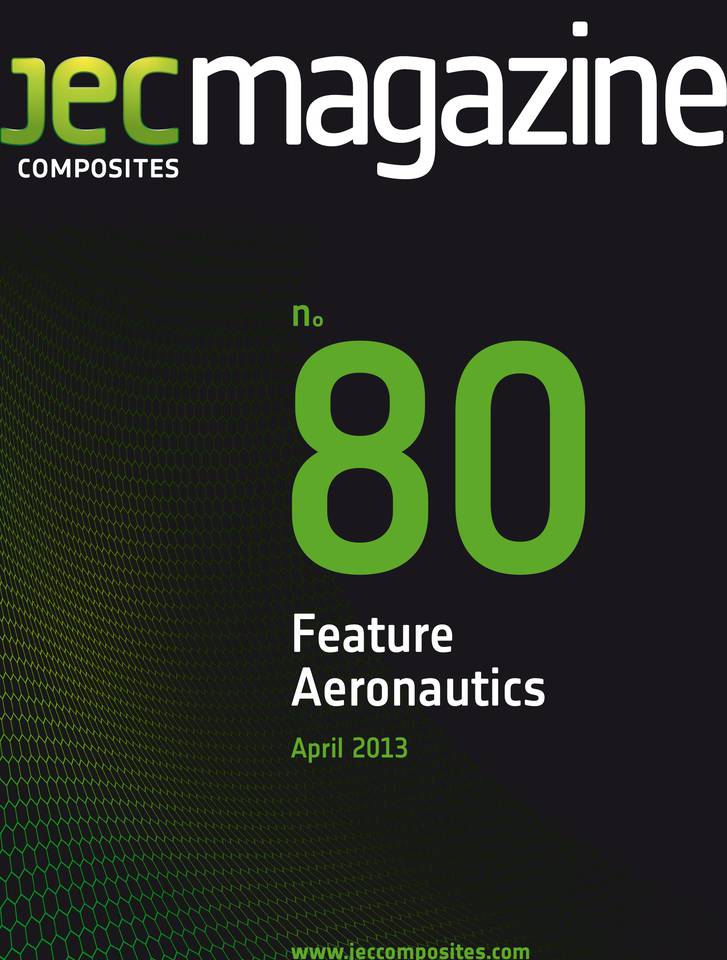 JEC Composites Magazine
N°80 - april 2013
Preview
JEC Composites Magazine is the point of contact of the international Composites Community, 6 times a year, with topics covering scientific information, business, technology, manufacturing, and application sectors trends.
In each and every issue, readers will learn about the entire composites industry value chain (from raw materials to application markets), and be inspired with current and future innovations.
The six sections of the magazine consist in:
NEWS: with interviews, articles about business development (M&As, appointments, partnerships and collaborations, awards etc.).
BUSINESS: with articles covering trends and markets, focusing on a specific country or region, with the composites market, or the application markets, or the companies strategies etc. in that country or region, and a startup focus.
MANUFACTURING: with articles about production processes and processing equipment.
FEATURE: an in-depth overview of a specific topic (typically an application sector), plus a JEC World Preview in April/May and Review in June/July.
SOLUTIONS: composites around us, with articles showing how composite materials are being used in applications which impact our everyday lives.
TECHNOLOGY: with articles about developments in materials, testing and control, repair, joining, design and simulation, recycling and reuse, R&D.
Enjoy your reading!
Contents
Aerospace, composites and Singapore
"Singapore, or Asia's "little Switzerland", as it is sometimes called, is a hub for excellence. And there are plenty of excellence centres in this natural-resource-poor country. The only real strength...
Read More
N°80 - april 2013
EDITO
Aerospace, composites and Singapore
"Singapore, or Asia's "little Switzerland", as it is sometimes called, is a hub for excellence. And there are plenty of excellence centres in this natural-resource-poor country. The only real strength...
POINT OF VIEW: HIGH-END SOLUTIONS
TenCate: a world player rising
The Dutch textile technologycompany TenCate is well-known for its high-performance thermoplastic composites. Its range of knowledge, however, is wider than that. The past twelve months have been rich...
COMPANIES & BUSINESS
Announcement
The Hexagon Group is gathering all its business units (Ragasco, Lincoln Composites, Hexagon Raufoss and Devold AMT) under one name: Hexagon Composites. During 14 years of existence, the group has...
Partnership
Owens Corning partners with BASF and TenCate for thermoplastic automotive composites Owens Corning, BASF and TenCate Advanced Composites announce their collaboration to deliver global solution to...
APPLICATIONS
Flax fibre composite solutions bringing striking benefits
Since its founding in 2011, Bcomp has focused on understanding the specificity of natural fibres and their composites, as well as developing corresponding solutions bringing striking benefits – in...
The right riddle solution
The "Fort Boyard" television game show is well known in a number of countries. Contestants are subjected to a series of physical and intellectual challenges, including answering riddles from the...
MARKET
Singapore – a promising market
In the 48 years since gaining its independence in 1965, Singapore's economy has grown consistently and is one of the sustained success stories of South East Asia. This has occurred in spite of...
Mainstreaming composites in the university system
In the absence of natural resources, Singapore has long relied on training people in high-potential fields. The country's various universities have gone down the right road by becoming involved to...
The French supply chain for technical flax and hemp fibres gets organized
This article provides the main outlines of the Sinfoni organizational project for the French supply chain for technical flax and hemp fibres used as raw materials. The project complements a number of...
Biocomposites: double-digit growth per annum over the next 10 years
Biocomposites have been available in the market for a number of years now. Although likely to remain negligible over the medium term compared to other types of composites, their volume has finally...
FEATURE AERONAUTICS
Carbon fabrics help e-Go aircraft to save 53% on weight
UK aircraft manufacturer e-Go is about to launch a Single Seat De-Regulated (SSDR) aircraft. To build an aircraft with the required weight and mechanical performance, the use of Spread Tow carbon...
Development of multi-thickness AS4/PEEK stringers using efficient process
Structural components manufactured from carbon-fibre-reinforced thermoplastics offer excellent mechanical properties – including fracture toughness and compression after impact – and physical...
An innovative composite solution for cost-effective primary aircraft structures
Flying a structure with a mass heavier than air necessitates the use of the lightest possible materials with the highest possible performance-to-mass ratio. Since the early years of aviation, aircraft...
A 14-seater civil aircraft design with an innovative composite structure
CSIR-NAL, a leading aerospace laboratory in India, has established sophisticated national facilities for the research and development of flight vehicles. Its main programme focuses on the design,...
Advantages of 2-axis layup of C-PlyTM by automated tape laying
A proprietary layup sequence of [0/45] bi-angle NCF tape with 50% overlap has reduced the effect on strength of the discontinuity seams in the 45-degree ply. This improvement in the strength of [p/4]...
New composite strut concept
Struts are widely used in aircraft, mainly with the purpose of supporting components and transferring loads between structural components. Due to the severe structural requirements of these parts,...
A high-performance sandwich composite container concept
The Envirotainer RAP e2 composite container is an optimal sandwich composite solution that uses virtually all of the beneficial features of sandwich design. Two years ago, after a four-year-long...
An innovative composite energy efficiency solution
Minix is an innovative wing-tip device for land, sea and air applications that procures a net economic gain of 6% per aircraft in aviation and a 14% average annual increase in power production for...
RESEARCH & DEVELOPMENT
Using suitable CAE tools for the development of complex FRP parts
RUAG has a long tradition in the design and manufacturing of structural aircraft components using carbon-fibre-reinforced plastics. Over the last few years, the capabilities of computer-aided...
Compression moulding of hinges for aerospace with recyclable materials
Despite a broaden for carbone fibre reinforced polymers (CFRP) in aeronautics, numerous metallic parts are still in use. Besides coefficient of thermal expansions between materials, this leads to...
TECHNOLOGIES & INNOVATIONS
The key role of release liners in the manufacture of high performance prepreg composites
As one of the leading European manufacturers of release liners, Gascogne Laminates is positioning itself as the preferred partner of the composite industry, where it has developed strong partnerships...
Research and waterjet technology lead to advanced materials development
Florida State University's High-Performance Materials Institute is paving the way when it comes to narrowing the gap between research and the practical use of a new, high-performance composite...
Thank you
You just used 1 credit. You have left.