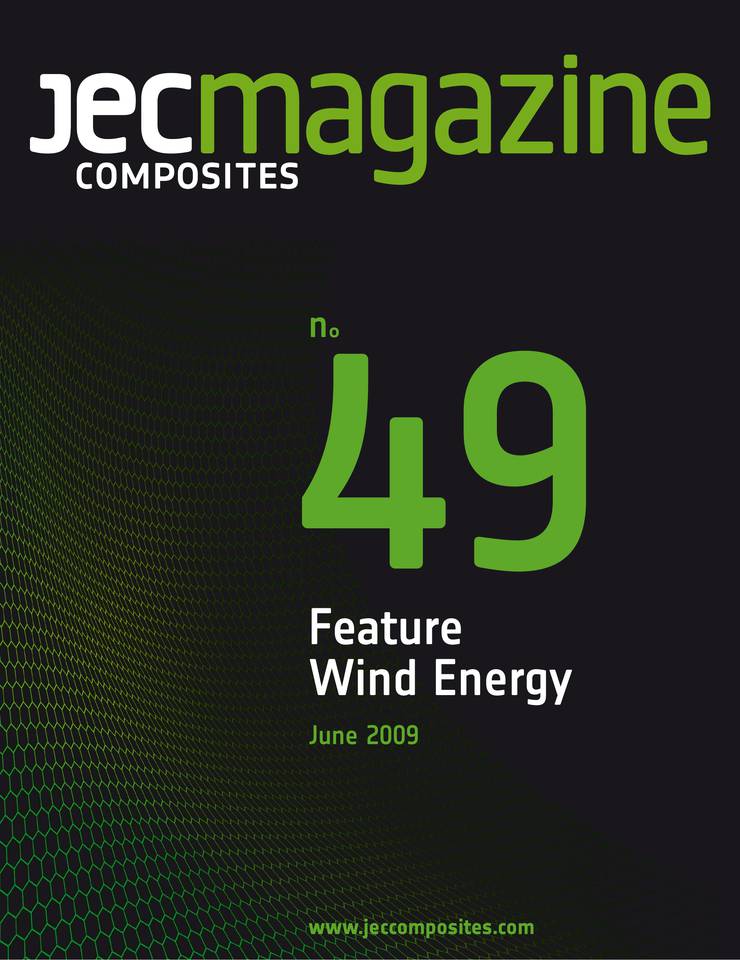 JEC Composites Magazine
N°49 - june 2009
Preview
JEC Composites Magazine is the point of contact of the international Composites Community, 6 times a year, with topics covering scientific information, business, technology, manufacturing, and application sectors trends.
In each and every issue, readers will learn about the entire composites industry value chain (from raw materials to application markets), and be inspired with current and future innovations.
The six sections of the magazine consist in:
NEWS: with interviews, articles about business development (M&As, appointments, partnerships and collaborations, awards etc.).
BUSINESS: with articles covering trends and markets, focusing on a specific country or region, with the composites market, or the application markets, or the companies strategies etc. in that country or region, and a startup focus.
MANUFACTURING: with articles about production processes and processing equipment.
FEATURE: an in-depth overview of a specific topic (typically an application sector), plus a JEC World Preview in April/May and Review in June/July.
SOLUTIONS: composites around us, with articles showing how composite materials are being used in applications which impact our everyday lives.
TECHNOLOGY: with articles about developments in materials, testing and control, repair, joining, design and simulation, recycling and reuse, R&D.
Enjoy your reading!
Contents
A breath of fresh air
If there is one thing that everyone is delighted with in this difficult period, it is the spectacular development of wind energy. This growth is satisfying in three ways. First, from a political point...
Read More
N°49 - june 2009
EDITORIAL
A breath of fresh air
If there is one thing that everyone is delighted with in this difficult period, it is the spectacular development of wind energy. This growth is satisfying in three ways. First, from a political point...
COMPANIES
Mergers and acquisitions
All-Finanz buys Menzolit A contract to sell the Menzolit group to the German investor All-Finanz was signed in Heidelberg on 20 April 2009. At the beginning of March 2009, the Swedish company Plastal,...
Partnership
Airbus extends R&T cooperation with Dutch partners Airbus and the Dutch Aerospace industry signed an extension to their Memorandum of Understanding for strategic cooperation in R&T, which has been in...
Development
Energy Composites' wind energy programme Energy Composites Corp. has just launched its WindFiber composites-inwind-energy programme, as announced on 4 April 2009. It consists in 1) manufacturing...
3B: a high-quality fibreglass supplier
The glass fibre production configuration has changed enormously these past few months due to mergers, buy-outs and production relocation, not to mention the arrival of new Asian competitors on the...
DK Composites: a player that has made a name for itself
DK Composites specializes in manufacturing large composite parts, mainly for export. The company excels particularly in domes and boats, but readily applies its skills in other sectors, too. its...
EQUIPMENT
Innovative robotic solutions for fibre placement
The fibre placement systems using robotic solutions developed by Coriolis Composites have now reached the industrial stage. Used in production for 3 years, these innovative systems are reliable and...
New fibre placement head featuring automatic change
As part of the continuous development of its composite technology, Ingersoll has just completed a series of qualification and endurance tests with the new fibre placement machine Mongoose V1,...
Thermoplastic tape placement process
The tape placement head technology developed at IVW for in situ consolidation induces the necessary melting heat in both the incoming tape and the already placed substrate with a main heater at the...
New ATL and AFP systems
The Forest-Liné range of solutions for processing fibre-resin composites is continuously expanding. It presently includes: • ATL (Automatic Tape Laying) systems both for flat and contoured large...
BUSINESS
Indian distributors of raw materials for composites
In the composite industry, the role of a distributor goes much beyond that of a sales agent, as a distributor also contributes to business growth and knowledge spreading. This is also the case in...
Subcontracting in aviation: a rapidly changing sector
As certain EADS/Airbus sites are switching ownership or being subsidiarized, the whole aviation subcontracting landscape is changing. Every day, the industrial plan grows more and more to resemble the...
Composites conform to creation
The dividing line between art and design is often blurred. Julien Carretero, a French designer living in the Netherlands, explores this area through the objects he creates using a method that combines...
NCC: a global source for commercialization, manufacturing acceleration and incubation
In a climate where improved performance and greater processing efficiencies can make the difference, manufacturers continue to turn to composites for the mechanical characteristics and economies they...
FEATURE
2009-2013: no slow-down in global wind developments
In another record year for new installations, the global wind energy capacity surged by 28.8% in 2008. The US overtook Germany to become the number one wind power market, while China's total capacity...
Composite wind turbine blade design: leveraging aerospace advances
Composite materials are ideal for producing lightweight blades with tremendous performance capabilities, yet their structural complexity raises a number of issues in terms of optimizing design and...
New composite hybrid reinforcements for the wind turbine industry
The blades of modern multi-megawatt wind turbines require innovative design and material concepts to cope with the dramatic weight and cost increase associated with the growing blade length. Carbon...
Advanced epoxy technology for wind turbine blades
Epoxy composites offer high performance and proven reliability in many demanding applications including components for windmill blades. Significant advances have been made by Dow to develop a...
Breakthrough in structural PET foam core materials
Alcan Composites has just launched its second generation of PET foam. Having been first on the market to introduce PET as a core material, the company is now offering reformulated and significantly...
Turbine blade bonding
As the credit crunch pushes blade demand below supply levels for one of the rare periods in wind energy's growth history, getting a durable product made reliably and efficiently has never been more...
Automated blade production for wind energy plants
Wind energy plants are a future-proof alternative to conventional energy sources. To accommodate the huge growth of the wind energy industry – up to 30% annually – we will need extended production...
UT scans to ensure blade quality
Wind blade quality has become a key issue in sustaining the remarkable growth of this sector, even more so considering that the sites are not always easy to access, e.g. offshore, and that maintenance...
An innovative composite wind turbine: for homeowners and professionals
Nheolis has developed and now commercializes a revolutionary wind turbine for homeowners and professionals. Thanks to its innovative design, this technology optimizes the use of wind energy and...
Application
JEC Composites Magazine: What inspired you to use composite materials for your blades? SERGE ELENGA: Nheolis is a French start-up company created in December 2005 that innovates in the area of micro...
USERS' PLATFORM
"Light Car - OO pp ee nn SS oo uu rr cc ee"
EDAG, worldwide provider of engineering services, presented as a world premiere its vision of an environment-friendly, future-oriented vehicle for both everyday and leisure use at the 2009...
An aa ss tt oo nn ii ss hh ii nn gg chair
In close co-operation with Huntsman Advanced Materials, the 3D company designed an astonishing yet sophisticated chair made of carbon fibre and moulded in four parts. Various Huntsman materials were...
Lightweight hand-launched gg ll ii dd ee rr
Momentum Model Technologies HB, Sweden, has developed its lightweight hand-launched glider, the Sirius F3K, using Oxeon's TeXtreme spread carbon tow fabric. The glider's fuselage and wings incorporate...
The GG rr ee ee nn bb ii rr dd project: 203 km/h just using wind
The Greenbird is two vehicles: a land craft and an ice craft, powered only by wind. The project's aim was to break both the land and ice world speed records. On 26 March 2009, the Ecotricity Greenbird...
Innovative architectural cladding
DIAB is working in partnership with Skandinaviska Glassystem to develop a new cladding system for the façade of a six-storey office building in Copenhagen, Denmark. The cladding presents two entirely...
GRP pipe system for Cancéropôle stormwater network
Cancéropôle, a centre of excellence dedicated to cancer research and treatment in Toulouse, France, is being built on the grounds devastated by a chemical explosion on 21 September 2001. The centre's...
Composite system has capital solution for park odours
Because of its extensive, diverse and award-winning park system, Austin, Texas, is often referred to as "A city within a park!" When foul smells challenged that reputation, engineers found a capital...
Composite drives team in first zeroemission race
Students at the Delft University of Technology reached the first place in the world's premiere hydrogen-powered race on August 23 in Rotterdam. As a sponsor, DSM Composite Resins supports the team...
KNOW-HOW
Fibre-reinforced cores
Fibre-reinforced cores achieve high performance by incorporating the most cost-effective structural element of FRPs – glass fibres – in combination with low-cost closed cell foams, plus a process that...
Mould release system for the marine industry
Moulding large composite structures is a challenging task. Difficulties increase when these structures are moulded with unsaturated polyester resin due to the chemical nature of this material. Release...
Thank you
You just used 1 credit. You have left.