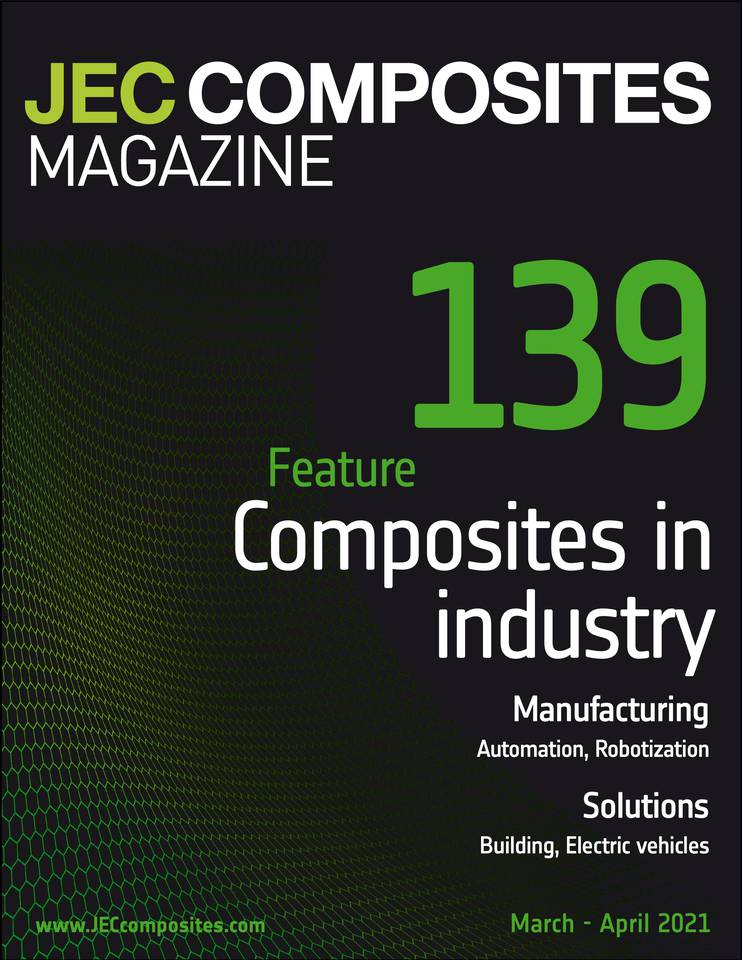 JEC Composites Magazine
N°139 - march 2021
Preview
JEC Composites Magazine is the point of contact of the international Composites Community, 6 times a year, with topics covering scientific information, business, technology, manufacturing, and application sectors trends.
In each and every issue, readers will learn about the entire composites industry value chain (from raw materials to application markets), and be inspired with current and future innovations.
The six sections of the magazine consist in:
NEWS: with interviews, articles about business development (M&As, appointments, partnerships and collaborations, awards etc.).
BUSINESS: with articles covering trends and markets, focusing on a specific country or region, with the composites market, or the application markets, or the companies strategies etc. in that country or region, and a startup focus.
MANUFACTURING: with articles about production processes and processing equipment.
FEATURE: an in-depth overview of a specific topic (typically an application sector), plus a JEC World Preview in April/May and Review in June/July.
SOLUTIONS: composites around us, with articles showing how composite materials are being used in applications which impact our everyday lives.
TECHNOLOGY: with articles about developments in materials, testing and control, repair, joining, design and simulation, recycling and reuse, R&D.
Enjoy your reading!
Contents
Customization is often the rule in industry
"Composite use in industry, now that is a topic that's hard to get a handle on because of its low profile. An aircraft fuselage is noticeable and creates a buzz, just like a car body or even...
Read More
N°139 - march 2021
ÉDITORIAL
Customization is often the rule in industry
"Composite use in industry, now that is a topic that's hard to get a handle on because of its low profile. An aircraft fuselage is noticeable and creates a buzz, just like a car body or even...
MOVING COMPOSITES FORWARD
"We are proud that the HP name has become increasingly popular on the track"
HP Composites, an Italian company based in Ascoli Piceno, is now confirmed as a European leader in the production of advanced carbon fibre composite materials for the automotive and motorsport...
NEWS
3D-printed bushing for glass fibre production
Cooksongold Additive Manufacturing (AM), in partnership with the Institut für Textiltechnik of RWTH Aachen University (ITA), EOS GmbH and AMPS GmbH, is set to revolutionise the glass fibre industry....
BUSlNESS
The future of thermoplastic resins
Thermoplastic resins are transforming the composite materials market owing to their potential for recycling and sustainability. More specifically, studies by Marketsandmarkets suggest that the...
"The past three years witnessed very strong growth of the 3D printing market in Asia"
French chemical group Arkema participated in China Composites Expo as an exhibitor for the first time last September. At the exhibition, Arkema presented its advanced materials and new composite...
Setting off to conquer the great outdoors
Kid'venture, a start-up founded in Gap, in southeastern France, exhibited in this year's all-digital edition of the Consumer Electronics Show. The company has invented a solution to facilitate...
BCF: developing industrial production for reinforcement materials and composites
This article focuses on the issues related to the creation of basalt continuous fibre (BCF) factories for the production of reinforcements and composite materials for the construction & road building,...
MANUFACTURlNG
AFP/ATL device using a parallel link mechanism
Toray Engineering has been working on the development of AFP/ ATL equipment to arrange tape-shaped carbon fibres and mould them into sheets or weld them to resin-moulded products. The company is...
Bringing robot-controlled sealing of aircraft components to industrial maturity
After several years of research and development, Broetje-Automation presents an industrially-mature, automated solution for sealing aircraft components. The modular system can handle the most diverse...
Redifining GRP and GRE pipe manufacturing
Smithline Reinforced Composites applies innovative methods to manufacture high quality GRP and GRE pressure pipes and fittings, using the dual helical filament winding process. The company is one of...
FEATURE
Printing continuous fibrereinforced parts with industrial-grade AFP tape
Fiber is the world's first desktop 3D printer to fabricate high-resolution parts with industrial-grade continuous fibre composite materials used in automated fibre placement (AFP) processes. ln...
Energy-efficient hybrid drive system with a planetary gear
The Energy Light drive system significantly improves the energy efficiency of an industrial application through the use of a patented drive technology based on lightweight design with fibre-reinforced...
Composites in U.S. industrial equipment: perspectives on performance
In the U.S. market, composite materials have the potential to enable equipment manufacturers to deliver machines designed to withstand the tests of time and meet today's challenges. Composite...
"Robotics skills meet high demand in post-Corona recovery"
This promising headline is part of a news release from August 2020 given by the International Federation of Robotics and recently confirmed by Milton Guerry, president of the association. "Governments...
lnnovative new hybrid metal composite four-disc milling cutter reduces machining times by 78%
CompoTech PLUS, spol. s r.o has developed a new hybrid metal and carbon fibre (CF) composite milling cutting disk in collaboration with HOFMEISTER - Innovation. With an initial ambitious target of a...
SOLUTlONS
The world's lightest wheelchair
An innovative means of individual mobility for people with disabilities: ultra-lightweight wheelchairs entirely made of composite materials. After many years of research on the use of modern composite...
RTM carbon fibre stock for a hunting rifle
The CF-RIF.STOCK is one of the very first carbon fibre ultra-light stocks for a hunting rifle, designed for production by the RTM process, which provides a lightweight and efficient structure. Corking...
Moving thanks to electrons
According to Wikipedia, a vehicle (from Latin: vehiculum) is a machine that transports people or cargo. Vehicles include wagons, bicycles, motor vehicles (motorcycles, cars, trucks, buses), railed...
Surface roughness measurements after hand-finishing of uneven GFRP surfaces
FRP Kaji Co., Ltd. reports their hand-finishing condition of surface roughness and geometric dimension about GFRP (Glass Fiber Reinforced Plastics) by quantitative evaluation. Hand lay-up is a GFRP...
TECHNOLOGY
Nextshaft lntegral drive shaft
Within the framework of the Horizon 2020 European Innovation Programme, the STEADIEST (Supercritical composiTE mAin DrIvE SysTem) project is developing a concept for a mechanical power transmission...
Development of a pitch-based carbon fibre, a solution for wide-ranging needs
DIALEAD™ are mesophase pitch-based carbon fibres that offer the ultimate in high specific stiffness materials and have been proven for many applications. DIALEAD™ fibres have high mechanical...
Thank you
You just used 1 credit. You have left.