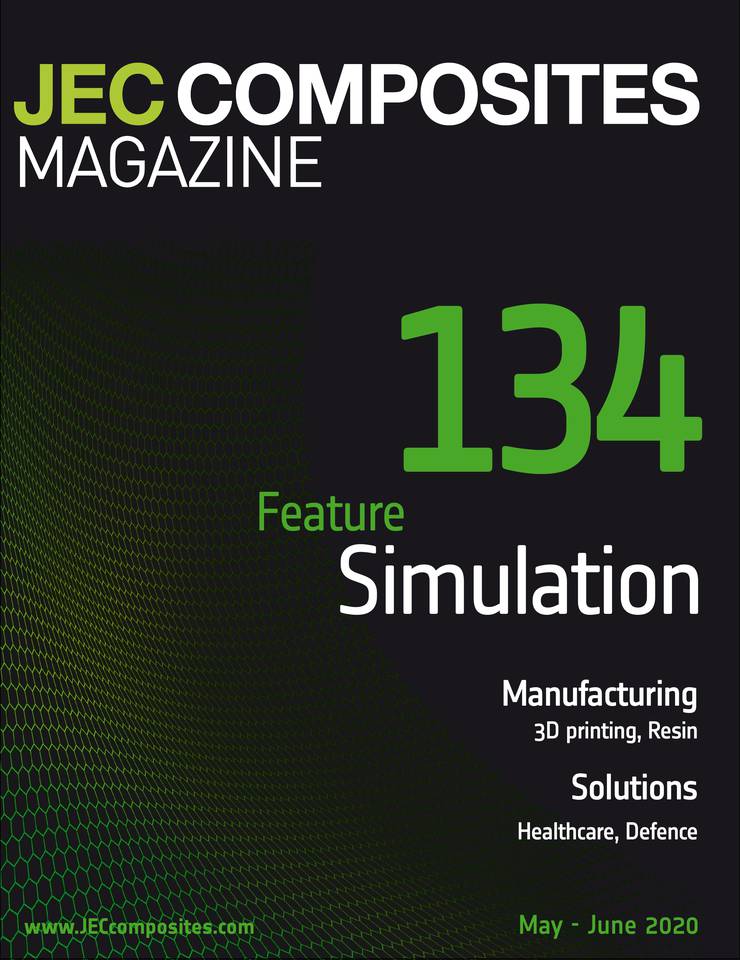 JEC Composites Magazine
N°134 - may 2020
Preview
JEC Composites Magazine is the point of contact of the international Composites Community, 6 times a year, with topics covering scientific information, business, technology, manufacturing, and application sectors trends.
In each and every issue, readers will learn about the entire composites industry value chain (from raw materials to application markets), and be inspired with current and future innovations.
The six sections of the magazine consist in:
NEWS: with interviews, articles about business development (M&As, appointments, partnerships and collaborations, awards etc.).
BUSINESS: with articles covering trends and markets, focusing on a specific country or region, with the composites market, or the application markets, or the companies strategies etc. in that country or region, and a startup focus.
MANUFACTURING: with articles about production processes and processing equipment.
FEATURE: an in-depth overview of a specific topic (typically an application sector), plus a JEC World Preview in April/May and Review in June/July.
SOLUTIONS: composites around us, with articles showing how composite materials are being used in applications which impact our everyday lives.
TECHNOLOGY: with articles about developments in materials, testing and control, repair, joining, design and simulation, recycling and reuse, R&D.
Enjoy your reading!
Contents
lmpossible to do without
"From one end of the value chain to the other, all companies are concerned about cost – i.e. total expenditure. There are other things they worry about as well, of course, but by and large, they keep...
Read More
N°134 - may 2020
EDITOR'S
lmpossible to do without
"From one end of the value chain to the other, all companies are concerned about cost – i.e. total expenditure. There are other things they worry about as well, of course, but by and large, they keep...
MOVING COMPOSITES FORWARD
JEC Composites Magazine: You are a recent player in carbon. Can you remind us of your company's main development stages?
The Montefibre Carbon plant in Miranda de Ebro, Spain, has been producing acrylic fibre since 1973 and is in the process to become the world's largest carbon fibre precursor plant, specialising in the...
NEWS IN BRIEF
Frimo and Hennecke form a strategic partnership in polyurethane solutions for automotive
The companies are forming a strong international partnership in the sector of polyurethane and other reactive plastic applications for the automotive industry. The partnership concerns only the...
Hyundai and Kia announce a €100M investment in electric vehicle company Arrival
The investment marks the start of a strategic partnership between the automakers to jointly accelerate the adoption of commercial electric vehicles globally. Hyundai and Kia will use key Arrival...
Faurecia wins major contract for Hyundai trucks
Faurecia will supply the entire hydrogen storage system (including 10,000 hydrogen tanks) which will be produced in its global center of expertise dedicated to hydrogen storage systems in Bavans,...
NEWS
Teijin to establish an Automotive Center in Europe
Teijin Automotive Center Europe in Wuppertal, Germany is a new base for technical functions within the company's automotive composite business. The company will handle concept, designing, prototyping,...
Launch of a pilot plant to manufacture European batteries for electric vehicles
During French President Emmanuel Macron's visit to the Saft Nersac plant near Angoulême, in the Nouvelle-Aquitaine region, Total, through its affiliate Saft, and PSA with Opel, are announcing their...
Stelia Aerospace's upgraded Méaulte factory gains 20% productivity
After a two-and-a-half-year project and a €70 million investment that completely transformed Stelia Aerospace's Méaulte factory, the results are spectacular. The site gained 15% productivity for...
BUSLNESS
The Netherlands: the country of thermoplastic composites
The Netherlands are a strong country in the field of composite materials, distinguishing themselves internationally through globally leading material and process technologies in addition to innovative...
The beauty of wood with the performance of composites
Lingrove is a materials and design firm focused on plant-based fibres and resins. Their signature composite is an elegant and Earth-friendly solution for demanding applications. The company's...
Selling your business, Part 2: finding the right buyer, closing the deal
In Part 1 of this two-part series, we highlighted why the composites industry is attractive to certain investor groups and discussed the first step in FMG's four step process for owners and...
MANUFACTURlNG
Large-scale additive manufacturing of composite thermoplastics – where are we?
In the USA, large-scale additive manufacturing of thermoplastic composites is moving rapidly from the development laboratory to industrial application. Today, 3D-printed moulds are being printed and...
Epoxy silica resin for highly-stressed composite springs, high-pressure vessels and cryogenic rockets
Sardou SAS has worked since 1983 on torsion beams, which are highly stressed structures, and invented composite C-springs in 1993 and composite coil springs in 2002. During the development of...
The violet light at the end of the tunnel
Ushio Europe is perfecting a stress-free alternative to traditional composite treatment methods for automotive and aerospace applications based on excimer UV technology. Excimer vacuum-ultraviolet...
FEATURE
Making SMC decisions at an early design phase
What are the most important things when considering the use of composite materials for lightweight industrial applications? The first selection criteria are overall costs, process automation,...
Unified modelling and simulation of composite materials and structures
SwiftComp is a novel simulation code for unified modelling of composite materials and structures. The recently released SwiftComp 2.0 added many new capabilities, including the pre-diction of...
lCME and materials data management for more agile design and engineering of advanced materials
Reducing development times and costs of composites materials is high on the agenda for all manufacturers to remain competitive and penetrate the market. A powerful approach to achieve this is...
Predicting the performance of chopped composite components through simulation
Composites are becoming more mainstream with improved manufacturing methods and knowledge surrounding design. As confidence grows in their performance, their utilisation increases. However, fibre...
Gliding farther and faster
To reduce the drag on the wings of a sailplane (glider) so it could go faster and farther, engineers needed to shave a small amount of surface area from the wing. This complex task involved fluid,...
The future of building and construction lies in project simulation
After decades of slow productivity growth, the building and construction industry is ready for major developments thanks to digital technology. The simulation of design and all its complexities is...
SOLUTlONS
Sustainable food packaging materials using bionanocomposite films
Plastic waste is of great concern to consumers and householders, so that immediate action is required from the food packaging industries to develop innovative, reusable, recyclable and environment-...
Composites on the field
Nowadays, technological expertise is essential to the tactical effectiveness of military troops and equipment sent out on field missions. Therefore, research and development budgets for the armed...
Wearable exoskeleton robots to reach a global market of US$ 5.2 billion by 2025
In recent years, new body-worn assistive devices – the so-called exoskele-tons – have been introduced in the market, mainly for industrial and medical applications. Initially, they had been developed...
TECHNOLOGY
Advanced polyurethane resin for wind turbine blades: enhanced performance at lower blade cost
When developing and expanding the use of renewable energies, a major objective is to focus on technologies and products that also bring societal benefits. While wind power shows significant advantages...
Hamburg University of Technology's Institute of Polymer and Composites
The Institute of Polymer and Composites of the Hamburg University of Technology (TUHH) follows its mission statement – "From molecule to component" – in its activities. Founded in 1982, the institute...
Diss grass fibre: a new reinforcement for biocomposites
The Ampelodesmos mauritanicus plant, Mauritanian grass or also called 'Diss', is a perennial abundant plant, having attractive characteristics for ecofriendly materials. This work aims to highlight...
Thank you
You just used 1 credit. You have left.