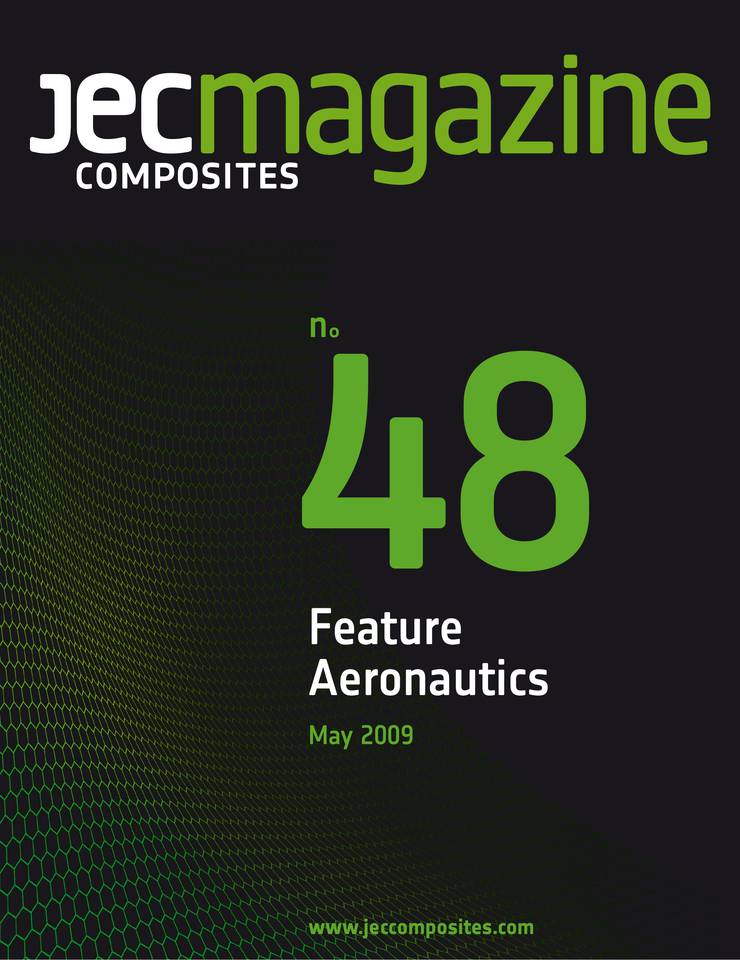 JEC Composites Magazine
N°48 - may 2009
Preview
JEC Composites Magazine is the point of contact of the international Composites Community, 6 times a year, with topics covering scientific information, business, technology, manufacturing, and application sectors trends.
In each and every issue, readers will learn about the entire composites industry value chain (from raw materials to application markets), and be inspired with current and future innovations.
The six sections of the magazine consist in:
NEWS: with interviews, articles about business development (M&As, appointments, partnerships and collaborations, awards etc.).
BUSINESS: with articles covering trends and markets, focusing on a specific country or region, with the composites market, or the application markets, or the companies strategies etc. in that country or region, and a startup focus.
MANUFACTURING: with articles about production processes and processing equipment.
FEATURE: an in-depth overview of a specific topic (typically an application sector), plus a JEC World Preview in April/May and Review in June/July.
SOLUTIONS: composites around us, with articles showing how composite materials are being used in applications which impact our everyday lives.
TECHNOLOGY: with articles about developments in materials, testing and control, repair, joining, design and simulation, recycling and reuse, R&D.
Enjoy your reading!
Contents
A step ahead
The 2009 JEC Composites Show ended on a reassuring note in these troubled times. There were so many more announcements and innovations launched at the Show this year, compared to past years, that it...
Read More
N°48 - may 2009
EDITORIAL
A step ahead
The 2009 JEC Composites Show ended on a reassuring note in these troubled times. There were so many more announcements and innovations launched at the Show this year, compared to past years, that it...
INDEX
IN BRIEF ...
Cincinnati Extrusion GmbH In the article "Market developments in wood-plastic composites" on pages 26 & 27 of Issue No 46, a photo caption mistakenly referred to Cincinnati Milacron instead of...
AGY expands into Asia Pacific
AGY announced on March 18, 2009 that it has entered into a Sale and Purchase Agreement (SPA) with Grace THW Holding Limited to acquire a 70% controlling interest in Shanghai Grace Technology Company...
Amber Composites and Axson Technologies broaden relationship
Building on the success of their partnership in Germany and France, Amber Composites and Axson Technologies announced the addition of three European countries where the Axson/Amber complete composite...
COMPANIES
Ranger uses expertise to gain foothold in China
Forty years after it was created in Italy, the Ranger Group has followed some of its customers to China in a move that is also allowing Ranger to pursue many other prospects. The auto parts...
Swancor: two-digit growth and double the ambition
Swancor has been struggling in a highly-competitive market for 16 years now. Its quality policy is starting to pay off and the company is now experiencing strong growth. Swancor is a supplier of...
AGENDA OF EVENTS
AGENDA OF EVENTS 2009
April Construction, corrosion & infrastructure conferen-ce: green, lean and substainable developments April 29 - May 1 Las Vegas, NV, USA www.acmanet.org/meetings/westerncon.cfm Composites...
INNOVATIONS
Dow introduces innovative structural PU adhesives
> Automotive > Transportation Dow is introducing Betamate™ 2850, a new, complementary range of structural adhesives. Based on two-component PU chemistry, these adhesives do not exhibit a rapid drop in...
Custom-made machinery solutions
> Automotive > Sports & leisure > Textile > etc. The use of coating products for prepregs is growing. The development of adequate coating technologies and the ideal treatment of fibre materials for...
The answer to mould problems caused by humidity
> Marine > Multisectors > Production Meguiar's has incorporated a new breakthrough polymer technology into its liquid mould release products, but without the harmful carcinogens or the typical foul...
Bespoke autoclaves
> Aeronautics > Automotive > Production > etc. Magnabosco Autoclaves is a branch of Magnabosco Engineering Group, which was founded in 1960 by Mr Giuseppe Magnabosco. Its carbon-fibre autoclaves are...
Eliminating dust from your work environment
> Automotive > Marine > Production > Transportation > etc. Dynabrade tools grind, deburr, file, sand and polish to meet the needs of many industries for fibre-glass, composite, plastic, rubber, wood...
High-speed machining with oil-free coolant
> Multisectors > Production Breton proposes a new way to machine small to large carbon fibre parts using a new technology that eliminates powder pollution and air contamination problems through the...
New generation of GRE and GRP pipe production lines
> Pipes & Tanks > Production Autonational is a global supplier of turnkey production lines for pipes, elbows and tees. The lines can produce GRE pipes up to 9 metres in length and 80 mm to 600 mm in...
Extrusion lines for PET foam sheets and boards
> Aeronautics > Automotive > Marine > Wind energy > etc. B.C. Foam offers extrusion lines for the production of: - PET foam sheets suitable for thermoforming with coextrusion outside, inside or on...
New high-temperature composite tooling infusion system
> Aeronautics > Marine > Transportation The range of composite tooling materials from Axson Technologies has expanded to include a high-temperature infusion resin for use up to 190°C. The EPOLAM 2090...
Autoclaves from XS to XXL
> Aeronautics > Automation > Production > etc. ASC Process Systems is now certified to build autoclave pressure vessels for operation within the People's Republic of China. With this certification,...
BUSINESS
Industrialization of the carbon composite industry (2nd part)
High-performance composites are in great demand in various sectors but their high cost is still a deterrent. Carbon composite experts from the SGL Group shares their viewpoint on issues such as...
Growth strategies during turbulent times: lessons and challenges for leaders
In answer to the legitimate questions leaders are asking in these difficult times, the 2009 European CEO Leadership Conference will provide relevant solutions. « Growth strategies during turbulent...
TRENDS
A comprehensive view of software and services
In Formula One, there is a race on the track and a race to get to the track. You are no doubt familiar with the race on the track, a colourful and thrilling two-hour test of driver and machine; but...
BUSINESS
Beautiful structural balance
When it comes to design, the use of carbon often conveys the impression of luxury, and the G3 carbon-fibre briefcase produced by Nikola Design & Technologies, Inc. is no exception. Designer Nikola...
FEATURE
Pushing the envelope in composites design
For years, composites design has been based on black aluminium. This approach has not done justice to what composites can really do. As we continue to gain a better understanding of these materials,...
Reducing the complexity of composites engineering
As the aerospace composites industry expands into a global enterprise, the competition grows ever fiercer. Solving design-to-manufacturing challenges is critical to maintaining competitiveness....
Laboratory infusion test unit: for new materials testing and process validation
An infusion test unit was developed within the framework of the multi-partner Resin Infusion project, to determine the industrial production parameters of infusionmoulded composite panels. The test...
An industrial solution to simulate post-buckling and damage
The SAMCEF finite-element code provides solutions for modelling and analysing post-buckling in composite structures. Post-buckling results in large transversal displacements, which means that a...
Attainable solutions with composite materials
S.G. Lekhnitskii's book Anisotropic Plates, translated 40 years ago by Prof. Stephen W. Tsai, already presented solutions to composite problems. In other words, solutions to our problems in composite...
Benzoxazine resin systems for future interior applications
Materials for aircraft interiors and other mass transportation vehicles are always selected in line with the current fire protection requirements. Such materials also have to be extremely lightweight...
Prototype A350 XWB composite wing spars
GKN Aerospace engineers in Germany and the UK have successfully reached the next stage in the development of the A350 XWB's advanced composite rear wing spar with the on-time production of high-...
Strongly committed to customer satisfaction
Established in 1972, FRP Services & Company has over 35 years of experience in the field of reinforced plastics and chemical products. FRP Services & Company is a specialist in all types of reinforced...
"Distribution in India is quite a complex and challenging proposition"
JEC Composites Magazine: What is the role of a distribution company? CHAITANYA SHAH: Distribution companies play a very important role in the supply chain in any given business activity. However,...
The History of Polyfiber Company
"When I became the king on my father's throne, I built much excellent (construction). What had been built by my father, that I protected, and other buildings added". (Xerxes, son of Darius, King of...
AD
Lance Brown: a global market view
Lance Brown Import-Export is an international distributor of fibreglass, basalt, carbon, and other composite materials. Due to its extensive network of suppliers, the company can source difficult-to-...
FEATURE
"Distribution"
JEC Composites Magazine: What is the role of a distribution company? What do you contribute compared to a producer? LANCE BROWN: As a distributor, our rule is to provide prompt and reliable service,...
USERS' PLATFORM
Golf cc ll uu bb hh ee aa dd
Composites are widely used in golf shafts. Callaway Golf makes unique use of carbon composite in the body of Fusion drivers. This technology took 10 years of research to perfect during which the...
Adaptive energy cc oo nn cc ee pp tt
The Swiss auto powerhouse Rinspeed has developed the "iChange", the world's first car with a body that can adapt to the number of passengers on board. For Rinspeed boss, Frank Rinderknecht, the...
High-quality hh ee aa dd pp hh oo nn ee ss
Phiaton wants to combine inventive technology and elegant design in every product to achieve the most natural soundstage, wearability and eye-catching appeal in audio gear. The Moderna Series...
TT hh ee rr mm oo pp ll aa sstt ii cc wind turbines in Antarctica
Eight wind turbines are withstanding temperatures of -60°C and winds of over 90 m/s at the Princess Elisabeth Station, which was officially inaugurated in Antarctica on 15 February 2009. This station...
The A400M cargo door: faster, lighter and better value
Premium Aerotec, a recently-founded German aerostructures supplier, won the 2009 JEC Innovation Award in the Aeronautics category. Its new infusion process, the VAP® technology, can be used to produce...
More information ... More information ...
Premium Aerotec GmbH, a wholly-owned subsidiary of EADS N.V., started its operations as an independentlymanaged company on 1 January 2009. The business of the EADS Deutschland GmbH plant in Augsburg...
Market potential
This cost-effective construction method can be used for a variety of applications in aircraft primary structures (e.g. pressure bulkheads, fuselage shells) but also in the industrial and transport...
Mass-produced zero-emission vehicle
In late July 2008, American Honda Motor Co., Inc. delivered its first FCX Clarity in Santa Monica, California, USA. Over the next three years, about 200 of its customers both in Japan and (mostly) in...
KNOW-HOW
Carbon nanotubes in polymer matrix composite structures
In past years, a lively curiosity and the need for stronger and lighter materials have led scientific research in the field of polymer composite materials to shift increasingly towards product...
Process control through dielectric monitoring
DYNAMIC is an FP6 project intended to improve composite processing by means of dielectric sensors. Dielectric sensors have been used with many materials, including CBT and Nyrim, and can be fitted to...
Recent advancements in materials for liquid resin infusion
Non-Crimp Fabric (NCF) textiles are an established technology for efficient manufacturing with Liquid Resin Infusion (LRI). One factor limiting the widespread use of this technology in primary...
Thank you
You just used 1 credit. You have left.