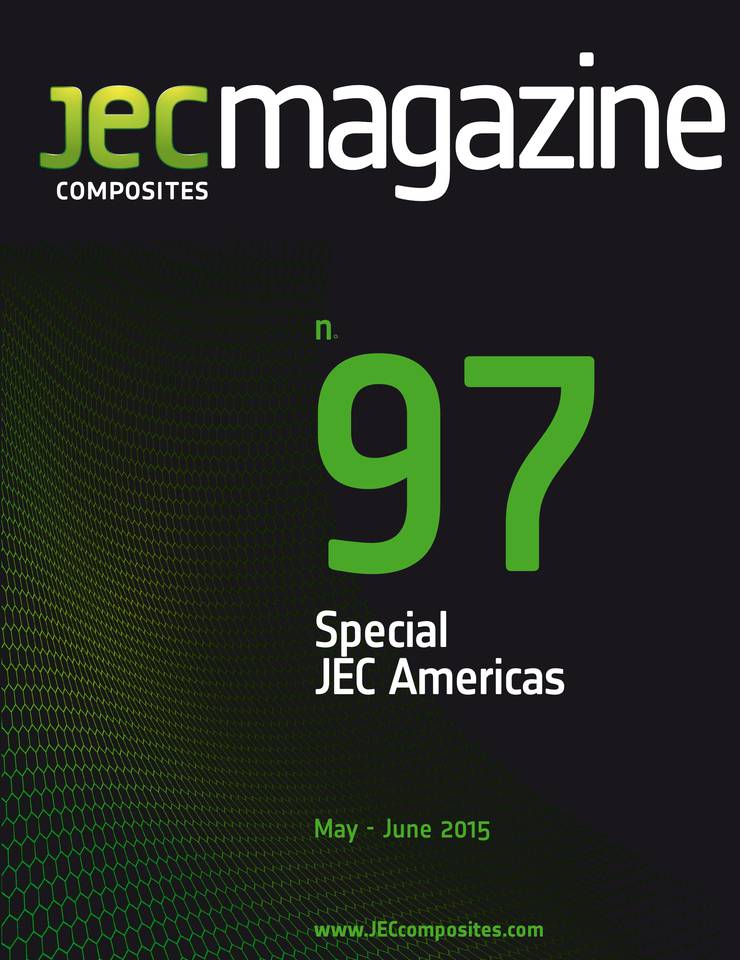 JEC Composites Magazine
N°97 - may 2015
Preview
JEC Composites Magazine is the point of contact of the international Composites Community, 6 times a year, with topics covering scientific information, business, technology, manufacturing, and application sectors trends.
In each and every issue, readers will learn about the entire composites industry value chain (from raw materials to application markets), and be inspired with current and future innovations.
The six sections of the magazine consist in:
NEWS: with interviews, articles about business development (M&As, appointments, partnerships and collaborations, awards etc.).
BUSINESS: with articles covering trends and markets, focusing on a specific country or region, with the composites market, or the application markets, or the companies strategies etc. in that country or region, and a startup focus.
MANUFACTURING: with articles about production processes and processing equipment.
FEATURE: an in-depth overview of a specific topic (typically an application sector), plus a JEC World Preview in April/May and Review in June/July.
SOLUTIONS: composites around us, with articles showing how composite materials are being used in applications which impact our everyday lives.
TECHNOLOGY: with articles about developments in materials, testing and control, repair, joining, design and simulation, recycling and reuse, R&D.
Enjoy your reading!
Contents
JEC Americas 2015 as catalyst for expansion of composites
"The growth prospects for the US composite industry include an expected annual growth rate of 5% over the next five years. Many factors are contributing to this trend, among which the increasing...
Read More
N°97 - may 2015
EDlTORlAL
JEC Americas 2015 as catalyst for expansion of composites
"The growth prospects for the US composite industry include an expected annual growth rate of 5% over the next five years. Many factors are contributing to this trend, among which the increasing...
POINT OF VIEW: EXCELLENCE AS A MOTTO
Daher: Shaping industrial intelligence
Thanks to the talents of each of its partners, Daher is shaping the future of industry by focusing on the convergence between our valueadded services and advanced manufacturing processes. As 2014 was...
COMPANIES & BUSINESS
Dong Energy takes over US offshore wind development project
Dong Energy has agreed to take over RES Americas Developments Inc.'s more than 1000MW newly assigned develop-ment project rights off the coast of Massachusetts. At the offshore wind auction held by...
Opening Messier-Bugatti-Dowty opens a new wheel and brake repair facility in the US
The company, through its subsidiary MBD Wheel and Brake Repair and Services, announces the opening of a wheel and brake repair facility on the US upper East Coast, in Bethlehem , PA. This will also...
EQUIPMENT
An innovative filament winding machine manufacturer
CNC Technics has been involved in the design, manufacturing and applications of multi-axis CNC filament winding machines and accessories for the past 15 years. Headed by Vijay Krishna Bandaru along...
MARINE
Nomad of the Seas: world showcase for biocomposites
The fruit of exceptional collaboration between Kairos (France), the flax processing specialist, and the Bangladeshi Gold of Bengal, specialist in jute processing, Nomad of the Seas will be the world's...
WATCH
Submersible watch made from a new carbon-fibre composite
The Luminor Submersible 1950 Carbotech (otherwise known as the PAM 616) is the latest model by Italian watchmaker Officine Panerai. Combining Panerai's classical design and a carbon fibre-based...
MARKET
The USA believes in composites
The United States is a big player in the composites market, alone accounting for more than 30% in terms of its value. On average, Europe targets more technical and/or high-end applications, but we'll...
CONFERENCES
⏵ June 2nd - 9:00 am Natural Fibres
Characterization of surface properties Fibre / resin interface Mechanical properties in partnership with: 9:00 am⏵ FibreCITY: Taking biocomposites from concept to reality, Simon Potter, Sector Manager...
⏵ June 2nd - 1:30 pm Cost reduction challenges in the carbon fiber industry
Efficient use and manufacturing Challenges for both thermosets and thermoplastics materials in partnership with: 1:30 pm⏵Technological approaches on cost reduction challenges for thermoset composites,...
⏵ June 3rd - 1:30 pm Improving fuel efficiency in the automotive industry
Simulation and modelling Lightweighting for less fuel consumption in partnership with: 1:30 pm⏵cdmHUB: an education tool creating awareness of composites simulation tools, John Leighton Bray,...
⏵ June 3rd - 9:00 am Aeronautics
High productivity and low cost Structural repairs 09:00 am⏵The evolution of repair technologies for aircraft composite structures, Marc Gomez, Global MRO Segment Manager, Henkel 09:30 am⏵Conformable...
FREE ACCES SESSIONAGORA 2
Flax reinforcements, cutting costs and recycling, applications in the automotive industry ⏵ June 4 th - 12:00 pm Natural Fibers 12:00 pm⏵European flax/linen &...
⏵ June 4th - 9:00 am Oil & Gas - Pipes & Tanks
Challenges of the market Offshore systems in partnership with: 9:00 am⏵Composites in Oil and Gas: Growth in existing and new applications, Andrew Mafeld, Managing Director, Connectra 9:30 am⏵Liquid...
AWARDS
JEC Innovation Awards Program 2015
This year, the JEC Americas awards program offers a varied selection of worthy projects after a careful selection. From raw materials to softwares, along with a few applicative categories: automotive,...
BRAZIL, COUNTRY GUEST OF HONOR
Brazilian composites sector revenue remained stable in 2014
The growth of the world's 6th largest economy was disappointing in 2014 with a decline in household spending, industrial activity and investments, but the country should show a modest recovery in...
NATURAL FIBRES
European flax/linen & hemp fibres: advanced natural materials for the composite industry
As alternatives to fossil resources, European flax and hemp fibres are inspiring a new generation of composite products. Their advantages – renewably sourced raw materials, steady production costs and...
For a new generation of composite products
The industry is eagerly awaiting the new event in Houston. We asked European flax/linen & hemp exhibitors to tell us what more they could contribute to the North American market and to the composite...
MANUFACTURING
Thermoplastic automated fibre placement: Current fields of application and future prospects
The interest in reducing inputs such as raw materials, consumables and energy during the manufacturing process of carbon fibre-reinforced polymers (CFRP) for lower environmental impact has grown...
OIL & GAS / OVERVIEW
Composites in oil and gas: growth in new and existing applications
Fibre-reinforced polymer matrix composites already have a significant usage in a wide variety of applications all along the oil and gas industry supply chain starting with exploration, through...
NOV Fiber Glass Systems, a key player in the oil & gas industry
NOV Fiber Glass Systems delivers piping solutions across industries and continents. With manufacturing facilities spanning four continents and a sales, distribution and agent network in at least 69...
OIL & GAS / TESTING
Approaches for evaluating composite materials used in a variety of piping designs
Recent exciting technical advances have meant that composite materials are better equipped than ever to meet current and future challenges in deep-water and remote-area piping environments. Indeed,...
OIL & GAS / COATING
Nanocomposite coatings: superior thermal management in Energy, Aerospace & lnfrastructure
A new nanotechnology-enhanced coating product from NanoRidge Materials Inc. is poised to change the way industries and consu-mers survive cold temperatures and protect equipment, fluids, and products...
CFRP
Developing a carbon fibre hybrid fuselage for multifunctional purposes
The Boeing 787 Dreamliner is an innovative aircraft that consists of more than 50% carbon fibre reinforced plastics (CFRP) due to these materials' low weight and exceptional strength. Using COMSOL...
HEALTH MONITORING
Assessing the damage evolution of composites containing embedded fibre optics
In the work presented in this article, the non-destructive technique known as micro-computed tomography (micro-CT) was used to investigate the internal state of composite laminates containing embedded...
PULTRUSION
New sensor design for improved performance in pultrusion
Over the past ten years, the VAP® membrane-assisted vacuum infusion process has become the de facto standard in serial production of high-quality fibre-reinforced polymer components. Aviation, vehicle...
AFP
Automated fibre placement and forming process simulation
Combining the automated fibre placement (AFP) process and the forming process creates the possibility to achieve automated high-volume production of optimized continuous-fibre composite parts....
PREPREG
Elevating aerospace prepreg performance
Henkel has developed and brought to market the Loctite Benzo¬xazine (BZ) composites family that includes prepregs, infusion resins, film adhesives and tooling materials. Developed spe¬cifically for...
REPAIRING
Efficient and flexible induction-based heating technology for FRP repairs
In view of the increasing use of fibre-reinforced plastics (FRP) in the aerospace and automotive sectors, the development of material-appropriate repair concepts is also growing in importance. The aim...
Thank you
You just used 1 credit. You have left.