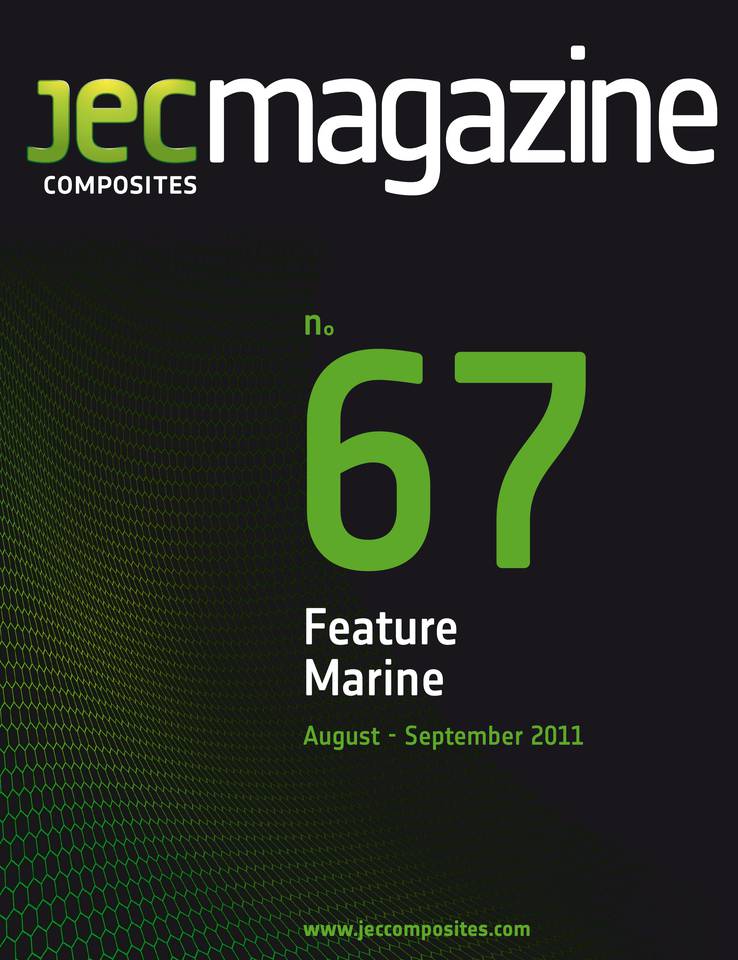 JEC Composites Magazine
N°67 - august 2011
Preview
JEC Composites Magazine is the point of contact of the international Composites Community, 6 times a year, with topics covering scientific information, business, technology, manufacturing, and application sectors trends.
In each and every issue, readers will learn about the entire composites industry value chain (from raw materials to application markets), and be inspired with current and future innovations.
The six sections of the magazine consist in:
NEWS: with interviews, articles about business development (M&As, appointments, partnerships and collaborations, awards etc.).
BUSINESS: with articles covering trends and markets, focusing on a specific country or region, with the composites market, or the application markets, or the companies strategies etc. in that country or region, and a startup focus.
MANUFACTURING: with articles about production processes and processing equipment.
FEATURE: an in-depth overview of a specific topic (typically an application sector), plus a JEC World Preview in April/May and Review in June/July.
SOLUTIONS: composites around us, with articles showing how composite materials are being used in applications which impact our everyday lives.
TECHNOLOGY: with articles about developments in materials, testing and control, repair, joining, design and simulation, recycling and reuse, R&D.
Enjoy your reading!
Contents
Ever further, ever faster
"The 11th Volvo Ocean Race (formerly the Whitbread Race) is scheduled to start out on 29 October 2011 from Alicante in Spain. Strict rules govern the construction of the Volvo Open 70 monohulls that...
Read More
N°67 - august 2011
EDITO
Ever further, ever faster
"The 11th Volvo Ocean Race (formerly the Whitbread Race) is scheduled to start out on 29 October 2011 from Alicante in Spain. Strict rules govern the construction of the Volvo Open 70 monohulls that...
POINT OF VIEW: THOMAS HEDGER
«I have a very positive view of the market»
With a history dating back to 1938, MVP is an innovative player that has been good at developing and adapting to a very dynamic composites market. In this regard, we asked MVP President Tom Hedger to...
COMPANIES & BUSINESS
Gamesa starts producing wind turbines in Brazil
On 8 July 2011, Gamesa inaugurated its first manufacturing base in Brazil, in the town of Camaçari in north-eastern Bahía. The company thus began to produce wind turbines in Brazil just six months...
Universal Race Technology Ltd. – dedicated to the motor sport industry
Recognising a gap in the market for a new breed of manufacturer, with a rapid, no nonsense attitude to production, URT has now become a major presence in the composite industry, celebrating 10 years...
APPLICATIONS
The Meridian UAV maps Antarctic ice sheet
The Meridian UAV was designed to provide an aerial platform for an ice-penetrating radar developed at Kansas University. Information on the morphology of the ice and, especially, its condition where...
Composite materials in modular housing: growing design potential & an imperative need in India
In the next 35 years, 3.5 billion people will need places to live, i.e. 3,500 cities with one million residents. Today, there are less than 300 cities of this size in the world. In the next 35 years,...
Crossing Australia almost exclusively on wind energy
The Wind Explorer pilot vehicle is a two-seated electromobile that weighs just 200 kg and has a range of 400 km per battery charge. The bodywork consists mainly of a carbon-fibre composite with...
MARKET
The global polymer composites market
The latest available information shows that the global polymer composites market recovered well in 2010 to reach a global production volume of 12.1 mln. tons, a new peak and an increase of 17% on the...
South Korea: the guest of honour at JEC Asia 2011
South Korea, the guest of honour at the next JEC Asia (18-21 October in Singapore) is representative of the Asia-Pacific region: extremely dynamic – and not just in the general sense, as we are going...
Phenolic resins in fibre-reinforced composites
The year 2010 marked the centennial of the production of phenolic resins by Leo Baekeland. Today, the worldwide sales volume of phenolic resins is close to 6 million metric tons a year. Phenolic...
Consumables or reusable – a case for a more economic and ecological approach
The use of film infusion techniques for composite manufacture is well established and widely employed in the industry for a vast range of products including large marine and wind power applications....
Connecting supply and demand
To understand one's market, know how to meet its needs and offer relevant new developments in cooperation with all the departments of the company, these are just a few of the tasks of the marketing...
FEATURE MARINE
A flax-composite boat for transatlantic races
Natural fibres continue to surprise us and seem to know no bounds – after taking to the air and roads, now they're ready to sail across the ocean! The first racing boat prototype with a composite...
Environment-friendly composites for marine applications: the Navecomat project
There are increasing concerns over the environmental impact of traditional composites used in the marine industry, due to the use of materials from non-renewable resources (oil-based resins) and...
Premier Composite Technologies launch new FARR 400
Premier Composite Technologies and FARR Yacht Design launched the new FARR 400 in spring 2011. Their design used the latest composite materials and infusion techniques to create a high-performance,...
Advanced software helps to improve design and optimize manufacturability of composites
Collier Research Corporation has just released HyperSizer® v6 structural sizing and analysis software for reducing weight, maintaining strength, and improving the manufacturability of complex...
New D-Iso/NPG gelcoat offers exceptional UV colour stability
The advanced D-Iso/NPG resin chemistry used in Crystic® Permabright gelcoat has set a new standard in long-term UV weathering performance. It provides significantly improved colour stability over...
Luxury motor cruiser sets the standard for marine bonding
One of the world's most luxurious motor cruiser projects is using structural bonding technology from Huntsman Advanced Materials. Araldite® 2015 has been exclusively specified in the construction of...
RESEARCH & DEVELOPMENT
Characterization of cured-induced residual stresses
Numerical prediction of residual stresses during composite manufacturing is essential to get a better knowledge of the process, and hence to analyze the effects of processing parameters on the...
Recent research trend in natural-fibre composites
Since the mid 50's, interest in research and engineering has been shifting from traditional monolithic materials to fibre-reinforced polymer-based materials due to their unique advantages of high...
TECHNOLOGY & INNOVATIONS
RTM-S: a new manufacturing concept for composites
The low surface quality and high costs of painting preparation are two issues that plague composite-based products. This is not exclusive to RTM, extending to almost all composite processes. The...
Turning the PLM system into a composites-friendly environment
Aircraft manufacturers are addressing the industry trends toward lighter weight structures and increased operating efficiency with the use of advanced composite materials. The amount of composites...
AD
Radio frequency preheater for sheet moulding compounds
Radio frequency preheating maximizes moulded part strength, improves part quality, reduces press cure time by 50% and optimizes surface finish. The Macrowave Systems Division of Radio Frequency Co. is...
Thank you
You just used 1 credit. You have left.