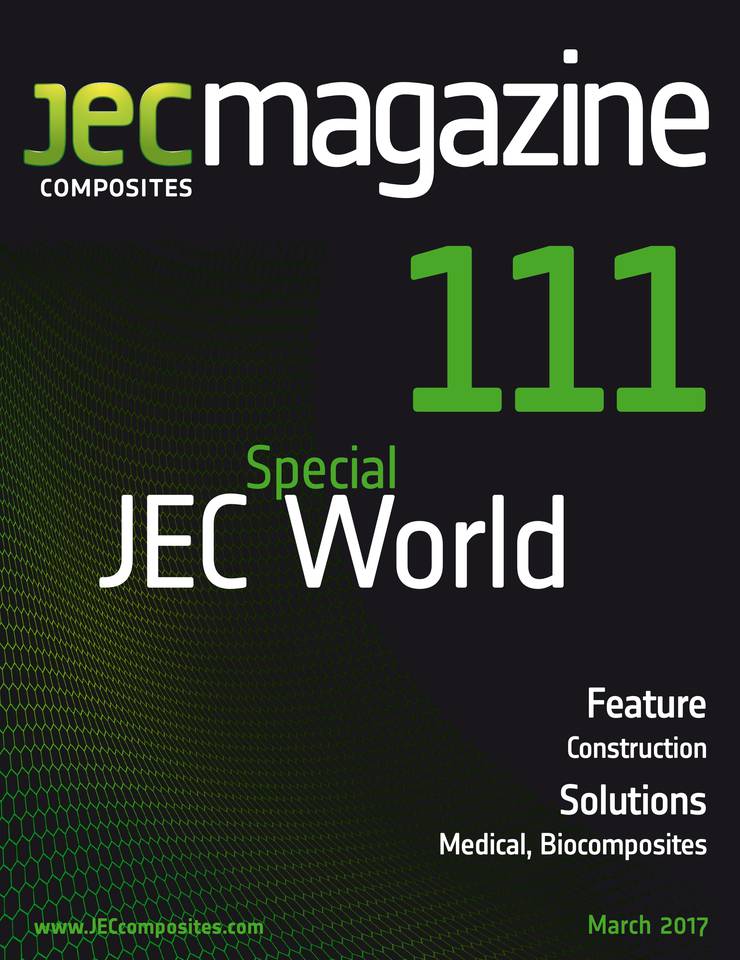 JEC Composites Magazine
N°111 - march 2017
Preview
JEC Composites Magazine is the point of contact of the international Composites Community, 6 times a year, with topics covering scientific information, business, technology, manufacturing, and application sectors trends.
In each and every issue, readers will learn about the entire composites industry value chain (from raw materials to application markets), and be inspired with current and future innovations.
The six sections of the magazine consist in:
NEWS: with interviews, articles about business development (M&As, appointments, partnerships and collaborations, awards etc.).
BUSINESS: with articles covering trends and markets, focusing on a specific country or region, with the composites market, or the application markets, or the companies strategies etc. in that country or region, and a startup focus.
MANUFACTURING: with articles about production processes and processing equipment.
FEATURE: an in-depth overview of a specific topic (typically an application sector), plus a JEC World Preview in April/May and Review in June/July.
SOLUTIONS: composites around us, with articles showing how composite materials are being used in applications which impact our everyday lives.
TECHNOLOGY: with articles about developments in materials, testing and control, repair, joining, design and simulation, recycling and reuse, R&D.
Enjoy your reading!
Contents
Composites, a niche sector or a full-fledged industry?
"Since their emergence in the midtwentieth century, polymer composites have gradually gained ground to make their way into nearly all industrial sectors. It is a fact that today's world is in pursuit...
Read More
N°111 - march 2017
EDITORIAL
Composites, a niche sector or a full-fledged industry?
"Since their emergence in the midtwentieth century, polymer composites have gradually gained ground to make their way into nearly all industrial sectors. It is a fact that today's world is in pursuit...
OPINION
Carboman "Structuring the industrial chain in the composite sector is indispensible and inevitable"
Just weeks after the inauguration of new facilities in Vannes (western France), the location of Multiplast's traditional headquarters, we met with Dominique Dubois, the CEO of the dynamic Groupe...
NEWS
in brief AcquisitionMitsubishi Rayon acquires US carbon fibre plant from SGL
MRC's 100% subsidiary Mitsubishi Rayon Carbon Fibre and Composites plans to acquire all the shares of the said fibre production company from its present parent company SGL Technologies North America,...
Research and development of sustainable, fire-resistant composites
Pyros is an EU-funded collaborative project that started in March 2016 and will be completed in December 2017. Spain-based Aitex and Aimplas are taking part in this programme, which aims at developing...
Airbus is open for innovation
Yes, small businesses and start-ups are welcome at Airbus. During a visit to the Airbus site in Nantes, France, we spoke to Cyrille Collart, Head of Innovation & Development - Industrial Technologies...
agenda 2017 March
Biopolymers Meeting March 1-3 Valencia, Spain www.biopolymersmeeting.com Digimat Technology Day 2017 March 13 Paris, France www.e-xstream.com SAMPE Europe Summit March 13 Paris, France www.sampe-...
BUSINESS
2016: a good year for composites
Last year has been good for the composite sector worldwide. Some segments, like automotive, are still gearing up for a boom in volumes; in others, positions are still being consolidated. That said,...
China's KDX starts its carbon fibre lightweight value chain
Through joint efforts with German experts and industrial companies, the Chinese group KDX created a platform covering the whole carbon fibre chain and targeting the mainstream new energy automotive...
MANUFACTURING
New epoxies for styrene-free high-performance SMC
Hexion's new styrene-free, low-VOC epoxy system for sheet moulding compound (SMC) leads to high-performance semi-structural and structural automotive composite parts. On equipment used for other types...
Cevotec launches engineering software for fibre patch placement technology
As the potential of innovative fibre composite technologies can only be fully exploited by fully developed engineering software, Cevotec extends the Fibre Patch Placement (FPP) process with the in-...
Simulation boosts the use of thermoplastic composites in mass production
Thermoplastic composite materials promise many advantages for the mass production of high-performance composite components. These materials made of melt-processable resins are light, stiff, have an...
Stepped lap milling
Europe Technologies, in association with the University of Nantes (IRCCyN laboratory), develops robotic milling solutions for composite structure repairs. The first results have demonstrated that...
MANUFACTURlNG
Faster pultrusion
Through the adoption of a new approach, KraussMaffei Reaction Process Machinery strives for a whole new level of performance in pultrusion, the continuous moulding process used for the manufacture of...
Hybridisation – A toolbox for efficient lightweight production
At RWTH Aachen University, a consortium of 9 institutes with 750 scientists is cooperating since many decades on interdisciplinary research for mass-production of composites. Hybridisation has always...
Manufacturing tools using large-scale additive manufacturing systems
In various industries, the biggest issue with tools, moulds, masters, plugs and fixtures can be the process of producing them. High material costs, time and labour are just some of the problems with...
A new light on composites heating
Heraeus Noblelight introduces humm3® – an innovative heating technology for composites manufacture. This technology has been applied successfully to automated fibre placement, where its high power,...
JEC WORLD
See the latest trends of the industry and iconic composites productions
JEC will renew the Planet experience – successfully introduced in 2016 – at JEC World 2017 in Paris (March 14-16). The goal of these areas is to highlight the different possible applications of...
JEC World 2017 Conference Programme
The global composite materials market is projected to hit over $105 billion by 2021 which represents a strong and steady increase in demand and opportunities to use the many properties composite...
March 14th - 2 pm Aeronautics: Multiscale modeling for behavioural predictions
in partnership with : Composite materials make for complex behavioral challenges: structure sizing, processes, tooling, environmental influence, etc. As their use becomes more widespread, the need for...
March 14th - 10 am Thermoplastics – Multimaterial solutions
in partnership with : When it comes to using composite materials, thermoplastics have become a staple in many major industries such as Aeronautics or Automotive thanks to their unique properties and...
March 15th - 2 pm Current trends in the automotive industry
The Automotive industry remains by far the largest market for composite materials, making it crucial regarding innovation and advancements in materials and manufacturing processes. The main...
March 15th - 10 am Production technology for multi-material lightweight components
in partnership with : Developed with success from a partnership with the AZL Aachen Center for Integrative Lightweight Production of RWTH Aachen in 2015 and 2016, and reissued in 2017, this session...
March 16th - 2 pm Composites as a worthy alternative to traditional materials in the construction industry
The absence of official codes and regulations in the building & construction field has long been a hindrance to the use of composite materials. However, with forecasts of accommodation capacities...
March 16th - 10 am Braiding: Taking the technology to the next industrial level
in partnership with : Braiding is a technique that presents many benefits, and an opportunity to get the best out of fibres. Notably, it allows for stronger and more damage tolerant composite parts...
JEC Innovation Awards Programme 2017
in partnership with This year, submissions for the Innovation Awards programme were impressive, both in quantity and diversity, and more importantly in quality. The choices that had to be made to...
RAW MATERIALS
Desmocomp®, a novel solution for composites One of the main concerns of building and infrastructure manufacturers regarding composite materials is their ability to withstand environmental degradation,...
3D PRINTING
Smart manufacturing of continuous-fibre composites: Atropos Atropos is the name of the first 6-axis robotic arm able to 3D print continuous-fibre composites using thermosetting resins. In the process...
MANUFACTURING
Voith roving applicator This innovation is a fully-automated direct fibre placement machine, called Voith Roving Applicator (VRA). The VRA uses untreated roving and binder powder to generate a net-...
AUTOMOTIVE, STRUCTURAL
Low cost roof frame by thermoplastic T-RTM The aim of this project is to develop the near net shape T-RTM (thermoplastic resin transfer moulding) process for high volume production. This innovative...
AUTOMOTIVE, EXTERIOR
Lightweight one-piece roof rack With increasing pressure on automobile manufacturers to reduce the carbon footprint of their vehicles, weight reduction is becoming a prerequisite. The goal of this...
AERONAUTICS
Innovative composites fan system for aero engine IHI Corp., together with its partners, developed an innovative lightweight composite system for fan cases and the first thermoplastic composite...
CONSTRUCTION
Innovative composite panels, an alternative to steel and concrete, for high speed railway tunnel construction When the two 24km-long Pajares high-speed railway tunnels met the problem of continuous...
BETTER LIVING
Vision of the Fjords, Ship of the Year 2016 in Norway When Brødrene AA was commissioned to develop a ship for use on tourist excursions in the UNESCO World Heritage-listed fjord of Nærøyfjord, it...
SUSTAINABILITY
NAFILite™, a microcellular foamed material reinforced with natural fibers for automotive weight saving improvement To meet environmental concerns in the automotive industry, this innovation focuses on...
Hybrid Moulding plus IMD technology for the mass production of thermoplastic composites
Thermoplastics are ideally suited for mass production. However, composite reinforcements and surface treatments add extra processing steps, process time as well as potential scrap parts. A live...
Using single-wall carbon nanotubes to enhance materials
Nanotechnology company OCSiAl plans on revolutionizing a number of industrial segments in plastics/composites. Carbon nanotubes (CNT) are nothing new when it comes to improving the properties of...
Multi-sector RAW MATERIALS
Structural film adhesives for multi-material assembly > Booth: Hall 6 – R27 Hybrid structures combining metallic and composite materials are becoming standard in transportation. Weight saving is a key...
Innovations report 2017
JEC World is traditionally the event where most of the new outstanding products and technologies are released for the first time. It gives all the exhibitors and visitors the occasion to update their...
Kane Ace MX – Tougheners for thermosets
> Booth: Hall 6 – J39 Kane Ace MX is Kaneka's novel core shell rubber (CSR) toughening agent for thermosetting resins. This predispersed CSR masterbatch enhances the physical properties of the resins...
ABM Composite – A new era of biodegradable composites
> Booth: Hall 6 – N72 Arctic Biomaterials has developed a biobased and biodegradable bioglass-reinforced composite material (ArcBioX). This material breaks today's boundaries for biobased and...
Expanding the use of composites – 50-year celebration
> Booth: Hall 6 – G32 Johns Manville, a leading manufacturer and marketer of premium-quality building and specialty products, will present innovative solutions for the StarRov roving used in LFT and...
New bioresin for infusion and injection techniques
> Booth: Hall 6 – G39 Sicomin will be extending their GreenPoxy bio-based product range with the introduction of SR InfuGreen 810, which targets manufacturers producing parts using injection or...
A&P Technology introduces TX-45, a new +/-45° product
> Booth: Hall 6 – G6 TX-45 was introduced by A&P as a standard product in early 2017. TX-45 is a low-cost, continuous 45° fabric with uniform fabric architecture. It is a +/-45° 193gsm 2x2 twill...
New PP honeycomb in 5 and 6mm thickness
> Booth: Hall 5A – P22 ThermHex Waben's newly developed versions of the ThermHex polypropylene honeycomb cores in 5mm and 6mm thickness with 4mm cell size have been available since mid-November 2016....
More production mileage from CVC performance products
> Booth: Hall 6 – T27 CVC Thermoset Specialties materials enhance composites performance, making products tougher, lighter and more production efficient. Two high-performance products, EPALLOY 7200...
Hexcel innovations for the aerospace, auto and wind markets
> Booth: Hall 5A – J41 Hexcel's aerospace advances include HiTape carbon fibre reinforcements for automated lay-up of preforms for aircraft structures manufactured by resin infusion. Displays include...
SCIGRIP extends marine MMA product range in Europe
> Booth: Hall 5A – C21 SCIGRIP will present their portfolio of Lloyds Registry and American Bureau of Shipping (ABS) approved structural methacrylate adhesives (MMA) at the show. Following the recent...
Assembly carrier produced by Part via Preform technology
> Booth: Hall 6 – G28 The serial production of the first automotive part based on a preform produced with the Tenax® Part via Preform technology started at the end of 2016. The assembly carrier is...
NAFEN: the next generation of nano-enhancement
> Booth: Hall 5A - L64 NAFEN Dynamic Enhancers, based on ANF Technology's NAFEN alumina nano-fibres, have made it easy to improve the performance of polymer-based products and materials. They are...
Composite tube manufacturing and autosport ThinPreg
> Booth: Hall 5A – F5 NTPT's new composite tube manufacturing process effects a unique fibre placement capability that has enabled the first major technological development in golf shaft manufacturing...
BÜFA expands its portfolio of conductive products
> Booth: 5A, E56 BÜFA Composite Systems, Germany, is introducing new conductive and antistatic products for the composite market. The new technology, supplied by the OCSiAl company, is based on...
Cost-effective carbon fibre for lightweighting
> Booth: Hall 5A – M30 ELG Carbon Fibre will showcase their extensive range of Carbiso™ products designed to support light weighting in high-volume transportation applications in the automotive, rail...
OCSiAl to showcase reinforced nano-augmented composites
> Booth: Hall 5A – G23 Tuball Matrix, the first industrially-available cost-effective concentrates making the exceptional characteristics of single-wall carbon nanotubes as an innovative conductive...
Novel prepreg technology for high-volume manufacture
> Booth: Hall 5A – S40 In conjunction with the Ford Motor Company and DowAksa, Dow Automotive Systems developed the Vorafuse™ resin systems to satisfy the need to manufacture carbon fibre composites...
Introducing the new MTS Advantage video extensometer
> Booth: Hall 5A – N75 The new MTS Advantage video extensometer delivers the flexibility, accuracy and repeatability needed in applications where it is difficult to measure strain using conventional...
Radioscopy and 3D computed tomography
> Booth: Hall 6 – B 37 RX Solutions – an expert in X-ray non-destructive testing – is a manufacturer and service provider in digital radioscopy and 3D computed tomography (CT). Whether for quality...
UVX – A video extensometer for everyday testing
> Booth: Hall 5A – A54 Key to the UVX's uniqueness is that measurement data is captured by pre-calibrated extensometer modules that are specified by gauge length and strain range. Everything is set up...
Non-contact portable measurement system
> Booth: Hall 6 – S78 The system recently implemented at CoLT takes measurements without contact and regardless of the materials. For test specimens subjected to static and dynamic loads, it detects...
Hexagon exhibits with Apodius GmbH at JEC 2017
> Booth: Hall 6 – D69 For the first time in France, the Hexagon group will exhibit with Apodius, a company acquired in September 2016. Visitors to the 3-day show will be able to discover Apodius's...
VGT-P ring twisting machine
> Booth: Hall 5A – N61 At this year's JEC show, Volkmann will present its latest products and services for glass fibre production. At the joint Saurer stand (N61 in Hall 5A), visitors will be able to...
Vacuum bag & composite tooling innovation from Airtech
> Booth: Hall 5A - F40 Airtech Advanced Materials will be showing new materials and techniques for the vacuum bag process and fabrication of composite tooling. The latest Beta TX670 Prepreg will be...
Ovens for the next generation of fibre processing
> Booth: Hall 6 – C61 Harper International offers advanced oxidation ovens in both traditional and hybrid gas/electric designs with improved control and thermal uniformity for carbon fibre processing....
LSAM used to print large tooling for various industries
> Booth: Hall 6 – Q31e Thermwood Corporation, a manufacturer of high-performance three- and five-axis CNC routers for over 40 years, has now developed one of the world's largest additive manufacturing...
AFP/ATL robotic cell for high-performance composites
> Booth: Hall 5A – P77 At the JEC World 2017, Mikrosam will present its latest innovative solutions, including a recently developed robotic workcell that integrates an AFP head for thermoset materials...
Ultrasonic mobileBLOCK: a mobile 5-axis CNC milling unit
> Booth: Hall 5A – D62 Conventional machining processes for fibre composite materials are often pushed to their technological limits due to their high degree of tool wear, frequently inadequate...
High-power VCSEL systems for composite manufacturing
> Booth: Hall 5A – F56 New kilowatt laser sources based on VCSEL (Vertical Cavity Surface Emitting Laser) micro-laser arrays are delivering directed rectangular beams of well-controlled near infrared...
Wickert HTVH hydraulic presses
> Booth: Hall 5A – M 54 Wickert Hydraulic Presses (Landau, Germany), a global manufacturer of custom hydraulic presses and systems for the moulding industry, has developed a line of high-temperature...
Tg and mould process monitoring sensor
> Booth: Hall 6 – A38 Twenco CME (Composite Manufacturing Equipment), the Netherlands, is introducing as a world-first a new measurement technology that makes it possible to measure all the changes...
Cutting tools for honeycomb and composite machining
> Booth: Hall 5A – P59 Evatec-tools is a cutting tools designer and manufacturer with high expertise in composite and honeycomb machining tools. New product developments were successfully achieved...
The first robotic system for composite surface finishing
> Booth: Hall 5A – P75 Roboticom has developed the first robotic solution for all composite surface finishing needs: sanding, polishing and trimming of complex-shaped objects of any size. With its...
Modular digital cutting system
> Booth: Hall 5A, S41 Zünd will be exhibiting innovative automation solutions for the composites market. With the G3 M-1600 and collaborative UR robot, the Swiss cutter manufacturer presents a modular...
IIoT-enabled automation software for total production optimization
> Booth: Hall 5A – D62 Plataine is an award-winning, leading provider of IIoT (Industrial Internet of Things)-based intelligent automation software for advanced manufacturers. The company's solutions...
Augmented reality for composites manufacturing with Anaglyph's PlyMatch
> Booth: Hall 5A – N62 Anaglyph, the UK composites design and manufacturing solutions specialist, will demonstrate the revolutionary hand lay-up ply placement technology PlyMatch. PlyMatch™ uses...
Innovative PowerPattern heating technology
> Booth: Hall 5A – A54 LaminaHeat is launching its new PowerPattern non-metallic heating technology at the JEC show in Paris. Available in widths up to 2 m and manufactured on a continuous basis, the...
Making ideas economically producible with i2P
> Booth: Hall 6 – C79 Conbility specializes in solutions and products to support job, process and product costing for manufacturing processes. What makes the company's offer unique is the combination...
Ceramicx offers IR heating and solutions for composites
> Booth: Hall 6 – C78 Ceramicx Ltd. brings its ground-breaking infrared heating expertise to JEC 2017 for the first time in the company's 25-year history. The demand for Ceramicx-designed and built IR...
Industrial Fibre Patch Placement machine and software
> Booth: Hall 6 – S83 With Artist Studio and Samba, Munich-based Cevotec presents the first industry-ready production solution for carbon composites based on the Fibre Patch Placement (FPP)...
CrossTrack Composite Manufacturing suite
> Booth: Hall 5A – P68 At JEC World Paris on 14-16 March 2017, JETCAM will exhibit version 4 of its CrossTrack Composite Manufacturing suite, including the new Material Tracking Lite (MTL) product...
New industrial fabrication process: H-PreC BloK
> Booth: Hall 6 – H10 H-PreC, a designer of innovative composite processes and manufacturer for small- and medium-scale production of composite parts for the aeronautic and industrial sectors,...
MAGLOC air ejector for moulds
> Booth: Hall 5A – P11 MAGLOC is a new composite mould air ejector comprising just two hardened steel parts locked together using NeFeB-generated magnetism. This provides the simplest solution to...
QSP – One-minute thermoplastic parts forming line
> Booth: Hall 6 – B32 Pinette P.E.I. has co-created the Quilted Stratum Process (QSP), a high-series production line for CFRP and thermoplastic (TP) matrix structural parts. The line produces multi-...
Lehmann&Voss&Co. product highlights
> Booth: Hall 5A - N15 At the JEC 2017, Lehmann&Voss&Co. will showcase a range of products for SMC/BMC, pultrusion and vacuum infusion. The Luvogard FC range offers non-halogenated flame retardant...
Composite parts, prototypes & production tooling
> Booth: Hall 6 – R39 Janicki Industries is a privately-owned, full-service engineering and manufacturing company with facilities in Washington and Utah, USA. Janicki specializes in manufacturing...
Coats Synergex – composite technology revolutionized
The need to reduce weight is pertinent for the automotive industry due to increasing awareness of the financial and environmental cost of energy. While metals are the traditional construction...
Flexible UD tape production within minimum space
> Booth: Hall 6 – S32-1 A range of fibre and tape placement technologies for preforming already exist, but the tape and tow materials available cannot be flexibly tailored and optimized for the...
Mikon 399 MC: an innovative sealer for tooling boards
> Booth: Hall 5A - S29 Münch Chemie International GmbH, Weinheim, Germany, will be presenting at JEC World 2017 in Paris its latest product develop-ment for model and mould construction in the field...
Advances in series lightweight construction
> Booth: Hall 5A – G63 The technologies presented by the Fraunhofer Institute for Machine Tools and Forming Technology IWU offer weight saving potential in the automotive, mechanical engineering,...
Blade Runner resin feed line
> Booth: Hall 5A – N16 The Blade Runner resin feed line is a new, patented development from DD-Compound that helps to achieve better part quality with a perfect surface. Reduced voids and easy...
Conductor: a cuttable heating blanket for customised heating
> Booth: Hall 6 – C76 With this innovation, GMI offers end-users a highly promising product that improves the quality and productivity of bonding operations. Conductor is a silicone sandwich that...
Website platform ensures easy entry into lightweight technologies
> Booth: Hall 6 – C79 AZL's recently launched Business Platforms provide technology-related information, established suppli-ers as well as innovative development partners for various lightweight...
CRTC gives second life to aerospace scrap prepreg
> Booth: Hall 6 – R39 The Composite Recycling Technology Center in Port Angeles, WA, is repurposing scrap carbon prepreg that has typically been landfilled. The CRTC's mission is to transform scrap...
Mäder UV solutions: developed to enhance productivity
> Booth: Hall 5A – Q34 Mäder's new patented range of products was specifically developed to cure under a light source. They can be cured using UV lamps, LEDs or blacklights. Topcoats, gelcoats, resins...
Innovative thermoplastic aircraft engine pylon
> Booth: Hall 5A – R30 As part of the Dutch innovation programme TAPAS 2 (Thermoplastic Affordable Primary Aircraft Structure 2), NLR - Netherlands Aerospace Centre developed a technique to...
Premium fully-flat aircraft seating system
> Booth: Hall 5A – F10 Maxima Plus is a premium fully-flat aircraft seating system that offers maximum capacity, aisle access to all passengers and a minimum bed length of 195 cm. Through a patented...
CONSTRUCTlON
"l am re-engineering nature"
Although wood has long been considered as a traditional material not particularly associated with innovation, it could well become the material of the twenty-first century. ln building and...
Construction industry: Carbon concrete composite project rewarded
The President of Germany awarded the German Future Prize to carbon concrete composite researchers on November 30, 2016. Toho Tenax warmly congratulated the carbon concrete composite researchers Prof....
Choosing to build with hemp
To pre-empt the ever more stringent construction standards, the architecture firm Dumont & Legrand is open to working with experimental types of materials, as we discover in this project using hemp...
Critical building technology to save lives during earthquakes
Carbon fibre-based materials could prevent the collapse of thousands of buildings during a future major earthquake. Last November, a team of structural experts from industry and university in Turkey...
Seismic retrofitting of reinforced concrete structures using FRP: French guidelines
In various countries, including France, the regulations concerning buildings and civil engineering structures contain recommendations aimed at achieving acceptable seismic performance; that is, the...
SOLUTlONS
Development of a composite tank for corrosive liquid transportation
The advantages of composites in transportation are not limited to weight savings for individual cars. Indeed, composite materials offer excellent chemical and corrosion resistance compared to metallic...
Hybrid superyacht with composite wings
Last October at the 2016 Monaco Yacht Show, a venue for the large international luxury yacht crowd, the well-known architecture firm VPLP Design presented a thoroughly innovative project that created...
Hemp in your car
Always in the vanguard of innovation, Faurecia Interior Systems has given priority to the use of biosourced materials for the past twenty years, and works with natural fibres like flax or hemp. France...
TECHNOLOGY
A virtual test lab for structural composite materials
Fibre-reinforced polymers (FRP) have been progressively applied as structural materials during the past 50 years and are now extensively used in applications where, in spite of their high cost, their...
Flax fibre composite for vibration damping design
Natural fibres, especially flax, are already known for their damping properties due to their specific structure. ESTACA and the LAUM laboratory compared the behaviour of flax and glass fibres embedded...
Life cycle prediction of composite structures
Forecasting the long-term life cycle of organic-matrix composite materials (OMC) is a key priority for designers (optimisation) and users (maintenance strategies) of composite materials for structural...
Lighter, stronger and cheaper carbon profiles
The pultrusion process has aroused growing interest during the past ten years as it can produce high-performance continuous fibre-reinforced composite parts (especially when using carbon fibres) with...
Thank you
You just used 1 credit. You have left.