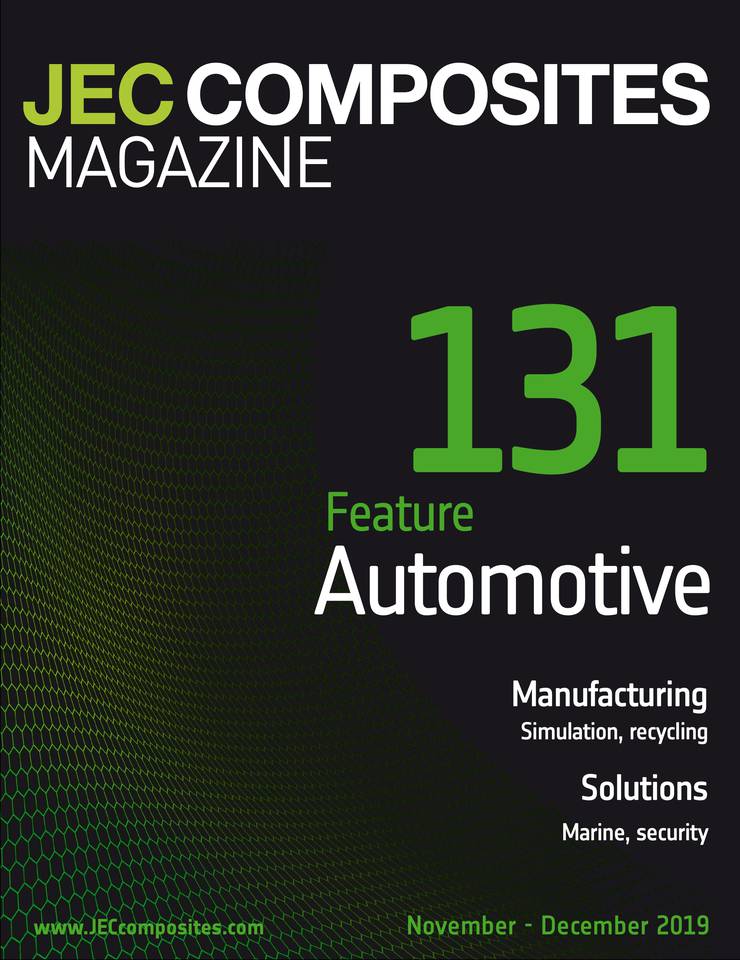 JEC Composites Magazine
N°131 - november 2019
Preview
JEC Composites Magazine is the point of contact of the international Composites Community, 6 times a year, with topics covering scientific information, business, technology, manufacturing, and application sectors trends.
In each and every issue, readers will learn about the entire composites industry value chain (from raw materials to application markets), and be inspired with current and future innovations.
The six sections of the magazine consist in:
NEWS: with interviews, articles about business development (M&As, appointments, partnerships and collaborations, awards etc.).
BUSINESS: with articles covering trends and markets, focusing on a specific country or region, with the composites market, or the application markets, or the companies strategies etc. in that country or region, and a startup focus.
MANUFACTURING: with articles about production processes and processing equipment.
FEATURE: an in-depth overview of a specific topic (typically an application sector), plus a JEC World Preview in April/May and Review in June/July.
SOLUTIONS: composites around us, with articles showing how composite materials are being used in applications which impact our everyday lives.
TECHNOLOGY: with articles about developments in materials, testing and control, repair, joining, design and simulation, recycling and reuse, R&D.
Enjoy your reading!
Contents
Enough to satisfy every appetite !
"Almost suddenly and dramatically, the automotive sector has entered into a crisis. There were already signs of a slowdown, but nothing to announce a crisis of this scale. Very few people had foreseen...
Read More
N°131 - november 2019
EDITORIAL
Enough to satisfy every appetite !
"Almost suddenly and dramatically, the automotive sector has entered into a crisis. There were already signs of a slowdown, but nothing to announce a crisis of this scale. Very few people had foreseen...
"We are able to offer our customers consistent product quality and supply across all regions."
Continental Structural Plastics (CSP) is a world leader lightweight composite solutions. We support our global custom-ers through our manufacturing and R&D locations in North America, Europe and Asia....
NEWS
NEWS in brief
Hyosung to increase its annual carbon fiber production to 24,000 tons with a total investment of $820M by 2028 Investment This would be one of the largest capacities of a single plant in the world....
«Agility and speed are key to delivering for our customers»
A little more than 18 months after he took office, we got in touch with Marcio Sandri, President, Composites Business, Owens Corning, to talk about the company's projects, his feeling about the...
BUSINESS
Continuous growth of the Asian composite markets
The global composites market is 11.4 Mt for 83 B$ and continues to show growth, powered particularly by the aerospace, automotive and wind energy sectors . As we approach JEC Asia 2019, we looked at...
And the winner is…
Continuous Composites is a rapidly growing tech startup based in the heart of Northern Idaho, developing the patented Continuous Fiber 3D Printing (CF3D®) technology. CF3D® offers a paradigm shift in...
China's EHang to take drones to mass production by 2020
On July 20, Huazhi Hu, the founder, chairman, and CEO of EHang, a pioneer in autonomous air mobility technology, was the first Chinese honouree for his achievements in the aviation industry at the...
MANUFACTURING
New module for composite materials
COMSOL Multiphysics® version 5.4 introduces the new Composite Materials Module. This add-on to the Structural Mechanics Module, allows you to model laminates and layered materials, with new Layered...
Designing CFRP structures with the aid of topology optimization
Topology optimization is a simulation result that can be used to optimize part shapes. Fibre-reinforced plastics are materials that allow for a design in which strength is specifically increased where...
lnnovative semi-products made of recycled carbon fibres
The I2M laboratory launched a project to develop a specific unweaving/realignment/consolidation machine in order to transform pieces of car-bon fabric into continuous strips of realigned carbon...
FEATURE
The automotive industry switches to electric
The automotive industry is suffering a slowdown in key markets. At the same time, it must cope with the high outlay that comes with new means of mobility. According to the latest study by AlixPartners...
Roding Automobile GmbH uses advanced lightweight design software
The efficient development of fibre-reinforced plastics products for lightweight components to meet government emission and fuel economy regulations can be made easier by using Fibersim software. A...
Thermally-conductive structural automotive compounds
For some time now, the automotive sector has been involved in an ongoing change of enormous significance linked to the introduction of hybrid and electric mobility projects designed to gradually phase...
A new material for thermoformed automotive interior applications
Renolit Tecnogor, a 100%-recyclable, glass fibre-reinforced polypropylene-based composite material, is gaining a leading position in the automotive interiors market with major OEM end customers....
Fast-curing epoxy prepreg system for automated processes with short cycle times
Until now, series production of CFRP components in the automotive industry has failed due to excessively long process times and high costs. A new, fast-curing epoxy resin system now makes structural...
A revolutionary change in vehicle panel production featuring thermoplastic tape
At the last JEC World, in March, Sabic announced a new, cutting-edge technology for producing lightweight, cost-effective and recyclable vehicle panels using its UDMAX™ tape, a unidirectional fibre-...
A safer battery pack for e-vehicles using polyurethane pultrusion technology
Driven by concerns about CO2 emissions, climate change and resource depletion, electric mobility is gaining market shares around the world. The evolution of electric mobility from vision to reality is...
A lightweight solution for battery boxes
This paper gives a first glimpse of the trailblazing use of a composite material integrating a metallic foil for a battery box cover that has the potential for changing the e-mobility industry....
The road to the 1000-kilometre electric vehicle
Developing an electric vehicle (EV) with a range of 1000 kilometres is not as impossible as many might assume today. As batteries become more and more powerful, lowering the vehicle weight will be the...
SOLUTIONS
The world's lightest wheelchair made from graphene
The swiss company Küschall present Superstar and redefine rules with innovation, by using aerospace materials and working in partnership with a Formula 1 manufacturer to secure the most unprecedented...
Composites increase machine performance, operating speeds and accuracy
In automation and machine tool applications, carbon fibre-reinforced composite materials can offer significant productivity, quality and lifecycle cost benefits. Yet their adoption in the...
Material specs for industrial applications of composite materials
What is the most important thing when using composite materials for a general-purpose industrial application? Some may say "lowering costs" or "improving moulding techniques". While these opinions are...
When technical properties guarantee safety
Equipment for professionals makes the most of composite-material properties to increase person-al safety, whether it is for a production unit or for fighting fires. From production unit operators to...
TECHNOLOGY
Drilling and trimming CFRP materials using a solid lubricant film
Carbon fibre-reinforced polymer (CFRP) materials are more and more used in various types of applications such as aircraft, automotive and wind harvesting systems. As production is product specific and...
Laboratory of ThermoStructural Composites
The Laboratory of ThermoStructural Composites (LCTS) consists of a unique research team with diverse and complementary skills to answer the various questions raised by the synthesis of carbon and...
PAEK composite prepreg: fast and efficient part manufacturing
Coriolis Composites and Victrex teamed up to use an automated fibre placement (AFP) process to unlock the potential of VICTREX AE™ 250 UDT. The results showed a significant increase in lay-up speed...
Thank you
You just used 1 credit. You have left.