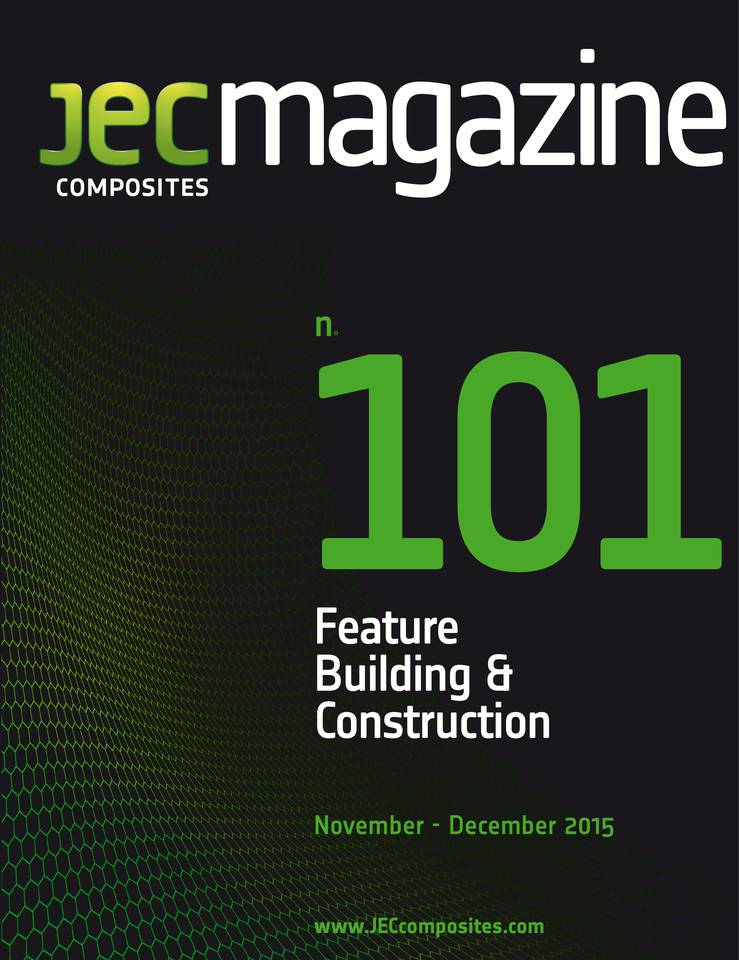 JEC Composites Magazine
N°101 - november 2015
Preview
JEC Composites Magazine is the point of contact of the international Composites Community, 6 times a year, with topics covering scientific information, business, technology, manufacturing, and application sectors trends.
In each and every issue, readers will learn about the entire composites industry value chain (from raw materials to application markets), and be inspired with current and future innovations.
The six sections of the magazine consist in:
NEWS: with interviews, articles about business development (M&As, appointments, partnerships and collaborations, awards etc.).
BUSINESS: with articles covering trends and markets, focusing on a specific country or region, with the composites market, or the application markets, or the companies strategies etc. in that country or region, and a startup focus.
MANUFACTURING: with articles about production processes and processing equipment.
FEATURE: an in-depth overview of a specific topic (typically an application sector), plus a JEC World Preview in April/May and Review in June/July.
SOLUTIONS: composites around us, with articles showing how composite materials are being used in applications which impact our everyday lives.
TECHNOLOGY: with articles about developments in materials, testing and control, repair, joining, design and simulation, recycling and reuse, R&D.
Enjoy your reading!
Contents
The winds of change are blowing for composites in the construction sector
"The construction sector is incredible for its fantastic range of applications and the potential there for composite materials. To be convinced, all you have to do is look at the news. There have...
Read More
N°101 - november 2015
EDITO
The winds of change are blowing for composites in the construction sector
"The construction sector is incredible for its fantastic range of applications and the potential there for composite materials. To be convinced, all you have to do is look at the news. There have...
POINT OF VIEW: DEVELOPING ADVICE
Future Materials Group, comprehensive expertise to accelerate development
An independent advisory firm, Future Materials Group (FMG) has brought together, since its creation, a team of highly specialised experts in advanced materials and high value-added industries. FMG...
COMPANIES & BUSINESS
Dell and Sabic partner to recycle carbon fiber and scrap raw materials into computers
In an industry first, Dell has partnered with supplier Sabic to recycle excess carbon fiber and scrap raw materials into new Dell products beginning in late 2015. Initially, select Latitude and...
Ashland announces plan to separate into two independent publicly traded companies
Ashland announces that its board of directors has approved proceeding with a plan to separate Ashland into two independent, publicly traded companies. The announcement follows a comprehensive...
Meggitt acquires composites division of EDAC for US$340m
The international engineering group specialising in aerospace, defence and energy markets, has agreed to acquire the composites division of EDAC, formerly known as Parkway Aerospace & Defense, from...
Solvay acquires EPIC Polymers' long-fiber thermoplastics business and technology
This acquisition will complement Solvay's offering of high performance lightweighting materials and gain access to metal replacement of larger automotive semi-structural parts. Privately-owned, EPIC...
Mitsubishi Heavy Industries completes composites facility expansion
The company completes expansion of aircraft production facility at Shimonoseki Shipyard & Machinery Works, in order to increase production capacity for wing components of Boeing 787 Dreamliner's main...
CST Composites secures AUS$1.4M government funding
Advanced carbon fiber filament winder and pultruder, CST Composites (Sydney, Australia) has secured a AUS$1.4 million (US$1M) grant from the Australian Government, as a part of a AUS$5.7 million...
Toray to expand carbon fiber prepreg business in Europe
The Group decided to acquire 55% of outstanding shares of Italian prepreg manufacturer Delta Tech S.p.A, making Delta Tech and its wholly owned subsidiary Delta Preg S.p.A into its subsidiaries. Delta...
APPLICATIONS
Lightweight carbon fibre-reinforced golf driver
Cobra Puma Golf teamed up with spread-tow reinforcements leader Oxeon to push the golf industry into a new era. Performance is key in many sports industries, and golf is no exception. Companies are...
Lightweight, environmentally-friendly 3D-printed supercar
Thanks to the brand-new innovative "Node" technology, Divergent Microfactories now intro-duces the first 3D-printed supercar: Blade. O ver the last few decades, being more environmentally conscious...
Land speed bicycle targets to break the record for fastest human powered vehicle
The ULV Team, established in 2013 and sponsored by Rathbone Investment Management, is a team of sixteen engineering students from the University of Liverpool who designed and built the ARION1 land...
A winter alternative for downhill mountain biking
Reproducing as closely as possible the sensations of a regular mountain bike to sport addicts who want to extend their season during the winter. Downhill mountain biking is a well-known and favourite...
MARKET
Japanese market continues to grow
It has not made lightning advances, but it continues to grow. Thanks to the dedication, meticulousness and quality awareness of its people, the Land of the Rising Sun has made tremendous strides in...
Production slowdown in Brazil
As the organizer of the 2014 Soccer World Cup and the host of the upcoming 2016 Summer Olympics, Brazil is very present in the news. For a time, economists considered the country as a growth driver to...
FEATURE BUILDING & CONSTRUCTION
Jointless steel fibre-reinforced composite flooring system
Steel fibre-reinforced PrimeComposite high-performance floors by Gresser are ultra-durable and jointless, allowing reduced maintenance and life cycle costs. Similar to the acceptance of carbon fibre...
A new GRP material with an antibacterial surface against germs
To take full advantage of the innovative potential of fibre-reinforced plastics through consistent research and development, Lamilux launched a new technologically advanced and solution-oriented...
Antimicrobial emergency medical care units
An innovative medical care unit made of wood fibre composites was developed in partnership by Parx Plastics and Aviplast WFC/Deltawood, providing a sustainable and safe solution. Aviplast...
Bio-based pultruded profiles including graphene for building envelopes
In recent years, there has been a growing trend to replace traditional brick and mortar construction materials by multilayer façades. These comprise several layers that provide the insulation and...
The architectural potential of a novel composite building method
The ICD/ITKE Research Pavilion 2014-15 demonstrates the architectural potential of a novel building method inspired by the underwater nest construction of the water spider. Through a novel robotic...
Bespoke composite house – the devil is in the detail
This article covers the project's genesis followed by the construction of a house made of composites. This project is the result of one man's determination, Rudi Steinbusch, who never gave up and...
RESEARCH & DEVELOPMENT
Ageing of polydicyclopentadiene composites
This paper describes the long-term hygrothermal ageing and thermal oxidation ageing behaviour of polydicyclopentadiene (pDCPD) composites, a relatively new material. The superior resistance to ageing...
Revolutionising the assembly of composite structures
Advanced Composite Structures Australia, recognized worldwide for composites technology development and implementation, is currently in the process of commercialising a ground-breaking patented...
Quality-controlled continuous induction welding of CFRP composites
A simulation-based user interface for automated, continuous induction welding of thermoplastic fibre-reinforced polymer composites allows endusers to optimize process parameters and ensure quality...
Different material models for intra-ply shear and double-dome FE forming analysis
In the study presented in this paper, different methods for the forming simulation of fibre-reinforced thermoplastics using Abaqus/Explicit are investigated and compared. Current FE methods either...
TECHNOLOGIES & INNOVATIONS
New T-Die UD-prepreg machine: from thermosets to thermoplastics
Aiki Riotech Corporation developed a new, innovative prepreg machine that involves lower initial investments and production costs than conventional methods. Prepreg production with thermo-plastic...
Bamboo-based sandwich panels for aeronautics
A new bamboo composite panel is currently being developed by VESO Concept for aeronautics applications. The first results are very promising and show all the potential of this particular fibre for new...
Graphene in 3D nanocomposite applications
Manufacturer goes 3D to develop graphene-enhanced materials for the fused filament fabrication process and remove some of the roadblocks hindering the technology's expansion. Ask most manufacturers...
New hi-tech compound for sports & leisure applications
The development divisions of Geba Kunststoffcompounds GmbH and Covestro recently developed the Desmovit® DP R CF series, a range of ester-based, carbon-reinforced thermoplastic polyurethanes. This...
COMPOSITES IN THE WORLD
A shelf can hide another
A shelf that from within a second shelf of the same size seemingly grows outward. Vertical sections are made from 3.7 mm thick carbon fiber, while the 3.7 mm thick horizontal sections consist of...
Carbon fibre reach the target
The Sako 85 Carbonlight is a high-end rifle designed for gear-oriented enthusiasts who seek the best equipment possible. This ultra-light multi-purpose hunting rifle is the lightest Sako rifle ever...
Thank you
You just used 1 credit. You have left.