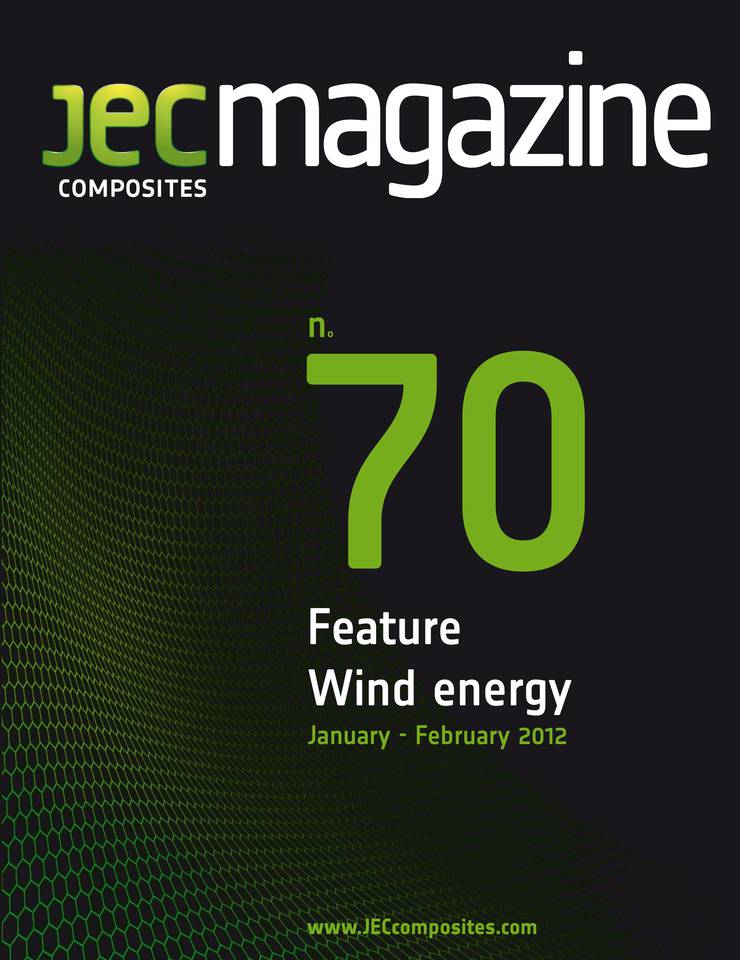 JEC Composites Magazine
N°70 - january 2012
Preview
JEC Composites Magazine is the point of contact of the international Composites Community, 6 times a year, with topics covering scientific information, business, technology, manufacturing, and application sectors trends.
In each and every issue, readers will learn about the entire composites industry value chain (from raw materials to application markets), and be inspired with current and future innovations.
The six sections of the magazine consist in:
NEWS: with interviews, articles about business development (M&As, appointments, partnerships and collaborations, awards etc.).
BUSINESS: with articles covering trends and markets, focusing on a specific country or region, with the composites market, or the application markets, or the companies strategies etc. in that country or region, and a startup focus.
MANUFACTURING: with articles about production processes and processing equipment.
FEATURE: an in-depth overview of a specific topic (typically an application sector), plus a JEC World Preview in April/May and Review in June/July.
SOLUTIONS: composites around us, with articles showing how composite materials are being used in applications which impact our everyday lives.
TECHNOLOGY: with articles about developments in materials, testing and control, repair, joining, design and simulation, recycling and reuse, R&D.
Enjoy your reading!
Contents
The future of wind energy is at sea!
"The Fukushima catastrophe in Japan on 11 March 2011 continues to weigh heavily in public opinion and in policies on energy and the methods for generating it. Nuclear power has lost its lustre. Events...
Read More
N°70 - january 2012
ÉDITO
The future of wind energy is at sea!
"The Fukushima catastrophe in Japan on 11 March 2011 continues to weigh heavily in public opinion and in policies on energy and the methods for generating it. Nuclear power has lost its lustre. Events...
POINT OF VIEW: MASS PRODUCTION
About Lanxess
Lanxess is a leading specialty chemicals company with sales of EUR 7.1 billion in 2010 and currently around 16,100 employees in 30 countries. The company is at present represented at 47 production...
Lanxess, the only fully integrated producer of glass reinforced thermoplastic
Lanxess has been investing substantial amounts in the expansion of its global production network for high-tech plastics during the last two years. Including the glass fibers expansion in 2011, recent...
COMPANIES & BUSINESS
GKN Aerospace to establish new aerospace assembly facility in South Carolina
The new GKN Aerospace facility will perform assembly operations for the recently-awarded production contract for the HondaJet, for which the develop-ment work is currently performed at the company's...
CORE MATERIALS
Celebrating 25 years of ideas
Spheretex was founded in 1986, five years after the Spheretex concept was born. The company was named after its first product. On 7 July 2011, the company celebrated its 25th anniversary at their...
FABRICS
Diatex, a generation of growth
Diatex, a manufacturer of engineering fabrics and supplier of peripheral equipment for moulding, vacuum infusion and RTM, is celebrating its 25th anniversary. Diatex has put its international...
MOTORBIKE
Brammo Empulse uses prepreg to drop weight
The Brammo Empulse, an all-electric motorcycle made by Oregon-based Brammo Inc., won both races of the inaugural round of the TTXGP, a zero-emission race at the Infineon Raceway on May 14 and 15 in...
AUTOMOTIVE
A revolutionary e-mobile concept car
Ticona and Swiss car manufacturer Rinspeed recently introduced the ground-breaking "BamBoo". This is the second time in a row Ticona has worked together with Rinspeed. The company supports...
HOUSING
A school made entirely of composites for 200 children
At the ICERP tradeshow in March 2011 in Mumbai, DSM and Kemrock unveiled their school made 100% of composites. This achievement showed, once again, the relevance of using composite materials in the...
WIND
Double-digit growth for global wind O&M market
The global wind operation and maintenance (O&M) market is rapidly growing with increasing wind farm installations.. Lucintel forecasts wind O&M market for onshore and offsore to reach $11.8 billion by...
"Companies with weak R&D capabilities will find it difficult to survive in the future"
JEC Composites Magazine: What is the role of China Composites Group within CNBM? Pr. Zhang Dingjin: China is a huge energy consumer. A large part of this energy goes to the building industry and the...
CERTIFICATION
Rescoll qualified by Airbus for tests on composites
Rescoll, a certified «contract research organization» (SRC - «structure de recherche sous contrat»), celebrated its 10th anniversary in 2011. Since its creation, the company has recruited around 40...
HUMAN RESSOURCES
CEO, designing strategy and corporate vision
The CEO position can't be reached easily and requires a lot of qualities. Some have the opportunity to evolve to this position. Others, more adventurous, start a business. This does not diminish their...
About Solutions Composites
More information ... Solutions Composites represents the Italian pultruder Top Glass (Kemrock Group) on the French Market through Marketing, Sales and Project Management but is far more than that. The...
FEARTURE WIND ENERGY
Polyurethane composites for wind turbine blades
In this paper, we will discuss the development of this new polyurethane class of resins and its implication in the manufacture of large wind turbine blades, and compare its performance in composite...
New best-in-class 10-kW wind turbine
Competition is tough in the wind energy sector and all operators are on the lookout for high-performance equipment. FuturEnergy offers a new wind turbine made from Amber prepregs that enables...
Composites in wind energy
The wind energy market is experiencing rapid growth worldwide and has doubled in size every 3 years for the past 30 years. It is expected to have generated 331 TWh in 2010 alone, amounting to 1.6% of...
Innovative design procedures for large-scale wind turbine blades
Developing a large-scale blade is a key issue in the current competitive wind turbine market simply because a wind turbine with large-scale blades provides the most effective way of reducing the cost...
Vertiwind and Winflo, two projects for floating offshore wind turbines
The offshore wind turbines currently used have been flourishing in recent years. These are based on technology that was developed for onshore installations, and are built on the sea floor. Their...
THERMOSPLASTICS
PEI/carbon as metal substitute in aircraft food tray arms
The Innovative Plastics strategic business unit of SABIC has developed several high-performance engineering thermoplastic compounds that, along with optimized plastic design, have the potential to...
WELDING
Optimizing ultrasonic welding of carbon-fibre-reinforced polyetherimide
Cost-effective processing of thermoplas-tic composites has made them increasingly relevant for use in structural and high-performance applications. Welding contributes to reducing manufacturing costs...
INNOVATIONS
Reinforcements for advanced biocomposites
Greenlite™ from Porcher is a new generation of high-performance renewable reinforcements for the composite industry. These innovative materials are based on pure cellulose fibres, which is the most...
Laurel Biocomposite opens pilot plant
The Nebraska-based company recently opened a new pilot plant and shipped Bio-Res™ pellets from its first production run to a major customer for trials. The manufacturer will test the odourless bio-...
NDT
Health monitoring assessment and NDI of composite structures
Composites are used in a wide range of applications in surface transport, and their use has increased steadily in both low- and high-technology engineering applications over recent years. However,...
MANUFACTURER
Composites are the materials for the future
As the industry grows, innovative new applications are being developed all the time. Composites are so versatile they can be used in all kinds of industries: from sports to defence and even energy....
IN THE WORLD
Guggenheim Lab
The BMW Guggenheim Lab is a mobile laboratory travelling around the world to inspire innovative ideas for urban life. Over the Lab's six-year migration, there will be three distinct mobile structures...
ECONOMY
Around JEC Asia 2012: More than 610 million people & greater than 6% GDP growth rate
The six major ASEAN countries (Indonesia, Malaysia, Philippines, Singapore, Thailand and Vietnam) have rebounded from the global economic crisis, with medium-term growth prospects returning to pre-...
JEC Asia 2012: Program conferences
The Innovative Composites Summit (I.C.S.) is a three-day program comprising economic, and technical conferences that will showcase the latest trends and breakthrough innovations across different...
WIND
Asian-Pacific wind energy market: The highest growth rate worldwide
In 2010 Asia accounted for the largest share of new installations (54,6 %), followed by Europe (27,0 %) and North America (16,7 %). - 18,4 GW of new installations in first half of 2011, 43,9 GW...
Thank you
You just used 1 credit. You have left.