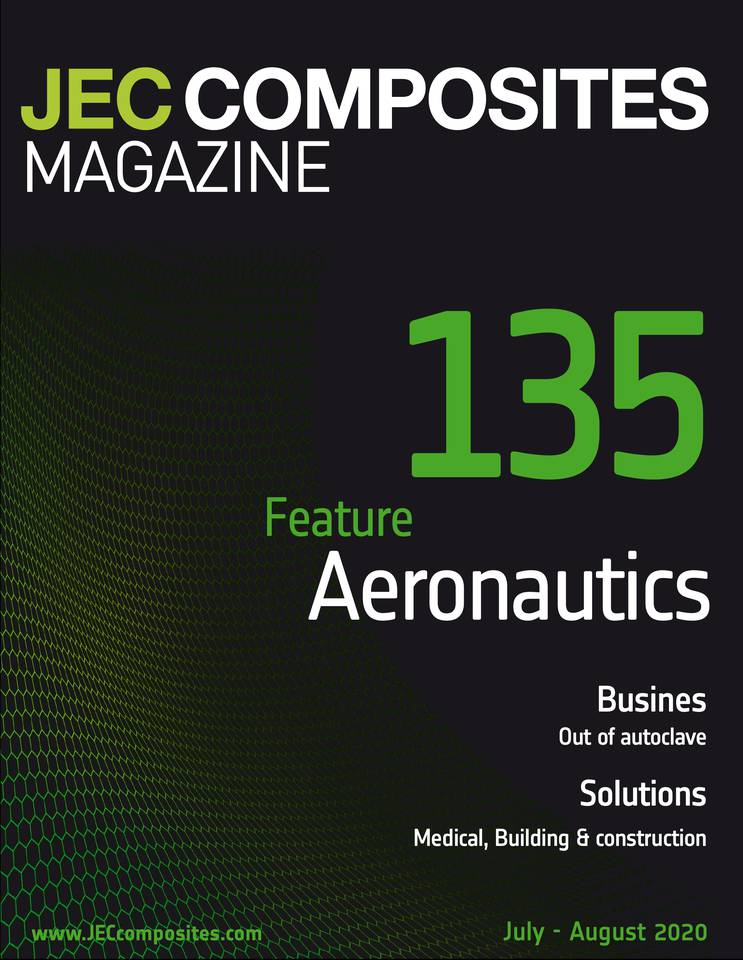 JEC Composites Magazine
N°135 - july 2020
Preview
JEC Composites Magazine is the point of contact of the international Composites Community, 6 times a year, with topics covering scientific information, business, technology, manufacturing, and application sectors trends.
In each and every issue, readers will learn about the entire composites industry value chain (from raw materials to application markets), and be inspired with current and future innovations.
The six sections of the magazine consist in:
NEWS: with interviews, articles about business development (M&As, appointments, partnerships and collaborations, awards etc.).
BUSINESS: with articles covering trends and markets, focusing on a specific country or region, with the composites market, or the application markets, or the companies strategies etc. in that country or region, and a startup focus.
MANUFACTURING: with articles about production processes and processing equipment.
FEATURE: an in-depth overview of a specific topic (typically an application sector), plus a JEC World Preview in April/May and Review in June/July.
SOLUTIONS: composites around us, with articles showing how composite materials are being used in applications which impact our everyday lives.
TECHNOLOGY: with articles about developments in materials, testing and control, repair, joining, design and simulation, recycling and reuse, R&D.
Enjoy your reading!
Contents
Paving the runway to electric
"At the time that I write these lines, the aeronautics sector is traversing an area of high turbulence. The entire value chain has been impacted – airlines, airport infrastructure, air traffic...
Read More
N°135 - july 2020
EDITORIAL
Paving the runway to electric
"At the time that I write these lines, the aeronautics sector is traversing an area of high turbulence. The entire value chain has been impacted – airlines, airport infrastructure, air traffic...
MOVING COMPOSITES FORWARD
"We include composite materials in order to offer the most efficient protection"
Fichet-Bauche has been a pioneer in the field of locksmithing, safes and vaults since 1825. The group is distributed over two production sites in France. The Bazancourt location specialises in safes,...
NEWS
NEWS in brief Contracts SGL Carbon receives contract for battery enclosure from BMW Group
After prototypes for a Chinese automotive manufacturer, a major order from a North American automaker, and yet another order for a European sports car manufacturer, SGL Carbon has now been nominated...
BUSlNESS
What is the impact of the Covid-19 crisis on chemical groups in China?
We asked Germany-based BASF and Lanxess, as well as Belgium-based Solvay Group, three companies heavily involved in China, how they managed during the lockdown in the country and what is the impact of...
UBQ introduces the greenest thermoplastic material
UBQ envisions a world where finite resources are infinitely reused. The Israelbased company aims to help rescue the planet. Through a patented process, waste becomes UBQ™ material, an infinitely...
BUSLNESS
Finding funding
With rapid growth and the constant delivery of innovative new technologies remaining key characteristics of the advanced composites market, it is no surprise that enterprises within the sector often...
MANUFACTURlNG
Virtual design of a medical auto-injector
In the quest for a state-of-the-art integrated simulation-driven design solution, Nolato partnered with Altair to explore the benefits of a total virtual product design for their medical self-...
MANUFACTURLNG
The importance of FRP process specifications
Process specifications greatly influence the production method, which is one of the three pillars of FRP (composite) design, together with the final shape and the material. The purpose of process...
FEATURE
Printing continuous carbon fibre in true 3D
Electroimpact developed a continuous fibre-reinforced thermo-plastic 3D printing system featuring six degrees of freedom. This system enables the tool-less rapid fabrication of aerospace-grade...
A thermoplastic T-profile with effective lay-up in one shot
The range of applications of reinforced thermoplastics is growing, and there is a need to optimize the manufacturing process for these materials. This paper reports on a project conducted by Latecoere...
Automated adaptive machining of aircraft composite structures
The use of automation is not widespread in aircraft maintenance due to the challenges that arise from the complexity of the tasks for structural components. Different composite components are in use...
Out-of-autoclave manufacturing processes for composite aerostructures
Autoclave technology is widely used by Tier 1 and Tier 2 suppliers to manufacture aerostructures for leading aircraft manufacturers. This technology allows the production of very high-quality...
Overmoulded interfaces for composite aircraft parts
Using the overmoulding process to manufacture carbon/PAEK aircraft parts requires a better understanding of the cohesion between thermoplastic materials. A characterization method was established and...
The Bondline Control Technology
The Bondline Control Technology (BCT) comprises several innovative methods that substantiate proper bond quality in adhesive joints. It unlocks the use of adhesive bonding in safety-critical...
"Don't miss the shift to Green and the chance to make a positive impact on the environment!"
Created in 1863, Daher is an aircraft manufacturer and industry equipment and services provider. The company operates in 13 countries and in 2019, achieved a turnover of 1.2 billion Euros. In these...
Aeronautics: now what?
The period is exceptional for the aeronautical sector and we were all shocked to see all these planes nailed to the ground because of Covid-19. What exactly will happen tomorrow? To try to better...
A satellite panel reinforced with natural fibres for cleaner space exploration
Together with the European Space Agency (ESA), Bcomp developed the first natural fibre reinforced satellite panel to make space exploration cleaner and safer. As a finalist for the JEC Innovation...
SOLUTlONS
The sky has no limit for inventors
Although flying is one of humanity's oldest dreams, it has become so common-place, today, that no one claps anymore when a plane lands. While the goal of mass passenger transport has been attained,...
Building reality with composites
lnHistorically, the building industry was likely one of the first to convert to using composite materials. A perfect example of this are dwellings whose walls were, and are still, made of cob. This is...
Lightweight liner-less carbon composite subscale cryotank
We developed a liner-less carbon composite cryotank to achieve a goal of over 25% weight reduction for space-purpose product in place of the existing fuel tank. As the self-developed project led by...
TECHNOLOGY
Developing CFRP components for machine tools
The number of innovations in the design of a machine tool structure has flattened out over recent years. This indicates not only a high maturity index of the technology itself, but also the extensive...
Advanced Composites Laboratory, Texas State University
Texas State University's Advanced Composites Laboratory (ACL) is involved in education and research in the areas of manufacturing, characterization, and safe handling of polymer nanocomposites. ACL...
Optimization approach for designing composite components
Thanks to the high computing power available today, finite element analysis (FEA) is now accessible and fast, so that hundreds or thousands of numerical simulations can be performed in cascade in a...
Thank you
You just used 1 credit. You have left.