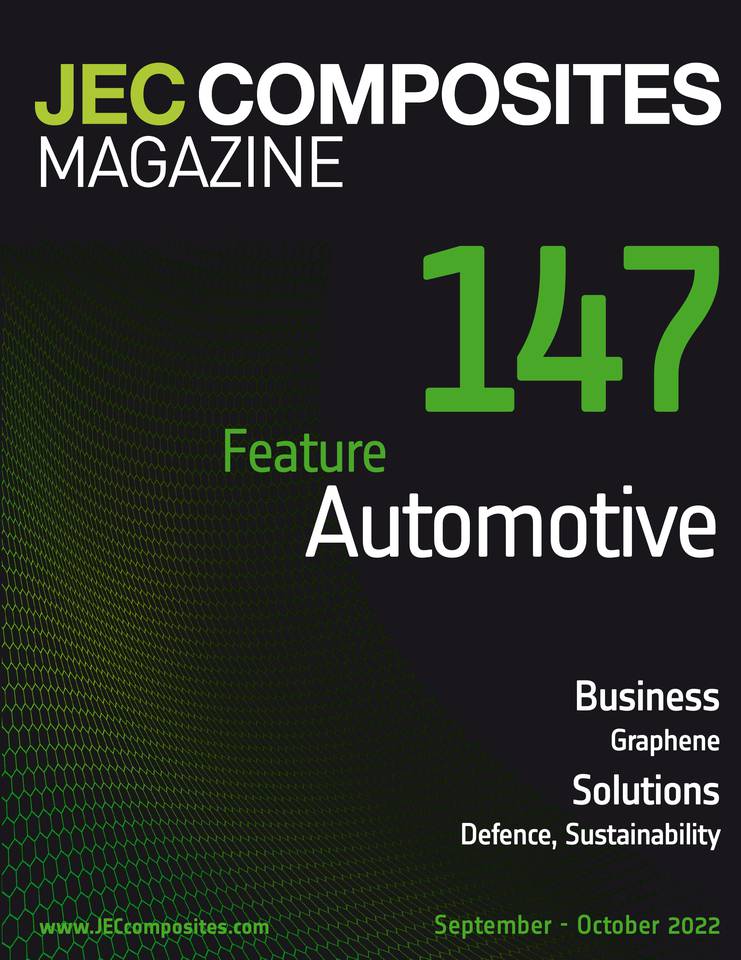 JEC Composites Magazine
N°147 - september 2022
Preview
JEC Composites Magazine is the point of contact of the international Composites Community, 6 times a year, with topics covering scientific information, business, technology, manufacturing, and application sectors trends.
In each and every issue, readers will learn about the entire composites industry value chain (from raw materials to application markets), and be inspired with current and future innovations.
The six sections of the magazine consist in:
NEWS: with interviews, articles about business development (M&As, appointments, partnerships and collaborations, awards etc.).
BUSINESS: with articles covering trends and markets, focusing on a specific country or region, with the composites market, or the application markets, or the companies strategies etc. in that country or region, and a startup focus.
MANUFACTURING: with articles about production processes and processing equipment.
FEATURE: an in-depth overview of a specific topic (typically an application sector), plus a JEC World Preview in April/May and Review in June/July.
SOLUTIONS: composites around us, with articles showing how composite materials are being used in applications which impact our everyday lives.
TECHNOLOGY: with articles about developments in materials, testing and control, repair, joining, design and simulation, recycling and reuse, R&D.
Enjoy your reading!
Contents
The future of automotive
"A growing number of governments around the world are committing to the goal of climate neutrality by 2050. Decarbonising road transportation is an essential part of these strategies. Replacing metal...
Read More
N°147 - september 2022
ÉDITO
The future of automotive
"A growing number of governments around the world are committing to the goal of climate neutrality by 2050. Decarbonising road transportation is an essential part of these strategies. Replacing metal...
Creating the interior of "The most beautiful building in the world"
A product of architect Shaun Killa's imagination, the Museum of the Future in Dubai opened its doors in February 2022 after six years of construction. The elliptical shaped building is devoted to...
NEWS
Voith Composites partners with Gazechim Group to deliver expert manufacturing of composite parts in Europe using Carbon4Tool
The partnership will extend the reach of Carbon4Tool into the European composites manufacturing market, enabling producers to explore new avenues in composite lamination, reducing labor requirements,...
Creating a forum to work together
Cindy L. Squires, Esq., the new president and CEO of the American Composites Manufacturers Association (ACMA), shares her perspectives on ACMA's new sustainability-focused mission, women in composites...
New fibreglass factory in the heart of Central Asia
The Uzbek-German Joint Venture Deutsche Kabel AG Taschkent (DKG) has created a new company "Falk Porsche Fiberglass" in Uzbekistan and is entering into the global market for the production of...
BUSlNESS
Effectiveness of graphene nano-platelets in composites
Graphene has become a fascinating material since its isolation in 2004. From its multiple different formats, including single-layer materials to few-layer structures, the performance attributes of the...
Sinopec intends to lead by example in China
In accordance with China's strategic need for new materials, Sinopec aims to strengthen its carbon fibre and composite materials business through its subsidiary Shanghai Petrochemical. The 2022...
China promotes the use of glass fibre in construction
The interest in glass fibre shows no sign of waning in China, already the world's leading producer. Among the many growing applications such as automotive and new energies, construction is well placed...
A new centre to extend the use of advanced materials in China's building and construction sector
The China Building Materials Academy (CBMA) and Saudi Aramco recently announced the launch of Nexcel, a new Nonmetallic Excellence and Innovation Centre to further advance the use of nonmetallic...
China's Grad Group wins the bid for a 130-million-yuan glass fibre-reinforced plastic pipeline project
Shandong Grad Group Co., Ltd. announced that it has won the bid for the Korla Second Water Source Project, for an amount of nearly 130 million yuan (€18 million), laying a good foundation for the...
Zhongfu Liberty's special functional materials are targeting the building industry
Changzhou Zhongfu Liberty Composites Co., Ltd. (Zhongfu Liberty), a subsidiary of the China National Building Material Group (CNBM), launched a self-developed special functional board. This product is...
MANUFACTURlNG
Towards a digital twin of UD tapes for automated fibre placement
With the ongoing trends in the Industrial Internet of Things (IIoT), the question arises if digitization benefits automated fibre placement (AFP) in making it even more cost and resource efficient....
Optical data rectification and ML-aided impedance analysis for quality assurance of carbon fibre
The overall objective of the EddySCARF research project conducted by the German Central Innovation Programme for SMEs (ZIM) is to reduce costs, time and resources in carbon fibre production and...
FEATURE AUTOMOTIVE
Thermoplastic composites: the path towards zero CO2 emissions in transport
Transport is currently going through a period of critical transition. The EU has made a commitment to achieve climate neutrality by 2050. Growing concerns about the environmental impact of fossil-...
FEATURE
Cutting-edge FDC technology reduces costs and CO2 emissions
The innovative fibre direct compounding (FDC) process from Arburg has been a recognized alternative to moulding pre-compounded long-glass-filled materials since at least 2012, and its area of...
Enabling superior storage efficiency for type 4 tanks with FPP dome reinforcements
Composite pressure vessels (PVs) are the key storage system for hydrogen-powered mobility. Automation specialist Cevotec has developed an industrial solution that, in combination with the established...
A new generation of battery packs with a recyclable epoxy SMC casing
An impact-resistant, yet lightweight, battery pack using an aluminium sandwich plate and glass fibre-reinforced epoxy SMC composites was developed by a consortium founded in 2019 including Lorenz...
Serial CFRTP structural part for BMW Group body-in-white application
A new lightweight design for CFRTP parts combining thermoformed UD carbon fibre rods and injection moulding is described from the idea up to Serial CFRTP structural part for BMW Group body-in-white...
Towards lightweight flax fibre-reinforced automotive headliners
The collaborative work presented in this paper focuses on the manufacturing of a lightweight flax-reinforced headliner for the automotive industry. The development of the preform is discussed and the...
SOLUTlONS
Upcycling gives a boost to coffee waste management
The Kreis Cup is a durable and reusable cup made from recycled coffee grounds and a plant-based polymer binder to offer a sustainable, biodegradable and lightweight final product. It even smells like...
On field applications with composites
While aeronautics and automotive remain the most demanding application sectors for composite materials when it comes to volumes, defence is another area whose potential for advanced materials has...
TECHNOLOGY
Cerapreg – a new concept for cost-effective reinforced ceramic composites
For several decades now, fibre-reinforced composites have established themselves as a lightweight, easily mouldable alternative to metallic designs. Especially when used in prepreg form, fibre-...
Thank you
You just used 1 credit. You have left.