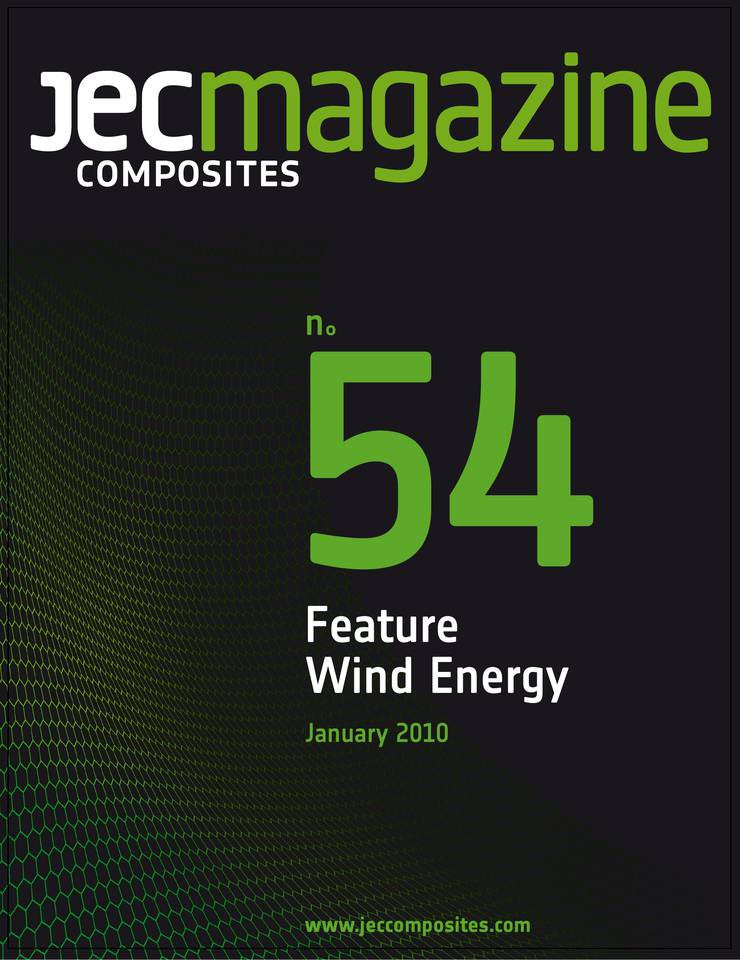 JEC Composites Magazine
N°54 - january 2010
Preview
JEC Composites Magazine is the point of contact of the international Composites Community, 6 times a year, with topics covering scientific information, business, technology, manufacturing, and application sectors trends.
In each and every issue, readers will learn about the entire composites industry value chain (from raw materials to application markets), and be inspired with current and future innovations.
The six sections of the magazine consist in:
NEWS: with interviews, articles about business development (M&As, appointments, partnerships and collaborations, awards etc.).
BUSINESS: with articles covering trends and markets, focusing on a specific country or region, with the composites market, or the application markets, or the companies strategies etc. in that country or region, and a startup focus.
MANUFACTURING: with articles about production processes and processing equipment.
FEATURE: an in-depth overview of a specific topic (typically an application sector), plus a JEC World Preview in April/May and Review in June/July.
SOLUTIONS: composites around us, with articles showing how composite materials are being used in applications which impact our everyday lives.
TECHNOLOGY: with articles about developments in materials, testing and control, repair, joining, design and simulation, recycling and reuse, R&D.
Enjoy your reading!
Contents
Infinitely renewable!
The wind power sector is booming worldwide, and wind farms are springing up everywhere. All the statistics point to continued sustained growth. Nations are adopting proactive policies to encourage the...
Read More
N°54 - january 2010
EDITORIAL
Infinitely renewable!
The wind power sector is booming worldwide, and wind farms are springing up everywhere. All the statistics point to continued sustained growth. Nations are adopting proactive policies to encourage the...
NEWS WORLDWIDE
Jushi lets its ambitious plans out of the bag
China Jushi, the 15th Annual International Conference on Fibreglass, was held at Tongxiang City, Zhejiang Province, on 18-20 October 2009. The conference attracted a considerable number of Chinese and...
1,000 guests from 70 countries
This year's conference attracted 1,000 domestic and international guests from 70 countries, including the USA, Canada, Germany, Spain, Italy, India, Japan, North Korea and South Korea. The...
Dedienne Multiplasturgy® Group marches on
Dedienne Multiplasturgy® Group can face the future with serenity. A new organisational setup reinforces group synergies and offers a whole new dimension to one of the top specialists in high-...
AGENDA OF EVENTS
Failure Analysis and Fractography of Polymer Composites
Written by Dr Emile S Greenhalgh, Senior Lecturer in Aeronautics at Imperial College London, lecturer on material selection, composite design, testing, characterisation and failure analysis. The...
NEWS WORLDWIDE
SigmaNEST saves £70,000 in composite manufacturing
Prodrive is well known in the UK and Europe for its collaboration in motorsport, running race and rallying programmes for some of the biggest names including Subaru, Aston Martin and Ford. Its...
BUSINESS
Wind energy: a market with a rosy future
Investment in a wind turbine today means that the electricity generation cost are fixed to the major extend over the lifetime of the wind turbine. Wind energy implies no expenses on fuel and operation...
High-tech first at NASA:a crew module structure made of composite materials
Alliant Techsystems delivered a technological first to NASA in October: a full-scale crew module structure made of composite materials. The Composite Crew Module (CCM) is a unique capsule design that...
The graduate with a degree in composite materials
Such a professional is responsible for the development of technologies and products. He works with an engineer to draw up master project plans, does the necessary studies and analyses, and coordinates...
FEATURE
China: no slow-down in global wind developments as country continues expansion
The Chinese wind energy market has the look of an eldorado, according to the Global Wind Energy Council's annual report. Installed capacities are increasing at an impressive rate, and government plans...
High-performance E6 glass fibre: meeting the needs of the wind energy industry
E6 glass fibre has significantly higher strength and modulus than traditional E-glass. Jushi Group has developed size systems specifically designed for wind-blade manufacturing processes such as hand...
Infusion moulding structural panels
At the Wind Power Expo that took place in Saragossa on 22-24 September 2009, Nidaplast composites presented ROVIpanTM, a new product developed in partnership with Chomarat. This ready-to-use product...
New PET foams for wind turbine construction
Light weight and high mechanical strength in conjunction with residual flexibility and maxi-mum service life – these are the main material requirements for modern composite materials. In recent years,...
Blade length: top-end limits are not set by the materials
BASF has developed new epoxy resin systems for fibre-reinforced composites that are tailored specifically to the production of rotor blades for wind turbines. The systems increase productivity by...
SHFRP:still limited as a player
According to the Global Wind 2008 report from the Global Wind Energy Council (GWEC), the Shanghai FRP Institute (SHFRP) has its job cut out for it. More than seventy percent of SHFRP's business is now...
Epoxy-resin infusion systems for wind-blade manufacturing
For specific and high-technology niches, Cannon engineered dedicated mixing heads and dosing equipment that can pour not only polyurethane formulations, but also other types of mixtures (such as epoxy...
Workflow optimization for rotor blades manufacturing
When manufacturing glass fibre rotors, the prepreg positioning process can be markedly accelerated by the use of laser projectors. Thanks to the innovative multi-tasking feature of LAP's CAD-PRO laser...
New robotic wind-blade finishing system reduces work time by 90%
A third generation of RAPA G3 robotic systems for wind-blade finishing has been developed to reduce wind-blade machining and finishing times by about 90%. The new Rapa G3 robotic finishing system...
An experimental study of rotorshapes: for small horizontal-axis wind turbines
Wind energy, a renewable, non-polluting energy source, has received a lot of public attention due to the aggravation of environmental problems and to depleted fossil energy resources. Large grid-...
Predictive maintenance in the wind energy industry
OneProd Wind System was recently awarded the GL certification (Germanischer Lloyd). As GL is a trusted reference in the wind energy sector, this constitutes a major endorsement of 01dB-Metravib's...
USERS' PLATFORM
BBiiccyycclliinngg eenntthhuussiiaassttss can adjust bike parts themselves
Effetto Mariposa® is devoted to providing bicycle mechanics and cyclists with the best possible tools to work on modern bicycles. One of its latest products CarbocutTM, is a hacksaw dedicated to...
High-pressure hydrogen storage tanks made by RTM
High-pressure hydrogen storage tanks for the automotive sector were traditionally fabricated by filament winding. Profiles Composites found another way to produce them, together with its partners, the...
Lightweight, ultra-durable air cargo containers
Following two years of successful flight trials, DoKaSch recently introduced the new AKE lw-65 air cargo containers. These are the first containers to be made with RP10 panels using advanced composite...
Solar Plane takes off
On 3 December 2009 at 1:11 pm, the Solar Impulse HB-SIA left the ground for the first time from the Dübendorf Airfield (Switzerland). The Solar Impulse is the first airplane designed to fly day and...
First solar-powered speedboat
Czeers Solarboats was founded by David Czap and Nils Beers in 2006. At the young age of 22, their lack of experience was substituted by their innovative spirit and an out-of-the-box approach....
KNOW-HOW
Recent innovations in laser templating
New markets are opening up to laser projection technology, providing new applications that stimulate further innovation. Thanks to recent developments, productivity and return on investment are...
LEO semi-solid resin film
The LEO semi-solid resin film solution provides clean, reliable and easy-to-use nanochemicals for players in the composite sector. The solution enables the development of high-performance composites...
DEMOCRAT, an electrostatic process
The application of paint, varnishes and resins has been revolutionized by the development and industrialization of electrostatic deposition techniques. One sector in which the technology is relatively...
Thank you
You just used 1 credit. You have left.