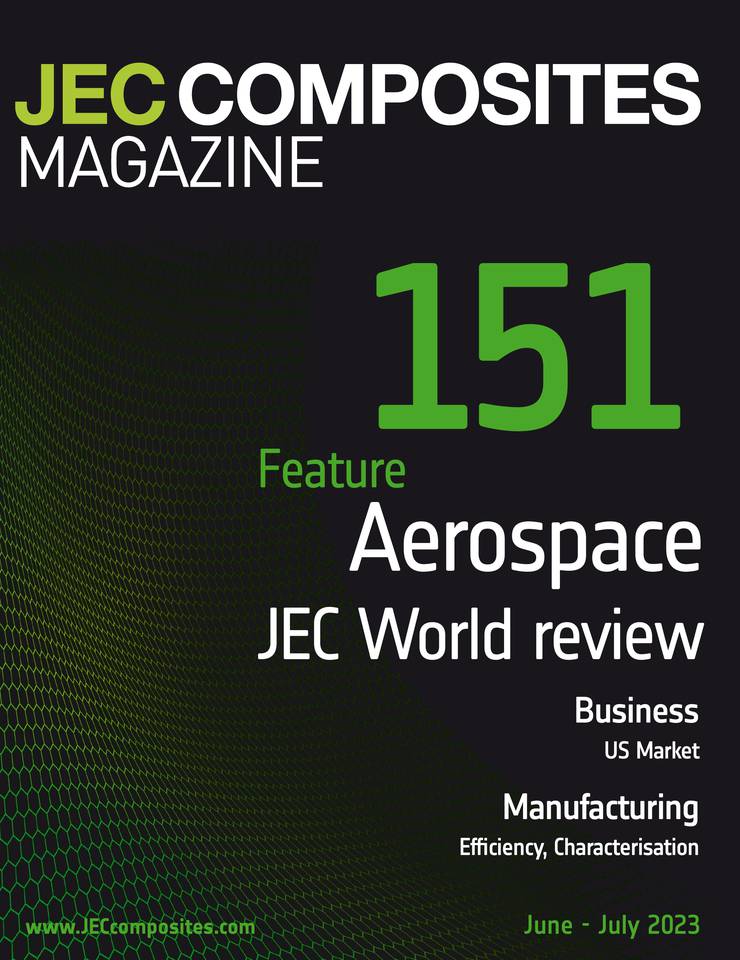 JEC Composites Magazine
N°151 - june 2023
Preview
JEC Composites Magazine is the point of contact of the international Composites Community, 6 times a year, with topics covering scientific information, business, technology, manufacturing, and application sectors trends.
In each and every issue, readers will learn about the entire composites industry value chain (from raw materials to application markets), and be inspired with current and future innovations.
The six sections of the magazine consist in:
NEWS: with interviews, articles about business development (M&As, appointments, partnerships and collaborations, awards etc.).
BUSINESS: with articles covering trends and markets, focusing on a specific country or region, with the composites market, or the application markets, or the companies strategies etc. in that country or region, and a startup focus.
MANUFACTURING: with articles about production processes and processing equipment.
FEATURE: an in-depth overview of a specific topic (typically an application sector), plus a JEC World Preview in April/May and Review in June/July.
SOLUTIONS: composites around us, with articles showing how composite materials are being used in applications which impact our everyday lives.
TECHNOLOGY: with articles about developments in materials, testing and control, repair, joining, design and simulation, recycling and reuse, R&D.
Enjoy your reading!
Contents
Composites sustain the business and innovation ramp up in aerospace
"The aerospace sector, covering air transport and applications in the space field, has highly benefited from the progress of composite materials and their miscellaneous assets: lightweighted...
Read More
N°151 - june 2023
EDITO
Composites sustain the business and innovation ramp up in aerospace
"The aerospace sector, covering air transport and applications in the space field, has highly benefited from the progress of composite materials and their miscellaneous assets: lightweighted...
MOVING COMPOSITES FORWARD
"The FluxJet is built like an aircraft without wings, and it operates like a train"
Based on groundbreaking innovations in propulsion and fossil-fuel-free clean energy systems, the FluxJet is a fully electric vehicle developed by TransPod, that is a hybrid between an aircraft and a...
NEWS
NEWS in brief
Partnerships Fairmat signed a new deal with Hexcel, Germany to fight carbon incineration in Europe This new agreement allows Fairmat to extend its presence in Europe and support Hexcel in responsible...
Foreign investors are still backing China's composite-related sectors
Indicators of foreign investors' confidence in the Chinese industry are unclear. Some European and Japanese heavyweights, however, showed an unequivocal interest in the Chinese composite-related...
Making progress with the End-of-Life boats challenge
Increasing numbers of composite boats made decades ago are reaching the end of their useful life and their disposal is creating a growing challenge across Europe. The European marine sector,...
BUSINESS
"Powerful market forces are leading industry to adopt environmentally friendly materials"
INCA Renewtech transforms waste hemp biomass into advanced composites for the automotive, RV, marine, wind and plastics industries. With "The Future of Natural Fibre Composites" as a moto, the company...
The American composites market keeps on growing
The North American composites market is forecast to grow around 3% to 4% annually, according to the JEC Observer Overview of the Global Composites Market, 2022-2027, with construction and light...
Just how much does it really cost to produce carbon fibre?
The carbon fibre industry has proven to be remarkably resilient and continues to thrive. This article will evaluate the impact of the global events which took place over the last three years on the...
MANUFACTURING
Composite manufacturing like Lego® blocks with precision preforming
Wind turbines are getting bigger and bigger, and the industry is challenged for more cost reductions and higher production efficiency. At the same time manufacturers are facing high quality criteria...
New Multi Roll Stack prepreg and towpreg machine offers higher-rate composite production
At JEC World, Cygnet Texkimp unveiled its novel Multi Roll Stack: a short-footprint, energy-efficient prepreg processing solution designed to deliver more sustainable, lower-cost thermoset prepregs...
Optimise the selection of composite materials using AI
Engineers and technicians in the industrial sector need to integrate new digital design methods to meet the requirements of an increasingly competitive market. Artificial Intelligence is an undeniable...
FEATURE AEROSPACE
lntroduction of composite research and development at JAXA
Through JAXA, the Japan Aerospace Exploration Agency, Japan has created its own institution dedicated to research and development of technologies and processes applied to space and aeronautics, like...
Composites play starring role in humankind's largest space telescope
Capturing otherworldly images and heretofore unknown knowledge of the universe, the James Webb space telescope incorporates many composite material innovations. Time machine to the cosmos. Built by...
Thermoplastics in aerospace applications: how Daher stays one step ahead with CARAC TP
CARAC TP project was established to furnish in-depth knowledge on continuous fibre thermoplastic materials, and consolidates the company's lead in the use of these materials for aerospace...
Flying sustainably is the declared goal for the future
In December 2019, the European Commission presented the "European Green Deal" with the final goal to become climate neutral in 2050. It has set the blueprint for a fundamental transformational change....
Making the alliance stronger between composites and mobility
Electric vertical take-off and landing (eVTOL) aircraft stood out to be among the most talked-about innovations throughout the top-tier international composite and aviation-related trade shows in...
JEC World 2023 reunited the entire composites community in a dynamic and forward-thinking spirit
JEC World 2023 closed its doors after three vibrant days of intense business activities, expertise and knowledge sharing, highlighting the innovation power of the composites industry as well as its...
JEC World 2023 thrilled with an overall positive echo from the DACH region
At this year's JEC World in Paris there was a noticeable cheerful atmosphere among the exhibitors community from the DACH region. Around 245 companies from Germany, Austria and Switzerland showcased...
American composites industry takes aim at triple threat
Throughout JEC World 2023's USA Pavilion and across both exhibition halls, 100-plus American businesses and organisations highlighted solutions for speed, scale, sustainability and competitive cost....
Asia-Pacific countries at JEC World 2023: a jubilliant participation
The exhibitors and visitor footfalls from India and Japan categorically witnessed a dramatic surge. This is owing to the trust gained by JEC through its activities and outcomes, amongst the composites...
Production capacity increase prompts Chinese exhibitors to seek new overseas markets
Chinese exhibitors at JEC World 2023 were not as numerous as during the 2019 pre-pandemic session. Late reopening of China in January 2023 and high plane ticket prices were cited as the main reasons...
Italy at JEC World 2023
"I can confirm that this edition was amazing, in our opinion the best edition in the last 5 years!" How better sum up the performance of last JEC World 2023 than this statement by Michele Antonini of...
A review of natural fibres
Natural fibres, with flax and hemp taking centre stage, enjoyed considerable attention and time in the spotlight at this year's show. JEC World 2023 proved to be an excellent showcase for these...
SOLUTIONS
Reaching sustainability targets in the sports industry
EMILIE MALEK, Marketing Manager ELÉONORE WILD, Sustainability Manager PAUL VELUT, Product Application & Operations Lead ROBIN TRIGUEIRA, CTO Current developments to improve the compatibility of...
Sustainable bodywork developped for Super Formula
Dallara has set out to revolutionise the world of motorsport by integrating Bcomp sustainable natural composites into the bodywork of the Super Formula SF23 race car. It is the first time a major...
Composites flip the switch to green energy
The energy production sector is one of the most visible sources of pollution at the global scale, as fossil fuels have long since been its bed-rock, and carbon and oil in particular. Today, it is...
TECHNOLOGY
Preforming automation to improve simulation and analyse induced forming defects
Composite parts offer significant lightweighting potential in many industries, from aerospace applications to the automotive sector. Lightweighting involves using advanced engineering methods and...
ISO/ASME compliant composite pipe repair system Belzona SuperWrap II
The repair of deteriorated pipework used to involve welding plates and sleeves, the use of bespoke clamps, or the partial replacement of the faulty section. In the recent years, the use of polymeric...
The National Composites Centre (NCC): an independent, open-access technology centre
The NCC is the UK's worldleading composite research and development facility; working with innovators when they need to make things lighter, stronger, smarter and more sustainable. With access to...
MARKET PLACE
9T Labs .................................................................................... p.60 Aachen Institute of Textile Technology (RWTH) ....................... p.11 Advanced Composite...
Thank you
You just used 1 credit. You have left.