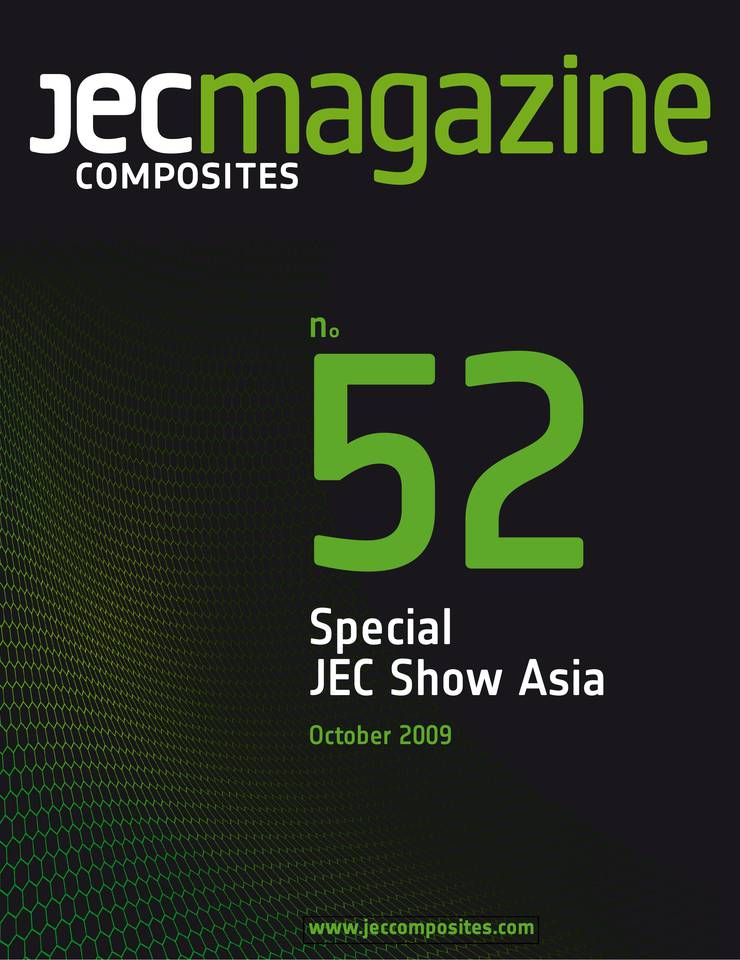 JEC Composites Magazine
N°52 - october 2009
Preview
JEC Composites Magazine is the point of contact of the international Composites Community, 6 times a year, with topics covering scientific information, business, technology, manufacturing, and application sectors trends.
In each and every issue, readers will learn about the entire composites industry value chain (from raw materials to application markets), and be inspired with current and future innovations.
The six sections of the magazine consist in:
NEWS: with interviews, articles about business development (M&As, appointments, partnerships and collaborations, awards etc.).
BUSINESS: with articles covering trends and markets, focusing on a specific country or region, with the composites market, or the application markets, or the companies strategies etc. in that country or region, and a startup focus.
MANUFACTURING: with articles about production processes and processing equipment.
FEATURE: an in-depth overview of a specific topic (typically an application sector), plus a JEC World Preview in April/May and Review in June/July.
SOLUTIONS: composites around us, with articles showing how composite materials are being used in applications which impact our everyday lives.
TECHNOLOGY: with articles about developments in materials, testing and control, repair, joining, design and simulation, recycling and reuse, R&D.
Enjoy your reading!
Contents
Technology is the key for the Asian Composite Industry
The composite market in Asia is mainly driven by economic growth. Since 2002, Asia has experienced high growth rates, at around 8% p.a. In 2000, Asia accounted for 25% of the global composite...
Read More
N°52 - october 2009
EDITORIAL
Technology is the key for the Asian Composite Industry
The composite market in Asia is mainly driven by economic growth. Since 2002, Asia has experienced high growth rates, at around 8% p.a. In 2000, Asia accounted for 25% of the global composite...
COMPANIES
EADS forms Japan subsidiary to strengthen its presence in the country
EADS, the European aerospace and defence company, has established a new subsidiary in Japan to help coordinate and support the Group's marketing campaigns and industrial partnerships there, as...
New high-strength E-glass developed by Jushi and Gibson Fiberglass
Joe Peng, president of Gibson Fiberglass, announced on 18 August 2009 that Jushi Group and Gibson Fiberglass jointly developed a high-strength E-glass reinforcement aimed at composite applications...
Olmar delivers 6-metre diameter autoclave to Airbus Military
At the end of July, Olmar delivered to the Airbus Military workshops in El Puerto de Santa Maria (Cadiz) the biggest autoclave ever-used in Spain for composite part manufacturing. The production of...
Chairman and president of Jushi Group named best CEO by Forbes China
Forbes China has named Zhang Yuqiang, chairman and president of Jushi Group, the best CEO of public companies in China, as announced on 10 August 2009. In 2008, Jushi's revenue was over 5.8B USD,...
EQUIPMENT
In-field non-destructive bonding verification for aircraft composites
Reliable bonds are essential to the integrity of aircraft composite structures throughout their service life. Therefore, non-destructive inspection (NDI) methods have been developed to assess bonding...
BUSINESS
Structure and dynamics of the composite industry in BRIC countries
How the BRIC countries – Brazil, Russia, India and China – react to the economy's timid recovery will be fundamental considering that they drive the composite market growth. BRIC countries account for...
Ocean energy: generating new business
Based on the latest research and the trend observed over the past 20 years, global energy demand will almost double in the next 20 years. Demand may outstrip supply by as much as 18% by 2020. Ocean...
Carbon fibre drum shells
At the beginning of the year, the Rocket Shells company announced a radical marketing shift. The company will now focus on supplying its patented line of carbon fibre drum shells to custom drum...
FEATURES
Participating companies as of 09.07.2009
A • A Plus Enterprise • A&P Technology • A*Star - Agency for Science Technology and Research • Abu Dhabi Pipe Factory • Adex Composites Pvt Ltd • ADM-Isobloc • Advanced Composites Group • Aero...
2009 JEC Asia Conferences and Forums: Composites for better living
As part of the 2009 JEC Asia event in Singapore (October 14-15-16), JEC gathers over 40 international speakers to propose four new user forums, an economic conference and a technical conference....
Winner "Environment & Recycling"
>> A brand new environment-friendly surfboard, using renewable cellulose reinforcements Cobra International Co., Ltd (Thaïland) Partner: Porcher Industries (France) Cobra International launches a...
JEC Asia Innovation Awards Programme 2009
JEC is announcing the new winners of the JEC Asia Innovation Awards Programme 2009. This year, 9 companies and their 15 partners will receive awards at the show. The programme was created in 1998 with...
Winner "Building & Construction"
>> FRPM Pipes for sewage system Kurimoto Ltd (Japan) Partner: National Institute for Rural Engineering (Japan) The FRP layer consists of high-strength glass fibres wound in the circumferential and...
Winner "Transportation / Railways"
>> A railway composite insulator En Liang (Taiwan) Partner: Brecknell Willis & Co. Ltd (Taiwan) En-Liang has been working on railway insulators with Brecknell Willis & Co. Ltd. Taiwan (short name BW...
Winner "Transportation / Marine"
>> An all carbon hull for Damen Shipyards DI 1102 Interceptor boats DK Composites (Malaysia) Partner: Damen Shipyards Gorinchem (The Netherlands) The Damen Interceptors 1102 are a new generation of...
Winner "Process"
>> Design and process development of non axi-symmetric four-axis integral filament winding of double-'D'-shaped, all-composite road tankers Modern Engineering Plastics Pvt, Ltd MEPPL (India) Partners:...
Winner "Raw Materials"
>> A ground-breaking material endowing composites with high fire-resistant properties Regina Glass Fibre Pty Ltd (Australia) Partners: CRC-ACS (Australia) and Ampelite (Australia) FireShield® is a...
Winner "Automation"
>> A laser-assisted thermoplastic tape placement process Fraunhofer IPT (Germany) Partners: Suprem SA (Switzerland) and Diehl Aircabin GmbH (Germany) The new technique of laser-assisted thermoplastic...
Winner "Aerospace"
>> Composite applications for radio telescopes (CART) project National Research Council of Canada – Herzberg Institute of Astrophysics' (HIA) Dominion Radio Astrophysical Observatory (DRAO) – (Canada)...
Winner "Sports & Leisure"
>> One-piece "jointless" composite ice hockey Composites Busch SA (Switzerland) Partners: Huntsman (China) and EPFL (Switzerland) Ice-hockey players are always looking for the right combination of...
JEC Asia Innovation Report 2009
Resins, reinforcements, additives, process & equipment etc will always continue to surprrise us with their versatility. The selection of innovation highlights a very dynamic segment, constantly...
Lightweight Design leads to fewer emissions
Energy efficiency and reduced C02 emissions have quickly become hot topics within the commercial vehicle industry. The transport and logistics sector primarily expects manufacturers to reduce the tare...
The JEC/SAMPE Environment Award winner presents his study
The PhD student Antoine Le Duigou, from the French University of South Brittany, will present his study at the JEC Asia Show in Singapore. Antoine won not only the recognition of the composite...
Three-dimensional tailored fibre placement
The Tailored Fibre Placement (TFP) method is used to produce near-net-shaped preforms. With the classic TFP method, preforms are stitched in 2D and then draped to create a near-net-shaped form. The...
Torsional performance and damage tolerance of braiding configurations
High-performance materials like carbon-fibre-reinforced plastics (CFRP) are used in high-tech applications for their high specific strength and stiffness. Besides material costs, production techniques...
Automated mass production of fibre-reinforced components
Process automation is the key to reducing the production costs of fibre-reinforced components. Comprehensive research into the handling processes involved and the further development of the relevant...
USERS' PLATFORM
Vertu launches Ascent Ti carbon fibre collection
Continuing to lead the way with the application of innovative materials used on the world's most exclusive mobile phones, Vertu delivers the Ascent Ti carbon fibre mobile phones. Proclaimed as one of...
Vandal-proof keyboards
InduDur™ is a new line of carbon keyboards now offered by InduKey. These front-mount type keyboards developed in-house by InduKey come with a carbon front panel and stainless steel keys which are used...
Mineral composite tiles
Gerflor has created an innovative new tile. Caralium® is a 100% recyclable tile composed of limestone and resin which provides a true alternative to ceramic tiles. This modern material is the result...
Moving people sustainably
Riversimple differs from all other car companies by its approach. Its ultimate aim is to eliminate the environmental impact of personal transport. To this end, it has studied all the different aspects...
Ocean wave energy converter
Fred Olsen Ltd. is currently developing a new application for marine renewable energy: a wave energy converter designed to produce electricity from energy contained in ocean waves. 3B is a member of...
Multihulls, monohulls, and radio telescopes
Multiplast is a confirmed specialist in extra-large composite parts. JEC Composites Magazine: What is the story behind the Ciao Gianni? GILLES OLLIER: Ciao Gianni is the result of a meeting with Jacky...
Modelling space with composites
The architect is a creative professional whose business it is to design and see to the construction of buildings. He reconciles art and science to craft artefacts in space. The plasticity and specific...
KNOW-HOW
Concurrent processing of lay-up tasks
In the manufacture of aircraft components made of carbon fibre material laser projectors assist in positioning prepregs and other preassembled components in a fast and accurate process. The new...
Principles of prepreg winding/spooling
The use of prepreg material is increasing in many industries and the requirement is to be able to slit and wind them into either a reel (planetary wound format) or a spool for use in the final...
Development of Class-A-surface polyurethane LFI composites
Recent advancements in the polyurethane Long Fibre Composite Injection (LFI) process have resulted in a dramatic increase in its commercial interest for producing a wide range of products, including...
Thank you
You just used 1 credit. You have left.