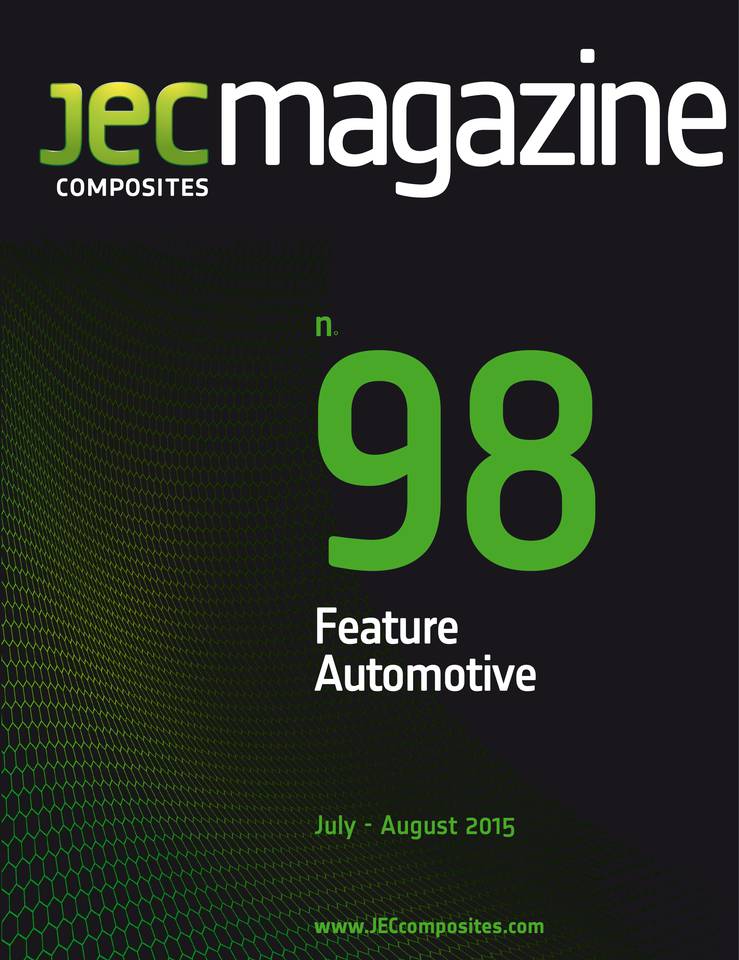 JEC Composites Magazine
N°98 - july 2015
Preview
JEC Composites Magazine is the point of contact of the international Composites Community, 6 times a year, with topics covering scientific information, business, technology, manufacturing, and application sectors trends.
In each and every issue, readers will learn about the entire composites industry value chain (from raw materials to application markets), and be inspired with current and future innovations.
The six sections of the magazine consist in:
NEWS: with interviews, articles about business development (M&As, appointments, partnerships and collaborations, awards etc.).
BUSINESS: with articles covering trends and markets, focusing on a specific country or region, with the composites market, or the application markets, or the companies strategies etc. in that country or region, and a startup focus.
MANUFACTURING: with articles about production processes and processing equipment.
FEATURE: an in-depth overview of a specific topic (typically an application sector), plus a JEC World Preview in April/May and Review in June/July.
SOLUTIONS: composites around us, with articles showing how composite materials are being used in applications which impact our everyday lives.
TECHNOLOGY: with articles about developments in materials, testing and control, repair, joining, design and simulation, recycling and reuse, R&D.
Enjoy your reading!
Contents
Composites: solution or challenge for the automotive industry?
"For all vehicles lumped together (cars, light commercial vehicles, heavy trucks, heavy buses), global production reached a record in 2014 at 89,747,430 vehicles produced, a 2.6 % increase over the...
Read More
N°98 - july 2015
EDITO
Composites: solution or challenge for the automotive industry?
"For all vehicles lumped together (cars, light commercial vehicles, heavy trucks, heavy buses), global production reached a record in 2014 at 89,747,430 vehicles produced, a 2.6 % increase over the...
POINT OF VIEW: BUSINESS DEVELOPMENT
Surface Generation: Spreading break-through moulding technology
As the privately owned technology company opens two new facilities in Asia and Europe, Ben Halford, Chief Executive, explains how the British start-up managed to overcome the global financial crisis...
COMPANIES & BUSINESS
Expansion of Zoltek facility in Mexico
Zoltek Companies will double production capacity at the Zoltek de Mexico facility (located in Guadalajara, Jalisco, Mexico) to 5,000 tons per year, beginning in April 2016. Currently, Zoltek is...
Mitsui signs an agreement to develop mass production of carbon fiber composites
The company entered into a cooperation agreement and an equipment lease agreement with the Innovative Composite Materials Research and Development Center (ICC) of the Kanazawa Institute of Technology...
Quadrant opens a plant for composite materials in Slovakia
The Mitsubishi Plastics sub-subsidiary, has built a plant for its high-performance lightweight glass fiber reinforced thermo-plastic composite materials. Thermoplastic composite materials are seeing...
Brittany: composites boosted by the sea breezes
France's western region, Brittany, has earned a reputation for its know-how in composites, especially in the field of offshore racing. It now has the experience and structure to gain position in a...
VN Composites: from prototype to finished part
VN Composites, a company located in southern France, specializes in the design, engineering and manufacturing of technical parts made of composite materials. As the company celebrates its 20th...
APPLICATIONS
Graphene-enhanced composites allow for world's fastest bicycle wheels
Recently awarded Vittoria Industries Ltd. has developed a range of graphene-based products, using this material's exceptional properties for its renowned racing wheels, now dubbed "the fastest in the...
High-tech composite fire fighter helmet
Four companies partnered to create a full-shell fire fighter helmet combining high-protection and comfort with an extremely low weight. Using a brand-new hybrid technology to comply with the strict-...
Ultralight composite scooter for sustainable urban mobility
The aptly named e-floater is an ultralightweight electric scooter powered by solar electricity that consists of more than 80% composite materials. Commuting to and from work for ever-increasing...
MARKET
Resin manufacturers are preparing for the volumes to come
The composites sector worldwide is growing, and this clearly draws along in its wake the resins sector. The consolidations in our sector continue apace, and thermoplastic compounders have an appetite...
FEATURE AUTOMOTIVE
High-tech composites for lightweight construction
The demand for high-tech composite solutions for lightweight automotive construction is growing. Lanxess has been focusing on this area for a long time and has become a key partner for this sector,...
High-tech composites for lightweight construction
A new low-emission binder helps produce cost-efficient lightweight composites with integrated functions and a higher share of natural fibres. A model part using Acrodur® Power 2750 X was presented for...
Managing heat for state-of-the-art composites
This article shows that there is a way to make thermoplastic and thermoset parts thermally conductive while maintaining electrical isolation by using boron nitride (BN) as an additive in the resin....
Increasing use of carbon fibre in automotive
SGL Group's carbon fibre materials are used in the new BMW 7-series. This is the first large-scale application of highly innovative carbon fibre materials and recycled products in the premium car...
Mass reduction for mass production
Providing affordable light-weighting solutions to the high-volume automotive industry with a broad portfolio of innovative solutions including composite materials, structural adhesives and foams is a...
Bulk production of composites with hybrid polymers
Evonik Industry developed a new technology designed to significantly reduce manufacturing costs for composites. This technology is based on hybrid polymer systems that are scheduled to be launched on...
Quilted Stratum Process: mass production of composite parts
The Quilted Stratum Process (QSP®) is a revolutionary approach for the design and production of high-performance thermoplastic composites and multi-material parts. The concept used achieves the goal...
Hyundai's breakthrough front bumper crash beam
The innovative front bumper crash beam structure developed by the Hyundai Motor Europe Technical Centre features the world's first Curved Reactive Thermoplastic Pultrusion (CRTP) process and...
Innovative front suspension for hybrid cars
Hutchinson is one of the few thermoplastics/composites players that not only does its own part design and manufacturing, but also formulates its own materials. The group works on further integration...
Natural gas tanks take the pressure with high-performance thermoplastics
A combination of two of DSM's most innovative thermoplastics technologies has resulted in high-performance pressure vessels that are ideally suited for use as lightweight fuel tanks for automobiles...
FRP parts for internal combustion engines
Automotive Nexus, a globally unique Automotive fibre/composite research facility, has launched its first flexible training package for Automotive fibre plant operators, maintenance technicians and...
RESEARCH & DEVELOPMENT
Failure investigation of polymeric composite components
Fractographic analysis, i.e. the examination and interpretation of fracture surfaces, provides an insight into the causes and location of failure. Previously considered as a "black art", specialists...
Nonwovens for composites – recycling carbon waste in the form of long fibres
Since 2005, the Saxon Textile Research Institute (STFI) has been working on recycling carbon fibre waste and on the production of semi-finished textile products using recycled carbon fibres. Carbon...
TECHNOLOGIES & INNOVATIONS
Production without release agents
The Infiana Group and Fraunhofer IFAM have agreed upon an exclusive cooperation for the production and marketing of FlexPLAS® release film. Even more innovative together, scientists of the Fraunhofer...
Measuring fibre orientation in composite parts
Apodius introduces a new, innovative AVS 3D vision system able to measure both part geometry and fibre orientation in composite production engineering. The Apodius Vision Systems (AVS) are the first...
High-performance nano-graphene solutions
Angstron Materials Inc., a heavyweight in the commercial scale production of graphene and graphene oxide materials, was featured in a segment for Discovery Channel's Trending Today on January 29,...
COMPOSITES IN THE WORLD
The wheel to live
Carbon Black lightweight wheelchair aims at the active, independent user to whom style matters as much as practicality. Not only did Carbon Black have to be a very minimal, lightweight wheelchair it...
Lightweight your dreams
Little Shining Man is a sculpture that has the potential for flight. A double wing module has been duplicated and arranged into a tight cellular structural arrangement that appears as a heavy, un-...
Thank you
You just used 1 credit. You have left.