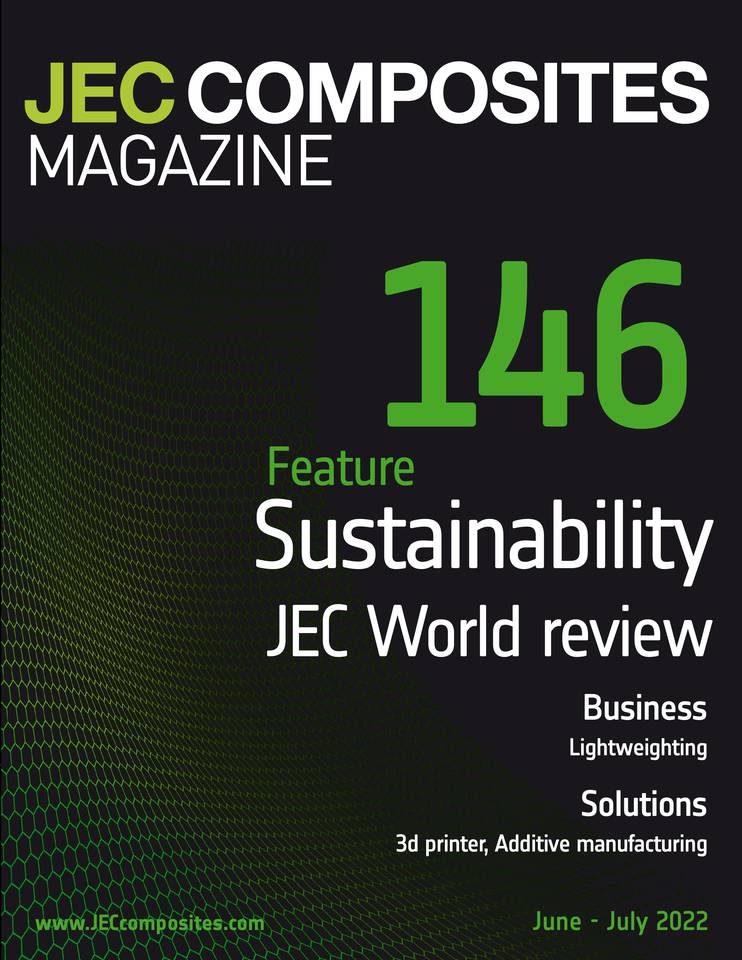 JEC Composites Magazine
N°146 - june 2022
Preview
JEC Composites Magazine is the point of contact of the international Composites Community, 6 times a year, with topics covering scientific information, business, technology, manufacturing, and application sectors trends.
In each and every issue, readers will learn about the entire composites industry value chain (from raw materials to application markets), and be inspired with current and future innovations.
The six sections of the magazine consist in:
NEWS: with interviews, articles about business development (M&As, appointments, partnerships and collaborations, awards etc.).
BUSINESS: with articles covering trends and markets, focusing on a specific country or region, with the composites market, or the application markets, or the companies strategies etc. in that country or region, and a startup focus.
MANUFACTURING: with articles about production processes and processing equipment.
FEATURE: an in-depth overview of a specific topic (typically an application sector), plus a JEC World Preview in April/May and Review in June/July.
SOLUTIONS: composites around us, with articles showing how composite materials are being used in applications which impact our everyday lives.
TECHNOLOGY: with articles about developments in materials, testing and control, repair, joining, design and simulation, recycling and reuse, R&D.
Enjoy your reading!
Contents
Vitality, innovations and new challenges
"Our call to participate in the most recent edition of JEC World held in Paris from 3-5 May 2022 was met with positive responses from many of you. And over the three days, we were thrilled to be able...
Read More
N°146 - june 2022
EDITORIAL
Vitality, innovations and new challenges
"Our call to participate in the most recent edition of JEC World held in Paris from 3-5 May 2022 was met with positive responses from many of you. And over the three days, we were thrilled to be able...
MOVING COMPOSITES FORWARD
« Diversification opens up new perspectives in industry »
CDK Technologies has enjoyed steady growth for the past 5 years thanks to the recognition of its main clients and its positioning as a global builder in the domain of large-scale high-performance...
NEWS
Cannon Ergos collaborates with Boeing to mould thermoplastic composite aircraft sidewall panels using recycled carbon fibre
Cannon Ergos is working with Boeing on moulding trials for the feasibility of using recycled carbon fibre (rCF) for the fabrication of aircraft cabin interior sidewall panels. The project's latest...
Isa Buitenhuis Winner of the SMC BMC Design Award 2022 - "Sustainable Living"
Isa Buitenhuis, student Industrial Design at Technical University Delft, has won the Gold Award of the SMC BMC Design Award 2022. During the award ceremony at JEC World 2022 she presented the...
Belgian-British aviator Zara Rutherford flies around the world in a Shark UL
At only 19, the youth from Brussels is the youngest female pilot to fly around the world solo. By completing her five-month journey across seven continents, Zara Rutherford has beaten American Shaesta...
From concept to launch: efficient commercial vehicles
Today, more than ever, we need to reduce our energy consumption – in conventional and electric vehicles alike. CarbonTT's ultra-light carbon chassis addresses today's most urgent urban logistics...
BUSlNESS
Lightweight technology opportunities: a B2B event for Indian and European stakeholders
On March 24, the European Lightweight Cluster Alliance (ELCA), the ELCA internationalization project (COSME funding programme) and the European Business and Technology Centre (EBTC) hosted an online...
"The Lightweighting Initiative has long ceased to be a mere networking concept"
JEC Composites interviewed Werner Loscheider, Head of Division, Construction Industry, Lightweight Construction/New Materials, Resource Efficiency (IVB4), at the German Federal Ministry for Economic...
MANUFACTURlNG
Thermoplastic tape winding: reducing time to market
INOMETA and Teijin analysed the basic manufacturing parameters of high-performance thermoplastic tapes in the laser-assisted winding process to allow fast and transparent component development for...
Filament winding process based on jet engine nozzle geometry for stealth aircraft
In modern warfare, the stealth technology of fighters, bombers, and unmanned combat aerial vehicles (UCAVs) is an important factor that can determine the outcome of a war by securing air superiority....
FEATURE SUSTAINABILITY
Sustainable, multifunctional hemp-based structural composites
SSUCHY is a European research and innovation project (H2020 – BBI JU) that develops fully bio-based composites with improved functionalities for the automotive, aeronautics, and audio/electronics...
A new generation of sustainable bidirectional fabrics
Blackfabric developed a bidirectional fabric made of 100%-recycled carbon fibres from pyrolysis recycling processes combined with thermoplastic fibres in a commingled yarn, resulting in a...
New glass for meeting new challenges
Larger blades require advancing material science, smart engineering, and partners to deliver cost-effective, sustainable solutions rather than taking shortcuts that could mean higher costs, emissions,...
Targeting carbon neutrality
New engineering thermoplastic compounds with pre-consumer recycled glass fiber content accelerate the transition to circularity. SABIC has extended its offering of custom engineered thermoplastic...
Competitive and sustainable thermoplastic composites for automotive applications
Tecnalia developed different competitive technologies based on recyclable thermoplastics such as T-RTM (with very low-cost raw materials) or tape laying and forming based on unidirectional...
PUGreen: a new bio-resin concept for composites processing
Purcom Química (Brazil), G12 Innovation (Brazil) and Composite Integrity - the composites branch of the Institut de Soudure Group (France) have developped a vegetable polyurethane (PU) resin...
Why healable composites are key to sustainability
CompPair has developed a new composite material able to repair itself that has an improved propensity for recycling. Inspired by nature, the company offers healable and sustain-able composite material...
New bio-based composite successfully used
The GMC® (Green Moulding Compound) composite material offers both eco-sustainability and good mechanical properties. Extensive testing made it possible to develop a solution for the Hedera domestic...
Electrical functionalised composites by use of recycled carbon fibres
The amount of carbon fibre waste in 2032 will roughly correspond to today's annual production of virgin carbon fibres. rCFRPs based on recycled carbon fibres are suitable for use as semi-structural...
REVIEW
JEC World 2022 surpasses all expectations
The global composites community reunited at JEC World 2022 on May 3 to 5 for three busy, rewarding days of innovation, networking and knowledge sharing. The industry was excited to reconnect in Paris...
Review of North American Innovations
Sustainability was a major focus for JEC World 2022's North American exhibitors, especially as the aerospace industry grapples with how to reduce its environmental impact. Aerospace components...
JEC World 2022 witnessing a strong impact and an overall positive mood from the DACH region
What were the highlights in lightweight construction and other fields? How did international exhibitors envision JEC World 2022 after the quite long, enforced COVIDpandemic break? A powerful...
Business networking and growth for APAC
Despite the noticeable absence of many Chinese composite professionals due to the COVID-induced travel ban in China, it is clear that the Asia-Pacific (APAC) region is a very important player in the...
JEC World 2022 Few European highlights
Materials of natural origin, recycling and reuse of composites, environ-mental sustainability, hydrogen tanks, 3D printing, the use of composites in construction: these were some of the most-discussed...
JEC World 2022 – A natural fibre review
With sustainable product and manufacturing solutions currently generating massive exposure throughout all areas of modern life, it was no surprise that natural fibre composites generated so much...
FLAXCO® TECHNICAL WOVEN FABRICS FOR COMPOSITES
Flaxco®, a new division of Flipts & Dobbels NV, who have been weaving traditional flax textiles for more than 100 years, creates hi-tech composite innovations based on centuries-old craftsmanship. The...
TERRE DE LIN FLAX FIBRES FOR COMPOSITES
At JEC World 2022, Terre de Lin's dedicated composite division – TdL Technique – launched zero-twist flax fibre rovings backed up by an extensive technical support package based on more than 15 years...
DEPESTELE FLAT-SECTION ZERO-TWIST ROVINGS
Depestele, the world's largest privately-owned flax scutching company, outlined its capacity expansion plans and roving-focused strategy for the composites sector at JEC World 2022. Having developed...
SAFILIN – FLAX CONVERSION SINCE 1778
At JEC World 2022, Safilin showcased its portfolio of low-twist flax fibre rovings for composite applications. Focusing mainly on the supply of yarns and roving for weavers and converters to process...
ECOTECHNILIN FLAXTAPE™ DRY UNIDIRECTIONAL TAPES
The Flax Tape™ range of unidirectional tapes maximises the performance of natural flax fibres and is supplied ready to use for a range of conventional manufacturing processes such as infusion,...
EUROCARBON BRAIDED NATURAL FIBRE REINFORCEMENT SOLUTIONS
Eurocarbon specialize in braids, woven tapes, gusset fillers, overbraiding and thermoplastic solutions for composites. Historically known for their expertise with carbon, aramid and glass fibres, the...
DEPESTELE AND FIBROLINE ESTABLISH PARTNERSHIP TO DEVELOP DRY IMPREGNATED FLAX FIBRE TAPES
Just prior to JEC World 2022, Depestele Group, a leading manufacturer of natural fibres for composite reinforcement, and Fibroline, a global leader in dry powder impregnation solutions, entered into a...
FLAXCOMP® BIOSOURCED AND 100%-BIODEGRADABLE COMPOSITES
Flaxcomp® is an exclusive know-how developed by DEMGY with partners Terre de Lin to process flax fibres and a naturally-derived PLA resin based on corn starch into a 100%-biodegradable composite...
KAIRLIN® – A NEW RECYCLABLE AND COMPOSTABLE MATERIAL
Winner of a 2022 JEC Innovation Award (Design, Furniture and Home category), Kairlin® is a low environmental impact biomaterial developed by Kairos and partners EcoTechnilin, University of South...
HEXCEL HEXPLY® NATURE RANGE SUSTAINABLE PREPREGS WITH FLAX FIBRE REINFORCEMENTS
JEC World 2022 saw Hexcel launch its new HexPly Nature Range of prepregs featuring proven HexPly resin systems M49, M78 and M79 with bio-derived epoxy resin content. Displayed as part of a dedicated...
CHOMARAT EXPANDS FLAX TAPE AND MULTILAYER REINFORCEMENT RANGE
Chomarat used their JEC World 2022 booth as a platform to highlight a range of composite reinforcements that promote a better consideration for the environment. The company announced that the...
FLOWER PROJECT DEVELOPS COST-EFFECTIVE FLAX REINFORCEMENTS FOR COMPOSITES
Led by the University of South Brittany, the FLOWER (Flax composites, Low Weight, End-of-Life and Recycling) project brings together three additional academic partners (INRA in Nantes, University of...
COMPOSITADOUR: AFP ROBOTIC LAY-UP OF FLAX EPOXY PREPREG
Low-density, cost-effective unidirectional flax materials from EcoTechnilin were selected for a novel process developed by Compositadour that used automated fibre placement (AFP) to lay-up a thermal...
A SUSTAINABLE, RECYCLABLE SERIES-PRODUCED SAILING DINGHY BY NORTHERN LIGHT COMPOSITES AND BCOMP
The new ecoOptimist dinghy aims to bring fully-recyclable natural fibre composite technology to a series-produced sailing dinghy for sailing schools and young sailors. Based on the classic Optimist...
NOBRAK TAILORED FIBRE PLACEMENT WITH NATURAL FIBRES
French tailored fibre placement (TFP) technology and equipment specialist NOBRAK highlighted a range of TFP solutions and components at JEC World 2022. Presenting its expertise in TFP preform...
DEMGY FLAX-REINFORCED THERMOPLASTIC COMPONENTS
Since 2008, when Normandy-based plastic processing and component leader DEMGY first started to integrate locally-grown flax in its solutions, the group has been committed to creating its Flaxcomp®...
BCOMP AMPLITEX™ FLAX FABRICS IN MOTORSPORT CRASH STRUCTURE
Advanced technology experts YCOM successfully developed a motorsport Front Impact Absorbing Structure (FIAS) using Bcomp's high-performance ampliTex™ flax fabrics. A world-first in sustainable...
SOLUTlONS
Bring your ideas to life
Sintratec is the leading Swiss developer of industrial 3D printers and professional software solutions for additive manufacturing. The company's systems are in operation worldwide in various...
European flax and hemp fibres power a more sustainable automotive future
As automotive manufacturers constantly work to evolve their vehicle technology, as well as their manufacturing processes, to have less impact on our environ-ment, a myriad of opportunities exist in...
TECHNOLOGY
PA and PETG for continuous fibre co-extrusion technology
This article details the main printing parameters and specific aspects regarding the layout of reinforced composite material based on pre-impregnated continuous 1.5k carbon fibre, PA 12 (nylon 12),...
How and where we found reclaimed Carbon Fibre for Additive Manufacturing technologies
As part of Repair3D European project, a selection of most suitable carbon fibre composites wastes for additive manufacturing technologies is presented. The Repair3D (GA n°814588) project aims to...
Thank you
You just used 1 credit. You have left.