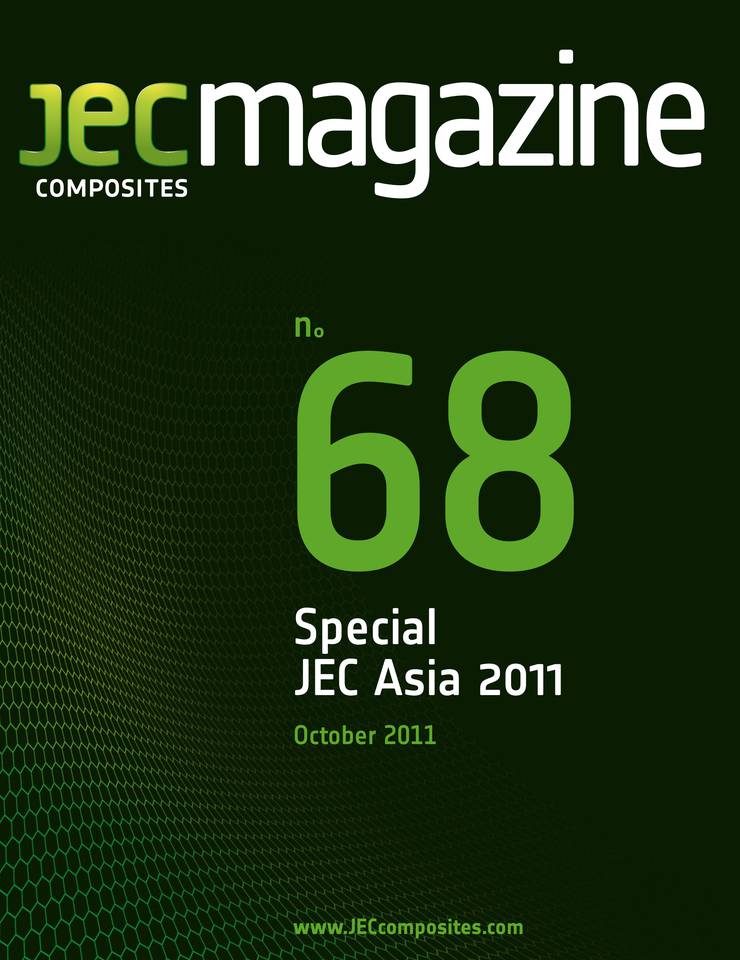 JEC Composites Magazine
N°68 - october 2011
Preview
JEC Composites Magazine is the point of contact of the international Composites Community, 6 times a year, with topics covering scientific information, business, technology, manufacturing, and application sectors trends.
In each and every issue, readers will learn about the entire composites industry value chain (from raw materials to application markets), and be inspired with current and future innovations.
The six sections of the magazine consist in:
NEWS: with interviews, articles about business development (M&As, appointments, partnerships and collaborations, awards etc.).
BUSINESS: with articles covering trends and markets, focusing on a specific country or region, with the composites market, or the application markets, or the companies strategies etc. in that country or region, and a startup focus.
MANUFACTURING: with articles about production processes and processing equipment.
FEATURE: an in-depth overview of a specific topic (typically an application sector), plus a JEC World Preview in April/May and Review in June/July.
SOLUTIONS: composites around us, with articles showing how composite materials are being used in applications which impact our everyday lives.
TECHNOLOGY: with articles about developments in materials, testing and control, repair, joining, design and simulation, recycling and reuse, R&D.
Enjoy your reading!
Contents
The significance of innovation in driving composites growth in Asia
"Driven by strong economic growth and urbanization across the emerging markets in the Asia Pacific region, the demand for composites materials is expected to continue growing at a rapid rate. In 2010,...
Read More
N°68 - october 2011
ÉDITO
The significance of innovation in driving composites growth in Asia
"Driven by strong economic growth and urbanization across the emerging markets in the Asia Pacific region, the demand for composites materials is expected to continue growing at a rapid rate. In 2010,...
POINT OF VIEW: MANUFACTURING IN INDIA
A company a step ahead in its country
Tata Advanced Materials Limited (TAML), a Branch of the famous Indian Tata Group, is the only one company in India to be NADCAP certified. It is obviously involved in the manufacturing of Aerospace...
COMPANIES & BUSINESS
ATK opens new facility to handle $1 billion+ commercial aircraft orders
On 29 August 2011, Alliant Techsystems (ATK) celebrated the grand opening of its new Aircraft Commercial Centre of Excellence (ACCE) facility in Clearfield, Utah – less than one year after the...
Beagle Technology Group spends £1m on upgrade investment
Over the past year, Beagle has been investing heavily in upgrading its facilities as part of an expansion and restructuring strategy, which has enabled the company to win business in new markets, such...
Melbourne establishes its position in the carbon fibre sector
The Victorian Centre for Advanced Materials Manufacturing (VCAMM) has come up with an original and unique project that should enable Australia, and Melbourne in particular, to become a key player in...
Amiantit Technology, next-level GRP pipe technology
Amiantit Technology is part of the Amiantit Group, one of the largest pipe manufacturers in the world, and can justifiably claim to be a global leader in the ownership and licensing of pipe...
Beachcomber, the marine product specialist
Beachcomber is an excellent example of a small, dynamic business that has managed to make a name for itself in a specialized market through its production of high-quality engineered parts. Established...
APPLICATIONS
New architectural hotel facade designed in GRP
The exterior of the Vistas hotel in Benidorm, Spain, has recently been refurbished and given a modern new look, designed by the Spanish architect Vicente Peidró. The new facade was produced in white...
New Pilot Super Sport tyre reinforced with para-aramid fibre
Michelin has developed a new ultra-high-performance tyre for the super sport car segment using Teijin Aramid's Twaron as a high-tech reinforcement material. Especially in extreme conditions, the tyre...
Microtunneling jacking pipes for a combined sewage collector in France
Only shortly after receiving the renowned international No-Dig Award from the ISTT (International Society for Trenchless Technology) at the No-Dig fair in Berlin for the best project 2010, Hobas has...
MARKET
Canadian Advanced Composites R&D centre continues to grow
The Canadian Composites Manufacturing R&D Inc. (CCMRD) has continued to grow since its start up in April 2010. Two additional companies, PCM Molds and Patterns and Barrday Inc., have recently joined...
Continuous basalt fibre (CBF): a natural fibre for composite applications
Basalt is a natural resource of geological origin that accounts for 80% of the Earth's crust, so there is no problem of limited access to the raw material. The physico-chemical and mechanical...
Bilan carbon inventory: factor of competitiveness
The Bilan Carbone® (a trademark from ADEME) carbon inventory is a technique that is being increasingly employed. Many misconceptions continue nonetheless to prevail, and the "collateral" beneficial...
SPECIAL JEC ASIA 2011
Facing large scale production for composite parts
⏵Sustainable use of carbon fiber in the automotive industry Volkswagen Research, Dr. Armin Plath, Head of Materials and Processes ⏵Composites in railways Technology Information, Forecasting &...
Reducing the cost of wind energy
⏵Research challenges for wind turbine blade development Vestas Technology R&D, Paul Hibbard, R&D Engineer -Principal Engineer - Rotor Systems Singapore ⏵Gamesa's expansion in Asia Gamesa Innovation &...
Asia-Pacific composites market overview
⏵Overview of the worldwide composite industry, JEC Composites Magazine, Frédéric Reux, Editor-in-Chief ⏵Composite industry: the present situation and the development trends Speakers to be confirmed...
Combining design, materials and manufacturing expertise
⏵Expanding composites adoption through applications engineering, Cytec Engineered Materials, Carmelo Lo Faro, Vice President of Technology ⏵Challenges in manufacturing of integrally co-cured closed...
Industrializing composites for infrastructures
⏵New industrialized construction for transport infrastructures based on FRP composites, Mostostal Warszawa S.A, Paweł Poneta, R&D Manager - R&D Department ⏵Improvements on continuous filament winding...
Towards high quality, reliably supplied, competitively priced carbon fibre
⏵Strategies and technological challenges for realizing lightweight mass production automobile by using thermoplastic CFRP, The University of Tokyo, Jun Takahashi, Professor -Department of...
The essential step for serial production
⏵Key drivers for Automotive and Aerospace, KUKA Roboter GmbH, Marco Plewe, Key Technology Manager Plastics, Department R 34-GI KTM ⏵Composites Machining, Flow International, Mark Saberton, Chief...
Participating companies as of 3.10.2011
• 01db-Metravib • 3a Composites (China) Ltd A • A*Star • Acc Limited • Acciona Infraestructuras • Advance Pinnacle Technologies Pte Ltd • Advanced Composites Group • Aec Polymers • Aero Composites...
Life achievement JEC Asia Award 2011
Kim Jung Heun was born in 1931, and graduated from the Department of Political Science and Diplomacy of Sunkyunkwan University. In 1960, he completed 36 months of military service. Before the year of...
Release agent water-based which is harmless to the environment
Winner: Münch Chemie International Gmbh (Germany) Münch Chemie International GmbH has more than 50 years' experience in release agent technologies for various industrial applications (production of...
Using the infusion process to produce a hull only with green materials reducing overall weight
Winner: Lavender Composites (Australia) Partners: Sicomin (France), Amorim Cork Composites (Portugal) bon content and a CoreCork core, attractive for its natural and sustainable features. This process...
A fully moulded caravan with a lightweight and great aerodynamic properties
Winner: Bolwell (Australia) For the past decade Bolwell's engineers have been working with bonding techniques pioneered and used in the aerospace and industry. Vaughan Bolwell began to design and...
An innovative multidisciplinary manufacturing analysis tool
Winner: Magestic Systems Inc. (USA) Partners: EADS Innovation Works (UK) The development of TruPLAN began as a coordinated effort capitalizing on EADS Innovation Works' (IW) expertise in research and...
First robot in the composites industry copying out movements made by a operator
Winner: Matrasur Composites (France) As an equipment supplier for over 30 years, Matrasur Composites has acquired extensive knowhow in production processes for the composites industry. The first...
Low-cost Carbon fibre composite materials
Winner: Tianhe Resin Co. Ltd. (China) Tianhe resin Co. Ltd. is specialized in Unsaturated Polyester resin, Vinyl Ester Resin SMC and Glassfiber Film production equipments and technologies. Most...
Recycled carbon fibre sheet as heating elements
Winner: University of Nottingham (UK) Partners: University of Nottingham Malaysia campus (Malaysia), Technical Fibre products (UK) Carbon fibres have high tensile strength and rein-forcement...
A Core Stabilization Technology for manufacturing of sandwich components
Winner: HAL, Hindustan Aeronautics Limited (India) Hindustan Aeronautics Limited (HAL) came into existence on 1st October 1964 and has today 19 Production Units and 10 Research and Design Centers in 8...
A water supplying system by all composite products
Winner: Sekisui Chemical Co. Ltd. (Japan) Partners: Hebei KNT Group (China) Global water consumption is a major concern today, particularly in China, other Asian coun-tries and Africa, where people...
All-in-one dynamic testing machine for composites > Booth A14
01dB-Metravib will introduce its range of dynamic mechanical analyzer (DMA or DMTA) instruments at the JEC Asia show. DMA is probably the most informative technique to provide development engineers...
Strengths Are Flex (SAF), a revolutionary range > Booth A12
AEC Polymers' laboratories have developed a new range of structural adhesives with exceptional performance that can be used to assemble all types of industrial materials without primers. From the...
Innovative prepreg dedicated to tooling > Booth D7
The Beta Prepreg for composite tooling is a JEC 2011 Innovation Award finalist. Based on Henkel's benzoxazine resin and toughening technology, it can be stored at room temperature for up to 6 months...
Heat treatment specialists > Booth B9
A designer and manufacturer of industrial machines since 1953, the SAT company now offers four ranges of machines to meet every industrial need: industrial furnaces & ovens, industrial tunnels, heat...
Porcher Industries innovations > Booth B19
Porcher D3sign yarns are bound tows specifically targeted to new technologies such as automated fibre placement (AFP) or tow winding for the production of dry preforms. They provide unique advantages...
A wide portfolio dedicated to thermosets > Booth H16
AkzoNobel will exhibit two ranges of products: (1) Expancel Microspheres are expandable plastic microspheres which expand in heat to create a syntactic foam. Pre-expanded microspheres can also be used...
Light, Color and Shape > Booth E23
Konica Minolta, a leader in measuring light, color and shape will be showcasing a range of color and 3D scanning solutions for the composites industry. The CM-5 is a versatile color instrument for...
First Nadcap AC7122-accredited laboratory in Asia > Booth C24
Composites Testing Laboratory Asia (CTLA), the joint venture company of CTRM and CTL Ireland, has achieved Nadcap certification as per AC7122 (Non Metallic Materials Testing Laboratories). CTLA has...
A spray-up robot at every operator's reach > Booth A20
Matrasur Composites has developed ROBOMAT, the only robot for the wet composites industry that is at every operator's reach. The uniqueness of this robot lies in its programming technology. Unlike...
ISIS : NDT with innovative shearography system > Booth D11
With the ISIS shearography systems, in-service damage to components made of composite materials can be detected very quickly and unambiguously. They allow the timely detection of material defects,...
Solutions for FRP product equipment > Booth E19
WeiDe, a leading company of design,manufacturing and export of equipment for FRP pipe, FRP tank, Pressure vessel. Applications cover many industries of water, sewage, hydro-power, construction,...
Jushi will present all its glass fibre portofolio > Booth D1
Chopped Stands for Thermoplastic are based on silane coupling agent and special sizing formulation, compatible with PA,PBT/PET, PP, AS/ABS, PC, PPS, m-PPO,POM, LCP. Chopped Stands for thermoplastic...
FEATURE BI-ANGLE NCF
The amazing bi-angle thin-ply NCF
A totally new concept of a laminated composite that embodies exceptional strength, ease of handling and layup, and manufacturability may have started a shift not seen since the advent of carbon fibres...
C-PLY™, a new structural approach to multiaxials in composites
Among the first manufacturers to commit themselves to Professor Tsai's project, Chomarat accepted the challenge to convert a mass-production tool into a unique manufacturing process able to produce a...
Characterization of the equivalent unidirectional thin ply from NCF
In order to use classical laminate theory in the simulation of NCF we have characterized the unidirectional ply which is the base block of the NCF. A set of data for the T700/RTM6 system is proposed...
First prepreg of bi-angle NCF and their mechanical properties
Prepreg is one of the most popular processes in making composite components. Nearly all high-tech composites companies such as aerospace and sporting goods manufacturers use prepreg because of the...
Pultrusion and Resin Film Infusion (RFI) of bi-angle thin-ply NCF
Pultrusion and RFI processing technologies were developed and employed to produce laminates with mechanical properties superior to conventionally-constructed composites. Despite a few surmountable...
Representative test data on bi-angle thin-ply NCF
Non-crimp fabrics (NCF) show remarkable stiffness and strength results that meet or exceed predicted values. They make it possible to apply this new material confidently to components with the...
Processing bi-angle non-crimp fabrics
VX Aerospace processed dry bi-angle non-crimp fabrics (BNCF) for the manufacture of flat panels and for a representative aircraft part with compound curvature. The fabrics showed exceptional...
Thin-ply NCF: design for deformation through anisotropy
A patent-pending building block in the form of a bi-angle, thin-ply, non-crimp fabric (NCF) developed by Stanford University and Chomarat provides anisotropy and its associated benefits as opposed to...
Performance enhancement by using a bi-angle composite sandwich beam
Besides their superior stiffness and strength properties, bi-angle laminated composites offer benefits in terms of vibrational natural frequencies and critical buckling loads under bending and...
Homogenization made easy with bi-angle thin-ply NCF
Homogenization leads to many benefits for laminate design not possible using the traditional heterogeneous approach. Our bi-angle thin-ply non-crimp fabric (NCF) makes it easy to realize enormous...
First and last ply failure predictions by homogenized strength parameters
It is a common practice to predict not only the first, but also the last ply failures (FPF and LPF) in design cycle of laminated composites. As the name implies the predictions are traditionally...
Equivalent properties for finite element analysis in composite design
The use of equivalent properties in composite design analysis can greatly shorten the overall CPU time and memory required for simulation. This article discusses the options and advantages of using...
Predicting the OHT strength of NCF composites
The progressive damage analysis of open-hole tension (OHT) strength of laminated composite fibre shows significant benefits in using non-traditional bi-angle [0/25] laminates, compared to traditional...
Innovative design of wind turbine blades based on micromechanics of failure
More competitive design is required for wind turbine blades to be lighter, stiffer and more durable. To increase energy generation, the blades should be larger since wind power is squarely...
RESEARCH & DEVELOPMENT
Acoustic emission for monitoring natural fibre composites
Composites that include plant fibres have been used more and more in large-volume applications recently, with a view to obtaining a more environmentally friendly material than fibreglass. However,...
Development of full composite propulsion systems for UAV take-off
Unmanned Aerial Vehicles (UAV) often need propulsion systems to reach cruising altitude before the automatic pilot system is activated. Low weight is a fundamental prerequisite for successful...
TECHNOLOGY & INNOVATIONS
Managing EMI grounding & lightning strike protection
The emergence of composite materials as a viable alternative to metals in aircraft structures has enabled significant weight savings to be achieved leading to greater fuel efficiency, reduced overall...
Natural-fibre pultruded composites – a revolutionary new wood substitute
The increasing global demand for sustainable wood substitutes has led an Indian company to develop a unique composite material that looks, feels and behaves like wood, with added advantages. It is...
New coloured, non-halogenated flame-retardant LFT-PP products
Four development partners have launched a new family of coloured, non-halogenated LFT-PP products that are also flame retardant. Glass-reinforced polypropylene offers high but balanced mechanical...
COMPOSITES IN THE WORLD
UU ll ttrraa -- ll ii gghh tt and bear proof
In more and more natural parks in the United States and Canada, you have to be equipped with a container that bears can't open in order to obtain permission to go walking. The idea of such a "bear...
TThhee AAuuddii urban concept
Audi is once again opening up new horizons: the Audi urban concept is a 1+1-seat, ultra-light car for congested urban spaces. The technical study being presented at the International Motor Show (IAA)...
Thank you
You just used 1 credit. You have left.