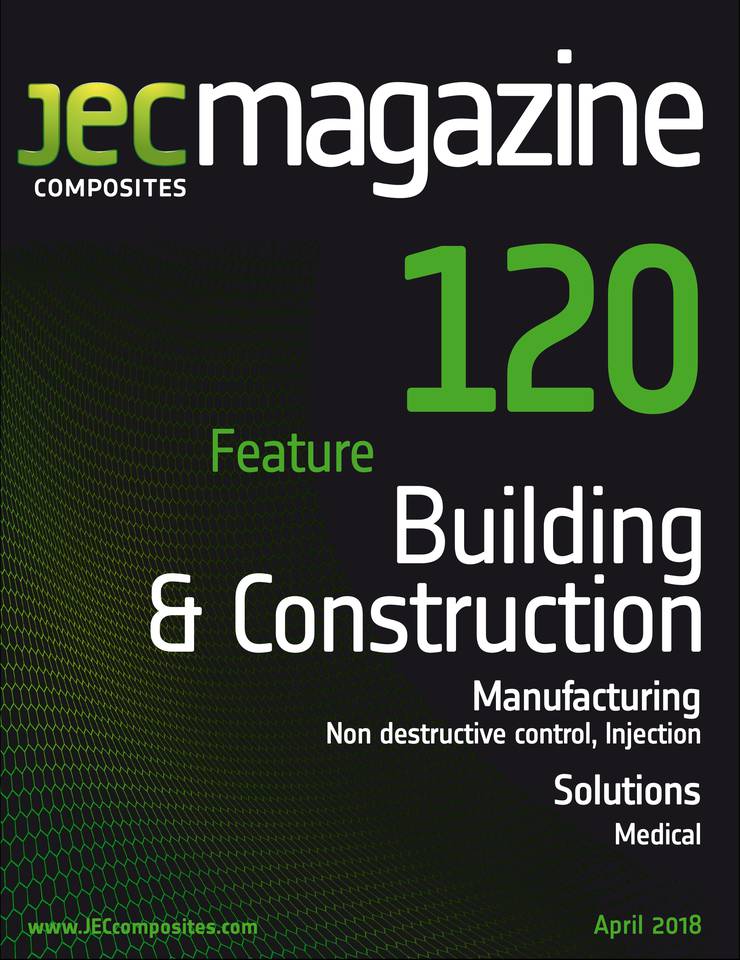 JEC Composites Magazine
N°120 - april 2018
Preview
JEC Composites Magazine is the point of contact of the international Composites Community, 6 times a year, with topics covering scientific information, business, technology, manufacturing, and application sectors trends.
In each and every issue, readers will learn about the entire composites industry value chain (from raw materials to application markets), and be inspired with current and future innovations.
The six sections of the magazine consist in:
NEWS: with interviews, articles about business development (M&As, appointments, partnerships and collaborations, awards etc.).
BUSINESS: with articles covering trends and markets, focusing on a specific country or region, with the composites market, or the application markets, or the companies strategies etc. in that country or region, and a startup focus.
MANUFACTURING: with articles about production processes and processing equipment.
FEATURE: an in-depth overview of a specific topic (typically an application sector), plus a JEC World Preview in April/May and Review in June/July.
SOLUTIONS: composites around us, with articles showing how composite materials are being used in applications which impact our everyday lives.
TECHNOLOGY: with articles about developments in materials, testing and control, repair, joining, design and simulation, recycling and reuse, R&D.
Enjoy your reading!
Contents
The field of application is vast and promising
More innovations and solutions exist today than a few years ago, and they are more in the public eye. This indicates that either the building & construction sector is taking a greater interest in...
Read More
N°120 - april 2018
EDITOR
The field of application is vast and promising
More innovations and solutions exist today than a few years ago, and they are more in the public eye. This indicates that either the building & construction sector is taking a greater interest in...
OPlNlON
"ln medecine, a good sensor is not enough to get an accurate measurement"
Drawing on over 10 years of experience in telemedecine H4D has developed the Consult Station, a unique and comprehensive solution designed to meet new challenges in healtcare. Dr Baudino explains us...
NEWS
Safran and Albany inaugurate third composite fan blade production plant for LEAP engine
This is the third joint manufacturing plant to make composite parts for the LEAP aircraft engine. This third joint plant is similar to and complements the two existing plants in Rochester, New...
Bruno Even appointed CEO of Airbus Helicopters
Airbus SE has appointed Bruno Even, 49, Chief Executive Officer (CEO) of Airbus Helicopters, effective 1 April 2018. He will report to Airbus CEO Tom Enders and join the company's Executive Committee....
Orbital ATK produces enough composite parts for 430 F-35 Lightning II fighter jets
Orbital ATK, a global specialist in aerospace and defense technologies, and Lockheed Martin celebrated the completion of the 5,000th Orbital ATK-built F-35 composite part. 5,000 composite parts equate...
Aston Martin and Dow to continue their partnership
Aston Martin and Dow announce the continuation of their technical development partnership, paving the way for further joint advancement to drive innovation and engineering excellence. For more than 25...
KraussMaffei expands the TechCenter to include the rebar pultrusion system
By commissioning the second pultrusion system in the TechCenter of the reaction process machinery division in Munich, KraussMaffei is expanding its expertise in the field of pultrusion, the process...
Daher inaugurates its third Moroccan plant in Tangier
Last February, Daher inaugurated its new plant in Tangier, strengthening its position in Morocco as an aircraft manufacturer, equipment supplier and service provider. The new plant follows on the...
Chinese rebar leader increasingly turns to exports
Jiangsu Oceanpower New Material Technology Co., Ltd., established in 2016 as a whollyowned subsidiary of Shenzhen Oceanpower Co., Ltd., is active in three sectors: food, environment and materials, as...
NEWS agenda 2018
April Compotec April 4-7 Carrara, Italy www.compotec.it 17 th World Wind Energy Conference & Exhibition April 5-7 Karachi, Pakistan www.wwec2018.com Mach 2018...
BUSINESS
"Productivity is a combination of good design with good manufacturing processes"
There has been a lot of progress in simulation performance over the past five years. Today, some simulations of processes or production flows are so robust that they have become new decision-making...
Sinoma-CCGC joint seminar on domestic carbon fibre applications
For the first time since the CNBM-Sinoma merger, a seminar was held in Beijing to further strengthen the synergetic innovation within CNBM's new materials sector. On 24 January 2018, Sinoma Science &...
New trends in the thermoset composites market
Even more than reducing costs, reducing the manufacturing time of composite parts is a key challenge for the integration of thermoset composites in industrial applications, with the automotive sector...
MANUFACTURING
Smart Defect Control: the next level of carbon NCF quality
Saertex presented a breakthrough at JEC World 2018: a never reached quality level for carbon non-crimp fabrics in aerospace, medical engineering and other high-end applications through the use of...
lnjection moulders who have made bioplastics work
Bioplastics have a problematic reputation among injection moulders because, in the past, running them has been both cumbersome and expensive. However, modern bioplastics do not exhibit the troubling...
Advanced technologies for the manufacture of aircraft components using dry fibre placement
Founded in 1954, Danobat is a machine tool manufacturer sited in Elgoibar (Spain) and has over 1300 employees worldwide. The company developed a solution that contributes to boosting efficiency and...
FEATURES
The future of building: the growing use of composites in construction and architecture
As author of the book "The Future of Building" recently published by JEC Group, Andrew Mafeld gives the background on and a summary of the key messages presented in the book. A lot of publicity has...
Opportunities for composite profiles in the residential housing market
An industry report published in September 2017 by EPTA, the European Pultrusion Technology Association, highlighted a large growth potential for pultruded composite profiles in the residential housing...
Thermoplastic composites for the building industry
The building sector contributes about 30% of the global annual greenhouse gas emissions and consumes up to 40% of all energy. This means the more we build houses, the worse the environmental situation...
3D printing technology for building and construction
Yingchuang Building Technique, located in the Shanghai area and better known as WinSun, was founded in 2003 and specializes in 3D printing architecture, R&D and the production of new building...
The Núcleo Húmedo composite module facilitates the construction of houses
The Argentine company MC (Materiales Compuestos) hired G12 Innovation, a Brazilian company with experience in industrialized modular construction systems and composite materials and process-es, to...
Building lnformation Modelling (BIM) will bring a paradigm shift in the construction industry
Glass fibre-reinforced polymers (GFRP) play an important role in the building industry, competing with traditional building materials. Carbon fibre-reinforced polymers (CFRP) are particularly...
A new generation of ancient shades of architecture
An era of new-age composites technology, blending the oldest architectural styles with 21st century materials and aesthetics, is now beginning. lndian architecture stands as one of the most ancient...
Reducing the weight of the Pavilion of lnspiration with composite materials
World-famous British architect Norman Foster, a pioneer in the use of crystal technology applied to architecture and the designer of a large number of famous landmark buildings, chose Carbures to...
Opportunities for composite profiles in the residential housing market
Lightweight composite access covers allow easy and safe manual removal without compromising on strength. Used on forecourts worldwide, they are ideal for access to sewage systems, underground...
SOLUTlONS
The Project lnvincible shield helps protect patients after surgery
McLaren Applied Technologies has revealed the latest addition to its portfolio of personalised healthcare solutions: a fully wearable composite shield that acts like a rib cage by protecting vital...
lmplantable PEEK polymers pioneering further progress
New research results reported at the latest International PEEK Meeting reveal gathering momentum in the use of PEEK polymers in trauma implants and the future potential for additive manufacturing....
A new buzzing boot shelf for Ford Ecosport SUV
Ford's engineers developed the "Honeycomb Shelf " – a lightweight, secret boot shelf that can support 100 times its own weight, a strength-to-weight-ratio stronger than steel. Developed for the all-...
TECHNOLOGY
Simulating the effects of warpage in an additively-manufactured composite layup tool
Additive manufacturing (AM), by definition opposed to subtractive methods, regroups a number of manufacturing processes allowing the creation of parts from 3D numerical CAD models by building up the...
lmproving composite manufacturing reliability and yield with affordable models and simulations
Composite manufacturing still often relies on trial-and-error approaches to design the process, making little use of the plethora of science-based literature, models and simulations. This paper...
Bio-inspired smart hygromorph biocomposites: a novel functionality for natural fibres
Natural fibre composites are increasingly used in the composite industry due to their good stiffness-to-weight ratio and their low environmental footprint. However, their use can be limited by their...
Thank you
You just used 1 credit. You have left.