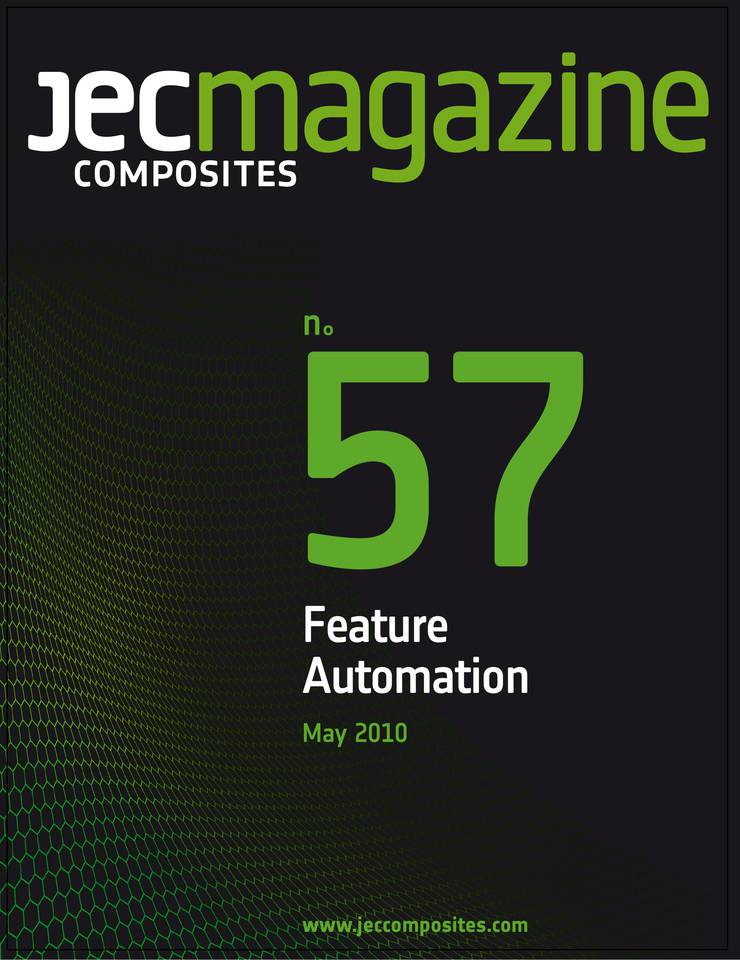 JEC Composites Magazine
N°57 - may 2010
Preview
JEC Composites Magazine is the point of contact of the international Composites Community, 6 times a year, with topics covering scientific information, business, technology, manufacturing, and application sectors trends.
In each and every issue, readers will learn about the entire composites industry value chain (from raw materials to application markets), and be inspired with current and future innovations.
The six sections of the magazine consist in:
NEWS: with interviews, articles about business development (M&As, appointments, partnerships and collaborations, awards etc.).
BUSINESS: with articles covering trends and markets, focusing on a specific country or region, with the composites market, or the application markets, or the companies strategies etc. in that country or region, and a startup focus.
MANUFACTURING: with articles about production processes and processing equipment.
FEATURE: an in-depth overview of a specific topic (typically an application sector), plus a JEC World Preview in April/May and Review in June/July.
SOLUTIONS: composites around us, with articles showing how composite materials are being used in applications which impact our everyday lives.
TECHNOLOGY: with articles about developments in materials, testing and control, repair, joining, design and simulation, recycling and reuse, R&D.
Enjoy your reading!
Contents
Optimism was tangible at JEC Composites Show 2010
In a draft economic forecast document that was made public on April 21, the IMF estimated that global economic growth could reach 4.1% in 2010, as opposed to the initially forecast 3.9%, essentially...
Read More
N°57 - may 2010
EDITORIAL
Optimism was tangible at JEC Composites Show 2010
In a draft economic forecast document that was made public on April 21, the IMF estimated that global economic growth could reach 4.1% in 2010, as opposed to the initially forecast 3.9%, essentially...
NEWS WORLDWIDE
Triumph Group to acquire Vought
Triumph Group, Inc. announced on the 23rd of March the signing of a definitive agreement to purchase Vought Aircraft Industries, Inc. from The Carlyle Group for cash and stock consideration of $1.44...
DSM expands composite resins business into Turkey
DSM Composite Resins, through its subsidiary Euroresins Kompozit Ürünler Tic. Ltd. Sti, (a.k.a Euroresins Turkey) (ERT) has outlined its future growth plans for Turkey which include closer cooperation...
SGL and BMW to built a new carbon fibre plant in USA
The two groups announced on April 6, 2010 that their joint venture, SGL Automotive Carbon Fibers LLC, will build a state-of-the-art carbon fiber manufacturing plant in Moses Lake, WA. During the...
EQUIPMENT
Autoclave process control and energy saving
Since its foundation in 1897, the Terruzzi Fercalx Group has devoted considerable engineering resources and energy to research and technological innovation, gaining a leading position on the worldwide...
Emission control technologies for carbon fibre processing
Carbon fibre and graphite reinforced polymers are materials that have been, and will be, revolutionizing the products we use every day by making them stronger, lighter and more durable. However, the...
Innovative winding system reduces production time
Magnum Venus Plastech's Advanced Design Group is working closely with Delta Environmental Products to design an innovative filament winding system. Delta Environmental Products had a problem. It was...
BUSINESS
The US composites market: trend, forecast and oportunities
Two recent studies – one from Composite Insights and the other from Lucintel – focus on the development of the composite market in North America. Both reports show satisfactory growth rates for the...
New materials: what kind of standards are needed to support innovation?
AFNOR, the central standardisation body in France, surveys requirements, draws up standardisation strategies, coordinates and directs the activity of the standardisation offices, validates draft...
When innovation meets bio-based products
Cimteclab S.p.A. is a research and development company that belongs to the Cimtec holding group, with manufacturing facilities in Europe, Asia and South America. Cimteclab specializes in various...
Enhancing composite in the cement industry
A major new initiative has been undertaken by the profession in the management of composite waste. It consists in carrying out a test involving the recovery of 100 tonnes of representative production...
Peelable laminated shims: making precise adjustements
Lameco uses prepreg glass or carbon fabrics to manufacture peelable laminated plates. From these, it produces shims of various sizes to customer specifications. These peelable laminated shims are used...
Materials for shape and function
The number of available materials and processing technologies keeps on growing, complicating the job of designing a finished product starting from raw materials. The need is now felt for specialists...
FEATURE
Contrôle RadioSynthétique® applied to composite materials
Spectroscan was created in March 2007 on the basis of a new development in 3D X-ray imaging called Contrôle RadioSynthétique®. The young company's approach to tomography is real-time, industrial and...
Laser-assisted tape laying is moving forward to 3D
New progress in thermoplastic prepreg processing has led to the eco-friendly production of complex, safety-relevant and high-performance structural components by laser-assisted tape laying. The...
Moving from CAD-designed composite parts to CNC programs
CGTech showcased a machine-independent fibre placement programming and simulation software program at the JEC 2010 show in Paris. Throughout the show, the company demonstrated the Vericut composite...
Automatic process monitoring and control for composite production
In composite materials production, there is an urgent need for non-intrusive process monitoring and control systems that would automatically optimize and tune production in real time. Previous...
The layered approach to producing high-quality components
KraussMaffei's fibre composite spraying (FCS) process can cut costs in the production of large, high-quality fibre-reinforced parts. Coaxial fibre-feed via a closed tube opens up a wide range of...
High-speed cure of thermoset filament-wound pipe sections
The super thermal conductive mandrel technology recently developed by Acrolab Ltd. makes it possible to cure filament-wound pipe and tube sections without the need for cure ovens. The mandrel is...
Automated handling system for fibre composites
BROETJE-Automation GmbH is introducing a high-end handling system for fibre composites. The Pick-&-Place system is capable of picking, positioning and placing high-tech textiles by means of a special...
USERS' PLATFORM
WW ii nn dd tt uu rr bb ii nn ee observation pod
One of the latest creations by Sigma offered a bird's eye view of the Winter Olympics: a panoramic observation pod perched on top of a wind turbine overlooking Vancouver, its bay and ski slopes. The...
Surface tissue for fire-resistant laminates
Together with its partners CRC-ACS and Ampelite Australia Pty Ltd., Regina Glass Fibre Pty Ltd. won a JEC Innovation Award in the Raw Material Category at the JEC Show Asia 2009. The FireShield®...
A construction site to match the country
You can't have genuine sustainable development without hygiene in general, and wastewater treatment in particular. All over the world, the needs are enormous, whether it is in rehabilitation work or...
First French composite heliport
At the request of the Marie Lannelongue surgery centre, TH Composites designed and built France's first heliport made of composite materials, in compliance with the new ICAO and ITAC 13 civil aviation...
Major Brazilian car manufacturers and composites
The main goal of Abmaco is to encourage the exchange of knowledge and to clear up any doubts about the application of composites in large-scale production, thus supporting all the trends, concepts,...
KNOW-HOW
Towards the on-line qualification of carbon preforms produced by AFP
Together with Matrasur Composites, the Ecole des Mines de Douai (France) developed an Automated Fibre-Placement (AFP) system capable of producing carbon-fibre preforms directly from dry carbon tapes...
Modeling tool to predict the behaviour of filled polymers
It is now possible to predict the mechanical behaviour of filled polymers. Rhodia's new MMI Confident Design™ technology, which already has four functional levels, gives free rein to innovation in the...
Electroformed moulds: fabrication and applications
Electroformed moulds consist of an extra-hard nickel shell over a steel frame, making it possible to mould many times more than with a composite mould. The technology is particularly well suited to...
Thank you
You just used 1 credit. You have left.