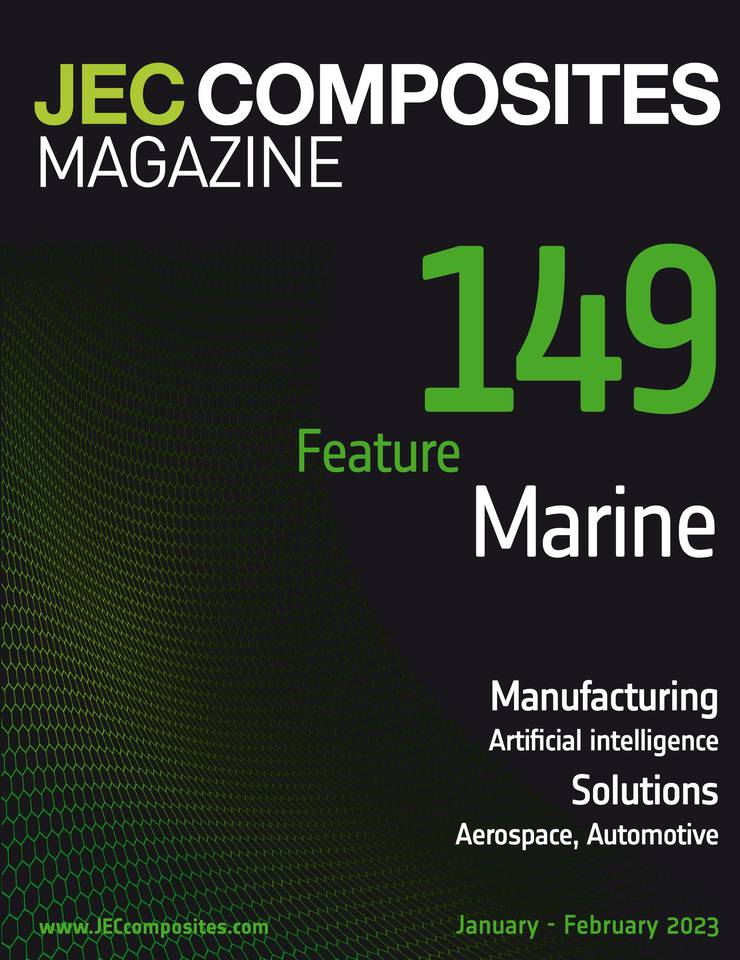 JEC Composites Magazine
N°149 - january 2023
Preview
JEC Composites Magazine is the point of contact of the international Composites Community, 6 times a year, with topics covering scientific information, business, technology, manufacturing, and application sectors trends.
In each and every issue, readers will learn about the entire composites industry value chain (from raw materials to application markets), and be inspired with current and future innovations.
The six sections of the magazine consist in:
NEWS: with interviews, articles about business development (M&As, appointments, partnerships and collaborations, awards etc.).
BUSINESS: with articles covering trends and markets, focusing on a specific country or region, with the composites market, or the application markets, or the companies strategies etc. in that country or region, and a startup focus.
MANUFACTURING: with articles about production processes and processing equipment.
FEATURE: an in-depth overview of a specific topic (typically an application sector), plus a JEC World Preview in April/May and Review in June/July.
SOLUTIONS: composites around us, with articles showing how composite materials are being used in applications which impact our everyday lives.
TECHNOLOGY: with articles about developments in materials, testing and control, repair, joining, design and simulation, recycling and reuse, R&D.
Enjoy your reading!
Contents
The marine industry: balancing economic and environmental costs
"After garnering an impressive revenue of USD 5 billion in 2022, the global marine composites market should hit a new record high of USD 6 billion in 2033 and experience a compound annual growth rate...
Read More
N°149 - january 2023
FROM THE EDITORIAL TEAM
The marine industry: balancing economic and environmental costs
"After garnering an impressive revenue of USD 5 billion in 2022, the global marine composites market should hit a new record high of USD 6 billion in 2033 and experience a compound annual growth rate...
MOVING COMPOSITES FORWARD
"The EV market is extremely important to Dymag"
Founded in 1974 by Max Boxstrom, Dymag has led the way in wheel design and manufacture for over 40 years. On track and road, the group's cutting-edge technologies are well known to all racing sports...
NEWS
Solvay-NIAR manufacturing innovation center opens
Solvay and Wichita State University's National Institute for Aviation Research (NIAR) celebrated the official opening of their joint Manufacturing Innovation Center dedicated to enabling the future of...
Angeloni Group announces the integration of Selcom, within its composites division
Angeloni Group, founded in 1927, is specialized in production of dry and prepregs fabrics and in the trading of consumable for composite raw materials, with three productions sites in Italy. Selcom,...
Plastic Omnium announces construction of Europe's largest hydrogen vessels factory in Compiègne, France.
During her visit to Plastic Omnium's α-Alphatech research and development center, Prime Minister Élisabeth Borne — accompanied by Bruno Le Maire, minister for economy, finance and industrial and...
Broetje-Automation works with Boeing Germany for the SHILA project consortium
German technology companies are working together with Boeing under the leadership of Broetje-Automation on the automated assembly of future aircraft generations within the "SHILA" project. Dr. Anna...
DLR and NLR intend to further deepen future cooperation
Recently the Executive Boards of the German Aerospace Center (Deutsches Zentrums für Luft- und Raumfahrt; DLR) and Royal NLR – Netherlands Aerospace Centre met for a joint management conference in...
The New Space era: disruptive technologies break through barriers
After a successful seed funding campaign at the beginning of 2022 and entry into the France 2030 investment plan following the request for proposals phase last May, the Bordeaux-based start-up is...
Circularity of composites: bringing together experts from across the value chain
On 27 June 2021, SMEs, end-users, manufacturers, research institutions and industry associations discussed the legal, economic, and technological challenges and next steps for the circularity of...
BUSINESS
"Our priority is yachting, and we are working with major players in this area"
Composite Recycling has developed a process for separating resin from fibres that is highly energy efficient and sustainable. With the Ecole Polytechnique Fédérale de Lausanne (EPFL), the team has...
Trends in composites applications in Brazil
Several markets have fuelled the development of composites technologies and materials markets in South America, such as construction, transportation, agri-business, leisure, oil & gas, corrosion and...
MANUFACTURlNG
Machine learning solution allows process optimisation and economic benefits
Netzsch Process Intelligence has created a smart manufacturing solution called sensXPERT, that allows process control in real-time. Via cloud computing and fully integrated mould sensors, data from...
Composite casing with embedded sensors for aircraft battery applications
Using the latest developments in thermoplastic composite processing and flexible printed electronics, IPC and its partners developed a lightweight, smart battery casing for aircraft applications. With...
FEATURE MARINE
Building a world championship winner
Grand Largue Composites and Sicomin joined forces to build the first flax fibre Class40 racing yacht. Substantial parts of this boat are built with a new sustainable material that needs special care...
The marine industry is very open to natural fibres materials
The Confederation of Flax and Hemp (CELC) promotes the values of natural fibre-based composites. As these materials are becoming increasingly popular in the nautical sector, Brice Roussel, Materials...
Wind-assisted ship propulsion has created a need for certified composite materials
As part of this issue containing a focus on the composite materials used in the marine sector, JEC Composites Magazine approached Tom James, Marine Business Development Manager at Hexcel, for a more...
A lighter and cleaner winch for low-emission superyachts
A lightweight power-regenerating carbon fibre winch developed by Rondal and engineered by Solico was introduced in late 2021. This paper explains how the two companies combined their strengths and...
Boat builders seek sustainable, recyclable composites
The need to reduce the environmental impact of the marine industry, and especially of glass fibre composite boat hulls, has become more urgent in recent years. Composite production systems are now...
SOLUTlONS
Setting sail in outer space
Today, with the number of missions to outer space multiplying, space exploration is regaining a dynamism it hasn't known since the 70s. Alongside this boom in activity, NASA has developed a solar sail...
Lightweight hybrid material door
A novel hybrid (steel/SMC) structure delivers a lightweight vehicle door at affordable cost. It utilizes two innovative SMC materials for the inner and outer panels and is adaptable for different...
TECHNOLOGY
Composites welding: characterisation and prediction of adhesion kinetics
The TACOMA device was developed to predict the quality of thermoplastic composite adhesion, considering the influence of various composites material and process parameters. It provides the aerospace...
Composite Materials Group at KU Leuven: state-of-the-art composites research and education
CMG consists of seven profes-sors, eight postdocs and 40-50 PhD students and researchers, and it regularly hosts visiting researchers from around the world. The group is organised into five research...
#2 Thermoplastic prepreg tape characterisation and consolidation
As a primary partner in the ProPeL project, CMG characterises and models the consolidation behaviour of unidirectional (UD) carbon fibre-reinforced thermoplastics (CFRTPs). Among different CFRTPs,...
#1 Flax fibre composite bridge for pedestrians
KU Leuven is one of the main partners in the Interreg NorthWest Europe 'Smart Circular Bridge' project. The project combines various goals of which the construction of three flax fibre polyester...
Equipment and facilities
CMG maintains a state-of-the-art lab for composites manufacturing and testing. In terms of manufacturing, the group boasts three hot presses, an autoclave, an RTM machine, vacuum infusion setups, a...
Thank you
You just used 1 credit. You have left.