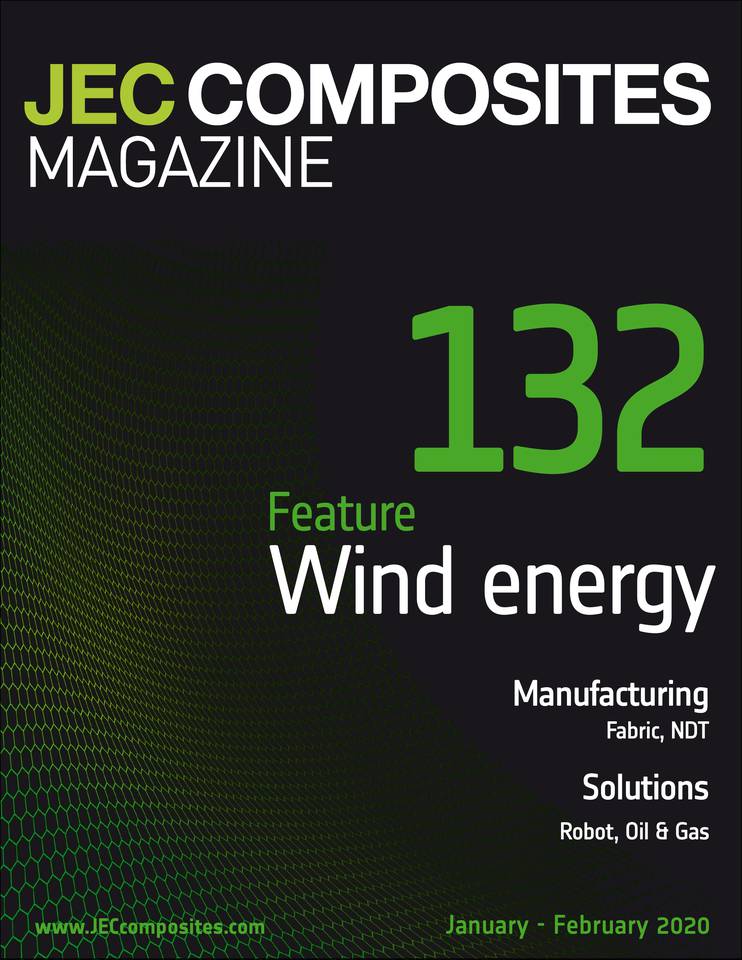 JEC Composites Magazine
N°132 - january 2020
Preview
JEC Composites Magazine is the point of contact of the international Composites Community, 6 times a year, with topics covering scientific information, business, technology, manufacturing, and application sectors trends.
In each and every issue, readers will learn about the entire composites industry value chain (from raw materials to application markets), and be inspired with current and future innovations.
The six sections of the magazine consist in:
NEWS: with interviews, articles about business development (M&As, appointments, partnerships and collaborations, awards etc.).
BUSINESS: with articles covering trends and markets, focusing on a specific country or region, with the composites market, or the application markets, or the companies strategies etc. in that country or region, and a startup focus.
MANUFACTURING: with articles about production processes and processing equipment.
FEATURE: an in-depth overview of a specific topic (typically an application sector), plus a JEC World Preview in April/May and Review in June/July.
SOLUTIONS: composites around us, with articles showing how composite materials are being used in applications which impact our everyday lives.
TECHNOLOGY: with articles about developments in materials, testing and control, repair, joining, design and simulation, recycling and reuse, R&D.
Enjoy your reading!
Contents
An air of optimism
"Even though Europe (with 11.7 GW of gross generating capacity) registered a 33% drop in new capacity in 2018 compared to the previous year, the figures for wind energy activity worldwide are very...
Read More
N°132 - january 2020
EDITORIAL
An air of optimism
"Even though Europe (with 11.7 GW of gross generating capacity) registered a 33% drop in new capacity in 2018 compared to the previous year, the figures for wind energy activity worldwide are very...
MOVING COMPOSITES FORWARD
"This "cross-fertilization" is a strength that benefits our customers"
SEGULA Technologies is a leading engineering specialist placing innovation at the heart of its strategy and conducting large-scale projects, ranging from studies to industrialisation and production....
NEWS
GE Haliade-X 12 MW turbine blade arrives in Boston for testing
GE Renewable Energy and the Massachusetts Clean Energy Center (MassCEC) announced the arrival of a blade that is part of the most powerful offshore wind turbine in the industry at MassCEC's Wind...
Stelia Aerospace opens an assembly line in Portugal
The company announces the opening of a new assembly site in Portugal, in order to meet its growth challenges and comfort its position. This new site will host assembly aerostructure subassembly...
UMaine awarded $1.4 million for transformational floating offshore wind energy technology
The University of Maine Advanced Structures and Composites Center has been awarded nearly $1.4 million from the U.S. Department of Energy's Advanced Research Projects Agency-Energy (ARPA-E) program,...
BASF acquires 3D printing service provider Sculpteo
The acquisition of the French 3D printing specialist based in Paris and San Francisco will enable BASF 3D Printing Solutions to market and establish new industrial 3D printing materials more quickly....
Kordsa partners with University of Sheffield research center
A high-level delegation from Kordsa visited the AMRC to sign a Memorandum of Understanding (MOU) in which both organisations agreed to collaborate in the composites industry, as well as establish a...
UMaine Composites Center receives three Guinness World Records related to largest 3D printer
More than 250 federal and state officials, business executives, University of Maine System leaders and community members were on hand to witness the UMaine Advanced Structures and Composites Center...
Safran's Board of Directors selects Olivier Andries as future CEO
The Board of Directors of Safran has selected Olivier Andries as successor to Philippe Petitcolin in the position of Chief Executive Officer with effect on January 1st, 2021, after a transition period...
NEWS agenda
2020 January World Future Energy Summit January 13-16 Abu Dhabi, UAE www.worldfutureenergysum-mit.com Automotive World January 15-17 Tokyo, Japan www.automotiveworld.jp February Composite Sandwich...
BUSlNESS
Better understand your material and process with CellEQ
CellEQ is a science and technology-based startup from Germany that develops analysis equipment for the plastics and composites industry. The advantages of the technology are a higher data quality and...
Global thermoset composites market – lndustry analysis
The global Composites market is expected to reach USD 146.14 Billion by 2026, according to a new report by Reports and Data. The thermoset composites market is projected to grow at a moderate to high...
COMAC is racing to fly the C919 in the buoyant regional aviation market
The wide-body Sino-Russian CR929 is not the only aircraft that China's COMAC wants to use to challenge the Airbus-Boeing duopoly. With the medium-haul C919, the competition on the rising regional...
MANUFACTURING
First online store for the design, ordering and automated manufacturing of composite laminates
Composites are great materials that, through their low weight, high durability and high performance, help make our world more sustainable. They are, however, complex materials and expensive to...
An NCF product for press moulding processes such as continuous compression moulding
Shindo presents a fabric comprising a thermoplastic nonwoven fabric or film embedded between NCF layers by stitch bonding. This type of fabric exhibits good drape properties, comparable to those of...
Quality control of composites in the aerospace industry
Lufthansa Technik AG uses a Creaform 3D scanner and photogrammetry system to control material expansion during the maintenance and repair of secondary structure composite aircraft components. The...
Developing a non-destructive evaluation system in a collaboration with the University of Tokyo
GNES Corporation (Seika-cho, Souraku-gun, Kyoto), specialized in the production and development of non-destructive evaluation systems, collaborated with the University of Tokyo to develop a new NDT...
FEATURE
Where will Wind Energy be in 2025?
The size of wind turbine blades is increasing, driving the increasing penetration rate of composites (used for 3 blades) vs other materials (used for 1 pillar). The penetration rate of composites in...
Strong pressure on the wind energy supply chain in a period of growth
Although still in its infancy, the wind energy market is a significant consumer of composite materials. For material suppliers, the challenges – both technological and fiscal – are numerous, but there...
Wind energy outlook to 2023 – Energy targets for 2030 will be difficult to meet
JEC looked at how European wind energy markets will develop in the next five years and discussed background circumstances and future scenarios with major associations and industry stakeholders. By the...
Reliance's vision towards contributing to renewable energy for lndia
The Indian Wind Energy sector is growing, commensurate to India's promise at Paris Climate agreement. The maturing Indian wind energy sector has a new emerging Tier 1 supplier base, focused at...
VAP® infusion-moulded carbon fibre spar caps
To meet the increasing demand for longer wind rotor blades (up to 107 metres), Saertex uses many new material and process developments in the area of the spar cap in addition to well-established...
The wind energy industry on the path to maintenance-free systems
In a team with manufacturers of wind energy systems and coatings, Covestro is working on the development of raw materials for new, particularly durable coatings for protecting the edges of wind rotor...
Glass reinforced composites continue to redefine the possibility of wind energy
This October, a ship arrived in Rotterdam bearing the longest composite structure ever built. At 107 meters, this LM Wind Power blade is longer than a football pitch – on both sides of the Atlantic! –...
SOLUTlONS
Hybrid lightweight suspension components for high-volume commercial vehicles
Ford Motor Company, in collaboration with Gestamp, The National Composites Centre and The University of Nottingham, is developing composite suspension components for commercial vehicle applications...
CFRP lower mass, improve reliability of climbing robots
Robots from International Climbing Machines are ideally suited to traverse surfaces that would be difficult or dangerous for humans to cross, such as bridges and highway overpasses, tanks and towers,...
Black fibre meets black gold
ln a context of growing awareness of the environmental issues around the extraction, production and consumption of resources like gas and oil, the economy of the 21st century in its first decades is...
The market for ever lighter satellites is growing steadily
As an innovation engine, space travel is not only actively pushing ahead a know-how transfer from automotive and aviation, but also challenging the industry to provide high-performance ultra-...
TECHNOLOGY
Replacing methylenedianiline with a new blend in advanced composites
4, 4'-methylenedianiline (MDA) was widely used as a hardener for epoxy resins but, due to recent regulations, people are attempting to find viable alternatives to MDA. In a study conducted by...
University of Nottingham's Composites Research Group
The University of Nottingham (UoN) Composites Research Group have led research projects on the design and manufacture of polymer composites since the 1980s, including pioneering work on out-of-...
New sizing formulation for recycled carbon fibres
The application of a sizing formulation on recycled carbon fibres obtained by pyrolysis can significantly enhance their technical and technological properties. CETMA developed a sizing for recycled...
Thank you
You just used 1 credit. You have left.