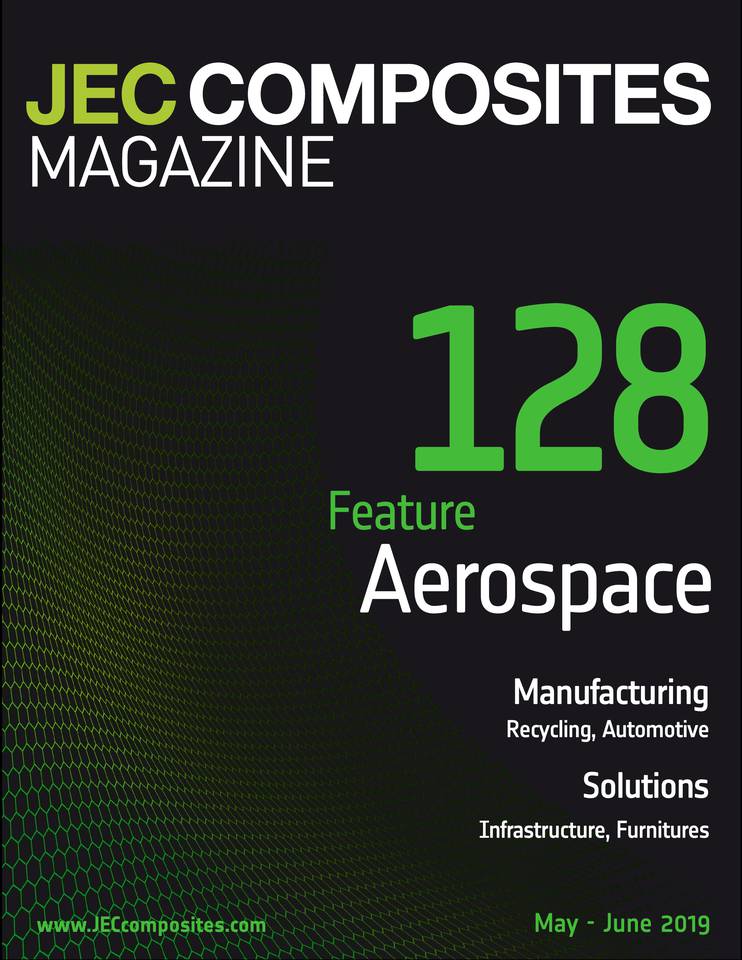 JEC Composites Magazine
N°128 - may 2019
Preview
JEC Composites Magazine is the point of contact of the international Composites Community, 6 times a year, with topics covering scientific information, business, technology, manufacturing, and application sectors trends.
In each and every issue, readers will learn about the entire composites industry value chain (from raw materials to application markets), and be inspired with current and future innovations.
The six sections of the magazine consist in:
NEWS: with interviews, articles about business development (M&As, appointments, partnerships and collaborations, awards etc.).
BUSINESS: with articles covering trends and markets, focusing on a specific country or region, with the composites market, or the application markets, or the companies strategies etc. in that country or region, and a startup focus.
MANUFACTURING: with articles about production processes and processing equipment.
FEATURE: an in-depth overview of a specific topic (typically an application sector), plus a JEC World Preview in April/May and Review in June/July.
SOLUTIONS: composites around us, with articles showing how composite materials are being used in applications which impact our everyday lives.
TECHNOLOGY: with articles about developments in materials, testing and control, repair, joining, design and simulation, recycling and reuse, R&D.
Enjoy your reading!
Contents
Airborne traffic will double over the next 15 years
"The growth forecasts for Airbus in the aviation sector speak for themselves. Airborne traffic will double over the next 15 years, bearing in mind that 4.1 billion passengers travelled by air in 2017....
Read More
N°128 - may 2019
EDITORIAL
Airborne traffic will double over the next 15 years
"The growth forecasts for Airbus in the aviation sector speak for themselves. Airborne traffic will double over the next 15 years, bearing in mind that 4.1 billion passengers travelled by air in 2017....
MOVING COMPOSITES FORWARD sky is not the limit
"A new market means new competition" "A new market means new co petition"
Stratobus, a collaborative R&D project, is a concept for an unmanned stratospheric platform that is halfway between a satellite and a drone. Positioned in the stratosphere (above the jet-stream region...
NEWS
OneWeb ships 1st satellites for planned constellation
OneWeb Satellites, a joint venture between Airbus and OneWeb, announced the successful launch of its first six broadband satellites aboard a Soyuz launch vehicle from the Guiana Space Center in...
Safran to build a plant in India to make parts for the LEAP engine
Philippe Petitcolin, Chief Executive Officer of Safran, and Shri K.Chandrashekar Rao, Hon'ble Chief Minister of Telangana, announced that Safran Aircraft Engines would build a new plant in Hyderabad...
Rolls-Royce UltraFan's Advanced Low Pressure System testing gets underway
Engineers at Rolls-Royce in Derby, UK, have tested a key component of the UltraFan engine design. UltraFan will deliver weight, noise and fuel burn reductions, and will be 25% more efficient than a...
Airbus inaugurates its Innovation Centre in China
The office opening ceremony in Shenzhen, partnering with local innovation forces to shape the future of flight. Airbus China Innovation Centre has been operating since early 2018 and currently focuses...
Patrice Provost is named as the President of Nexcelle
Nexcelle is the joint venture of Middle River Aircraft Systems and Safran Nacelles that provides engine nacelles for integrated propulsion systems on jetliners and business jets. Provost is a Safran...
Hyosung will double carbon fiber manufacturing capacity
The company announced that they will invest 46.8 Billion Won (41.5 million USD) for PAN carbon fiber production expansion in JeonJu, South Korea. The JeonJu plant expansion will produce an additional...
Teijin extends contract to supply carbon fiber to Bombardier for Airbus A220
The company that it has been awarded a contract to supply its Tenax carbon fiber material to Bombardier Aerostructures and Engineering Services for another seven years until 2025. Going forward,...
The BAMCO Consortium: biosourced composites created from bamboo fibres
Expleo, Arkema, Cobratex, Specific Polymers, Cirimat, Compositadour, Lisa Aeronautics, and Mécano ID teamed up last November to develop new technical biosourced composites using long bamboo fibres....
NEWS agenda
2019 April Composite-Expo April 23-25 Moscow, Russia www.composite-expo.com GALM Europe 2019 April 24-25 Munich, Germany www.global-automotive-lightweight-materials-europe.com May Sampe China 2019 May...
BUSINESS
Morocco, future land for composites
In recent years, the Moroccan aeronautical sector has demonstrated a certain dynamism and has experienced remarkable growth. A notable illustration of the emergence of aeronautics in Morocco is the...
Development of composites in South Africa
The South African composites market is relatively mature and offers good potential for composites manufacturing. The Mandela Bay Composites Cluster (MBCC) is a strategic entity for the composites...
"Fibre recovery is just one step on the way to a successful closed-loop approach"
The global carbon fibre demand is estimated to double by 2020. Still, current manufacturing technologies result in high waste volumes – up to 40 % as far as automotive is concerned. The required...
"Technologically, all open questions related to the reuse of carbon have been solved. As of today, production waste can be almost completely reintegrated in new production processes"
JEC Composites Magazine: Where do you see the most serious obstacles preventing a broader use of carbon recyclates and what is the role of politics? Prof. Volker Warzelhahn: Technologically, all open...
CosiMo – ITA and four industry partners are designing the future of mobility
Faurecia, as a leading player in the global automotive suppliers' industry, is one of the premium partners for two partner projects (public and private funding) conducted as part of the CosiMo...
China is taking the leadership in the offshore wind market
National policies and competitive local wind turbine makers are supporting offshore wind installations along China's eastern coasts. Opportunities might arise for composite manufacturers in this...
MANUFACTURING
New process solves composites recycling challenge
A new process enables composites to be re-used several times and negates the need for an autoclave, significantly reducing cost and increasing production capacity. The P2T process addresses one of the...
Optimizing leaf springs via enhanced composite solutions
Leaf springs are a component that can be lightweighted using composites. The results of joint research between Saertex GmbH & Co. KG and Henkel AG & Co. KgaA on how engineered preform architectures...
FEATURE
Structural characterization of a composite FishBAC morphing trailing-edge device
The University of Bristol is currently developing a composite variable camber morphing device for airplane wings, the FishBAC concept. Its structural behaviour was simulated using a two-camera point...
Thermoplastic composites set to fly high in aerospace
In the aerospace industry, structural performance is becoming synonymous with ecology. Fuel costs represent the highest of all the operating costs of an aircraft. Unsurprisingly, the industry is...
lnduction welding of reinforced additive-manufactured parts
Three companies within the Technology Park Ypenburg joined forces to extend the boundaries of thermoplastics processing. A unidirectional carbon fibre thermoplastic leading edge was reinforced using...
Manufacturing large aerospace composite structures using liquid resin infusion
As the world's aerospace industry looks to implement the serial production of composite wing structures into future production lines, there has been a noticeable shift in the approach to manufacturing...
Automated composite manufacturing pilot plant
A key objective for more efficient and sustainable aircraft is to make lightweight, durable and affordable parts which are designed for ease of maintenance. To be allowed to use parts made of new...
Composite repair: qualified automation using abrasive waterjet
The applicability of composite materials in primary aircraft parts initially depended on the availability of automated manufacturing processes. Now that composites fly, industrialization has to be...
A350 XWB composite bonded repair: New technology for new aircraft
Even if composite repairs are not new at Airbus, the extensive use of Carbon Fibre Reinforced Plastic (CFRP) on the A350 XWB and especially on primary non-removable parts, is driving the development...
FlyWin, an H2 gas airship demonstrator
The FlyWin project was launched by the Belgian engineer and entrepreneur Laurent Minguet, with the support of the Walloon region. The project's goal is to develop an airship for cargo transport,...
Redefining the CubeSat, a structure for mass production
The growing popularity of CubeSats has increased the demand for a low-cost CubeSat structure. GTM Advanced Structures and Promolding have joined forces to develop a carbon fibre-reinforced plastic...
SOLUTlONS
Composite materials: an innovative and virtuous alternative for the construction sector
Composite materials are often associated with high-tech industries like aerospace or transportation. And yet, these materials also have their place in numerous other fields, starting with the...
Helping stone to sit through tension
The Zaha Hadid architectural firm is world famous for its bold deconstructionist approach to urban spaces. The firm used composites to reinvent the CH07 lounge chair, a classic that was created in...
Composites furnish our homes
Composite materials are established in sectors like aerospace, automotive, building & construction, sports & leisure and energy generation, and are being used more and more in our home furnishings. As...
TECHNOLOGY
Healable composites and their performance through mechanical and durability testing
Composite materials are massively used as a lightweight alternative to metals in structural applications. The brittle nature of their matrix, however, makes them more prone to crack development and...
Polymers and Composites Technology & Mechanical Engineering Centre , IMT Lille Douai
At the request of the plastics industry (Federation of Plastics and Composites) as well as the Ministry of Industry and Research, this Centre was the first one established in France in 1983 for...
Thank you
You just used 1 credit. You have left.