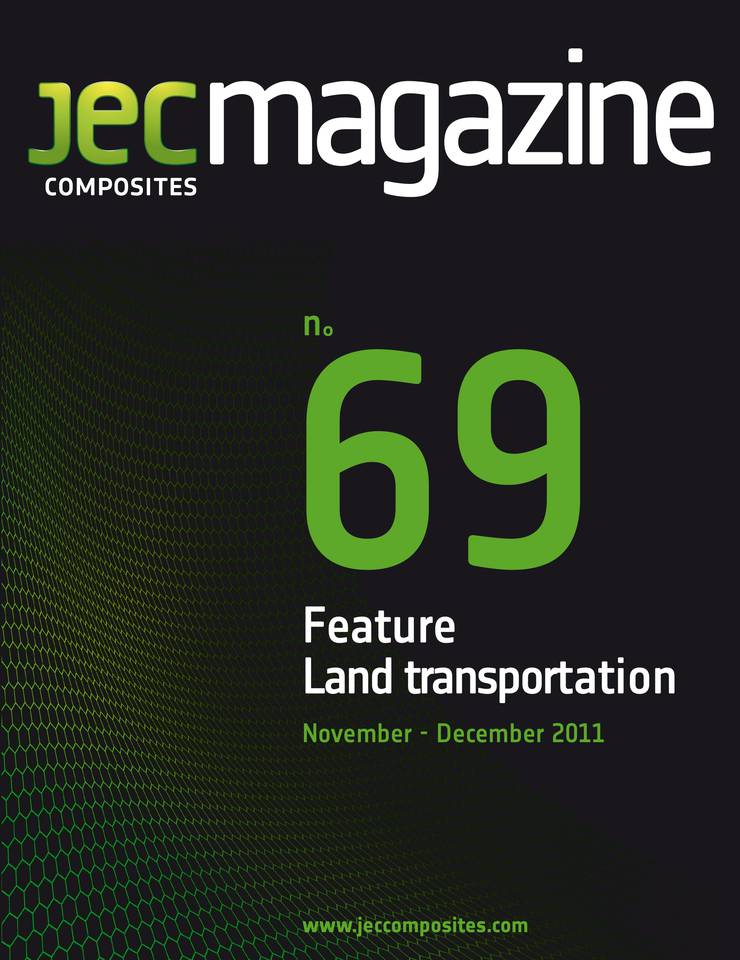 JEC Composites Magazine
N°69 - november 2011
Preview
JEC Composites Magazine is the point of contact of the international Composites Community, 6 times a year, with topics covering scientific information, business, technology, manufacturing, and application sectors trends.
In each and every issue, readers will learn about the entire composites industry value chain (from raw materials to application markets), and be inspired with current and future innovations.
The six sections of the magazine consist in:
NEWS: with interviews, articles about business development (M&As, appointments, partnerships and collaborations, awards etc.).
BUSINESS: with articles covering trends and markets, focusing on a specific country or region, with the composites market, or the application markets, or the companies strategies etc. in that country or region, and a startup focus.
MANUFACTURING: with articles about production processes and processing equipment.
FEATURE: an in-depth overview of a specific topic (typically an application sector), plus a JEC World Preview in April/May and Review in June/July.
SOLUTIONS: composites around us, with articles showing how composite materials are being used in applications which impact our everyday lives.
TECHNOLOGY: with articles about developments in materials, testing and control, repair, joining, design and simulation, recycling and reuse, R&D.
Enjoy your reading!
Contents
Let's be eco-responsible
"You are reading JEC Composites Magazine's 69th issue. You might say that this issue is ushering out the year 2011, which was rich in news and innovation – in composites, of course – much like the...
Read More
N°69 - november 2011
EDITORIAL
Let's be eco-responsible
"You are reading JEC Composites Magazine's 69th issue. You might say that this issue is ushering out the year 2011, which was rich in news and innovation – in composites, of course – much like the...
POINT OF VIEW: UMECO: FOCUSED ON GROWTH
Umeco Composites: focused on growth
Umeco Composites, an operating division of Umeco plc, had a successful, informative and truly educational corporate open day in Heanor, Derbyshire, UK on Friday 23 September. For JEC Composites...
Umeco Composites corporate open day was a resounding success
The purpose of the corporate open day was to showcase the use of ACG's prepreg materials in customers' end products to local dignitaries, school children and customers, while also using the...
AGENDA OF EVENTS
In partnership with JEC Composites E-letter
2011 November Kompozit Expo November 24-25 Krakow, Poland www.targi.krakow.pl/gb/stronaglowna/targi/targi-kompozytowtechnologii-i-maszyn-do-produkcjimaterialow-kompozytowychkompozyt-...
COMPANIES & BUSINESS
Boeing funds carbon fibre recycling collaboration with the University of Nottingham
In the past decade, researchers at Nottingham led by Dr. Steve Pickering have developed ways to recycle carbon fibre composites. They have worked with Boeing since 2006. Now Boeing plans to invest in...
Carbon fibre R&D centre to open in Russia
The Skolkovo Fund and the Composite Holding Company signed an agreement to create an R&D centre for carbon-fibrebased polymer composite materials which will be located in Skolkovo, Russia. The R&D...
Regina Glass Fibre in the competition
Australian company Regina Glass Fibre may be small, but that didn't stop it from winning a JEC Innovation Award in the raw materials category at the 2009 JEC Asia with its FireShield material. Three...
APPLICATIONS
Signature marine projects and record-breaking super yacht
Highly regarded for its quality, service, and total solutions, METYX Composites® has been taking the Turkish composites market by storm since 2003. The company is also well known internationally for...
World's first production-ready thermoplastic wheel rim
In September 2011, smart and BASF exhibited a world first at the International Motor Show (IAA) in Frankfurt am Main. The visionary "smart forvision", the new concept vehicle from smart, is the...
A definite and technical success to help the fight against AIDS
Last June, the Solidays music and cultural festival welcomed a world first in the field of composites: a gridshell-type structure open to the public of a size that has never been reached before. The...
MARKET
The Chinese composite market: bright prospects
The very positive data from the Chinese Composite Industry Association herald bright growth prospects for the players in the Chinese composite market in terms of volume. There is also a notable...
Wind surpasses aerospace as top user of advanced composite materials
Wind energy, powered by stringent renewable energy standards and larger installations offshore, will overtake aerospace as the largest user of advanced composite materials. The overall market for...
Acting on sustainability for business value
A new and very different value chain is emerging as the drive for sustainability evolves. In the chemical industry, communication on this issue is essential and differentiation represents a major...
FEATURE LAND TRANSPORTATION
Resin and gelcoat compliant with the new railway standard
Within the railway sector, many efforts have been made to reduce the weight and improve the aerodynamism of trains, tramways and metros to lower their energy consumption, and therefore contribute to...
Phenolic prepreg is welcome aboard Bombardier's passenger trains
Phenolic prepreg from Advanced Composites Group Ltd. (ACG), a member of Umeco Composites Structural Materials (UCSM) – a division of Umeco plc, has been hailed a resounding success for standbacks...
Rolling stock: weight reduction pays off
Composite sandwich constructions, with their very low weight and high insulation properties, can significantly improve the operating costs and environmental impact of railway systems. Trains,...
New carbon-fibre-reinforced composite for vehicle bodies and electric vehicles
Lamilux is creating a new driving force in the production of highquality composite materials for lightweight construction with the world's first mass production of CFRP using the continuous...
Next generation composites – driving innovation in the ground transportation sector
Since its inception eight years ago, the Composites Innovation Centre (CIC) has been actively involved in the development and implementation of composite materials in Manitoban and Western Canadian...
Hybrid structures for tailored structural automotive components
Protecting passengers and their comfort, reducing vehicle weight and minimizing production costs are important aspects when developing new automotive components and structures. These apply in...
Composite reduces vehicle and sunroof weight and enables assembly and process innovations
Innovative short-fibre polypropylene resins reduce weight, component cost and capital costs in the automotive industry. The Asahi Kasei Plastics Thermylene® P7 family of short-fibre polypropylene...
RESEARCH & DEVELOPMENT
Properties & failure mechanisms of a 3D-reinforced joint
The remarkable growth in the use of carbon-fibre-reinforced plastics (CFRP) in aerospace along with the incessant drive for lighter structures and fuel efficiency have brought upon new challenges in...
3D sandwich panel manufacturing with great properties as result
The Acrosoma® 3D stitched panel is a high-tech product that can be manufactured in large volumes. The resulting structures are lightweight and designed to withstand high loads, and have low thermal...
TECHNOLOGY & INNOVATIONS
Glass fibre reinforcement type significantly impacts FRP corrosion performance
As metal prices rise, engineers and end-users are increasing their use of glass-fibre-reinforced polymer (FRP) solutions in corrosive environments. In many cases, FRP is lower in cost, has outstanding...
The promise of fibre-reinforced thermoplastics: low weight and recyclability
There is no doubt that fibre-reinforced materials have high strengthto-weight ratios which make them appealing for many applications, especially aviation and automotive. However, the high cost of...
New mould manufacturing process
ebalta introduces to the market a new innovative manufacturing technique, Fibretemp, as well as their latest cast-to-size material ebablock® P 185 for composite applications. Fibretemp is a process...
A new product range for marine applications
Corecell M-Foam has been developed to deliver one product for all marine applications. It provides a combination of high shear strength with low density, high elongation, high temperature resistance...
Thank you
You just used 1 credit. You have left.