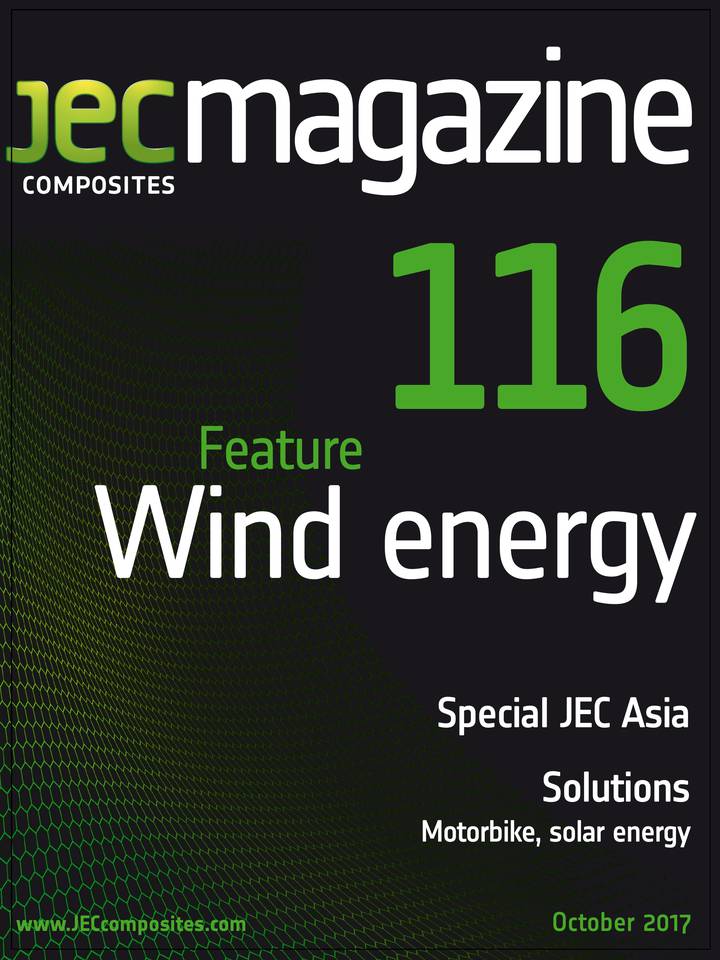 JEC Composites Magazine
N°116 - october 2017
Preview
JEC Composites Magazine is the point of contact of the international Composites Community, 6 times a year, with topics covering scientific information, business, technology, manufacturing, and application sectors trends.
In each and every issue, readers will learn about the entire composites industry value chain (from raw materials to application markets), and be inspired with current and future innovations.
The six sections of the magazine consist in:
NEWS: with interviews, articles about business development (M&As, appointments, partnerships and collaborations, awards etc.).
BUSINESS: with articles covering trends and markets, focusing on a specific country or region, with the composites market, or the application markets, or the companies strategies etc. in that country or region, and a startup focus.
MANUFACTURING: with articles about production processes and processing equipment.
FEATURE: an in-depth overview of a specific topic (typically an application sector), plus a JEC World Preview in April/May and Review in June/July.
SOLUTIONS: composites around us, with articles showing how composite materials are being used in applications which impact our everyday lives.
TECHNOLOGY: with articles about developments in materials, testing and control, repair, joining, design and simulation, recycling and reuse, R&D.
Enjoy your reading!
Contents
The many aspects of innovation
"When we speak of innovation in the composite industry, we usually mean technical innovation. We identify it all along the value chain and bring it to the fore, whether it is in the field of raw...
Read More
N°116 - october 2017
EDITORIAL
The many aspects of innovation
"When we speak of innovation in the composite industry, we usually mean technical innovation. We identify it all along the value chain and bring it to the fore, whether it is in the field of raw...
OPINIONS
lnn v tive so ut ns r architecture and construction
Das Energy offers solutions for building-integrated photovoltaics and ultralight photovoltaic solutions, such as for complex static rooftop systems. Together with their partners, they also develop new...
NEWS
SGL Carbon SE acquires shares from Tokai Carbon in Asian joint venture
SGL Carbon SE is acquiring the shares from Japanese graphite and carbon specialist Tokai Carbon in the SGL Tokai Process Technology (STPT) joint venture operating on the Asian market. The closing of...
Chinese advanced material manufacturer GON Holding takes majority stake in Compositence
Compositence,specializing in innovative preforming technologies for carbon, glass and other fibre types and supplier of tailored preforms wins Chinese advanced material manufacturer as a new strategic...
Toray to invest in Pacific Textiles
Toray Industries announces that it has agreed to acquire shares in Pacific Textiles, a textiles manufacturer in Hong Kong, to pursue its global strategic expansion and synergy effects through supply...
Fosun's joint-venture Nanjing Nangang completes acquisition of Koller Beteiligungs
Fosun and its joint venture Nanjing Nangang Iron & Steel United (Nanjing Nangang) announced it has completed the acquisition of a majority stake in Koller Beteiligungs (Koller), a German lightweight...
BYK to build integrated site in Shanghai
BYK Additives & Instruments, a supplier in the field of additives and measuring instruments, held a groundbreaking ceremony for its new integrated site located in Shanghai Chemical Industry Park. The...
Henkel opens new composite test center in Japan
The new Composite Lab in Isogo-ku, Yokohama, will allow automotive customers from across Asia to team up with Henkel experts to develop and test composite parts, and to establish the best process...
Carbon fiber producer Guangwei Composites listed on the Shenzhen Stock Exchange
The Chinese company Guangwei Composites was listed on the Shenzhen Stock Exchange (stock code 300699). According to the company, Guangwei Composites has become "the first Chinese A-share listed carbon...
The unique international composites platform dedicated to Asia-Pacific
The 10th edition of JEC Asia, the annual event 100% dedicated to Composites in Asia-Pacific and focusing on End-User markets, will be held for the first time in Seoul. JEC Asia will be organized...
⏵ November 2nd - 8:30 am Automotive
Novelties in structural and semi structural applications in partnership with: sponsored by: 8:30 am⏵Development of CFRP hood for an electric vehicle, Chi-Hoon Choi, Ph.D, Research Fellow, Polymer...
⏵ November 2nd - 1:00 pm IT and E&EE
What kind of future is there for composites in IT and E&EE 1:00 pm⏵An overview of the global market for composites in IT/E&EE, Andrew Mafeld, Founder/Managing Director, Connectra 1:20 pm⏵Composites in...
BUSINESS
Airbus strengthens its position in China
Airbus forecasts that China will need nearly 6,000 new passenger aircraft and freighters from 2016 to 2035, with a total market value of US$945 billion. This represents 18% of the world's total...
The Airbus supplier network in China
The industrial co-operation between Airbus and the Chinese aviation industry dates back to 1985, when CAAC of Shanghai, now China Eastern Airlines, became the first carrier in China to operate the...
The new technical database for composites
As composite materials professionals, we believe that composites are outstanding in terms of performance and application ranges. We want to contribute to the development of the composite industry...
MANUFACTURING
New flexibility in 3D digitalisation and defect detection for batch composite production
Apodius GmbH, part of Hexagon Manufacturing Intelligence, presents its novel, flexible HP-C-V3D Apodius Vision System for three-dimensional part digitalisation. Complying with the requirements of the...
Development of a carbon-thermoplastic hub for the H160 helicopter
Airbus is developing a main rotor hub made of carbon fibre and PEEK thermoplastic resin for the new H160 helicopter, a key innovation for such rotor systems. This paper presents the company's...
FEATURE
TPI Composites agreements with Gamesa and Vestas Wind Systems
The US-based independent manufacturer of composite wind blades announced last March that it has entered into a long-term agreement with Gamesa to supply wind blades from its new manufacturing facility...
LM Wind Power lays first stone at Cherbourg blade factory
LM Wind Power, a manufacturer of wind turbine blades, announced that work on its new factory in Cherbourg, Normandy, has commenced. This was marked on March 23 with a foundation stone ceremony at the...
Merger of Gamesa and Siemens Wind Power
The merger between Gamesa and Siemens Wind Power became effective on 3 April 2017, after the new entity was registered with the Biscay Mercantile Register (Spain), the last step required to close the...
WWEA and KWEIA work together to boost Korean wind market
On 9 August, WWEA and KWEIA signed a joint research agreement to boost the onshore and offshore wind market in Korea. To that end, several leading markets will be analysed to identify policies that...
GE completes acquisition of LM Wind Power
GE announced on April 20 that it has completed the acquisition of LM Wind Power, a Denmark-based technology developer and manufacturer of rotor blades to the wind industry. The transaction was...
Vestas selects DowAksa to support rapid global growth of wind energy
DowAksa will produce laminates for carbon fibre spar caps using an advanced processing technology that ensures the strength, stiffness and lighter weight needed for more productive, reliable and...
Innovation in world´s largest floating wind farm by Siemens Gamesa can open new offshore areas
Siemens Gamesa announced this end of June that five turbines of six-mega-watt-class have been installed on floating foundations in Stord, Norway, at the 30 MW "Hywind Scotland" project – the world's...
Double digit growth again for the wind energy
The growth of the wind energy market has not stopped and nearly 55MW have been installed in 2016. The first half of 2017 was also very good. At the end of 2016, installed wind capacity corresponds to...
lnside lndia's wind turbine industry
A new wind is blowing on India's renewable energy development policy. The dynamic is particularly beneficial to wind power. In this fast-growing market, composite materials play an important and...
Strong growth in wind energy worldwide
"We cannot direct the wind, but we can adjust the sails." Aristotle During the last 20 years, wind energy has overtaken coal and is now considered the second largest form of power generation capacity...
WIND ENERGY
Perfect composite parts, thanks to the «direct infusion» process and resin conditioning
In the composite industry, especially wind energy, metering and mixing equipment for rotor blade manufacturing are fundamentals. One of the key players in this sector, 2KM, now offers its "direct...
Evolution of technologies and materials used in wind turbine blade manufacturing
In recent decades, there has been a number of rapid improvements in wind turbine blade manufacturing, driven by costs, cycle time and quality issues. The value propositions for new and emerging...
New products for longer blades help to cut cost
The wind turbine manufacturer's answer to increasing pressure to reduce energy production costs is based mainly on longer blades, faster production and improved reliability. Olin's new product...
SOLUTlONS
lnnovative thermoplastic composite wing rib
Daher has focused on innovation since its inception and continues to enhance its expertise in designing, industrializing and manufacturing thermoplastic parts for the aerospace industry. The company...
Taking the lead with composites
Bike Ahead is a premier supplier of carbon fibre-based bicycle parts. Established in 2012, this young enterprise has relied from the start on state-of-the-art digital cutting equipment from Swiss...
lnnovative SLS front air inlet made with high-performance materials
As race car wiring is becoming more and more complex, power units are made up of several parts that need to be integrated into the final assembly. The available space being increasingly limited,...
Ultra-light photovoltaic panel based on polyamide honeycomb technology
Armageddon Energy, EconCore and DuPont joined forces to create a new lightweight polymer solar panel, which is one-third the weight of a standard glass solar panel while being significantly more...
TECHNOLOGY
Non-destructive evaluation of the mechanical strength of a TA6V4/composite bond using LASAT
In the current context of aircraft weight reduction and considering the trend for lowering production and maintenance costs, the aeronautics industry is promoting the use of adhesive bonds to replace...
Cost-efficient preforming using tailored textiles
Multiple process steps and inefficient material utilization are the main cost drivers in preforming. Integrating local reinforcements during the textile production process is a promising approach to...
Thank you
You just used 1 credit. You have left.