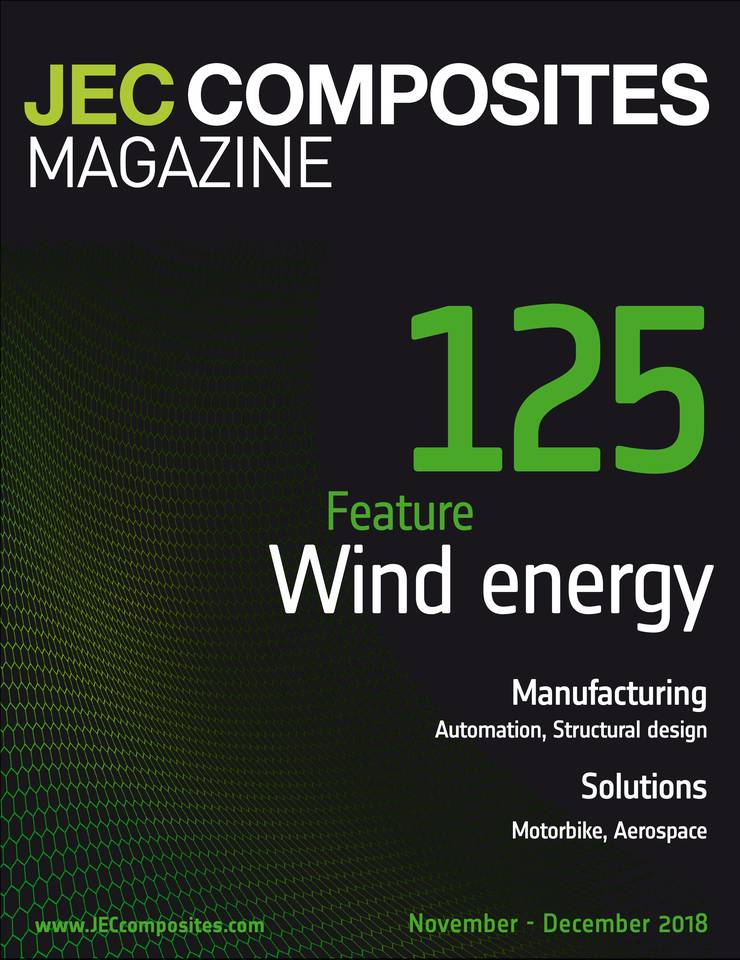 JEC Composites Magazine
N°125 - november 2018
Preview
JEC Composites Magazine is the point of contact of the international Composites Community, 6 times a year, with topics covering scientific information, business, technology, manufacturing, and application sectors trends.
In each and every issue, readers will learn about the entire composites industry value chain (from raw materials to application markets), and be inspired with current and future innovations.
The six sections of the magazine consist in:
NEWS: with interviews, articles about business development (M&As, appointments, partnerships and collaborations, awards etc.).
BUSINESS: with articles covering trends and markets, focusing on a specific country or region, with the composites market, or the application markets, or the companies strategies etc. in that country or region, and a startup focus.
MANUFACTURING: with articles about production processes and processing equipment.
FEATURE: an in-depth overview of a specific topic (typically an application sector), plus a JEC World Preview in April/May and Review in June/July.
SOLUTIONS: composites around us, with articles showing how composite materials are being used in applications which impact our everyday lives.
TECHNOLOGY: with articles about developments in materials, testing and control, repair, joining, design and simulation, recycling and reuse, R&D.
Enjoy your reading!
Contents
Genuine opportunities
"Even as we discuss wind energy in our Report and therefore of renewable or green energies, the Intergovernmental Panel on Climate Change (IPCC) is publishing its study on the effects of a global...
Read More
N°125 - november 2018
EDlTORlAL
Genuine opportunities
"Even as we discuss wind energy in our Report and therefore of renewable or green energies, the Intergovernmental Panel on Climate Change (IPCC) is publishing its study on the effects of a global...
OPINION
"lt is essential to gain a better understanding of the behaviour of these materials at sea"
Ifremer, the French marine science research institute for the exploitation of marine resources works with coastal universities, the main French research organizations (CNRS, IRD, INRA and SHOM), and...
NEWS
GE Renewable Energy launches Cypress onshore wind platform
GE Renewable Energy launched its new onshore turbine platform, named Cypress, and the next model from that platform, GE's 5.3-158 turbine. The platform advances the proven technology of GE's 2 MW and...
Coriolis Composites announces contract with National Institute for Aviation Research
Coriolis Composites announces that it has been selected by the National Institute for Aviation Research (NIAR) at Wichita State University to provide a thermoplastics capable Automated Fiber Placement...
Airbus Helicopters focuses on the wind turbine growth market
Airbus Helicopters views the support for wind farms as a business segment that is undergoing global growth and expects demand for up to a thousand helicopters over the coming two decades,...
IRG CosiMo consortium opens platform for thermoplastic composites research
Solvay, Premium Aerotec, Faurecia and Engel open platform for thermoplastic composites research with ITA-Augsburg as part of IRG CosiMo. New facilities and first piece of equipment were unveiled by...
Ilham Kadri has been appointed CEO of Solvay Group
Ilham Kadri has been appointed CEO of the Group, Chairman of the Executive Committee, member of the Board of Directors, by Solvay's Board of Directors, with effect from March 1st, 2019. She will join...
Hyperloop Transportation Technologies reveals full-scale passenger capsule
Hyperloop Transportation Technologies provided a first look of their full-scale passenger Hyperloop capsule at an unveiling ceremony in Puerto de Santa Maria, Spain. The event was also held to...
Aston Martin and TenCate announce technical partnership
TenCate is the composite technology partner of the Aston Martin Valkyrie program, supplying advanced composite materials for a broad range of end-use applications throughout the car, including...
Covestro has put into operation its first wind turbines made using polyurethane infusion resin
The spar cap and shear web of the 55.2 meter-long blades for the 2MW wind turbine were fabricated with polyurethane infusion resin from Covestro. This turbine was installed recently at a wind farm in...
AkzoNobel Specialty Chemicals is now Nouryon
The former AkzoNobel Specialty Chemicals is being relaunched as Nouryon. The move follows the recent acquisition of the business by The Carlyle Group and marks the company's transition to becoming an...
Fibres that fix and are fixed 26-10-2018 / 21-04-2019 Design Museum Gent
The "Fibre-Fixed. Composites in Design" exhibition showcases what can be achieved when fibres are combined with a plastic, demonstrating how composites can bring out the best in both materials. Fibre-...
JEC Composites Magazine: What motivated you to start this project?
Ignaas Verpoest: In 2002, we organised the exhibition " From Bakelite to Composite ", as part of "Composites-on-Tour", a science communication project for which we won a JEC Award (in 2003) and the...
NEWS agenda
2018 November International Symposium on Composites Manufacturing ISCM 2018 November 21-22 Marknesse, The Netherlands www.nlr.org December Carbon Fiber 2018 December 4-6 San Diego, CA, USA...
Additive manufacturing
Digimat for additive manufacturing Over the last three years, additive manufacturing (AM) of metals and polymers has been growing at an impressive 33% CAGR. AM enables the manufacture of very complex...
Aerospace – Tooling
HyVarC hybrid Invar/composite layup moulds HyVarC® is a patent-pending hybrid InVar and carbon fibre composite layup mould. HyVarC layup tooling offers a high-precision, lightweight, short lead time...
Aerospace – Structural
Innovative co-cured engine bay door Most of the composite structures for aircraft are made of carbon-epoxy composites, which can withstand a maximum service temperature of 130°C. As a consequence,...
Automotive - Commercial vehicle
Smart hybrid composite leaf spring for vehicles Leaf springs are mainly used in suspension systems for commercial vehicles and SUVs. They have to sustain various load conditions, such as longitudinal...
Industrial equipment
High-performance lightweight robot gripper system During the five past years, the partners developed a high-performance lightweight robot gripper and assembly system made of CFRP as a modular...
Infrastructure & Civil engineering
Easy-fit and self-locking composite jacket A three-year collaborative development project between Joinlox and USQ resulted in the development and commercialisation of a new type of composite pile...
Sports & Leisure
Innovative CFRP manufacturing method for lightweight, high-stiffness drone structures using graphene oxide (GO) The existing CFRP drone was brittle at low temperatures and the many CFRP parts were...
Sustainability
Recycling AFP residual tape with patch placement Automated fibre placement (AFP) processes produce a lot of uncured prepreg tape materi-al scrap because all reels of tape are simultaneously changed as...
BUSINESS
Turkish Aerospace: advanced composite technologies for the aircraft structures of today and tomorrow
Turkish Aerospace ranks among the global players in aerospace and defence industry. The company is Founded in 1974, Turkish Aerospace has become Turkey's largest aviation company. Its main mission is...
Growing use of composites likely to boost outsourcing
The demand for advanced composite materials, including thermoplastics, in aerospace applications is predicted to double by 2025. Aerospace OEMs are likely to respond by ramping up their outsourcing...
MANUFACTURING
Natural fibre-based BMC enables sustainable lightweight construction
Fire resistant, sprayable and ecologically friendly – Newly developed thermosets with natural fibre reinforcement lower production costs and help protect the environment. Fibre-reinforced plastics...
lnnovative tape placement and tape winding systems
The two AZL partners Conbility GmbH and Fraunhofer IPT Aachen started a long-term cooperation for the further development and the commercialization of Fraunhofer's tape placement and tape winding...
Changing the way new materials are developed
Improving efficiency, lowering emissions, and decreasing fuel consumption are global trends that are currently transforming the transportation industry. Lightweighting by replacing metal components...
FEATURE
Wind power capacity reaches 539 GW with 52.6 GW added in 2017
The overall capacity of all wind turbines installed worldwide by the end of 2017 reached 539,291 megawatts (MW), according to statistics published by WWEA. 52,552 MW were added in the year 2017,...
Green energy from sustainable green composites (Green2Green)
lndustrial hemp is a versatile plant that, during the past decade, has been widely promoted as a crop for the future. Hemp fibres can be extracted from the plant stem and oil from hemp seeds. A...
9m wind blade advanced technology demonstrator
The wind turbine market is seeking materials that help reduce the levelized cost of energy (LCOE). These include lower-cost materials, those that reduce manufacturing cycle time, improve durability in...
lnnovative solutions for lighter and longer wind turbine blades
New design and material solutions are proposed for larger-scaled wind turbine blades as a highly effective way of reducing the cost of energy. The innovative blade design uses an asymmetrical skin and...
Material shift in wind energy
The dominant design of today's wind rotor blades consists of sandwich structures both in the blade shells and in their shear webs. The core materials in these sandwiches are rigid foam and structural...
SOLUTlONS
An exclusive range of two-wheeler parts using monolithic composites
H-PreC, a family business founded in July 2015 by Cécile Crassous and her brother Arnaud, a PhD in materials physics and a researcher at the Ecole Polytechnique Fédérale in Lausanne, develops and...
Making the first 3D-printed carbon fibre bike
Thinking about 3D printing evokes images of customized prosthetics, printable organs, and even houses and many more customized products that are produced locally. However, after the hype of the last...
Next stop, hydrogen
As announced in Berlin at the 2016 Innotrans trade show, the Coradia iLint 54, the world's first hydrogen-powered train, began operating in the German state of Lower Saxony in mid-September. The new...
Nasa's Solar Parker Probe, exposed to the sun
On June 27, 2018, the heat shield (called the Thermal Protection System, or TPS) was installed on the Parker Solar Probe spacecraft, which was launched on August 12, 2018 from Cape Canaveral and is...
TECHNOLOGY
Multiwalled carbon nanotube-reinforced polypropylene composite materials
A team of researchers at the Nanjing School of Mechanical Engineering prepared polypropylene (PP) composites reinforced with multiwalled carbon nanotubes (MWNTs) using a twin-screw extruder. The...
Characterization of multifunctional thermoplastic composites
Long-fibre thermoplastic composites have been the subject of research for quite some time, due to their good mechanical and chemical properties, recyclability, and adaptability to a wide range of...
Thank you
You just used 1 credit. You have left.